This walk started like many others when Clive is around: he got lost pretty much immediately, and we spent the first 30 minutes not walking but instead trying to find him.
It's my fault. I let him go early so he could start the walk up the big hill to Lake Tyndall.
But sadly he went right at the main road junction rather than the more correct left (there's no sign) meaning there was the usual panic of trying to find him before he got even more lost.
Eventually he was tracked down, and the walk finally commenced: we were off to visit the stunning Tyndall Ranges, with a visit to a few mountain peaks in mind.
Day 1: Tyndall, Geikie and a beautiful campsite
The walk starts at a small car park before going up an access road for what I assume are the high voltage powerlines.
At the end of the first road, is a junction - turn left and you'll be at the walker log book before you know it.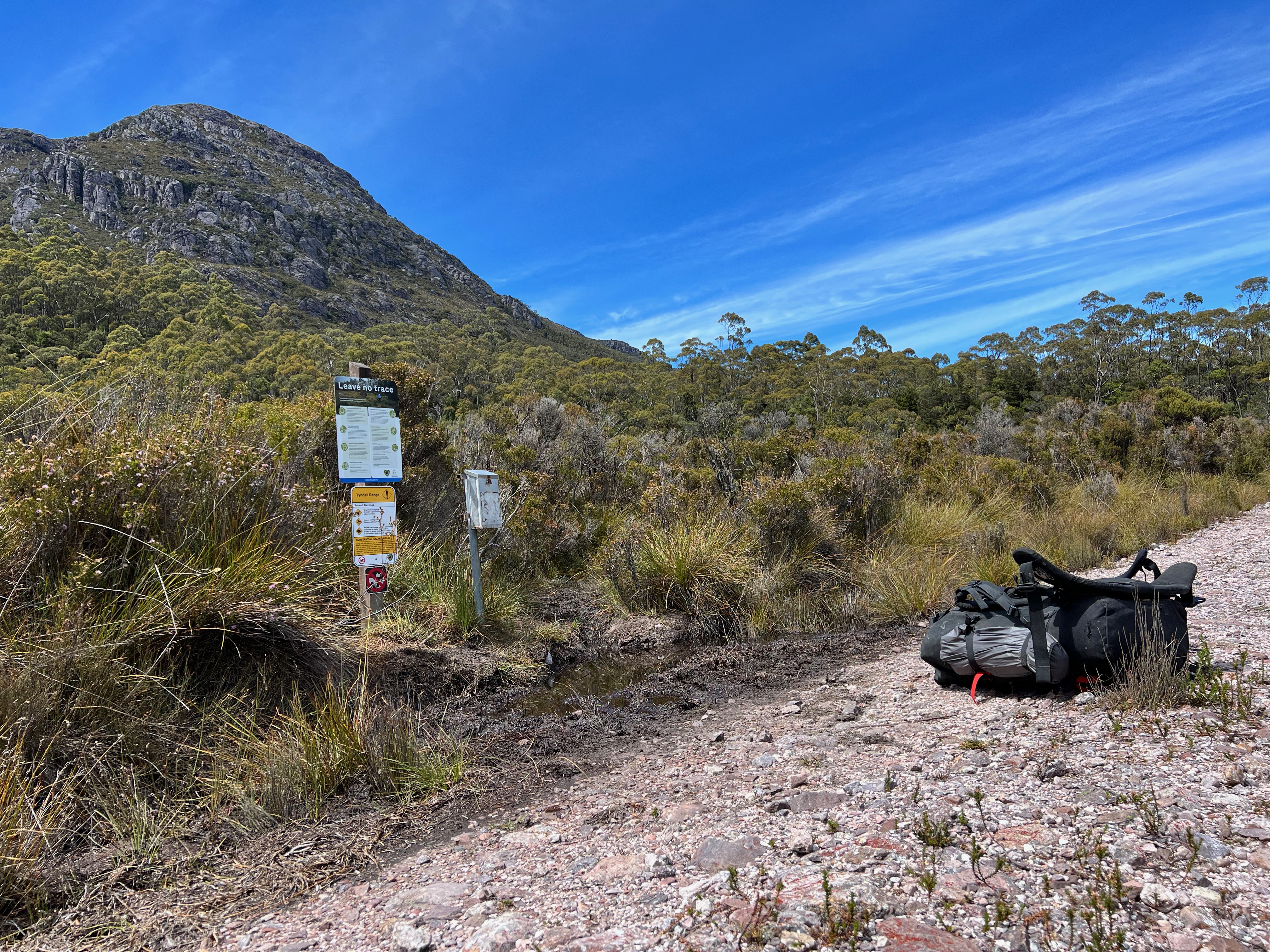 As you wander up the track, it starts muddy. It then gets scrubby. Then it gets steep.
Before you know it, you're walking up the side of the mountain. And there's about 600 meters of elevation to cover.
There are certainly no long walk-ins here like with the Western Arthurs, and you know how much I dislike that walk-in to Junction Creek.
But if you're lucky - like we were - the hill climb is worth it because the views become very nice, very quickly.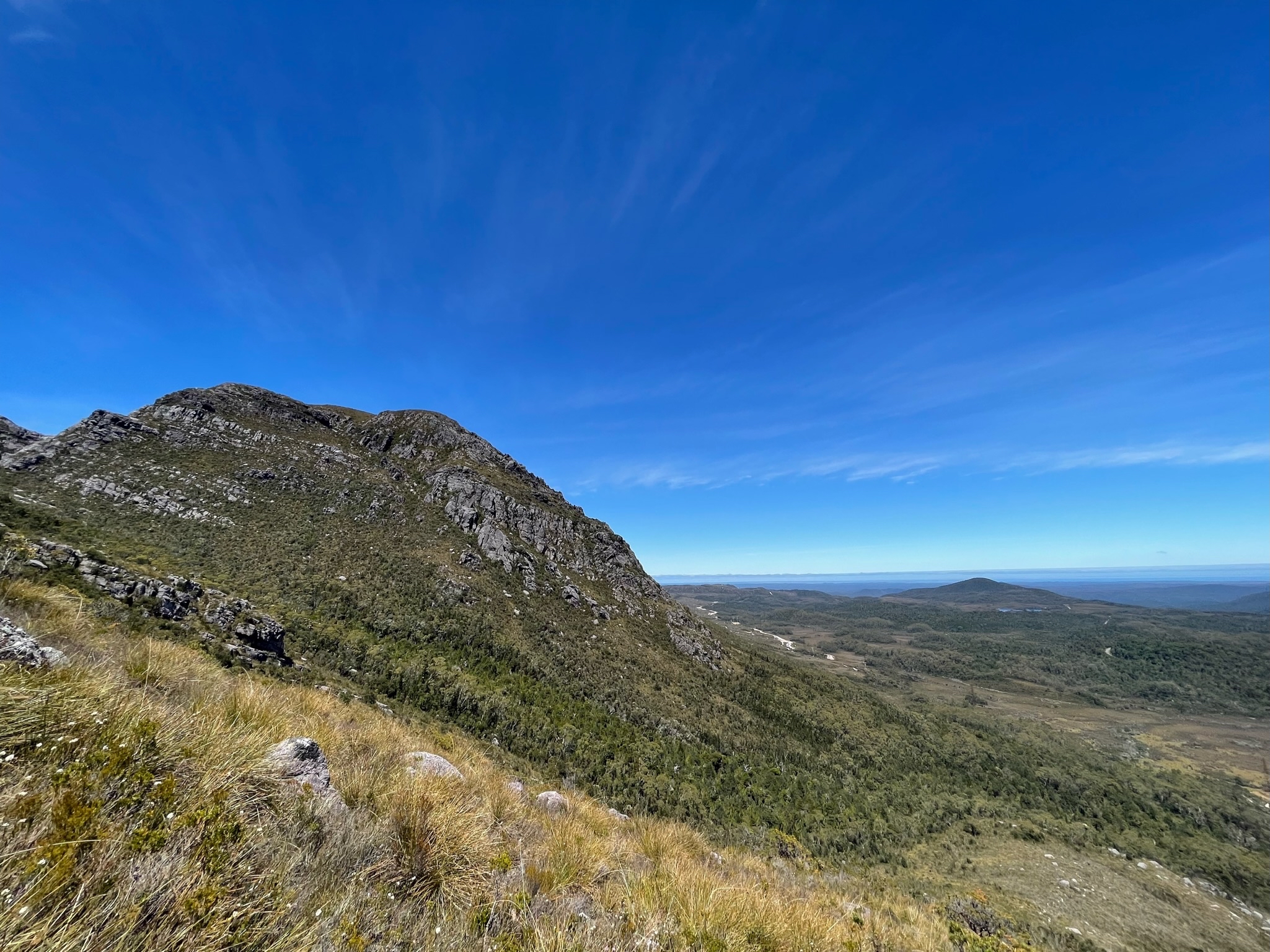 And it only gets better the higher you get.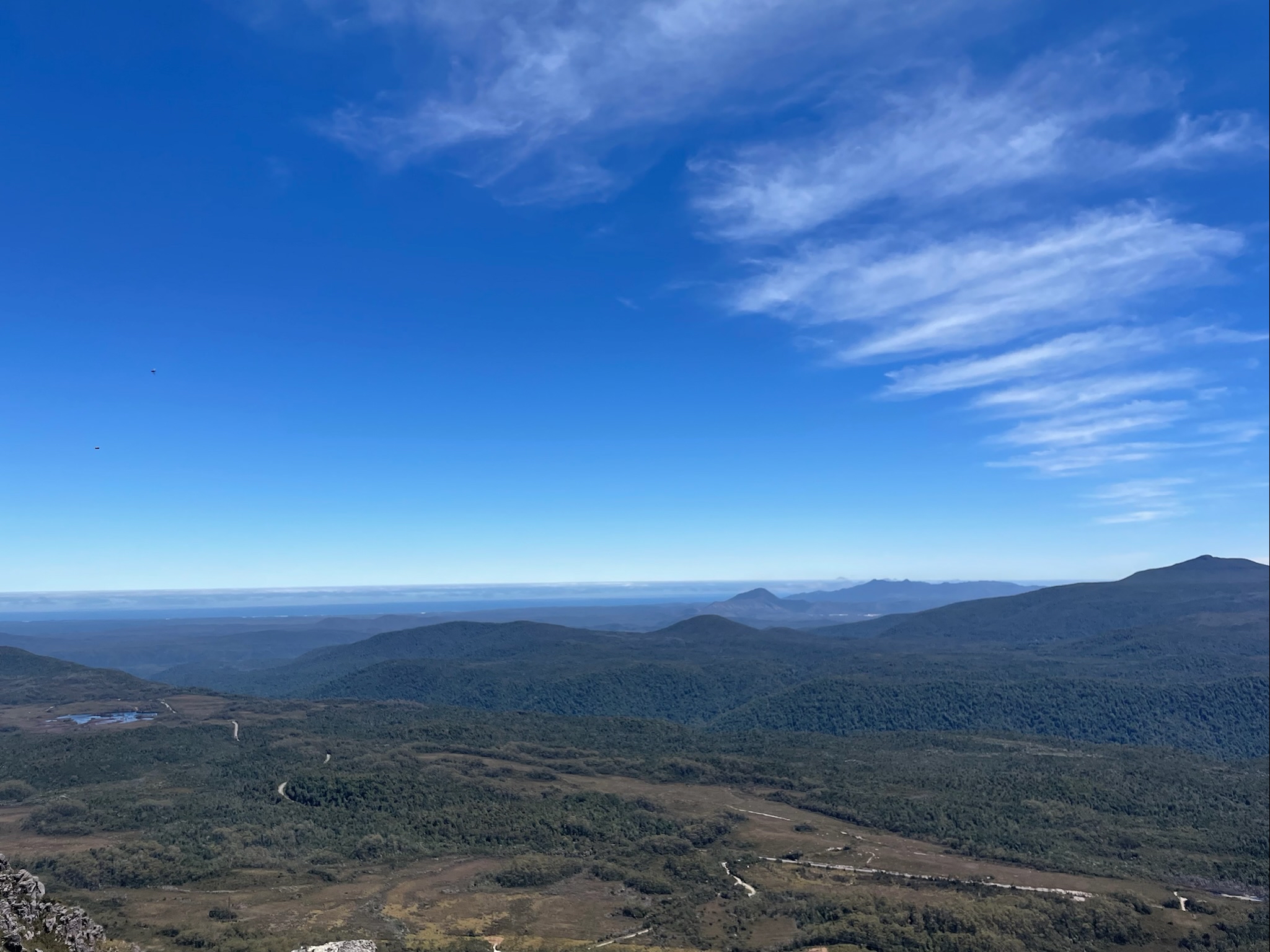 There were quite a few people around as we climbed.
I estimate there were about 5-6 groups ahead of us, and when I signed out of the logbook on our way out, about 6-7 groups came after us.
But it never felt crowded, as the places to camp up on top near Lake Tyndall were plentiful.
But I digress.
Once making it to the top of the track, I peeled off and made a quick trip up to the top of Mount Tyndall.
The views, as I keep saying, were astonishing. Amazing vistas were presented of surrounding mountains. Looking down, there's Lake Plimsoll.
The coast is visible to the west. Soaring ranges to the east.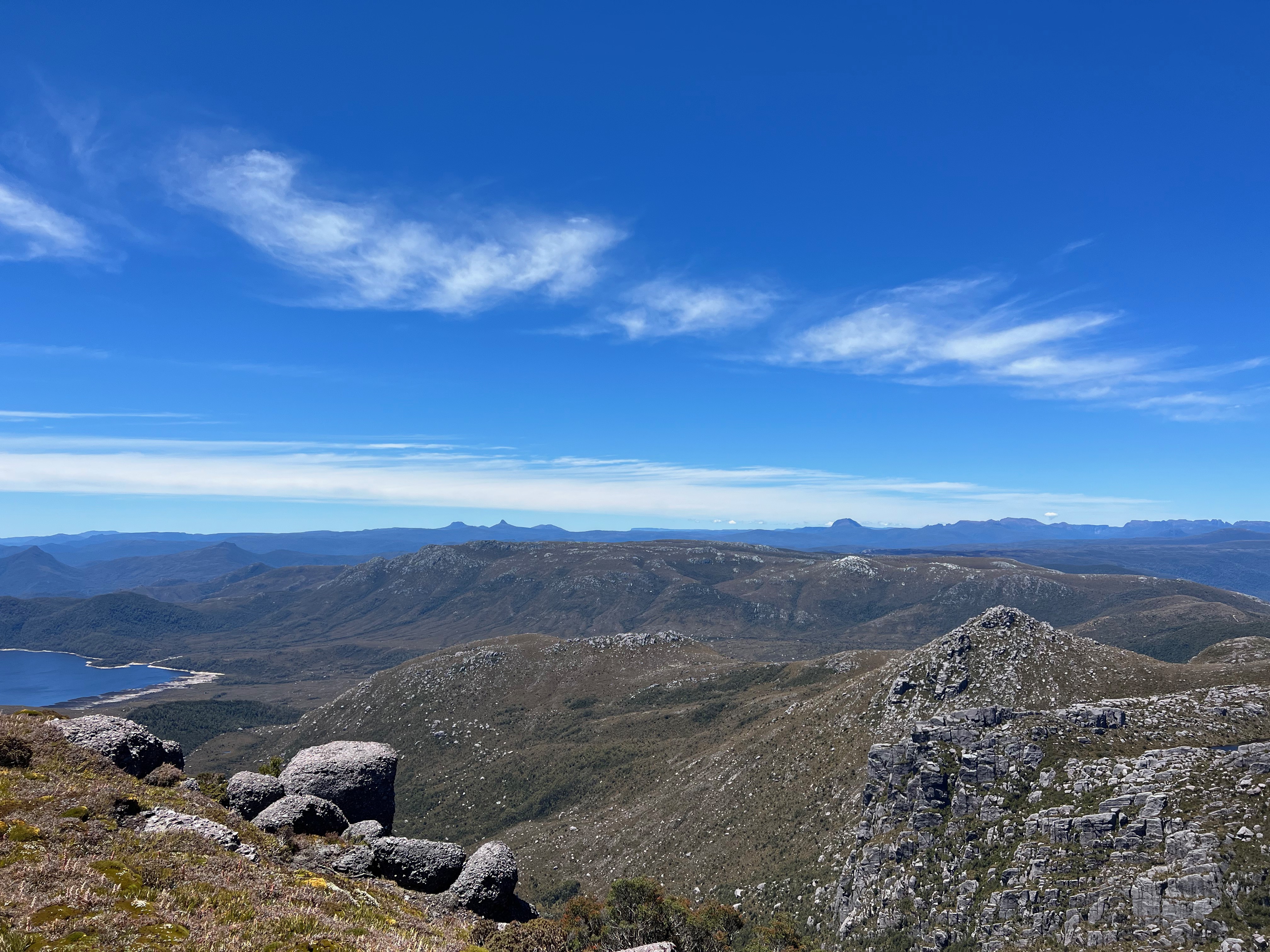 I noticed something off to the north west - it was a straight line of sorts, not really seen in nature - so made my way the short distance to see what it was.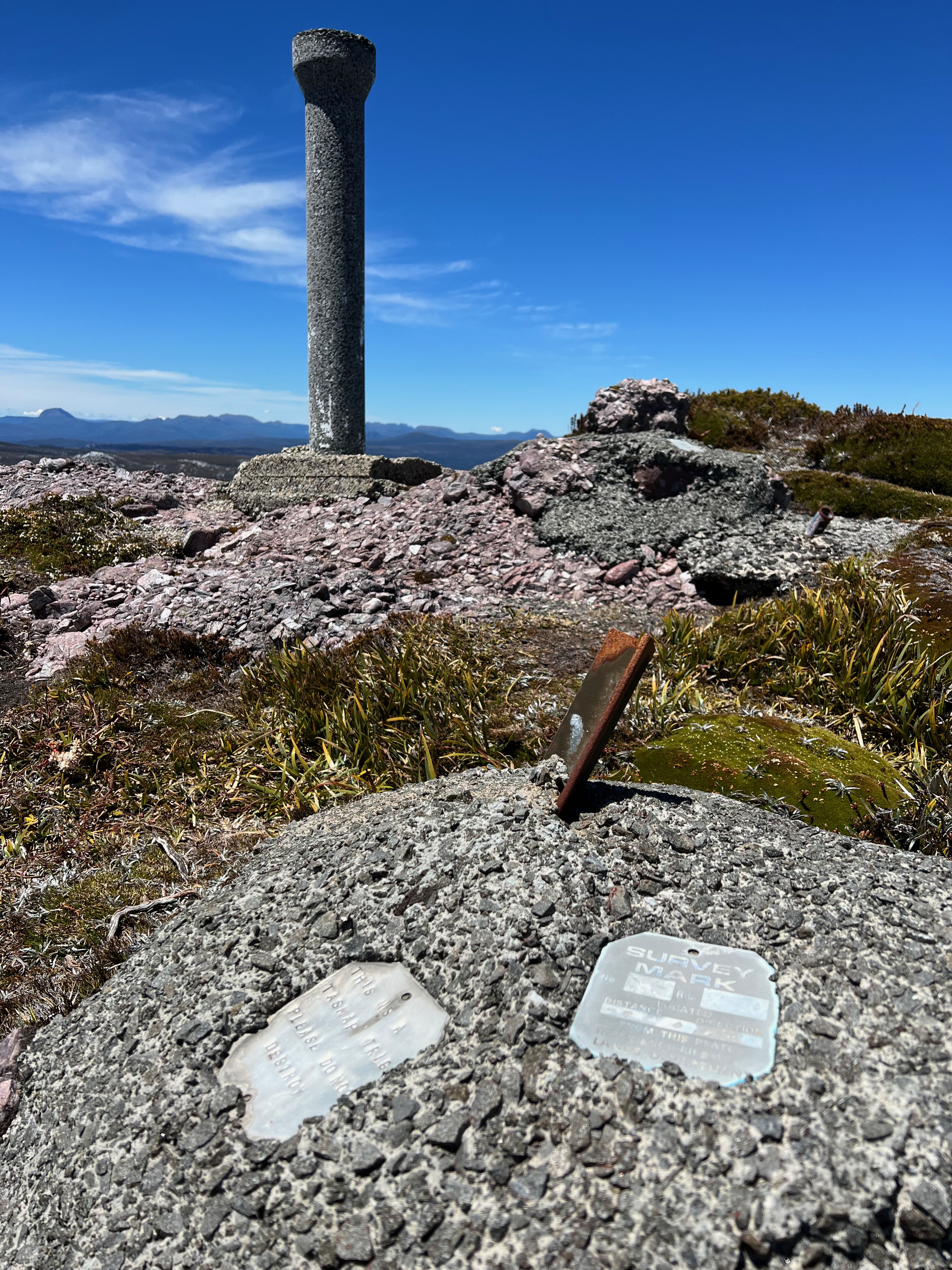 It was an old trig station, either decommissioned or destroyed by weather. An old piece of timber lay nearby.
After wandering around on the top for a while, it was time to head back down and go find a campsite.
I was also hoping to make it up Geikie while the weather was great, and wasn't sure how long it was going to take.
Sometimes distances are deceiving. What looks close can sometimes take hours and hours to cross. What looks far away can sometimes be down much more quickly.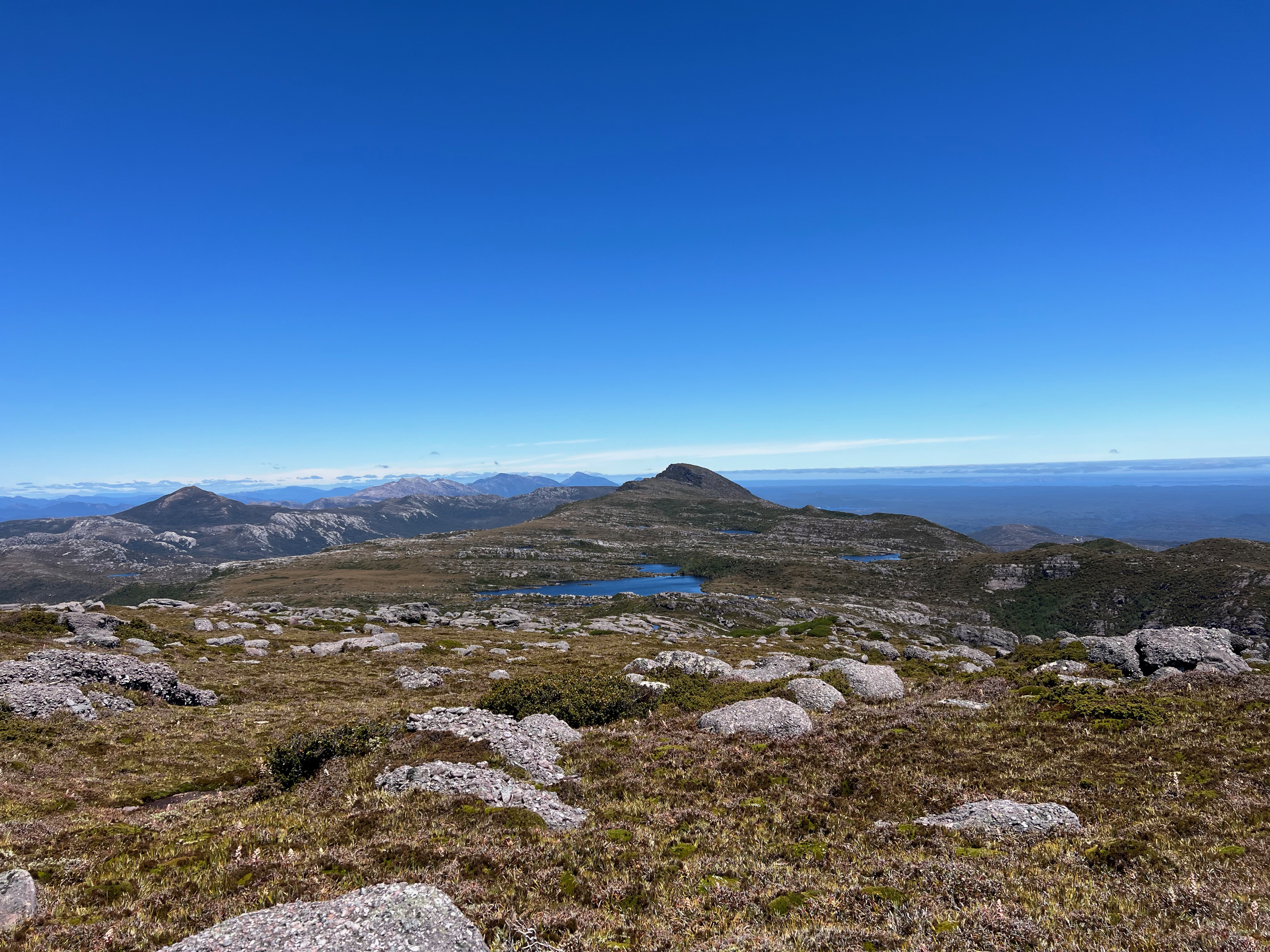 I needn't have worried too much - the walk to Geikie was very pleasant. Not too steep, but very open and easy going.
And - as I keep saying - the views off the side of the range to the east were amazing.
Sedgwick was on the cards for the next day, so I was keen to see how much of the route I could see.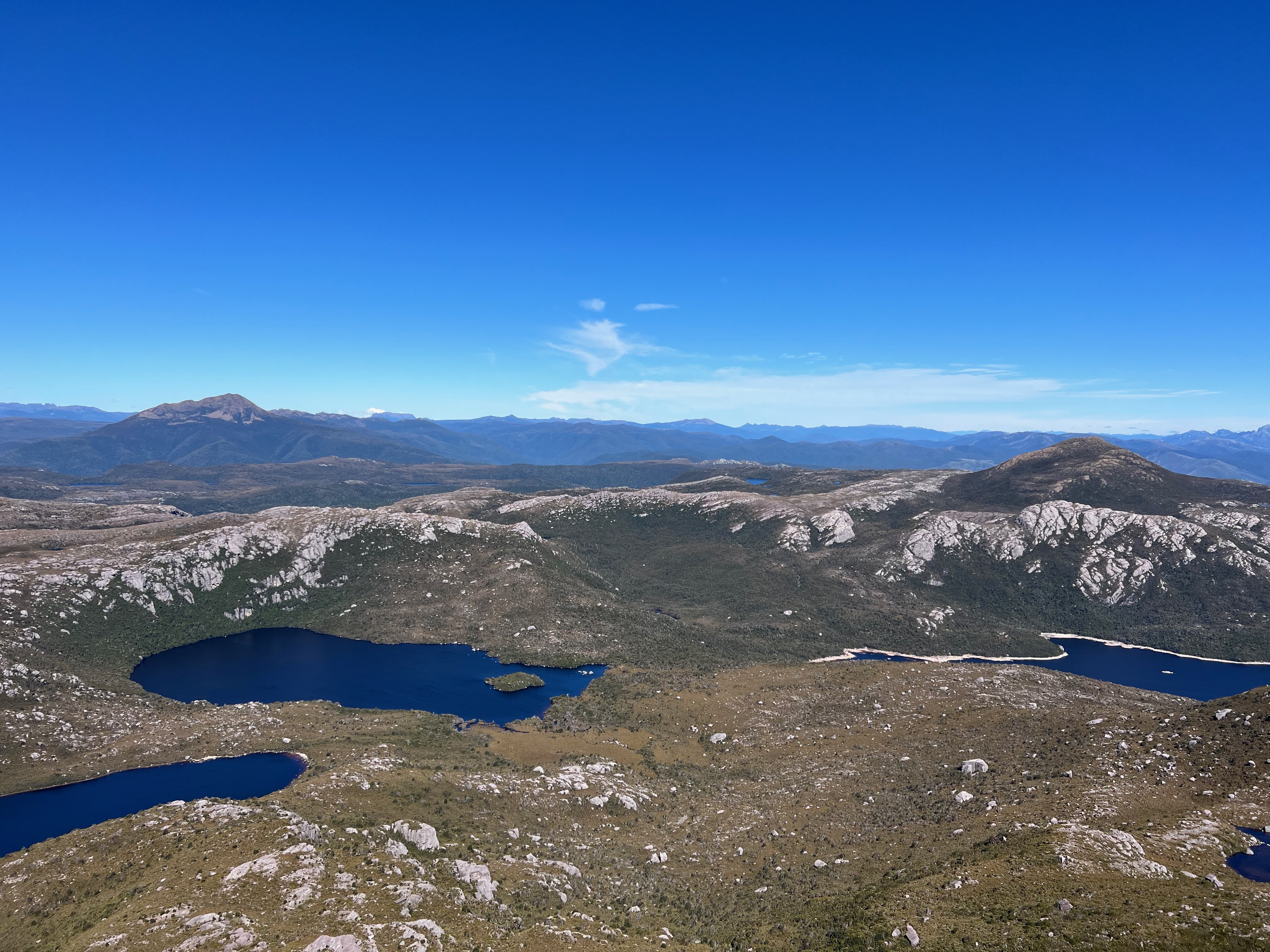 While it looked pretty good, there were some worrying sections that looked incredibly scrubby. But that's a story for tomorrow.
The Bastion - the highest point on the way to Geikie (that's not Geikie itself), was stunning - and allowed amazing views of Geikie's vegetation covered cliffs.
Across the valley was Mount Sedgwick, with its rocky outcrops that scar its otherwise scrub covered face.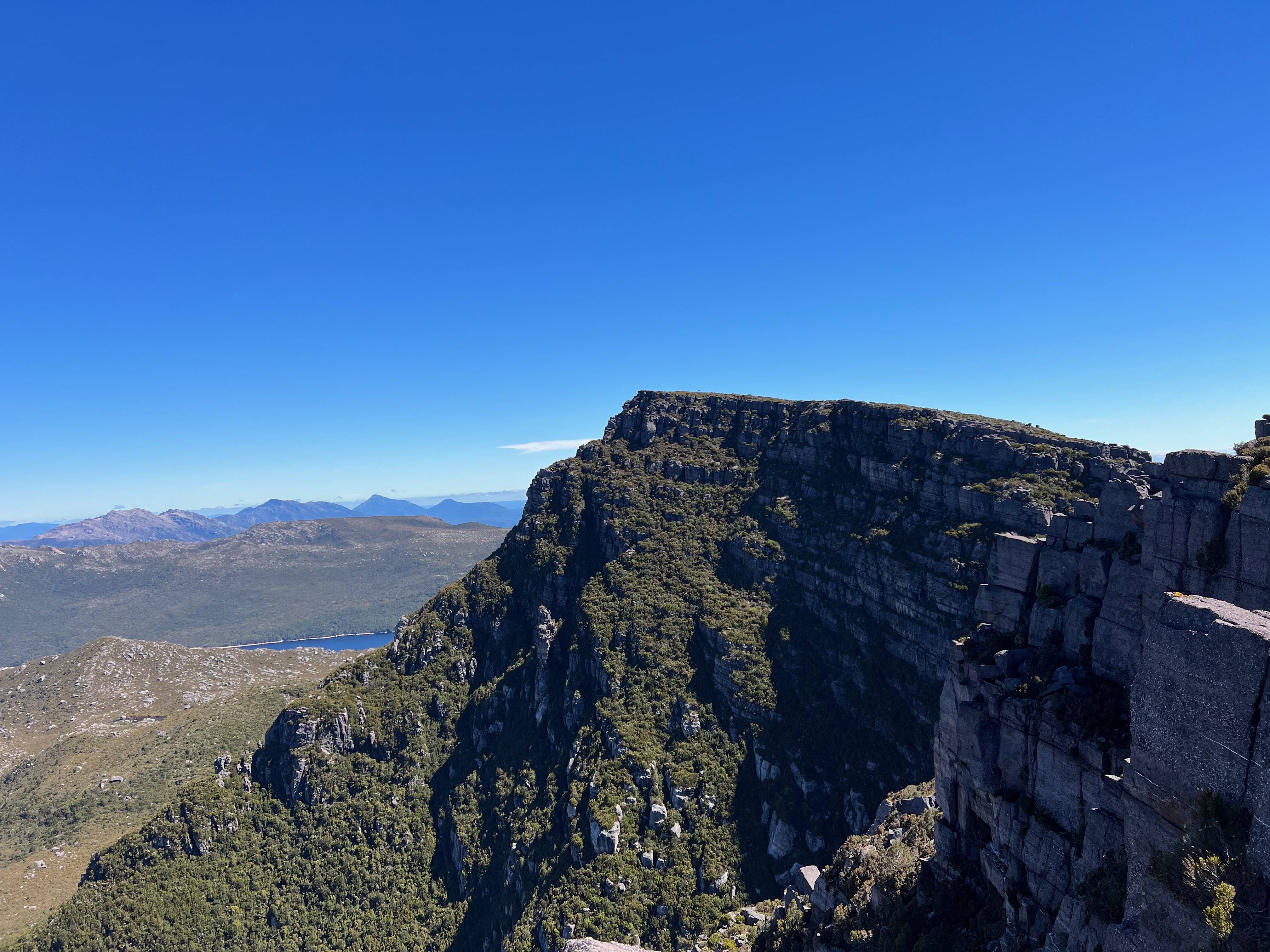 To get to Geikie from The Bastion, it requires a slight drop to a saddle before crossing onto Geikie and climbing back up.
The route isn't hard to follow, but is rocky at the start. Cairns mark the way, and after the rocks is a lovely walk to the peak.
You're greeted with a trig station that seems to have all its required bits and another amazing view!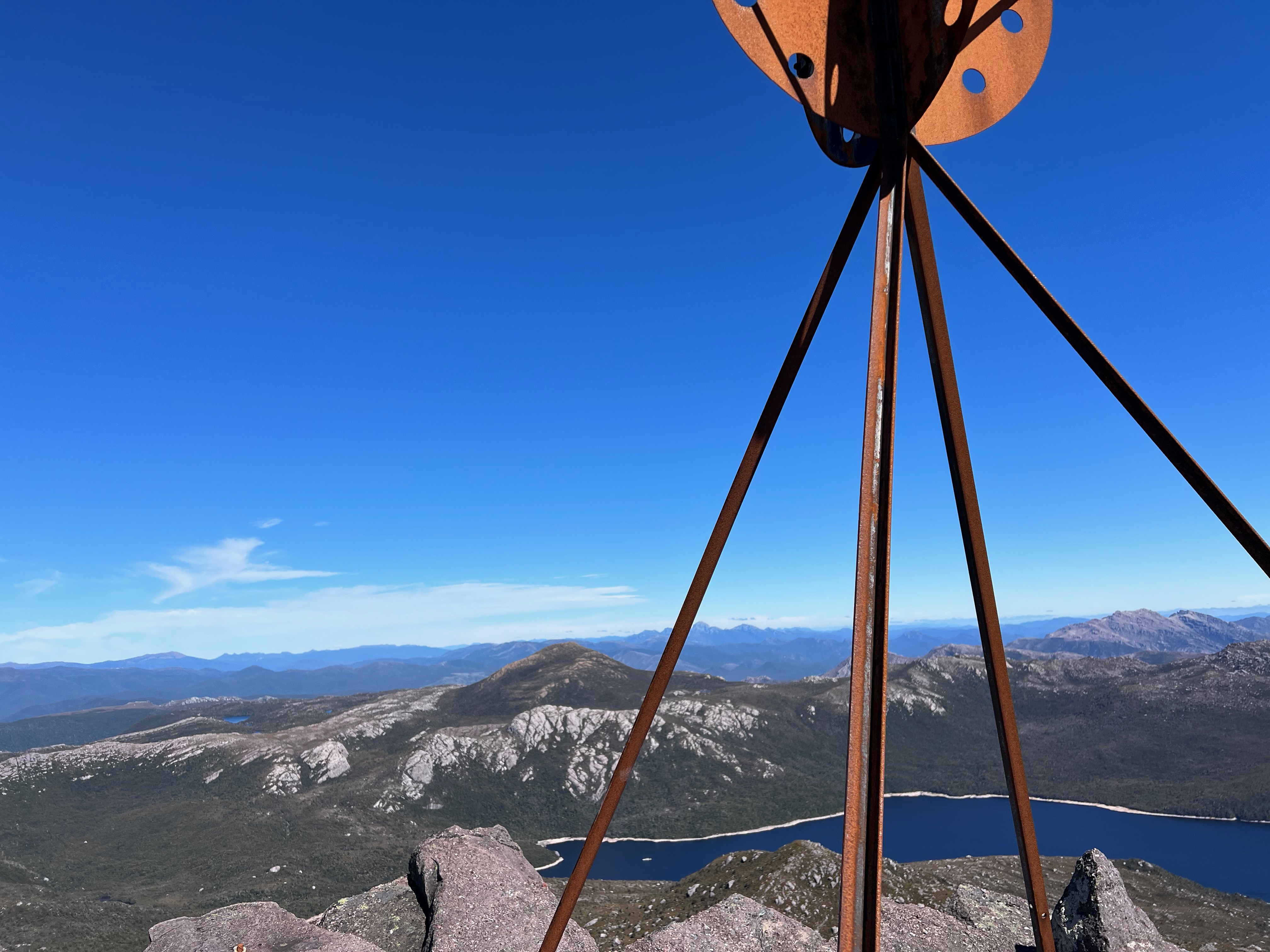 It took me just over an hour to get to the top from our campsite, which was much quicker than I expected.
After a few photos, a few messages and a phone call to say we'd made it (and that Clive had been lost, then found) - it was time to head back down.
As I wandered back, I was struck how lucky I was to be in such a beautiful part of the world, with such amazing weather. The West Coast isn't exactly a tropical paradise most of the time, but today it was perfect walking weather: not too hot, not windy, and not freezing cold or threatening to blow you back to Hobart.
The luck was to continue, because when I got back, we found what could be described as one of the best campsites I've ever had the fortune of staying at.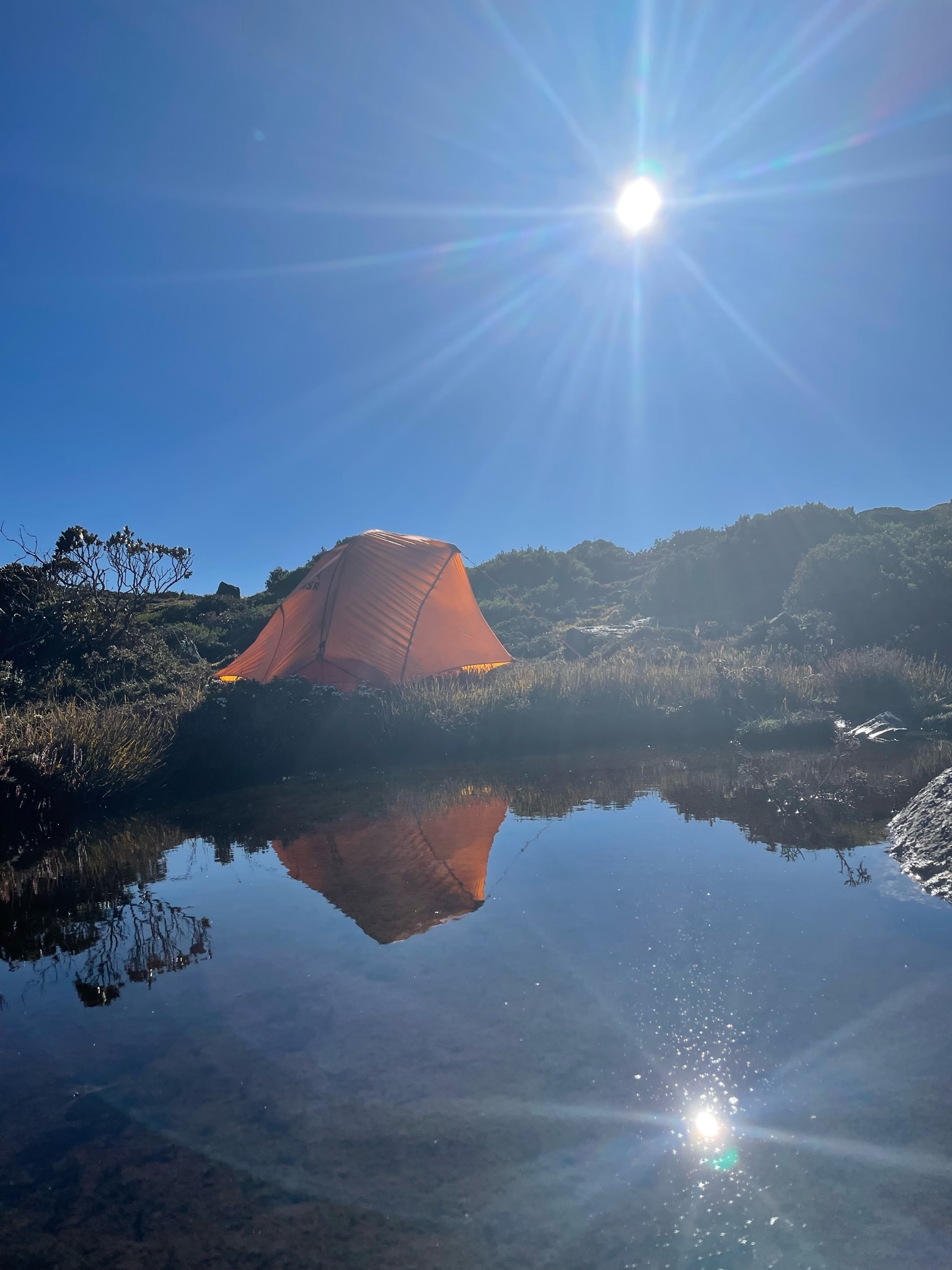 The ground was flat. Water was close by. There were nice places to sit. The views were picturesque.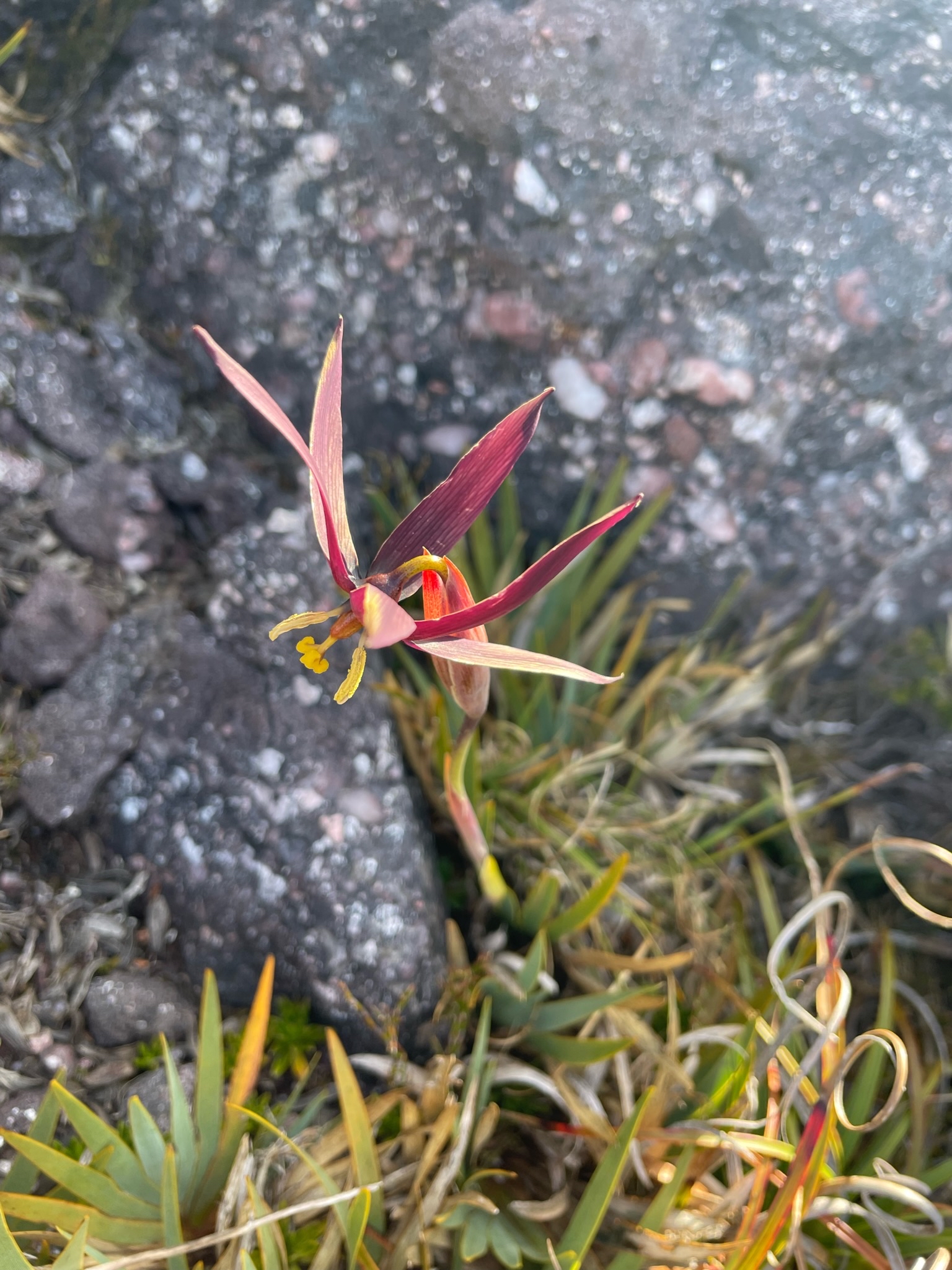 The end of the day was spent watching the colours of the Lake Huntley hills1 change colour as the sun slowly dipped beneath the horizon. A perfect end to a wonderful day.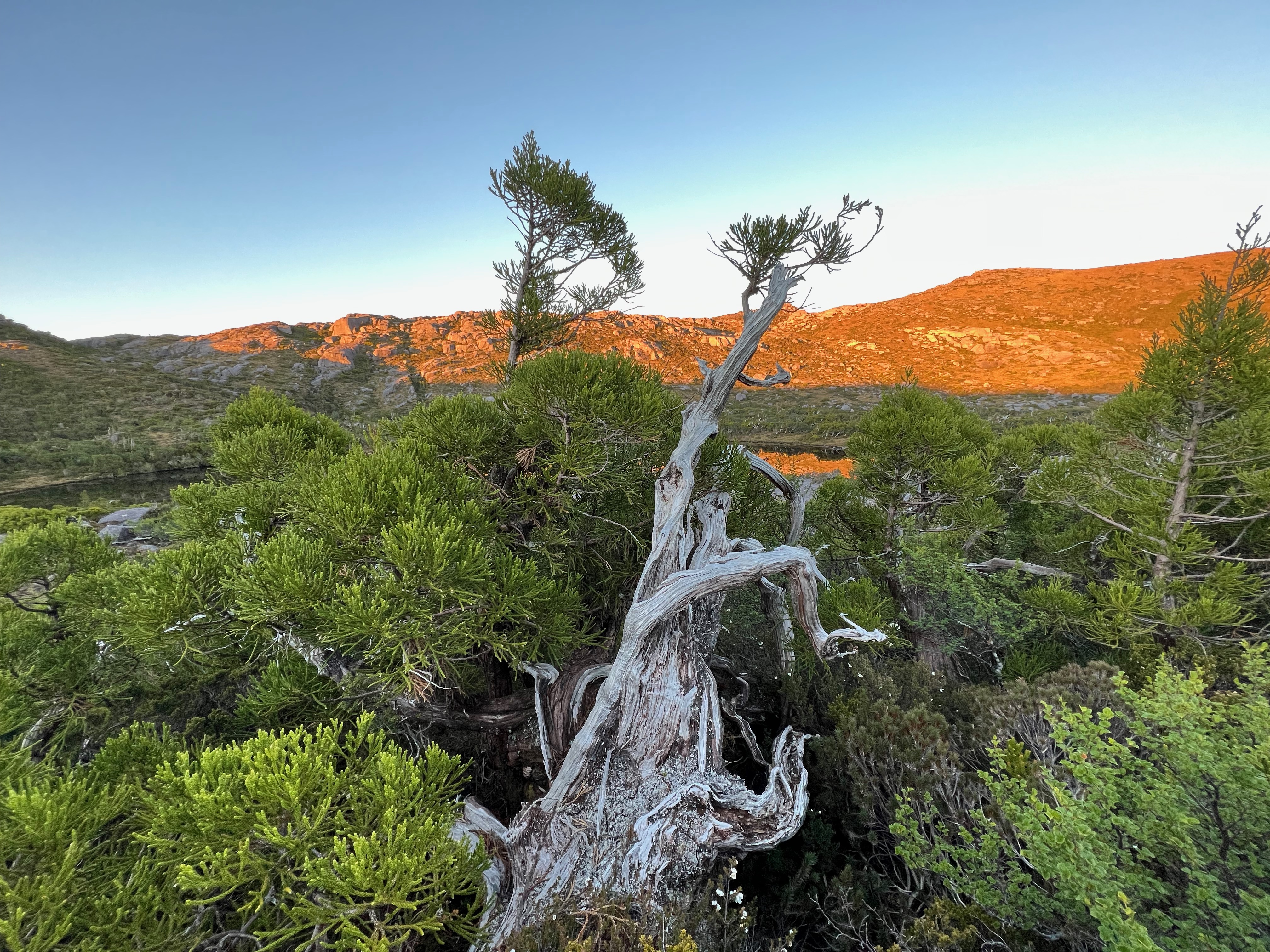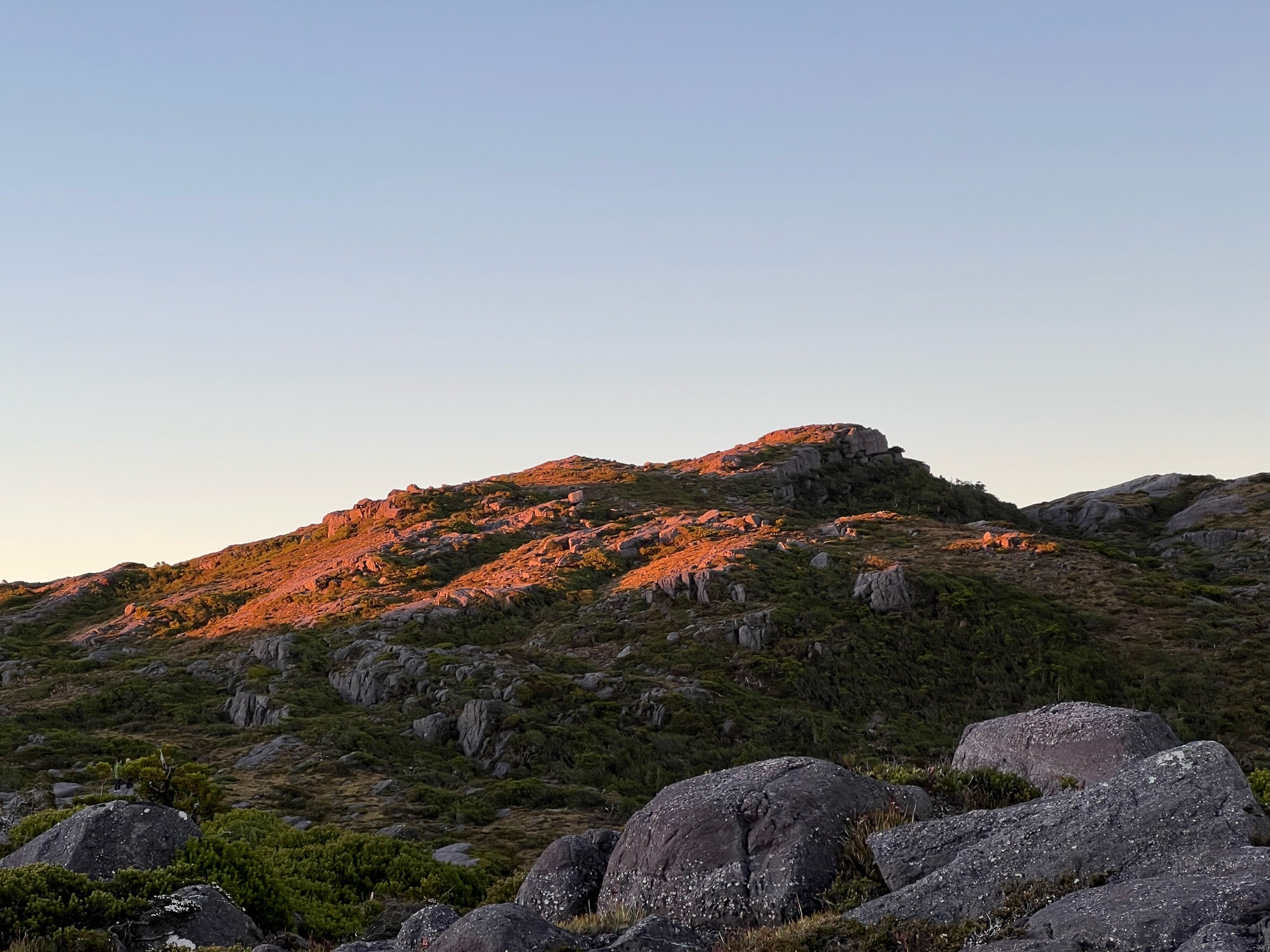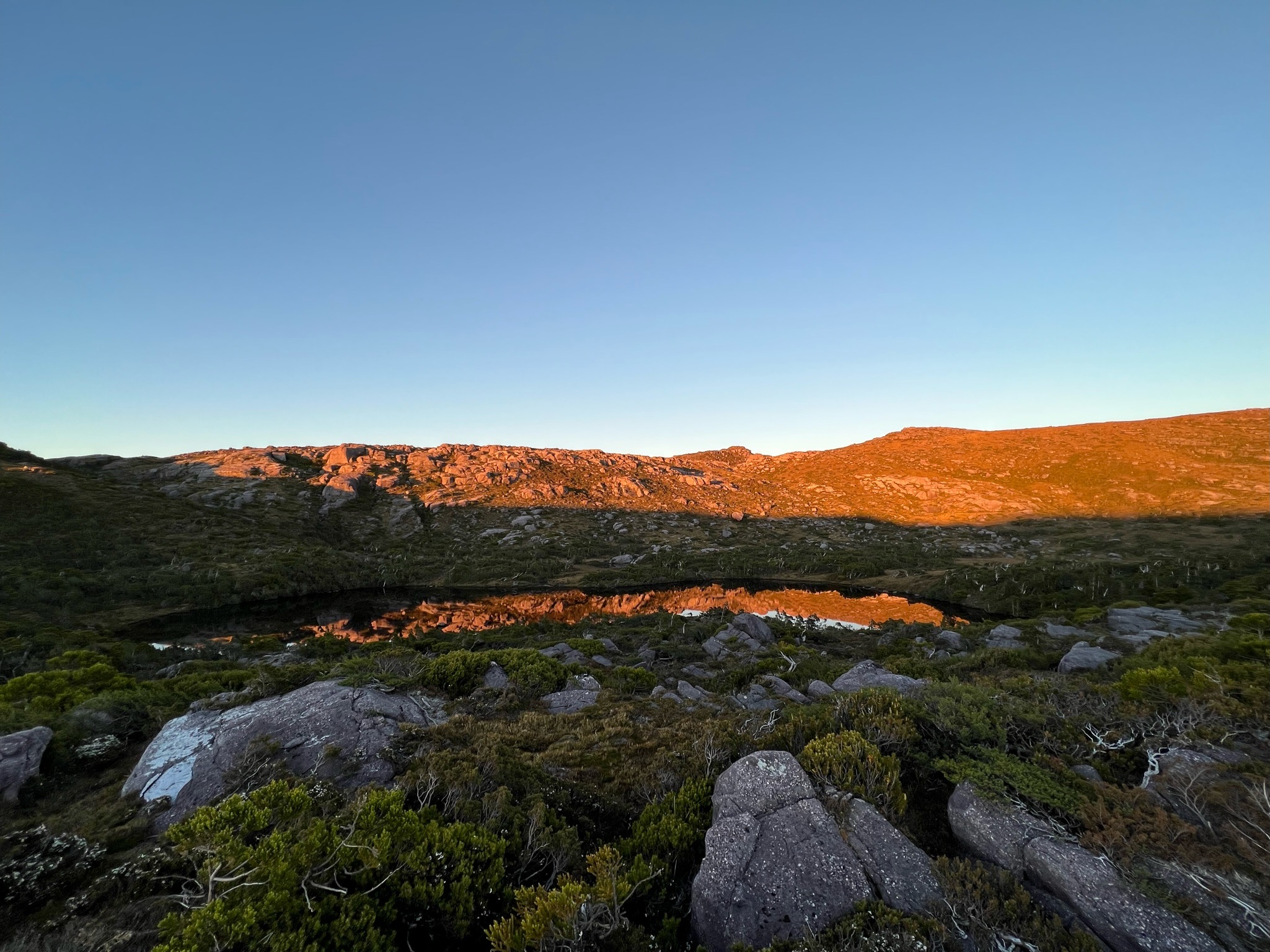 Day 2: A long, scrubby walk to Sedgwick
I woke to the buzzing of my alarm. It was 6:15am.
I'd slept well, but my mat had gone down a few times during the night. Somehow, I had found the intelligence to diagnose and fix the problem in my half-sleep (the seal of the deflate plug was slightly ajar), so I hadn't been condemned to a flat mat for an entire night. Such are small mercies.
Nonetheless, the alarm was ringing and I had some walking to do.
Today was a walk out to Mount Sedgwick, a 1146 meter mountain close to the Tyndall Range, but not quite part of it either.
When you look at it from the range, it seems… a rather long way away. And there seems to be quite a few obstacles to cross to get there.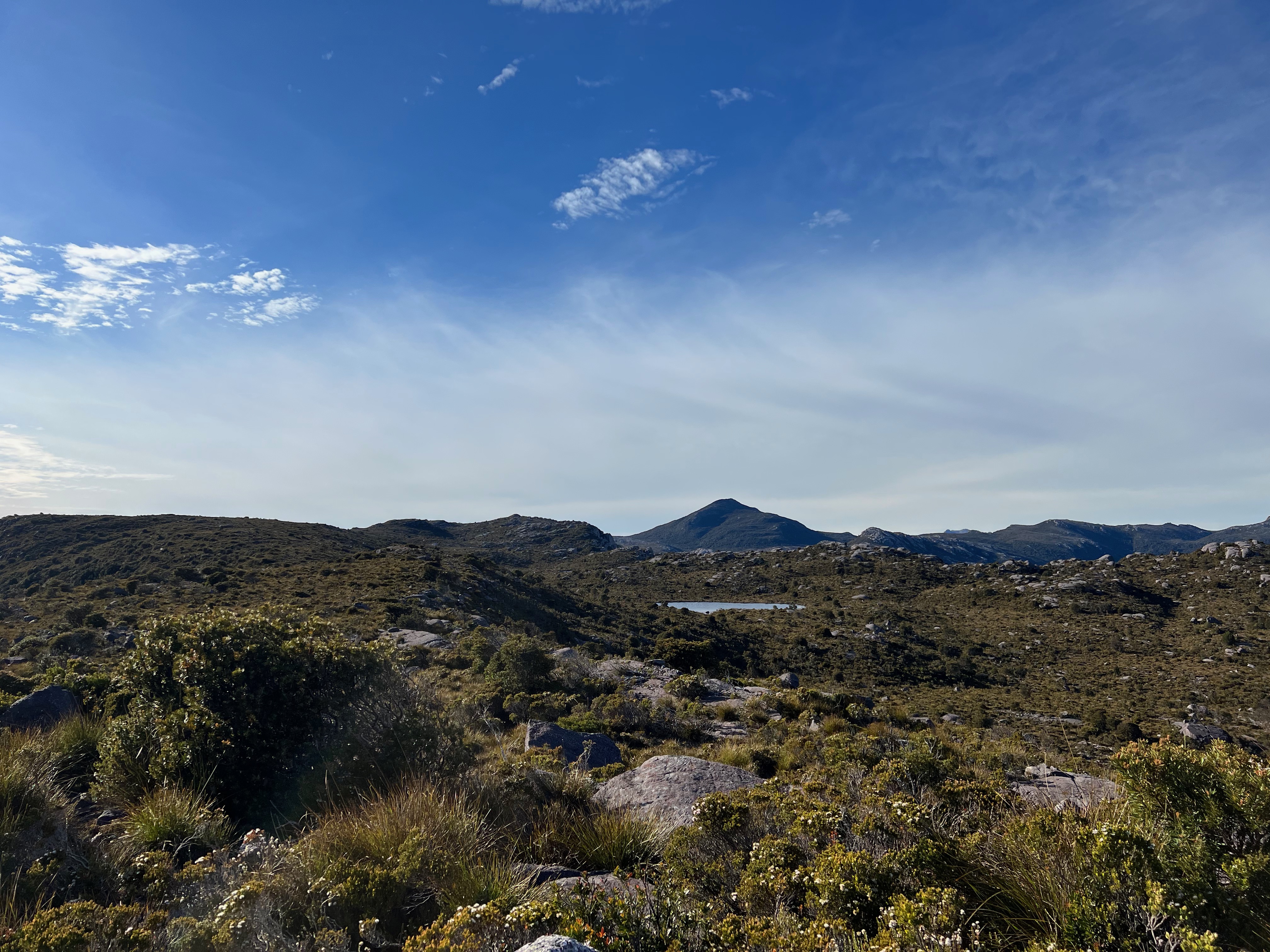 Hence the beeping.
I was keen to get going at about 7am to get as much distance as I could before the going got too hot.
I wasn't really sure how long it was going to take. I'd heard return times ranging from 6 hours to 12 hours!
But there was only one way to find out, so I started off at 7 and before long I knew I'd made a huge, terrible mistake.
The mistake was that I'd stupidly chosen to wear shorts.
Why I decided this, I don't know. I usually wear pants. I'd taken gloves because I knew it was going to be scrubby. So why the shorts? Very silly.
I'd pay for that mistake all day. And I'd realise it as I fought my way down the hill to the knoll which marks the start of the first ridge. It was cliffy and scrubby.
For what it's worth, I found a much better way back up that avoided most of the scrub. There's a massive cairn that marks it too (at the top). But as usual, I discover this on the return journey rather than the outbound.
Anyway, after about an hour from camp I'd made it to the ridge which passed by Lake Myra and Lake Monica. This is lovely walking. It's open, easy and there's much to look at as you amble along.
After a high point, you get a mix of rock and scrub. But with a bit of forward planning, you can miss most of the bushy bits and stick to the lovely rocks.
Eventually you descend into what I deemed The Amphitheatre2, an area surrounded by higher conglomerate cliffs and hills. I slowly picked my way down, eventually ending up at the stream which links Lake Apollos and Lake Paul.
After another scrubby fight down a small hill, across a creek and diabolical scrub, and back up the other side, I again found some nice rocks to climb and to continue the nice walking.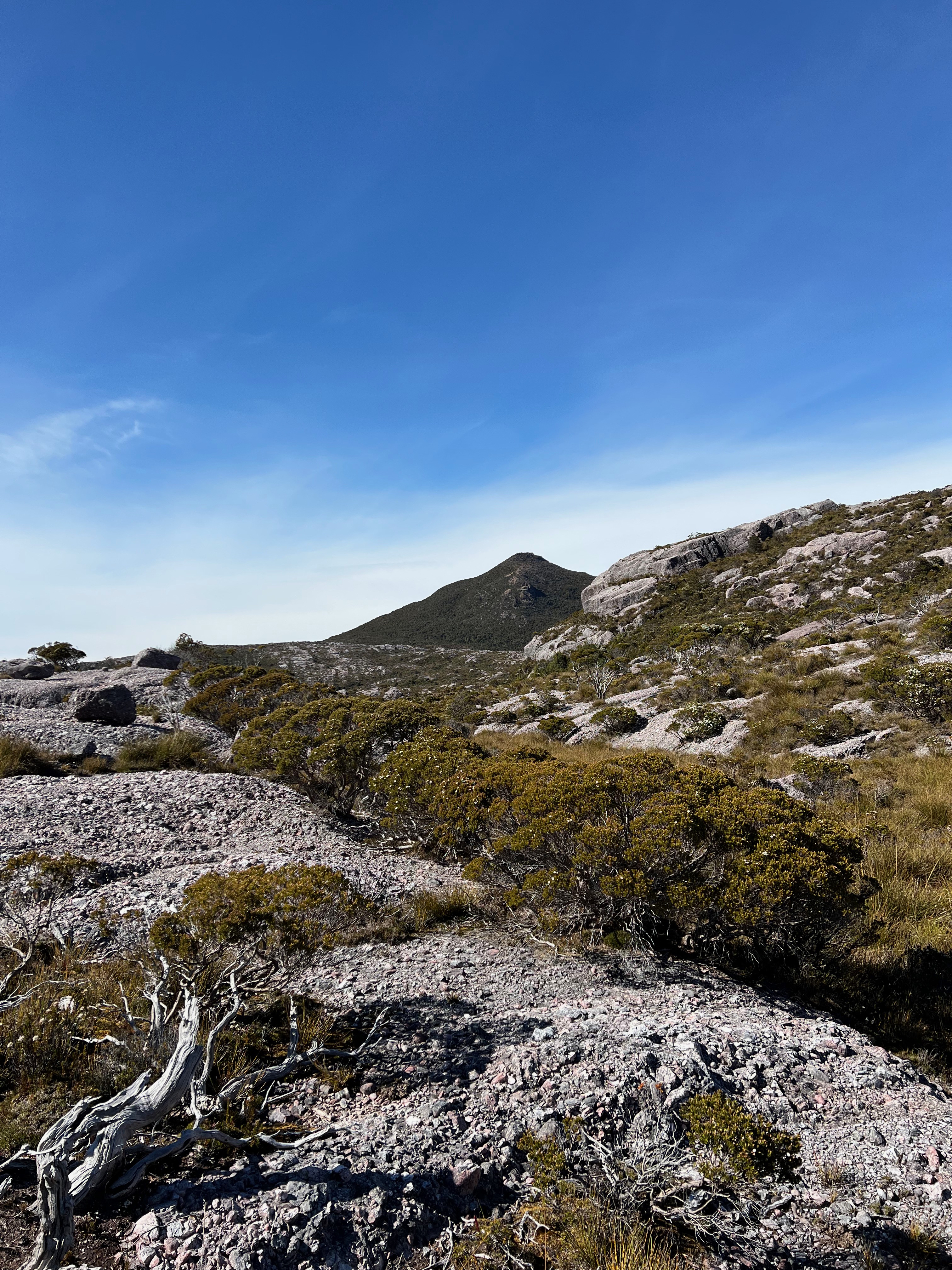 As I got closer and closer, I found trees that were basically growing along the ground. I presume this is due to the insane weather that must rip though this area regularly. The only way to survive is grow very carefully.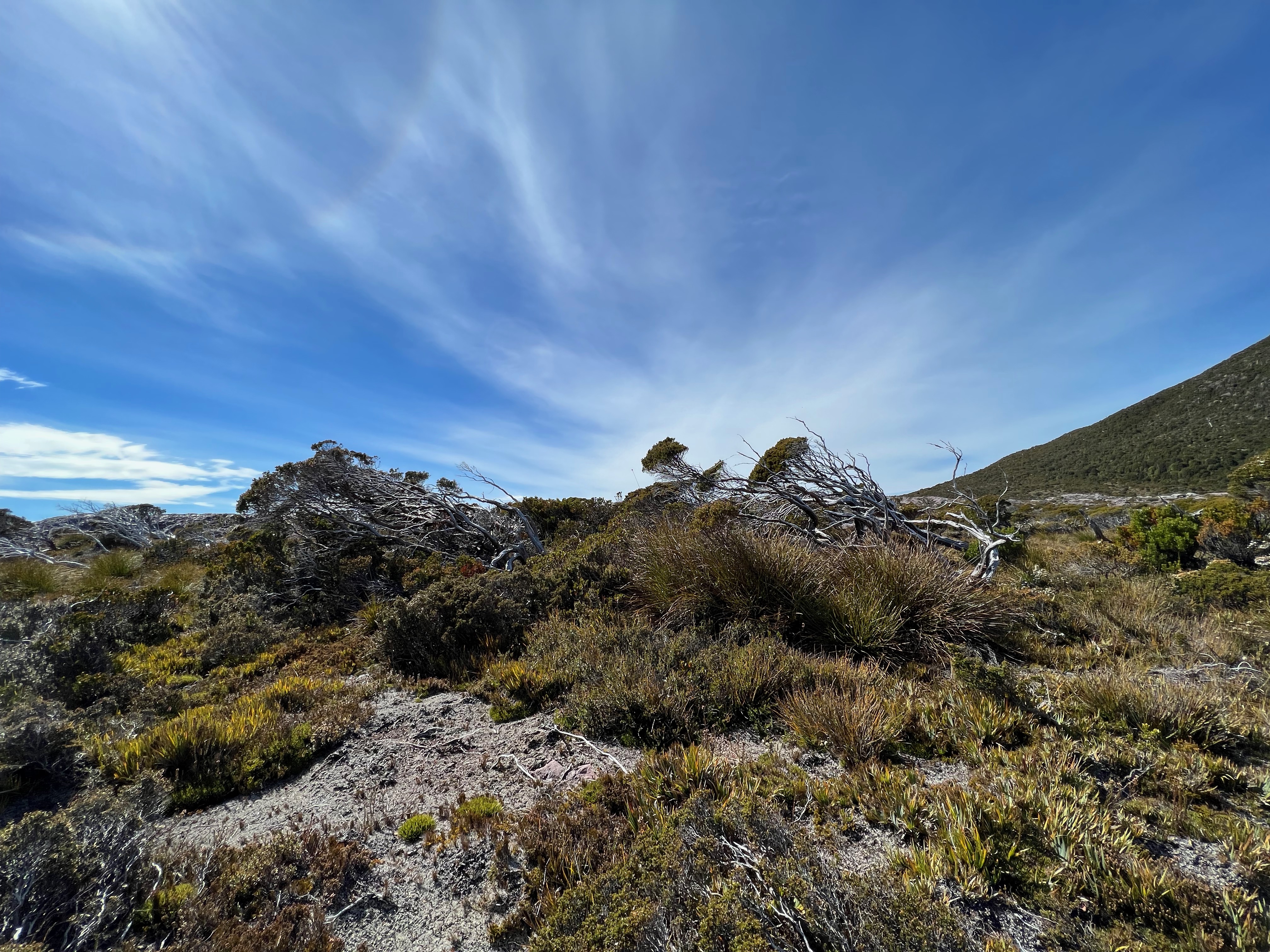 Eventually you end up at the base of Sedgwick, and the deal is pretty much straight through the bush (damn those shorts) and straight up until you hit the rocky outcrops. I stuck to them as much as I could to avoid the scratchy scrub, though it can't be avoided.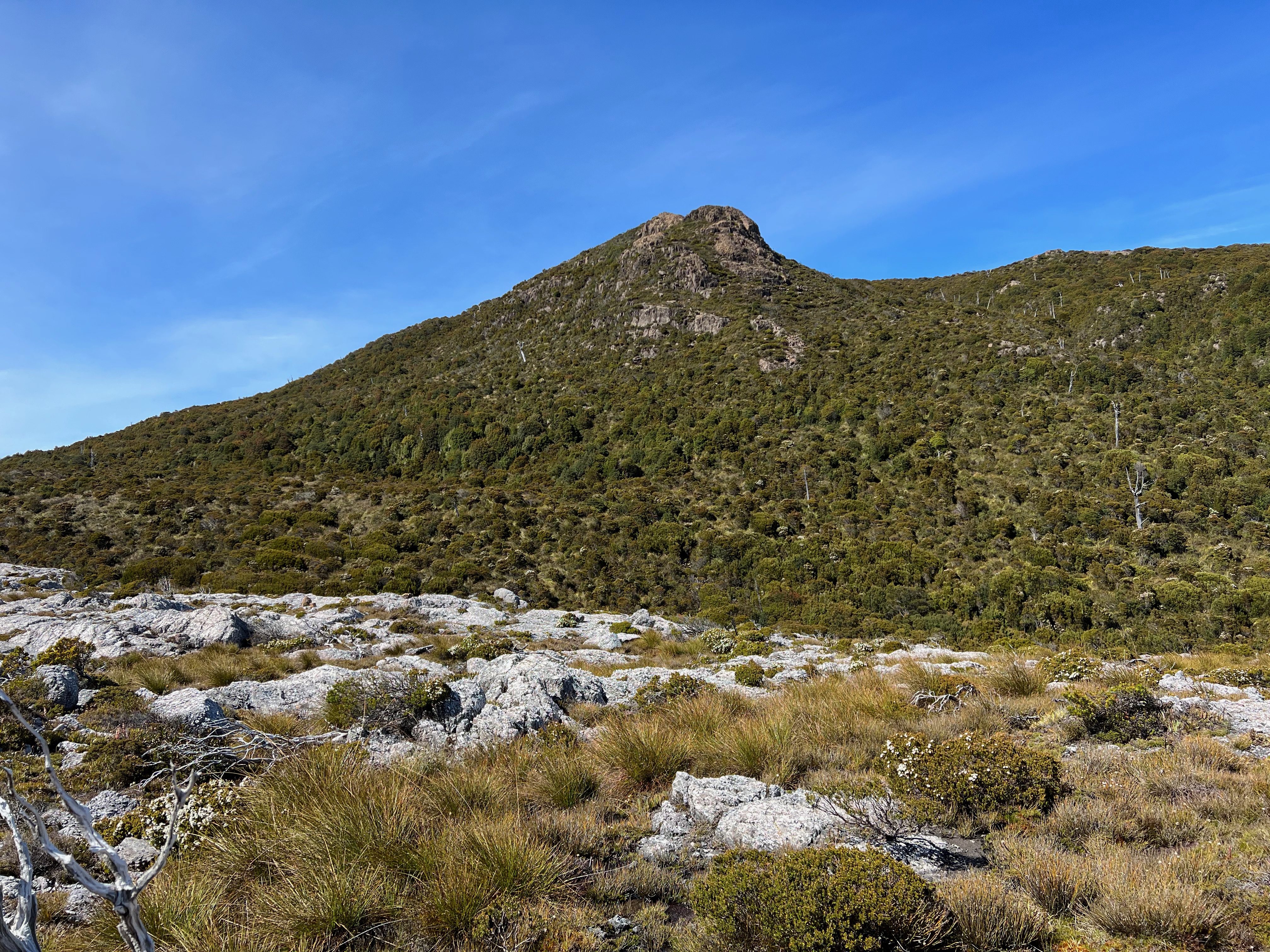 And after four hours from camp, I'd made it.
And what do you know? Great views! :)
I was also amazed by the state of the trig station. It seemed as though the sides of top part of the station had been ripped off by incredibly strong winds sometime in the past.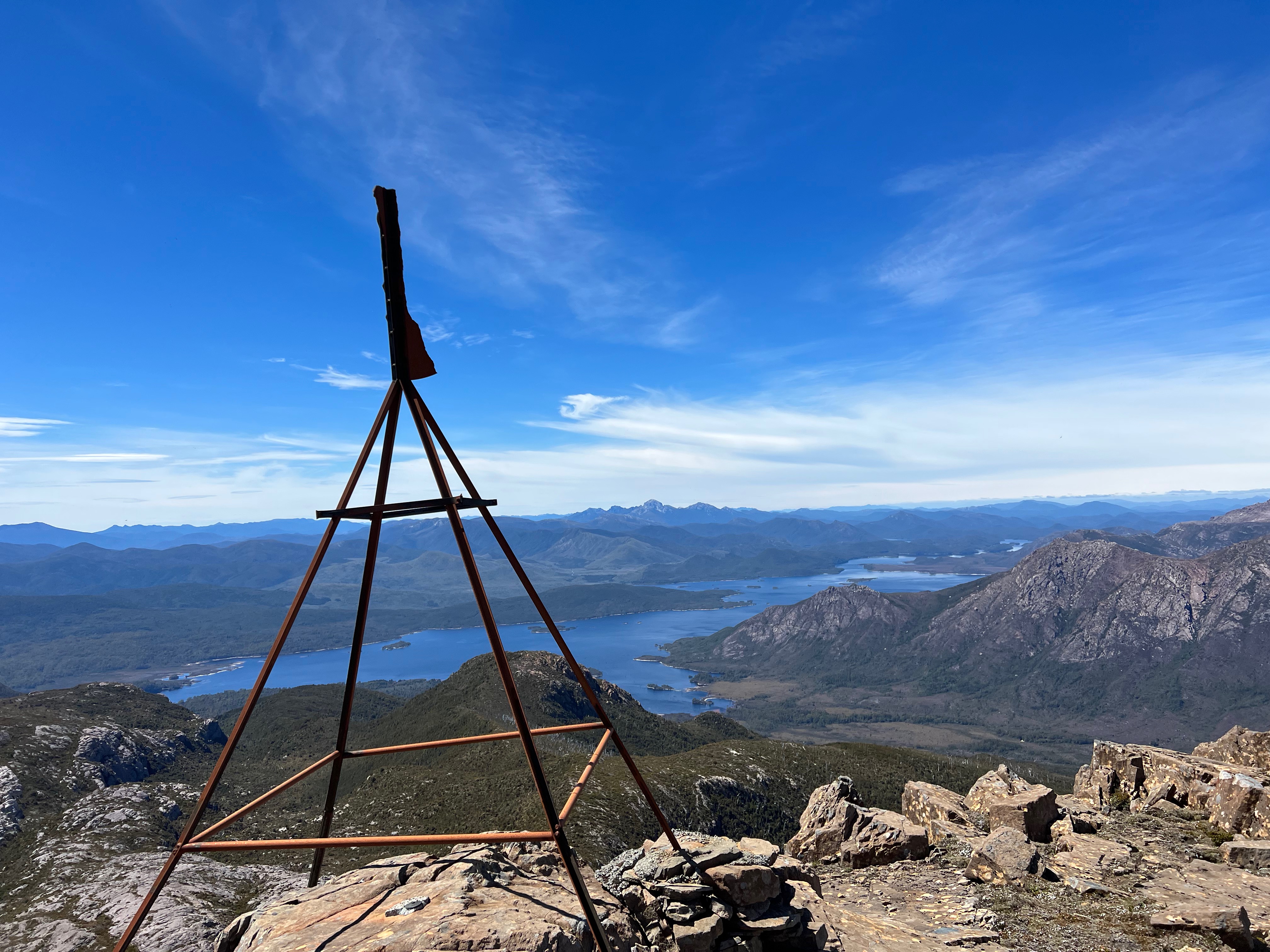 I looked across to the Eldon Range, wondering if I'd ever make it up those mountains and hoping that if I did, I'd have the same nice weather.
After a snack at the top, it was time to turn around and make the four hour return journey, retracing my steps in parts and trying to improve my route in others.
Despite knowing the way back (a bit better) due to having just walked it, it still took four hours to get back. I was getting a bit tired and it was getting hot. The parts of the walk where you're crossing button grass were always the hottest.
I was happy to take my time, and eventually I made it back up onto the range where I sat down, ate some more snacks, and waited for dad and Pete to come back from their visit to Geikie.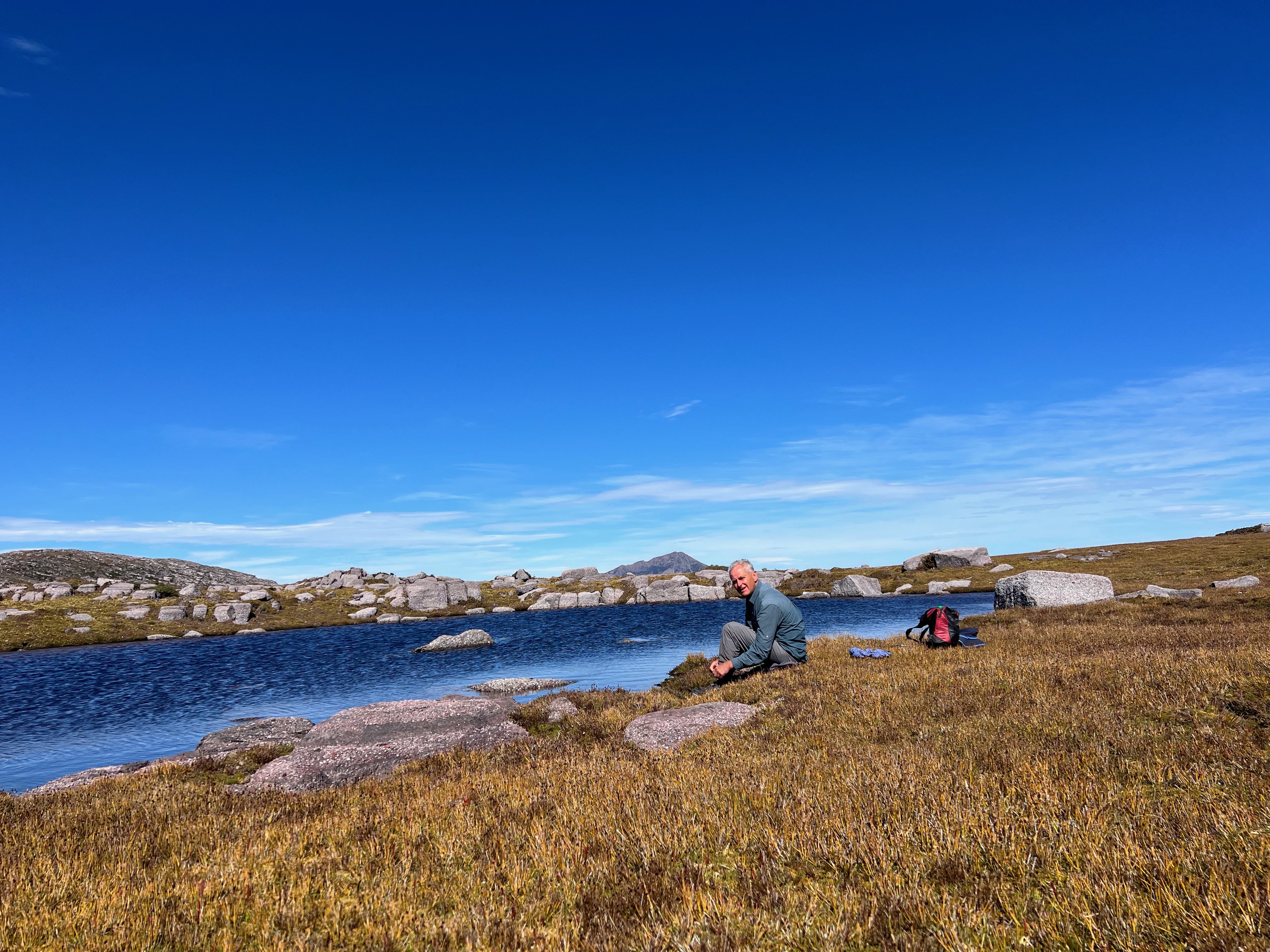 It was an early night to bed that night. I was pretty tired from the walk, but happy I'd made it.
It was a nice walk, with very beautiful scenery and a lovely eight or so hours spent doing it, but it's not a mountain I need to get back to anytime soon 3 ;)
Day 3: Time to go home
Day 3 was thankfully going to be short and easy, but started with a little bit more cloud than we'd had so far. Nothing too heavy though.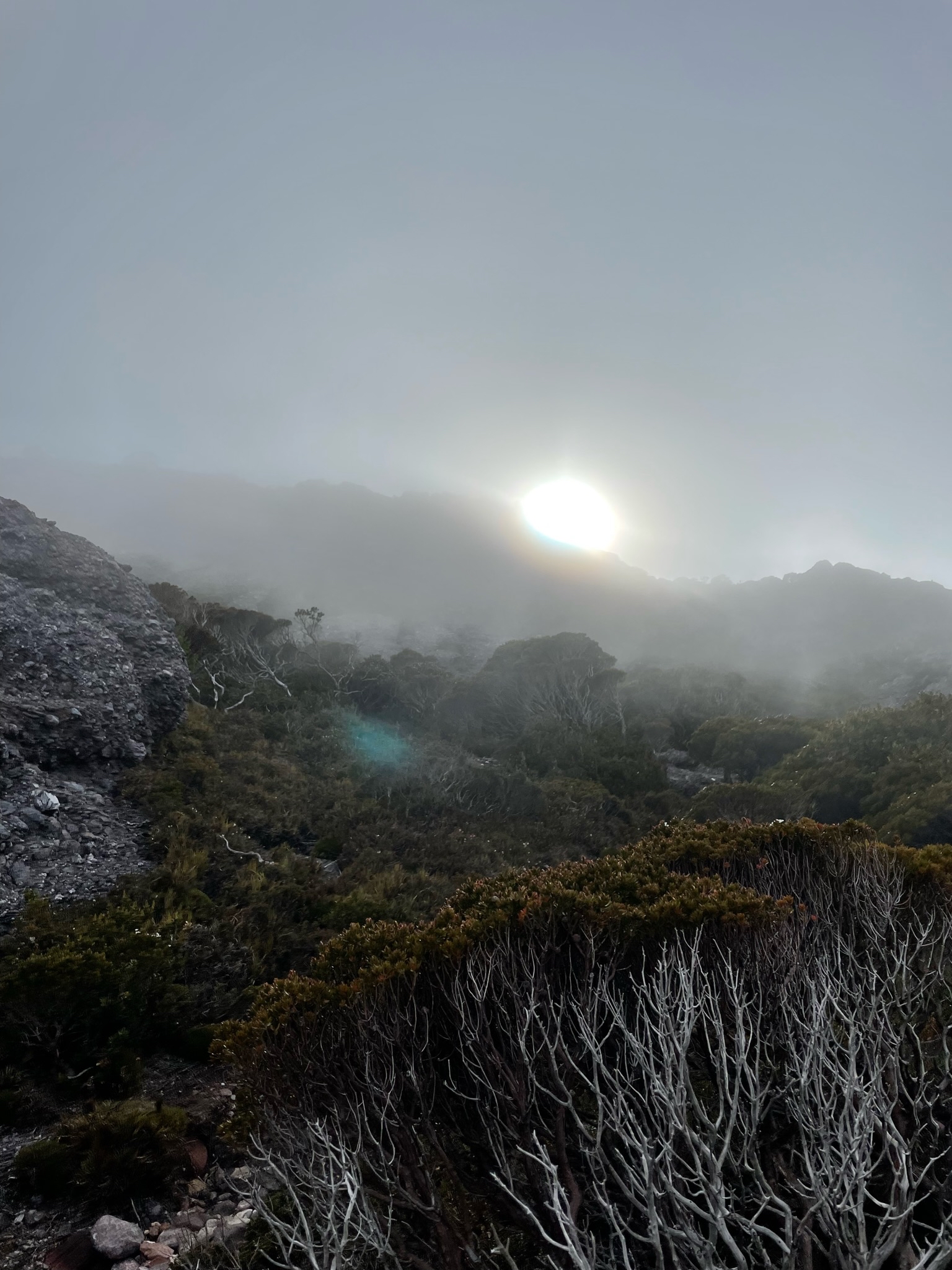 We quickly packed up and walked out.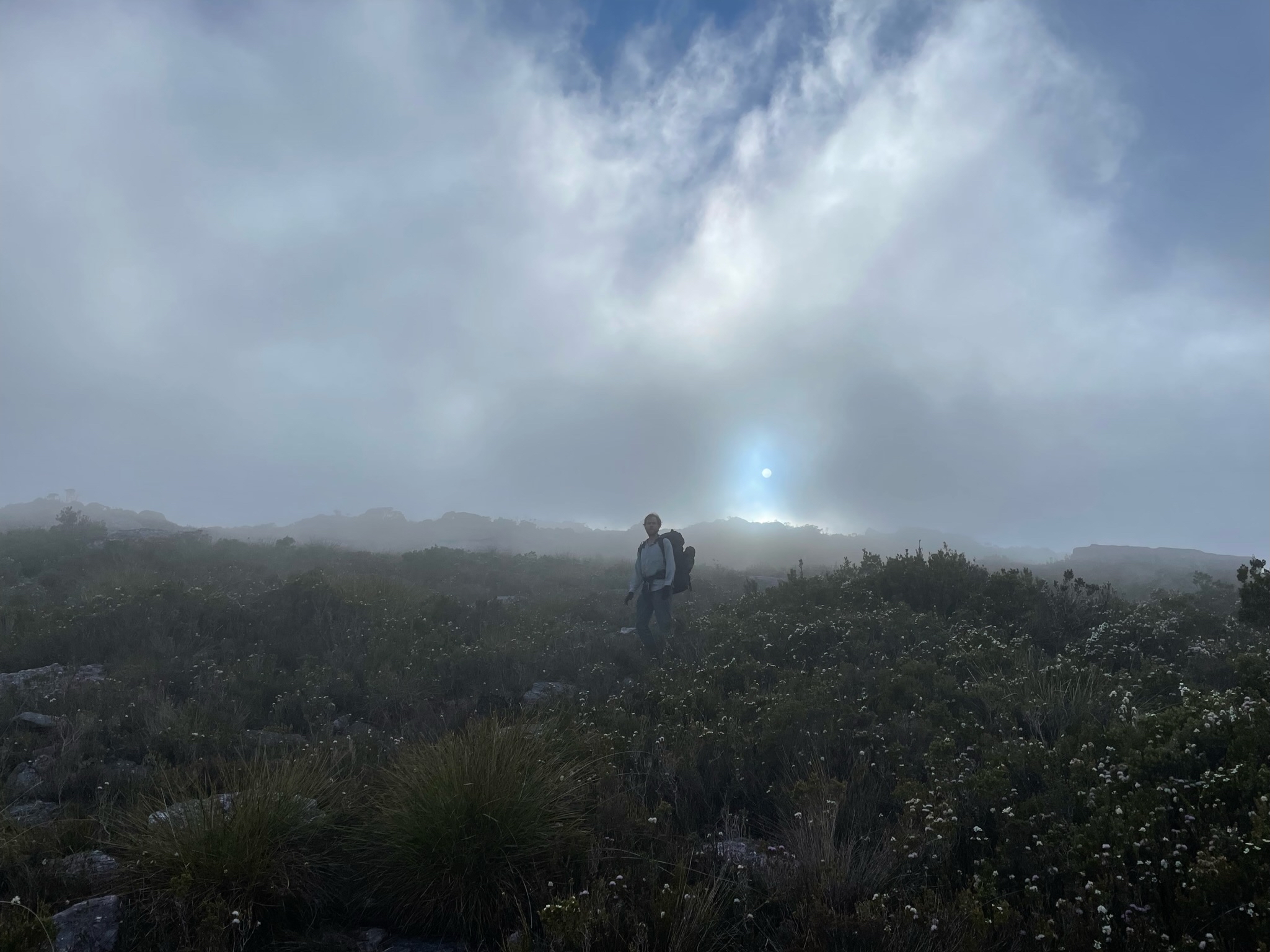 Clive left early because he's getting old and takes longer on the downhills. He didn't even get lost!
We eventually caught him towards the bottom of the mountain. Before we knew it, we were back on the road and then back at the car.
We had a lovely swim under the bridge. It was freaking cold.
Clive did leave his walking pole there though. Classic Clive to the very end. 4
Trip map5
Walk dates: 29th December 2021 - 31 December 2021
Day 1 (Car park to Mount Tyndall to Geikie to Lake Tyndall campsite):

6 hours walking, 1099m ascent

Day 2 (Lake Tyndall campsite to Sedgwick and return):

8 hours walking, 1075 ascent

Day 3 (Lake Tyndall campsite to car park):

2 hours walking, 136m ascent (628m descent)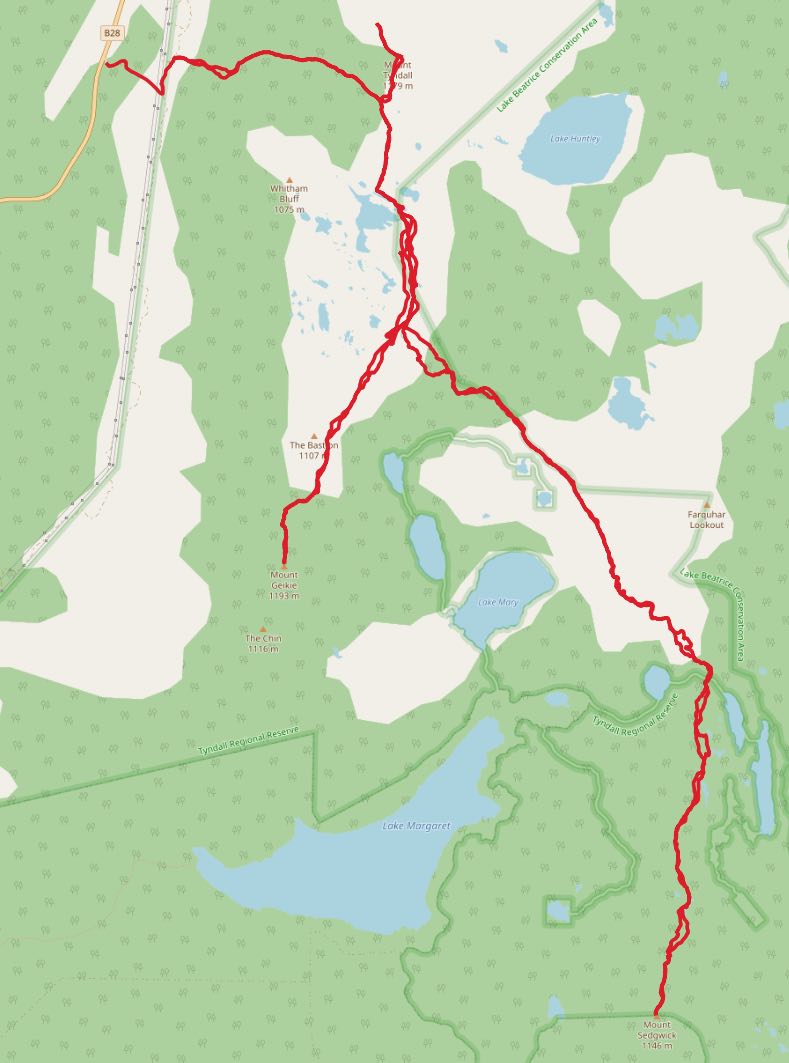 Further reading
---
Comments
Footnotes