WALK INFORMATION:

Date: September 2 - 9, 2016
Distance: 93km
Weather: ... not great. 

precipitous
adjective
dangerously high or steep: the track skirted a precipitous drop.

(of a change to a worse situation or condition) sudden and dramatic: a precipitous slide in the government's popularity.

(of an action) done suddenly and without careful consideration: precipitous intervention.
Indeed…..
Day 1. Ida Bay to Pigsty Ponds
We (Dash and me) woke early in Hobart on Friday 2nd, ate breakfast, drank coffee. The usual morning routine. Then we jumped in a car with our driver (Dad) and made our way south. Destination: Ida Bay.
We had planned a rather long - and as it would turn out rather optimistic - journey over the Southern Ranges to Precipitous Bluff, turning north to Vanishing Falls, then back via New River Lagoon to the South Coast Track for an exit (pursued by a bear.)
As such, we had 10 days worth of food in our packs, along with a pack raft, oars, and all sorts of other stuff we were sure to need for the next week and a half.
The bags were… heavy as fuck. Mine was around 24kg; Dash's a few kilograms lighter at 22kg.
We said goodbye to Dad, who was about to fall asleep (and I think had a several hour nap as we thrashed our way up to Moonlight Ridge), and walked into the bush.
The weather was great. Not too hot, but cloudless and still. Perfect Tasmanian bushwalking weather.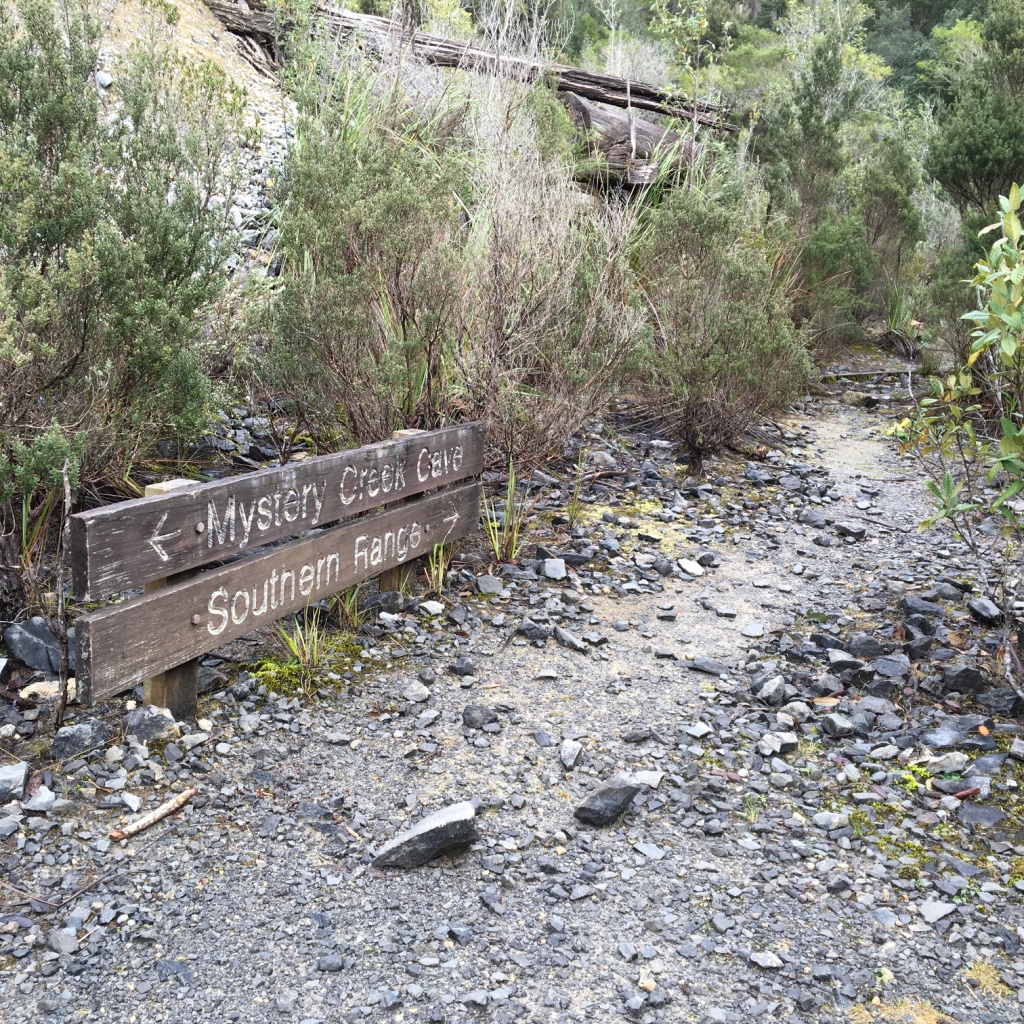 We were optimistic about the distance ahead. We knew it wasn't going to be as easy as previous walks (e.g South Coast Track, etc). But we knew - if we were lucky - we'd be getting some great views, and also finally I'd be conquering the mighty PB (Precipitous Bluff). It's a mountain I've long wanted to visit, ever since I gazed up at it from Prion Beach a few years earlier as we flew along the SCT.
A picture of Precipitous Bluff had been on my phone screen for the past six to eight months. A constant reminder - when ever I looked at my phone - at the mountain I really wanted to visit. I am taken by it's sheer cliffs, at its seemingly impossible approach, and trek up to the plateau on the top, at its infamy for good weather (lol, sure… /s),the way it dominates the landscape, at its (possible) views of a spectacular part of the state and - frankly - its name.
We had planned to get there - again, rather optimistically - by the fourth day if all went well (which of course we assumed it would).
So we walked. By about 2:30pm we were at Moonlight Creek. And we walked some more. We must have had lunch somewhere (probably somewhere this photo was taken), and after lunch we walked more.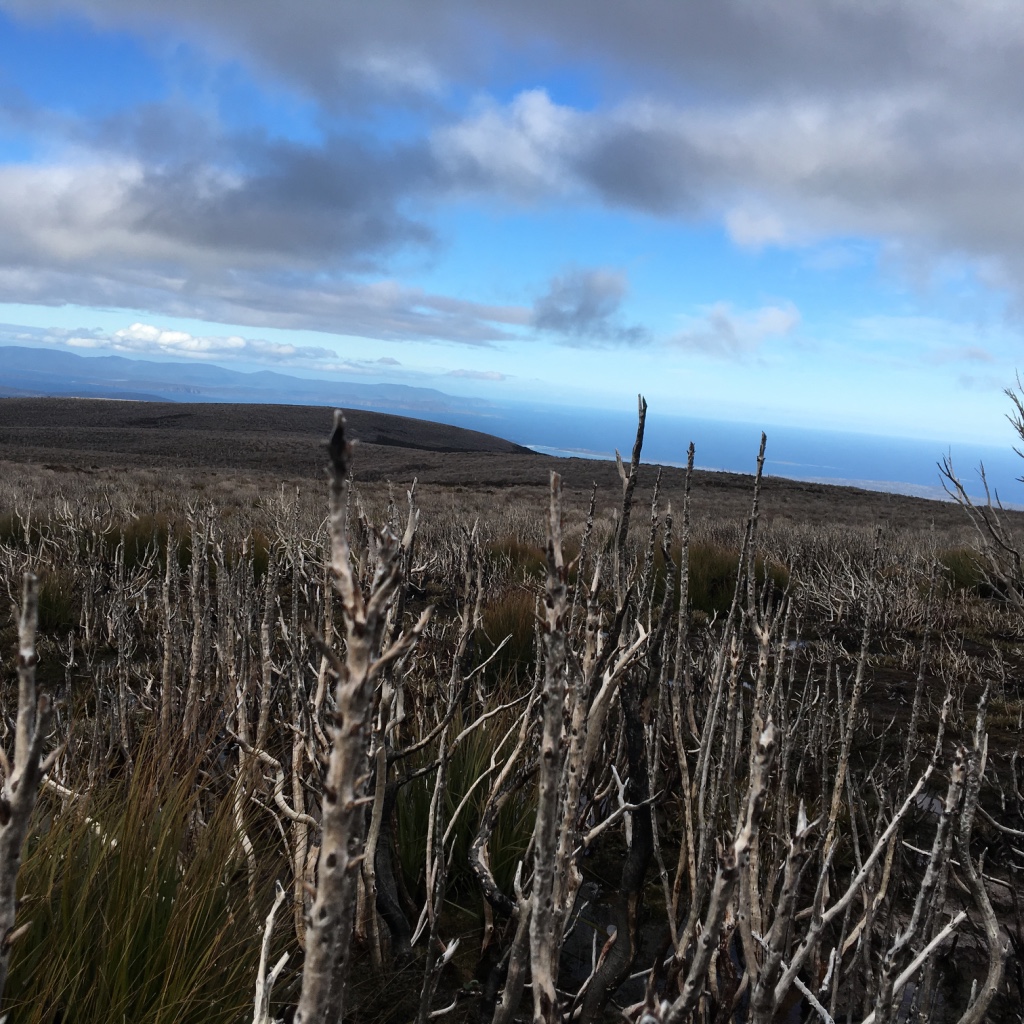 We passed Hill 1, and paused. It was now started to get a bit later in the day (about 4pm) and since it was September, we knew we had until about 5:30pm-6pm before it would get dark.
The decision was made to keep going to Pigsty Ponds. It was our target for the day, and we were sure we could make it.
It was about 5km from the saddle between Hill 1 and Hill 2, to Pigsty - and relative to the first section of the day, flat.
We walked. And walked.
The part of the day (always at the end), where you're sick of it came and went. And we walked some more. Eventually we cleared the last Hill (aptly named Hill 4) and could see Reservoir Lakes, and knew we were close.
We walked down into Pigsty Ponds with time to spare, quickly found a good campsite and unpacked everything.
A big day, but a good one. We were happy, optimistic and ready for dinner.
I had a two-way satellite messenger with me and used it regularly for the trip to let everyone know what we'd done that day/we were okay. I'll use those messages in this post, because they're more revealing of our mood/feelings at the time.
I say that because the mood (and weather) of Day 1 was not to remain the same for the rest of the walk….. In fact, it was about to change for the worse. You could say it was about to take a precipitous turn.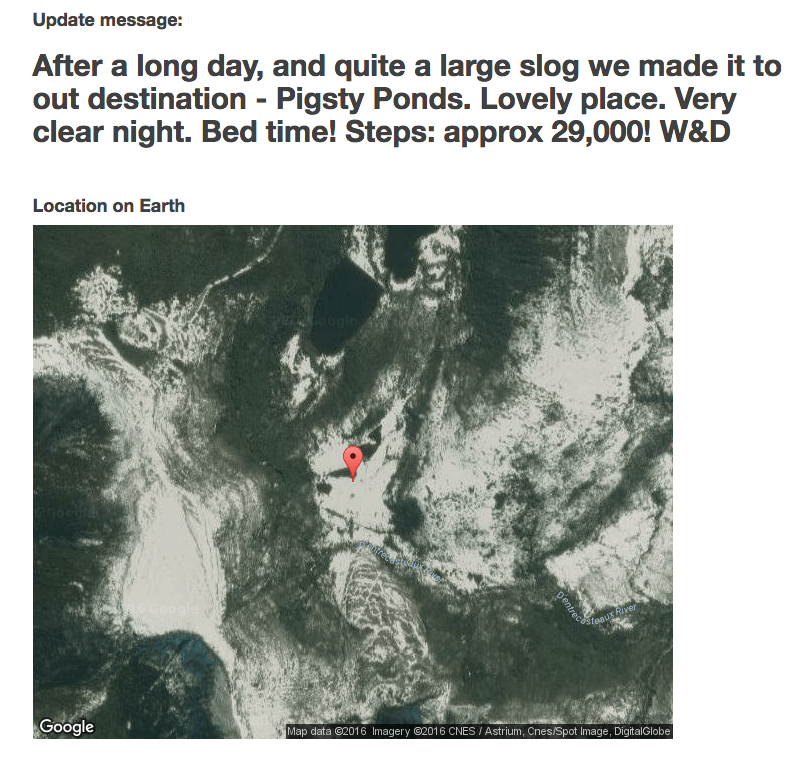 The snow in the picture is from whenever the satellite picture was taken…. But it may serve as a bit of a hint.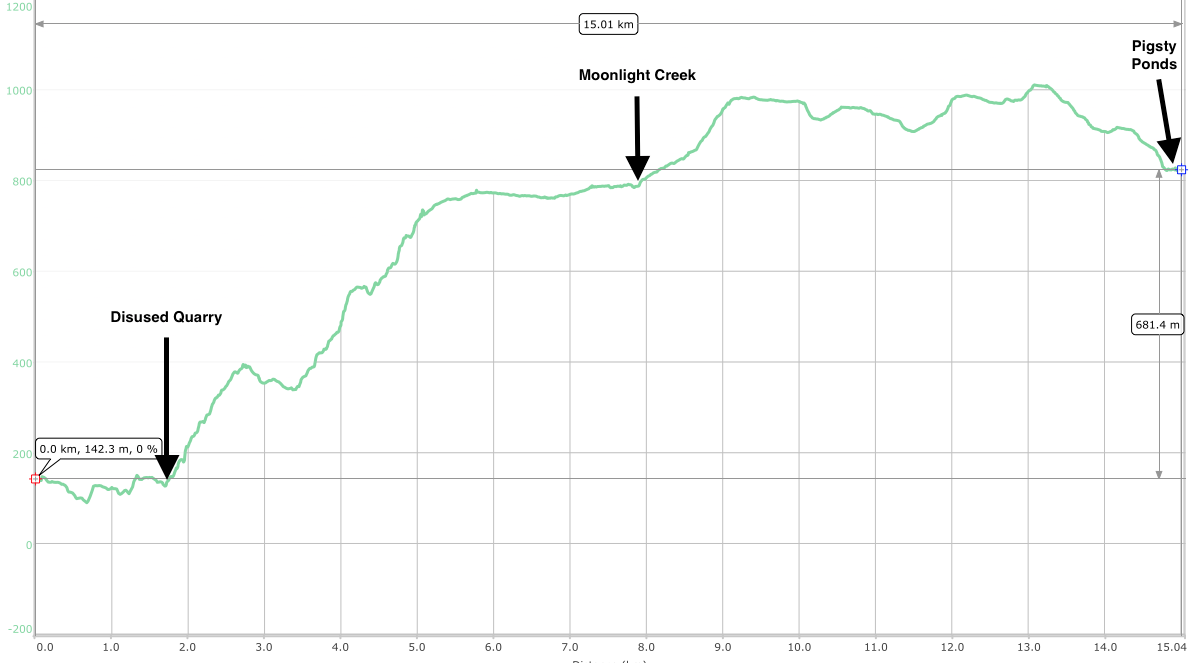 Day 2. Pigsty Ponds to Ooze Lake (via Mount La Perouse)
We woke to coldness, stillness and ice.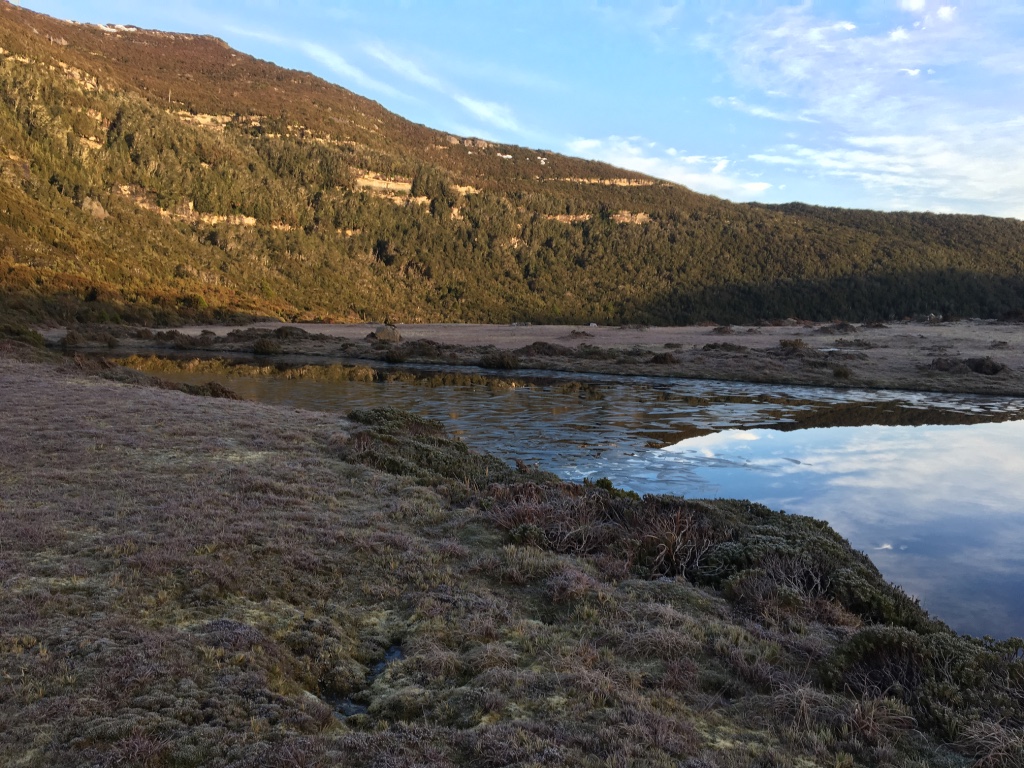 Yes, that's (rather large?) chunks of ice in a (not small) lake. The smaller lakes around the tents were frozen over. The tiny lakes were frozen solid.
No wonder we were cold overnight.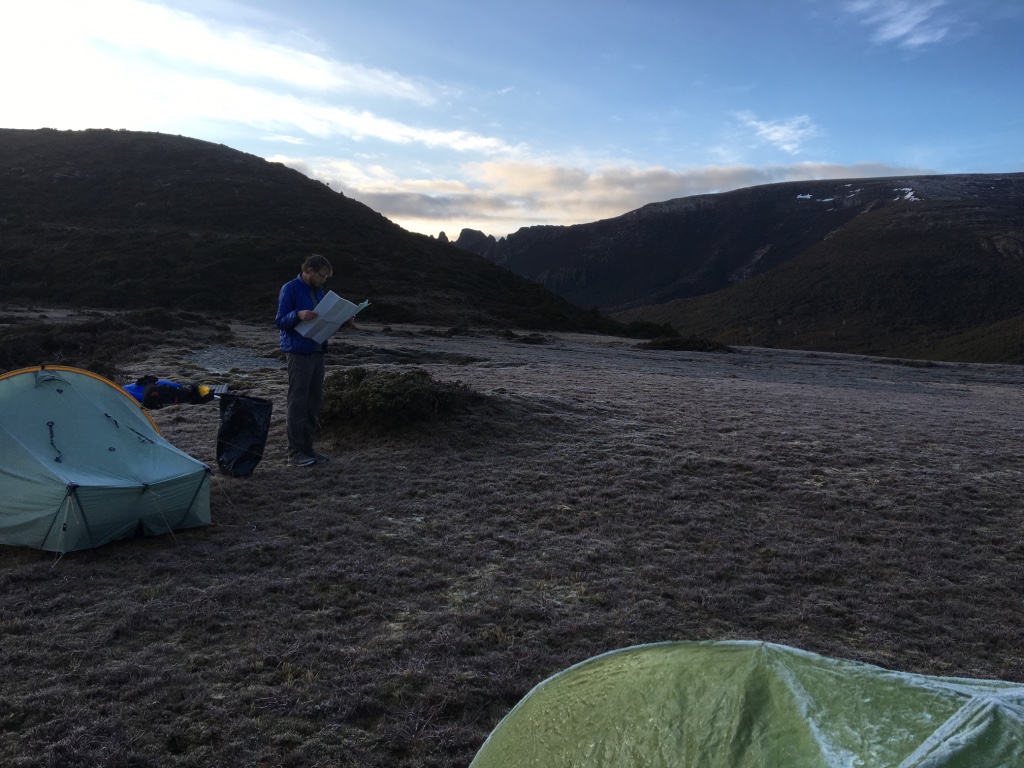 As we finally rolled our ice covered tents up and pushed them in the bag, we started having a discussion about the track - and destination ahead.
It was within a few minutes along the track that the decision was made to carve Vanishing Falls from our itinerary and replace it with a few side trips along the Southern Ranges. It wasn't sad at all - and even if we hadn't made the decision then, it would have been made later. It was too ambitious, too far. Too much bush bashing, too much extra time. Good bye Vanishing Falls, we hardly even knew you.
Now: a side trip. Mount La Perouse.
You can sort of see when and where we decided to do MLP. None of this back tracking along the track we just walked crap, we're going to summit both MLP and that little hill 946m high!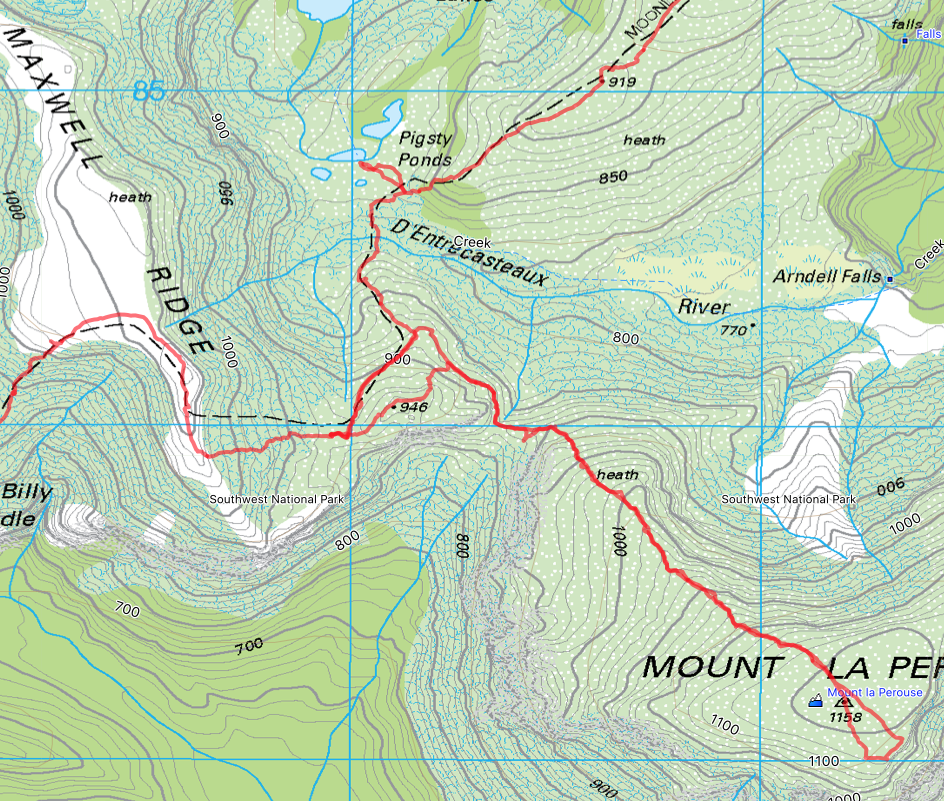 The trip to Mount La Perouse was fantastic. A lovely walk up the mountain, without backpacks, to meet a flat open area on top of the mountain.
There are a few huge piles of stone dotted around the top - I'm not entirely sure which one signalled the actual summit - but it didn't matter. The view was fantastic.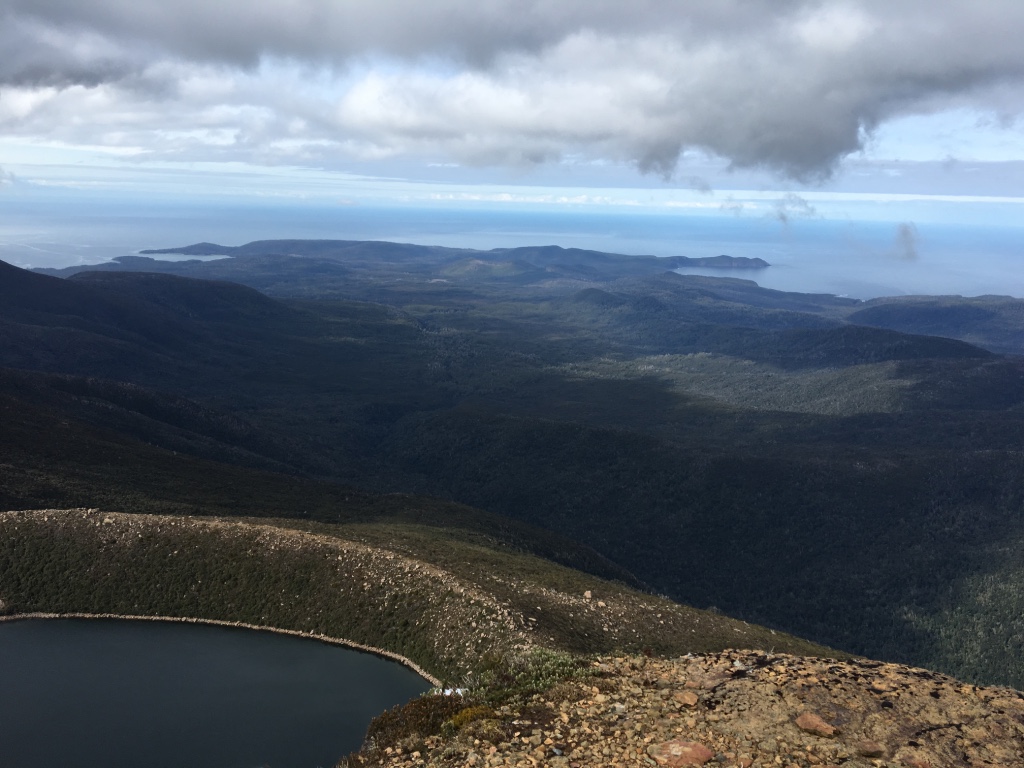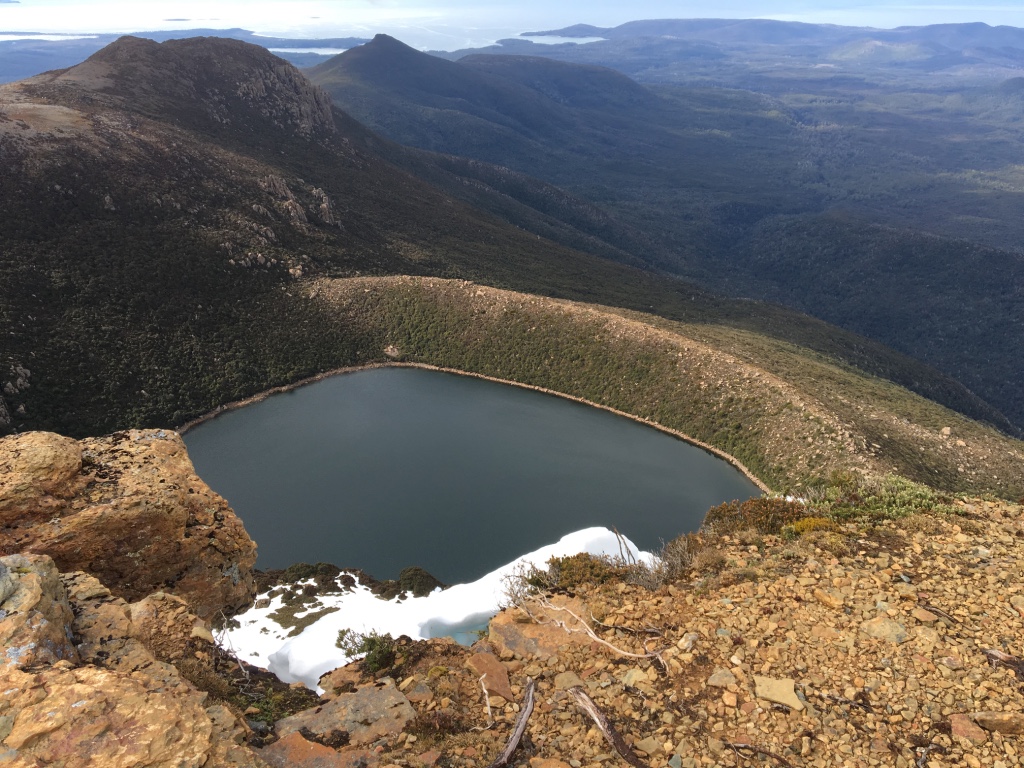 We walked back to our bags, heaved them up, and set off towards Ooze Lake.
It was a short day, and as we climbed Maxwell Ridge the clouds started closing in.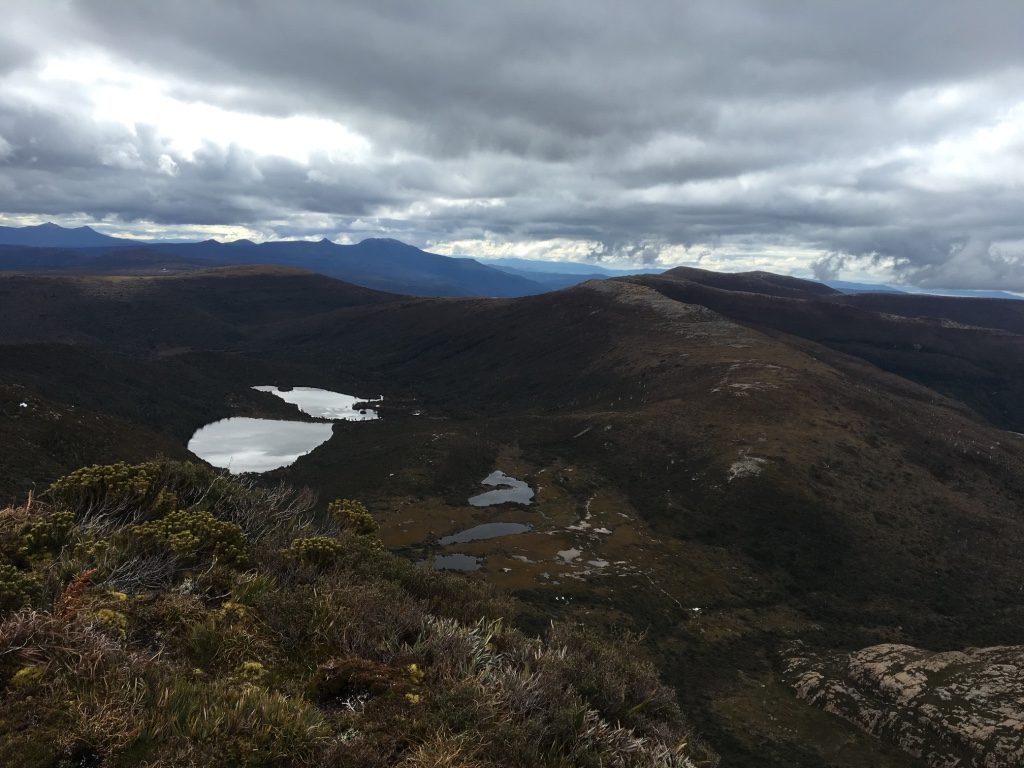 I like to think this was the point along out Southern Ranges traverse where things (read: The Weather, and as an extension our walking enjoyment) started getting worse.
The day's walking wasn't too bad, pleasant even. But the foreboding mood of the slowly growing winds wasn't a great outlook for us.
Despite the name, Ooze Lake is a great spot. It's surrounded by two steep hills/mountains on one side, and a rising bank on the other with the lake at the bottom.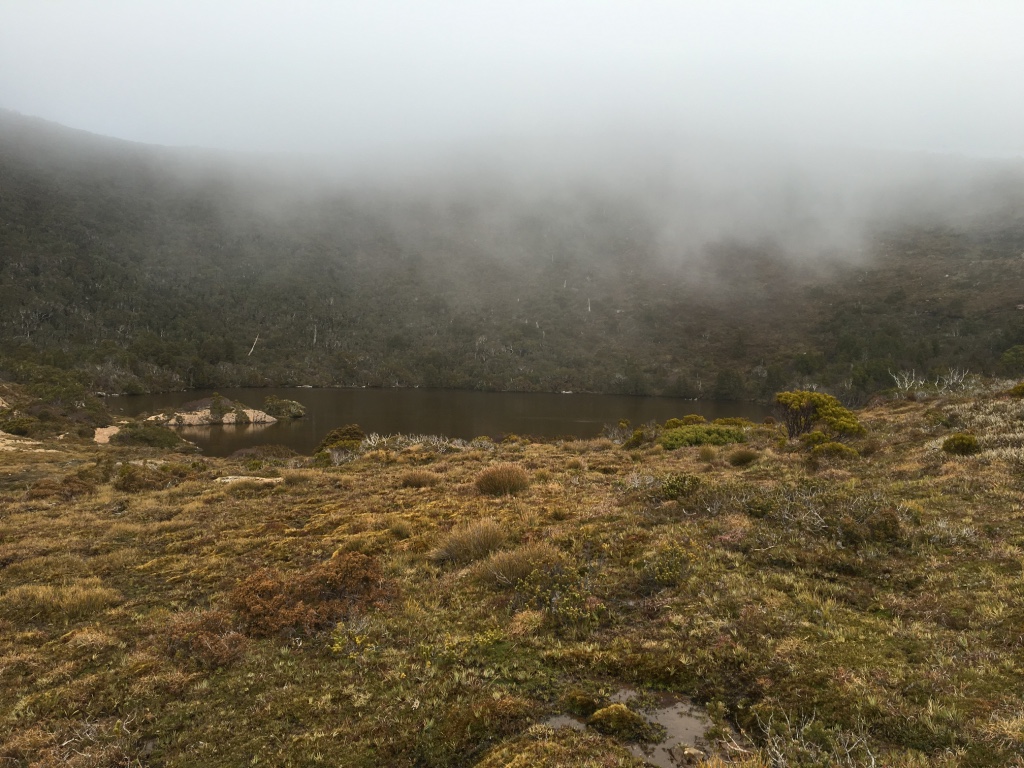 We wandered around for about 15 minutes, trying to find the best spot. Eventually we settled on a site up the hill a bit.
With the tents up, Dash had a nap. I went for a wander. I climbed to the snow line of Lake Mountain and walked down the track a little way where we'd be heading tomorrow.
When I got back to camp, Dash had decided it was time to try out his pack raft. So, he did.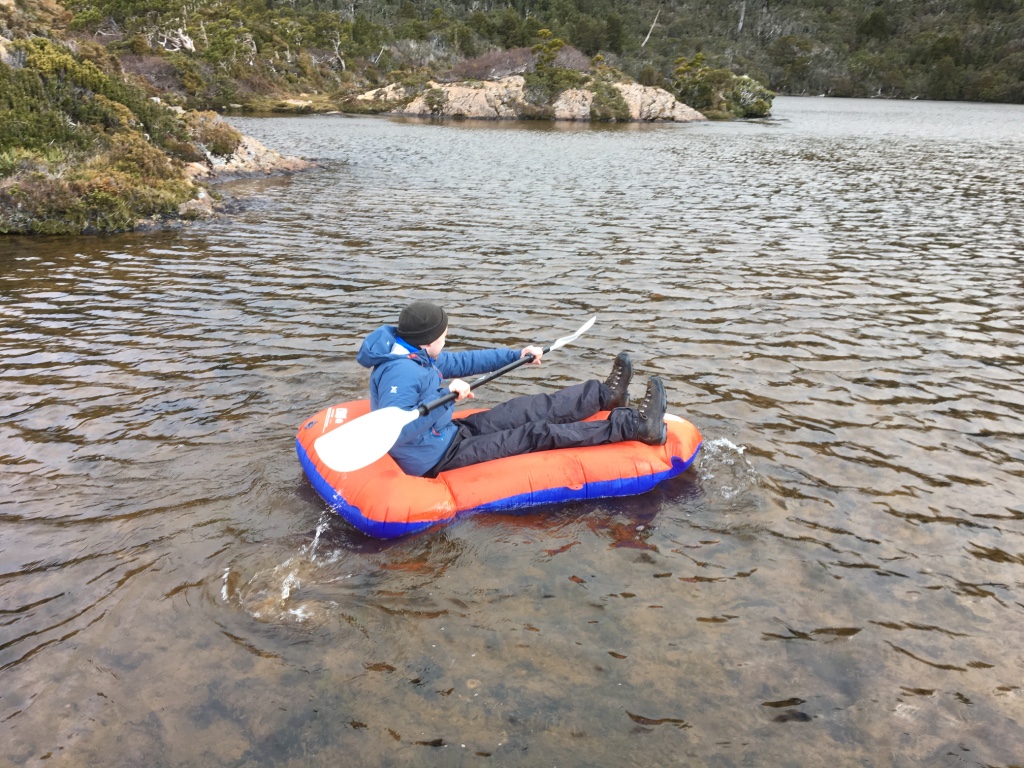 I don't know how many people in the past have done this, but I would imagine Dash's efforts aren't replicated by too many people. I don't think there'd be many people who've paddled on Ooze Lake.
It also meant we could name his craft: HMAS Ooze.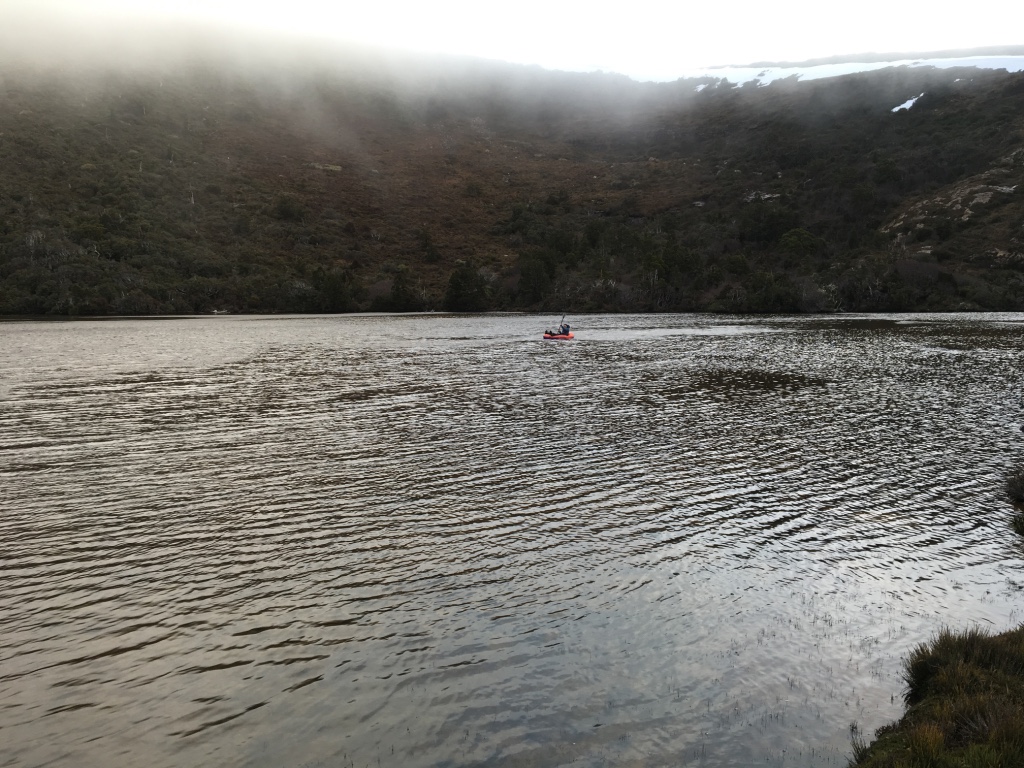 We're keen to give you some perspective here too. Here's a shot of me on the shore.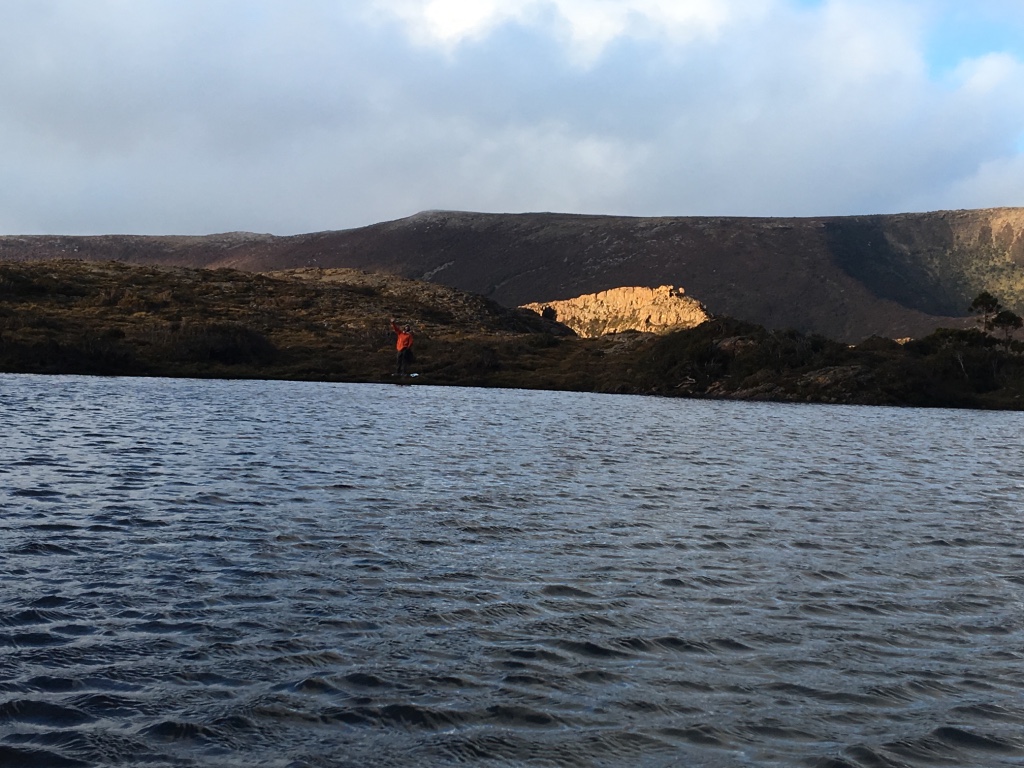 After that, we started to make dinner. Then the winds arrived.
They started fairly light, but as night fell they got stronger. And stronger.
Outside cooking was abandoned. We moved to the tents, and I made sure everything was seriously pegged and tied down.
It was a rough night by any measure. Compared to the stillness of the first night, it felt like a cyclone.
I woke many times during the night to the whole tent shaking like crazy. It became a cycle: drift to sleep listening to rain hit the side of the tent, wake to a violently shaking shelter.
The infamous Southern Ranges bad weather was here. And it wouldn't be going away.
I'm told the change in tone of the update message in the morning was noticeable.

And here's the elevation plot of the day from Pigsty Ponds to Ooze Lake: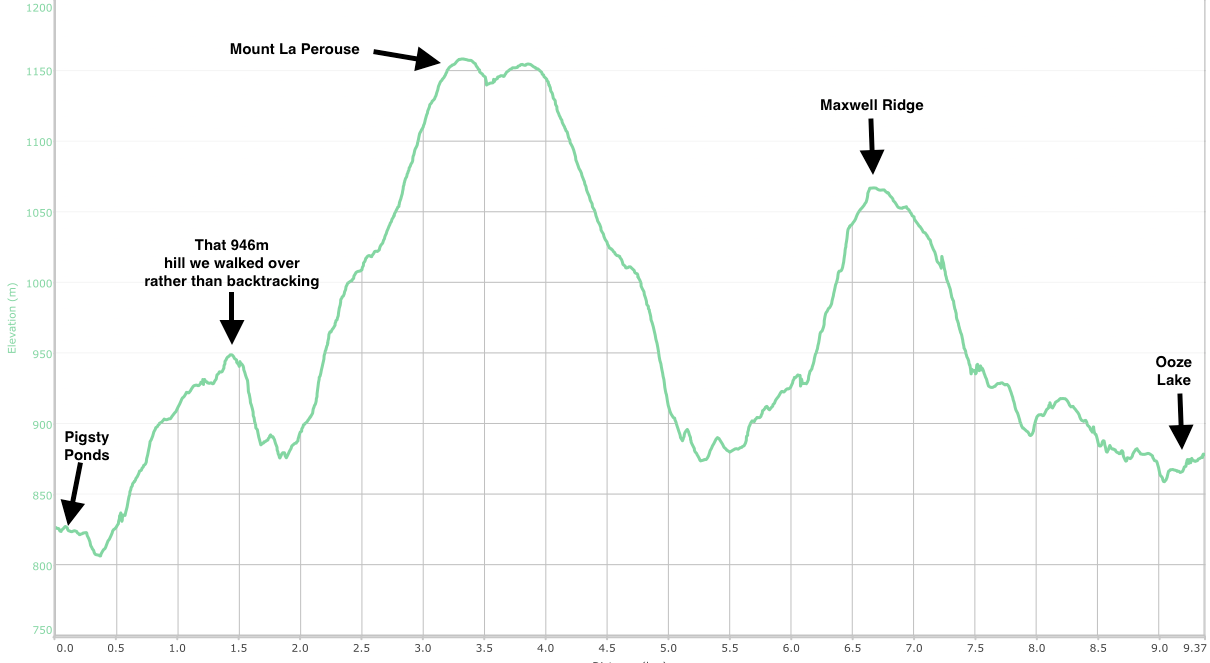 Day 3. Ooze Lake to Leaning Tree Saddle
We woke to a roaring wind, rain and all round bad weather. It was cold, wet and miserable.
We wanted today to get to Wylly Plateau camp, but I think we both knew it was unlikely.
There were also dangers ahead.
We set off from a now windy and damp Ooze Lake at about 8:20am walking the northern edge of the lake, before taking the track up the hill.
We skirted the edge of Lake Mountain, and set off south west towards one of the (the?) highest point of the trip: Pindars Peak.
Turns out now - looking at our GPS track - that we got pretty close to the top of Lake Mountain, but we didn't get there so what ever.
But from there, there was a constant walk upwards. The weather was horrible. Really, really horrible. It was blowing full on towards us, pushing not just wind but rain. We were soon wet and cold. It was, as they say, hypothermia weather.
My legs were soaked. The top layers were going better thanks to my coat. We pushed on.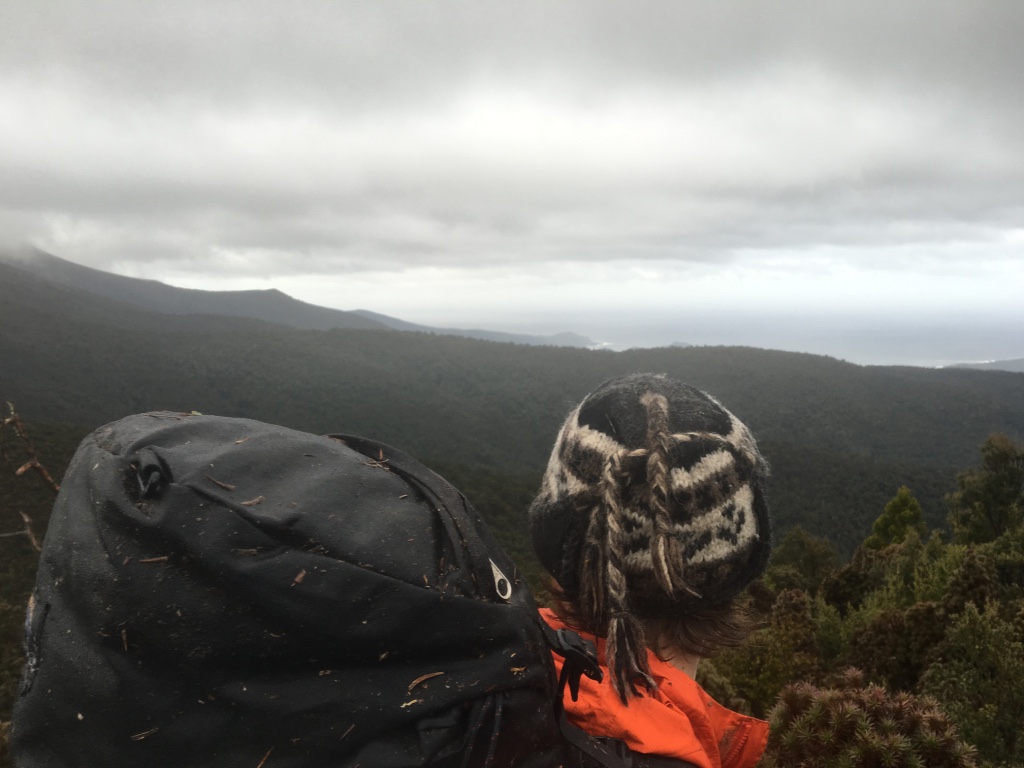 I think this is from somewhere on day 3, but maybe not. I have my beanie on, so it must have been cold.
We finally got to a point where we were sheltered, but came across another problem. Snow.
There was heaps of it. It lay all over the track, and it was deep.
We were the first across it - there was no evidence of anyone else having been here since it had fallen. We trudged through it the best we could, progressing slowly.
I had - luckily - organised a GPS track of someone else who had done the walk before (at a more summery time), so we always had an indication of where we should be, even if we couldn't see the track.
The snow walking (well, falling through to the ground below) continued for a while on and off. There was boulder jumping, and the grab for a plant/bush and hope-to-hell-it-holds. As I say, slow going.
As we kept going through the snow, it occurred to me that if either of us slipped and were injured, we were going to have a Big Problem.
And as we kept getting higher, the snow problem kept getting worse.
We were perhaps 40 meters (in altitude) from the highest point of the track over Pindars, where I almost called it quits and turned back.
I think I was hip deep in snow, looking across a huge snow drift when I said to Dash "I am a minute and a half from ending this."
Dash said, to his credit, said: let's keep trying - just this next bit, we're probably nearly at the top.
We don't have any pictures of this section, mainly because it was too cold and we had better things to do (ie, keep walking and not get hypothermia), but there was this part where we walked across the snow and it was either thick enough or strong enough not to collapse as we walked over it.
It was that section of snow which allowed us to keep going. About 50 meters of it. Had I fallen though it, I'd have gone back. But it held and we skipped across, up and over the Pindars saddle.
We obviously didn't go up Pindars Peak. Far too much snow and we were far too busy, but we did get over. Just.
Once we made it over, it was down hill again to Leaning Tree Saddle camp.
We flew past Pandani Knob, kept on going. Cold. Wet. Weather: raining, windy.
More walking, more rain, more wind.
We started walking up the 800 meter hill that makes up one part of Leaning Tree Saddle. We got to the top, and started walking straight down the other side.
At one point, we got a glimpse of the flat(ish) area that would make the camp. While we ideally wanted to get to Wylly Plateau camp today, we were at a point where it was getting vital that we get out of our wet clothes and start warming up quickly. Hypothermia weather.
When we got to camp, we wandered around an area that was like a swimming pool. Every flat area was soaked and water was everywhere. We walked up and down, desperately looking for somewhere dry enough. Or, to put it another way, somewhere that wasn't a river.
We eventually found two tiny spots that were (somewhat) sheltered, which had a very small rise out of the pool. It was good enough. Even though getting out of the tent meant stepping into what seemed like a lake, it was fine.
Tents were up quickly. We were into them out of our wet clothes ASAP. Life started getting better. It was 2pm.
It probably took us 2-3 hours to fully warm up/recover, but by dinner our good spirits had returned. Dinner was cooked from bed (again), as the wind and rain continued to lash our tents. I might have read a few chapters on the Kindle; Dash went to sleep.
Thus ended the worst day of the trip. The rain continued overnight. The wind didn't stop.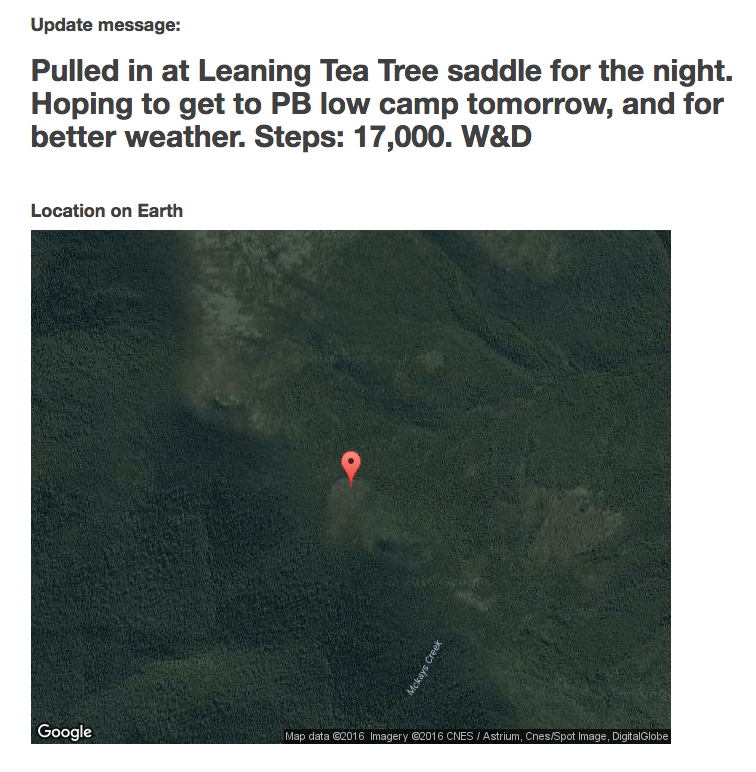 Look at where we camped. Middle of no where. At least the message is upbeat. /sarcasm.
And the elevation plot for our Day 3. Remember, "Pindars" does not mean Pindars Peak. Close, but not quite.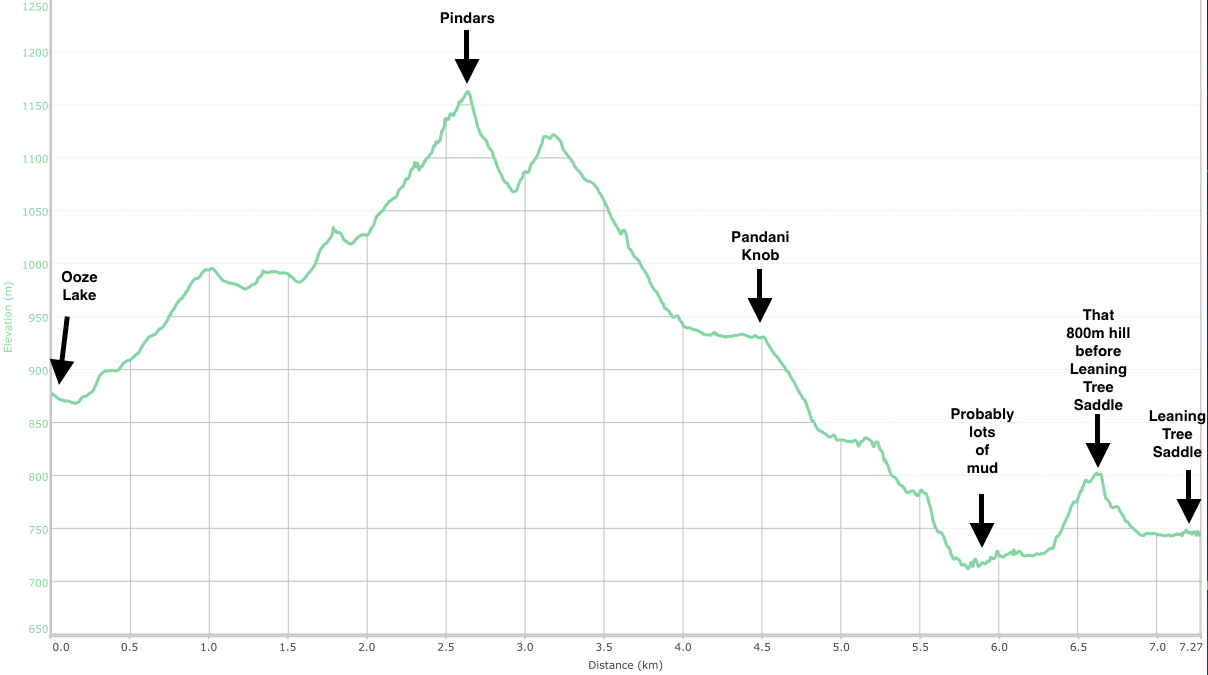 Day 4. Leaning Tree Saddle to PB Low Camp
This is what we did on day 4. Apparently. 10-11km. Urgh.
The first two hours out of Leaning Tree Saddle again got us wet. The slopes of Mount Wylly were exposed, and the wind was still strong. Visibility was poor. We were scanning for markers continually, but with the help of the GPS track we saved quite a lot of time with navigation.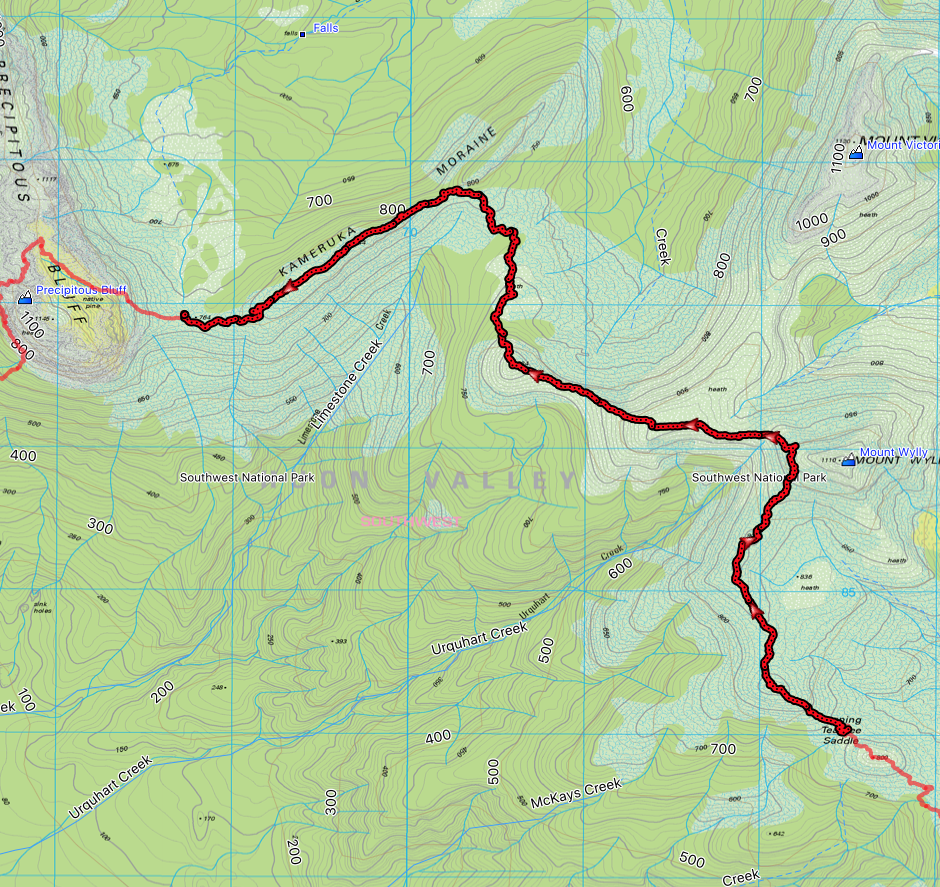 If there weren't many pictures yesterday, there were none today
We practically flew over Wylly Plateau, before hitting more scrub.
Have I mentioned the scrub yet? No, I don't think I have.
The scrub is pretty hard going at times. A very small track, with trees and bushes that almost seem designed to grab and hold you. It's probably the oars strapped to the side didn't help much, but either way it was hard. The exposed sections may have had high winds and poor visibility, but at least they weren't scratching to shreds like a pack of 100 hungry cats would when you hold the only tin of tuna.
The track moved from large sections of mud through saddles, to bag grabbing scrub and hill climbs to exposed sections of high wind and horizontal rain. It wasn't exactly fast going, but the distance needed to be covered.
By about 11am, we were on top of that hill (standing a 884m) above the word VALLEY on the map above. From there, it would be a long trek down through the saddle and onto Kameruka Moraine.
Kameruka Moraine held nothing easy for us either. There was 30-45 minutes of navigating boulders, before they thinned out and were replaced by a rabbit-warren of tracks down to PB low camp. We got lost a few times, managing to back track and re-discover the track. It got old after a while, but eventually we walked into Low Camp. Low Camp is "hardened", which basically means many years ago a group of people spent a lot of time putting heaps of logs on their side and building a camping platform of sorts. It was very welcome and nice to have somewhere relatively out of the pools of water to pitch the tent.
We were at Low Camp by 3:30pm, and no doubt in the tent warming up by 4pm.
Dinner was cooked (again) in the tent. The wind was still blowing. It was still raining. Spirits were low. I was worried about un-passable snow drifts.
The weather forecast was predicting a slight improvement the next day, and a fantastic day the day after. That improved spirits.
I may have read a few more chapters and then decided to swap books entirely. That made me happier too.
Finally, I went to sleep accompanied by the sound of wind and rain which I was now getting used to.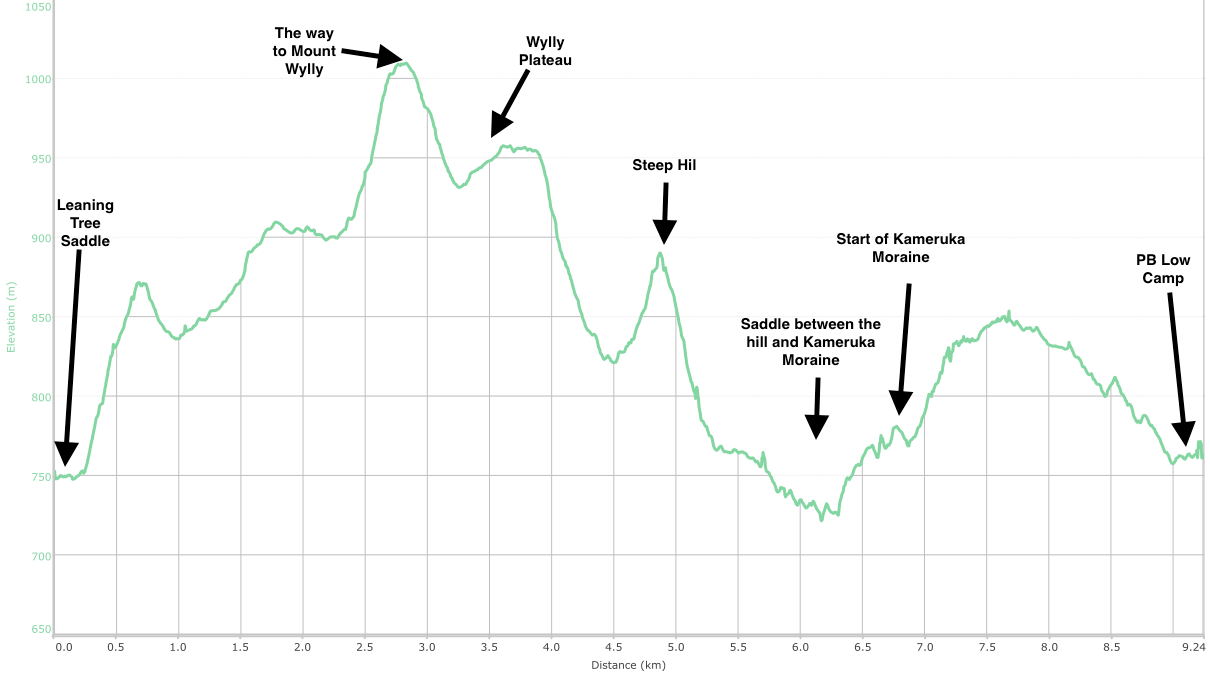 Day 5. PB Low Camp to Cavern Camp (New River Lagoon north)
We woke to this! No clouds, and only a bit of wind. OMG.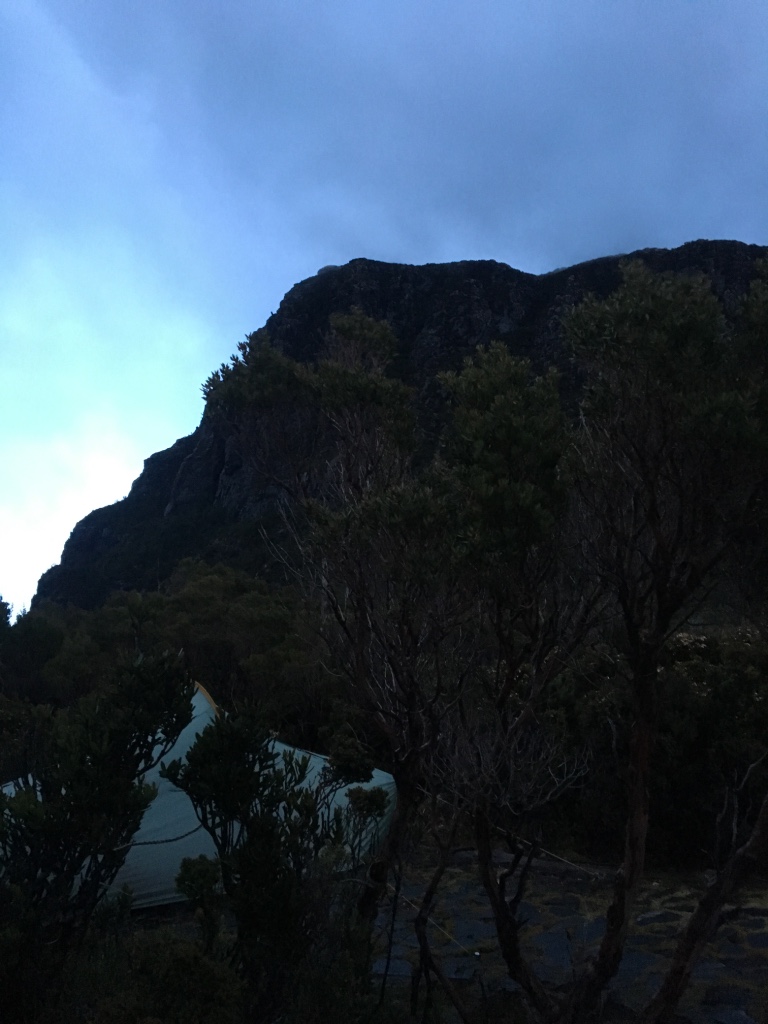 That's the top of Precipitous Bluff. PB. The actual mountain.
I need to go back a few days to explain why this was worthy of a photo and discussion in the illustrious publication that is TGA.
Usually on the approach to PB, you get glimpses from the heights of mountain tops as you approach. The dominating pile of dolerite gets bigger by the day as you take muddy step by muddy step.
That's if the weather is good. For us though, we didn't get to see it much at all. Occasionally, for a minute or two we'd see parts of it as the clouds shifted. Then … nothing as they shifted back.
So to wake up on day 5 and actually see the bluff we were here to see, it was nice.
Alas, it wasn't around long. As it got a bit later, the clouds again came in and obscured the view.
Oh, today was also supposed to be the day we were going to head north into the bush to get to Vanishing Falls. Thank lord we gave up on that idea for this trip. I'm not sure we'd have got out a) alive, or b) not in a rescue helicopter.
We packed up, and stepped into a huge mud puddle. The day had begun. We immediately got lost and spent the next 10 minutes trying to find the proper track. The track eventually found, we set off up PB.
The climb up to PB high camp was easy. There were a few scrambles in places, and a few simple rock climbs in others, but for the most of the time it was an easy climb.
My fears about snow thankfully didn't turn into reality. There was maybe one small part, but nothing like the day going over Pindars. Eventually we found ourselves at PB high camp. We were at the junction to either head down PB or head up to the summit - a 15 to 20 minute walk. The weather was horrible, we didn't even bother. There'd have been nothing to see even if we had.
A small disappointment for sure. Always great to get the view and bag the peak, but on the other hand we'd made it to PB! My bushwalking goal of many years had been achieved. We were happy.
Until we turned the corner from high camp, and faced the first gully that would take us down to about 800 meters.
To say the wind was strong coming up the gully would be under estimating it. It was ferocious. It smashed into our faces, relentlessly. We pushed into it and headed down the gully. Slowly descending, hoping for a bit of shelter.
Eventually we found it at the tree line as we skirted around the cliffs on the western side of PB. It took about an hour to get to the tree line, and another hour to get to the point where the track turns sharply right (on the way down) to begin the long, long decent to sea level.
FWIW, the co-ordinates for the turn off are approximately 781866 (grid ref), or -43.472283, 146.60205 (GPS). Only say that as TasMap has very helpfully* removed the track from the Precipitous 1:25,000 map.
It was about three and a half hours to walk from the turn off to the beginning of the flat area at lagoon level. It wasn't easy going. I mostly prefer to go up rather than down. It was slippery and dodging fallen branches took time.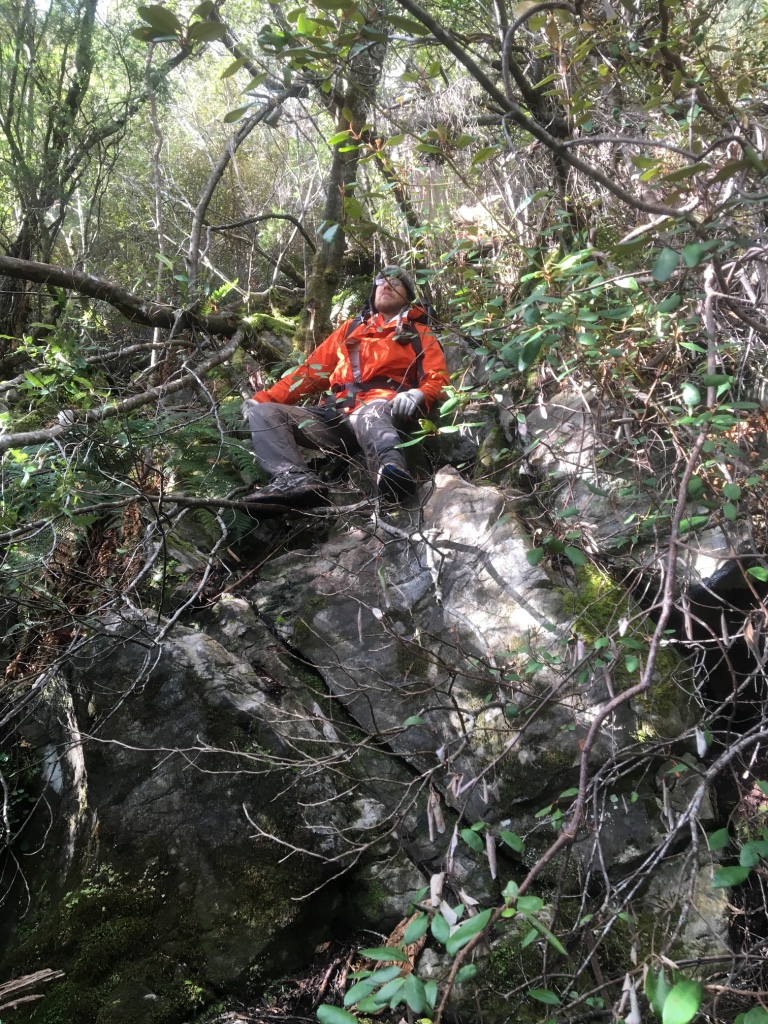 But the track was - for the most part - pretty well marked all the way down, as long as you fastidiously followed the tape and string.
The top section was very well marked, the middle section has missing sections but with enough time you can find the next piece of tape, the bottom section (lagoon level) was too well marked - there were pieces of tape everywhere but no track pad.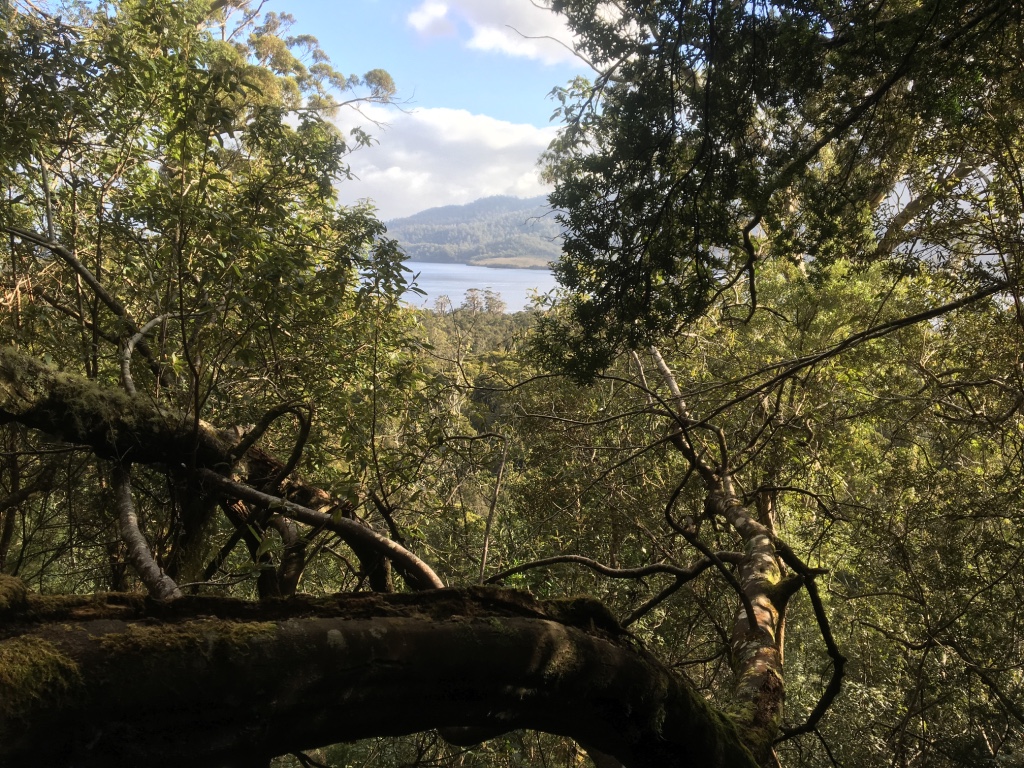 At the very bottom, believe it or not, we got lost and just ended up going our own way. Eventually we found and crossed over a log (over what I assume was Damper Creek), and we were at Cavern Camp.
It was glorious. Flat, calm and the weather was lovely. As the sun disappeared, there might have even been a rainbow. I can't really remember. All I do know is that it was wonderful. Even the water tasted amazing.
I think my update message that night was to the point:

The weather forecast for the next day was still promising too, which was even better. We were hoping for a good day because we had a 7km paddle ahead of us and didn't really want to do it in the rain, or worse - with a headwind.
We slept very well that night. In fact, I slept so well I can't remember even waking up. And we got a sleep in!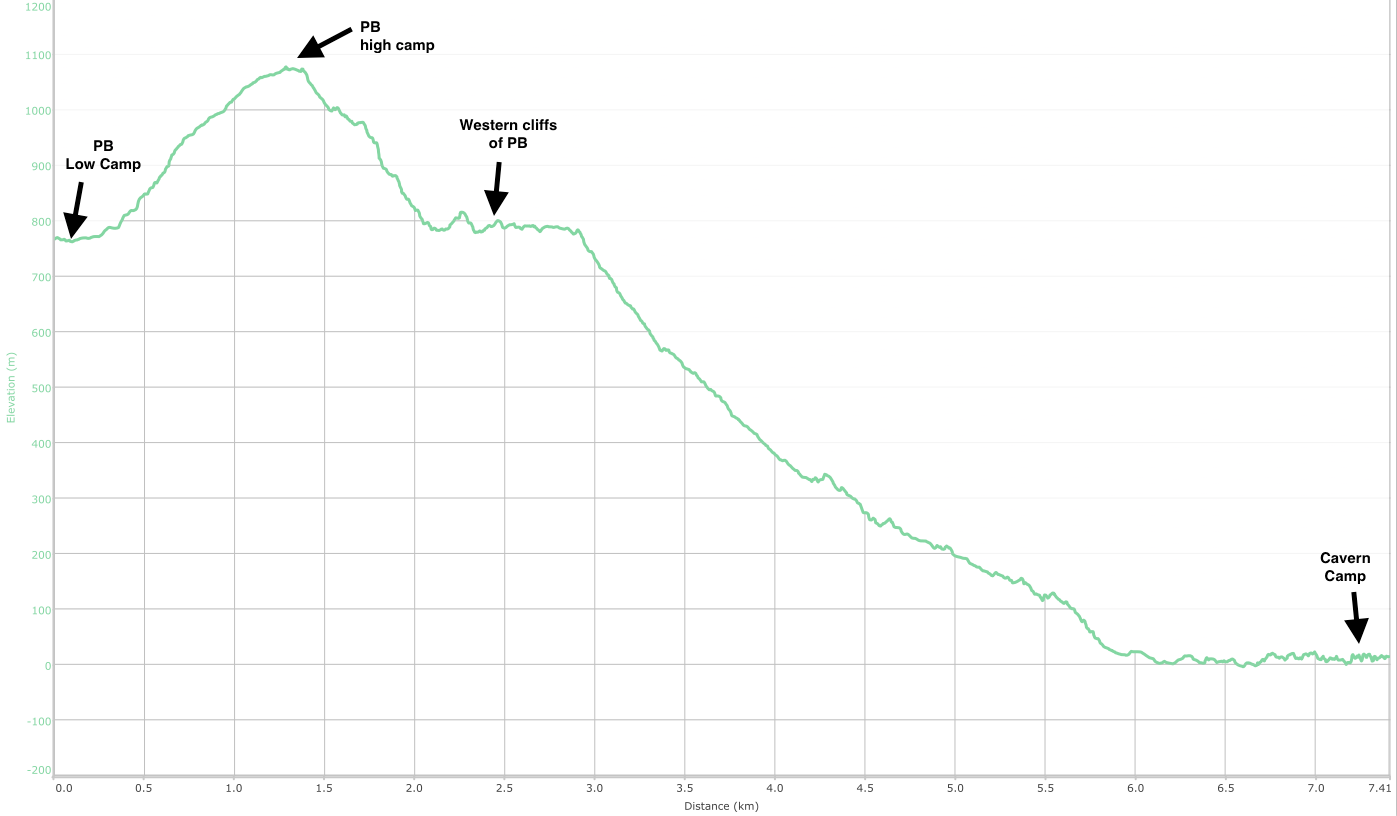 Day 6. Cavern Camp to Osmiridium Beach
Most days on the Ranges, walking started at about 8am. For day 6, we started hours later. After 10am. Meh, we deserved it. But the late start did have ramifications down the track.
Originally, we had planned the Vanishing Falls trip so that we'd be able to paddle out again down New River. After we cancelled that part, we obviously still had our pack rafts, so we put them to use.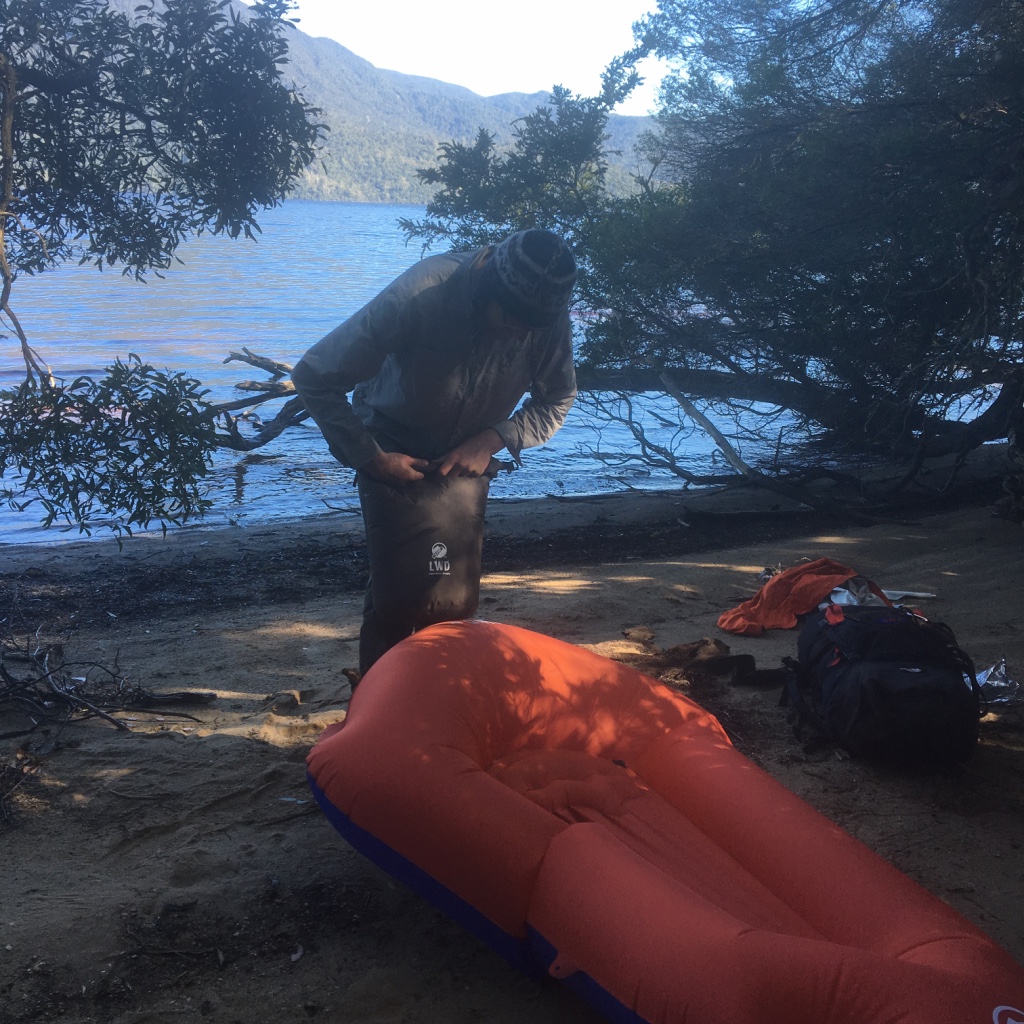 Usually the route from Cavern Camp to Prion Beach is via wading along the side of the lagoon. The time this takes ranges from three to six hours, depending on how much water there is in it.
We could basically take it in a straight line though, cutting off all those corners.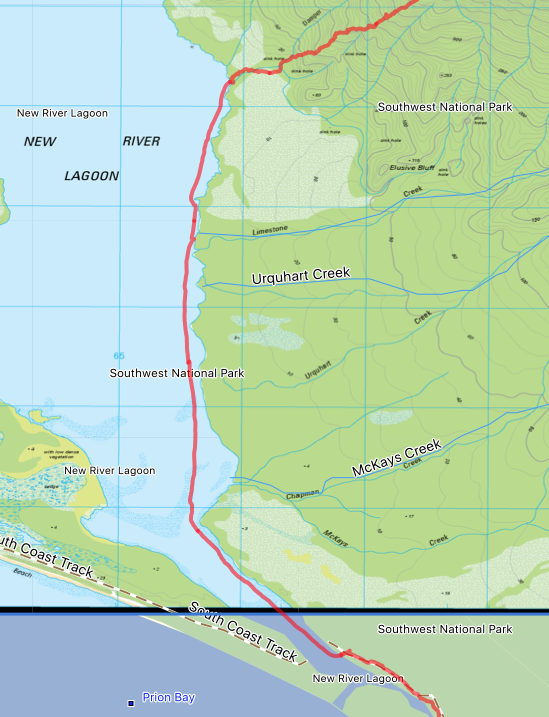 It took us two hours and 40 minutes to get from Cavern Camp to Prion Beach boat crossing, where we had lunch.
The paddle was a great change from the constant walking over the past five days. It wasn't super easy, but at least we were using a new set of muscles.
Oh and the weather was wonderful. It was perfect.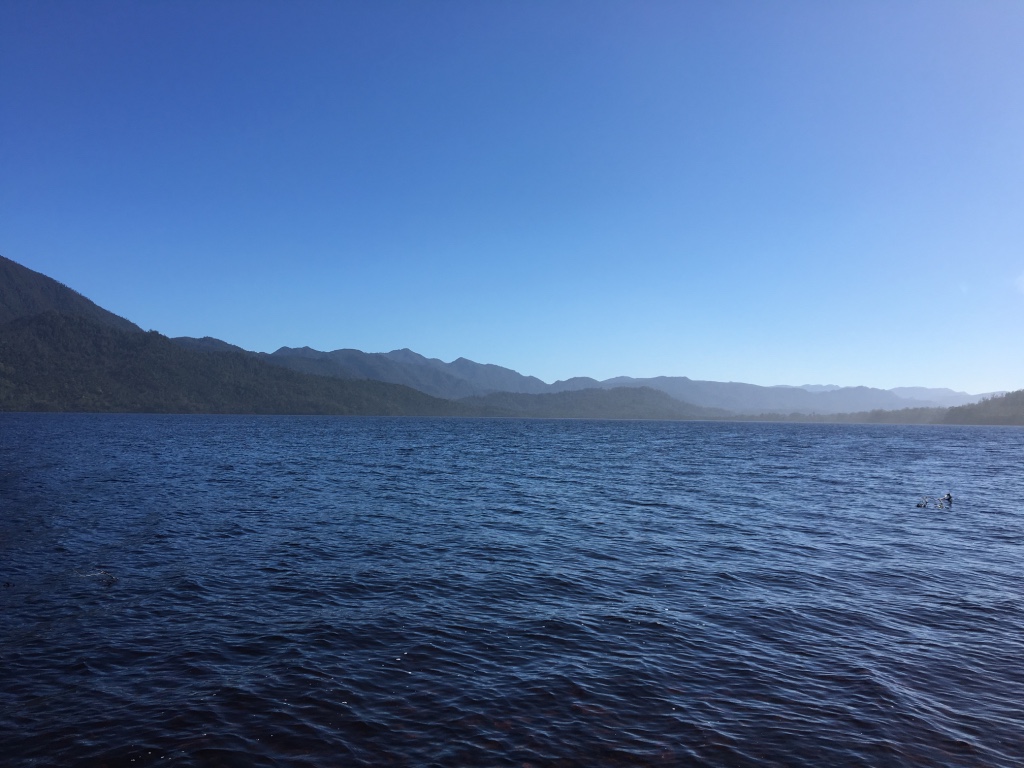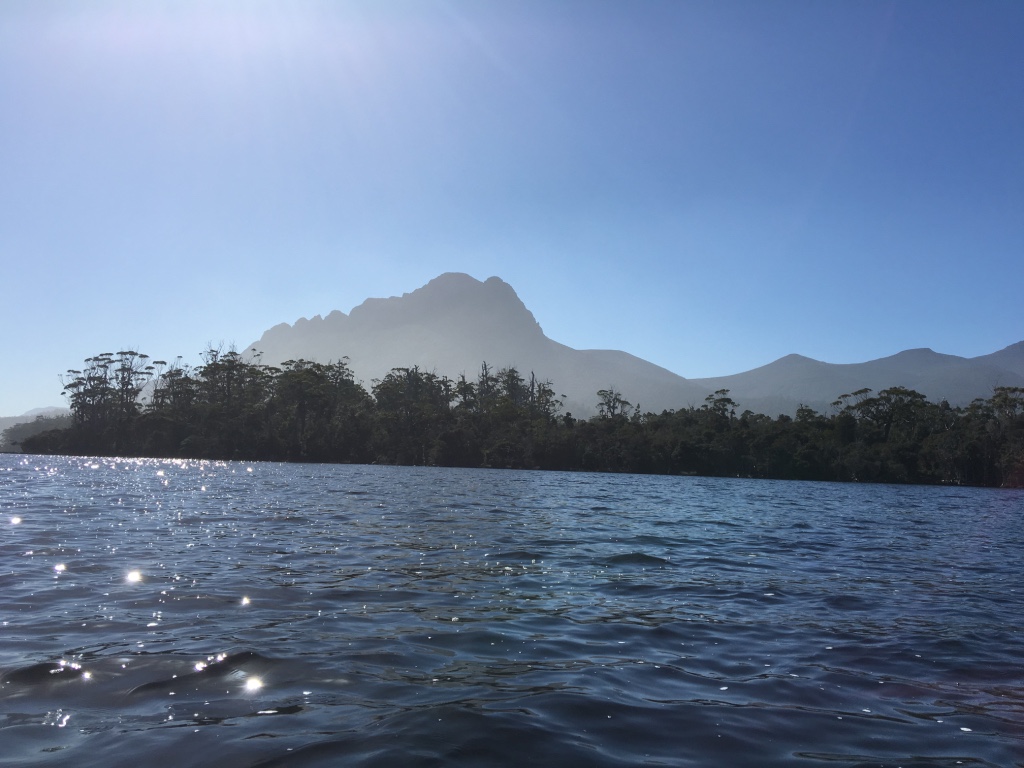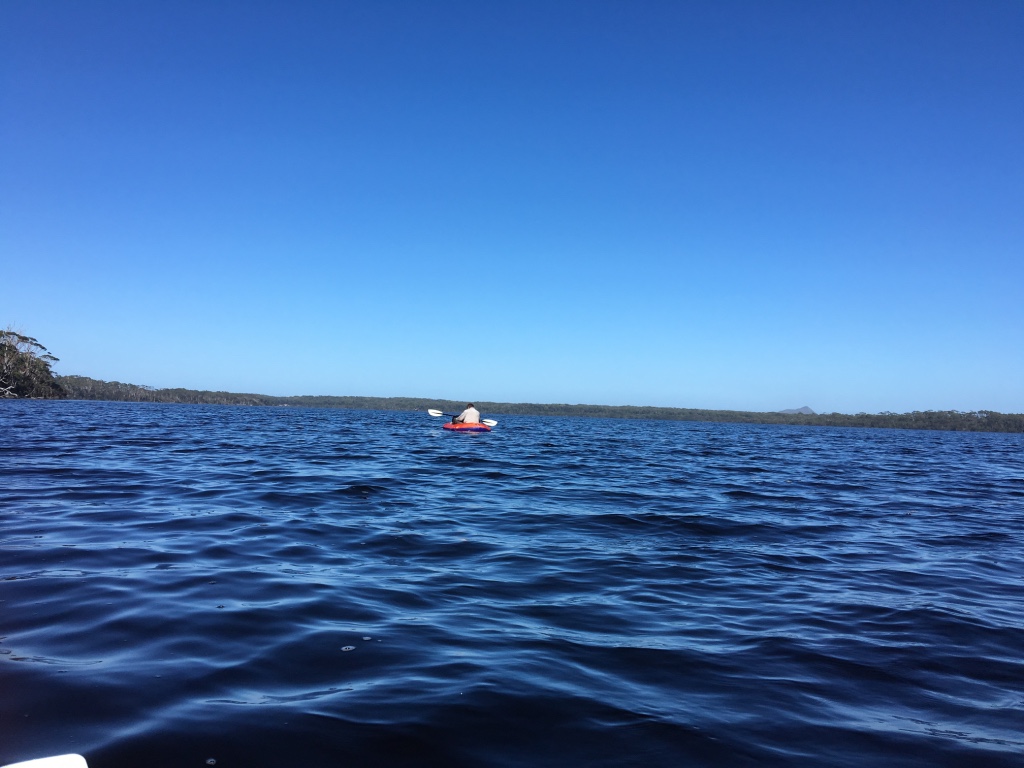 It took us two hours and 40 minutes to get from Cavern Camp to Prion Beach boat crossing, where we had lunch while sitting in one of the boats used for the Prion crossing.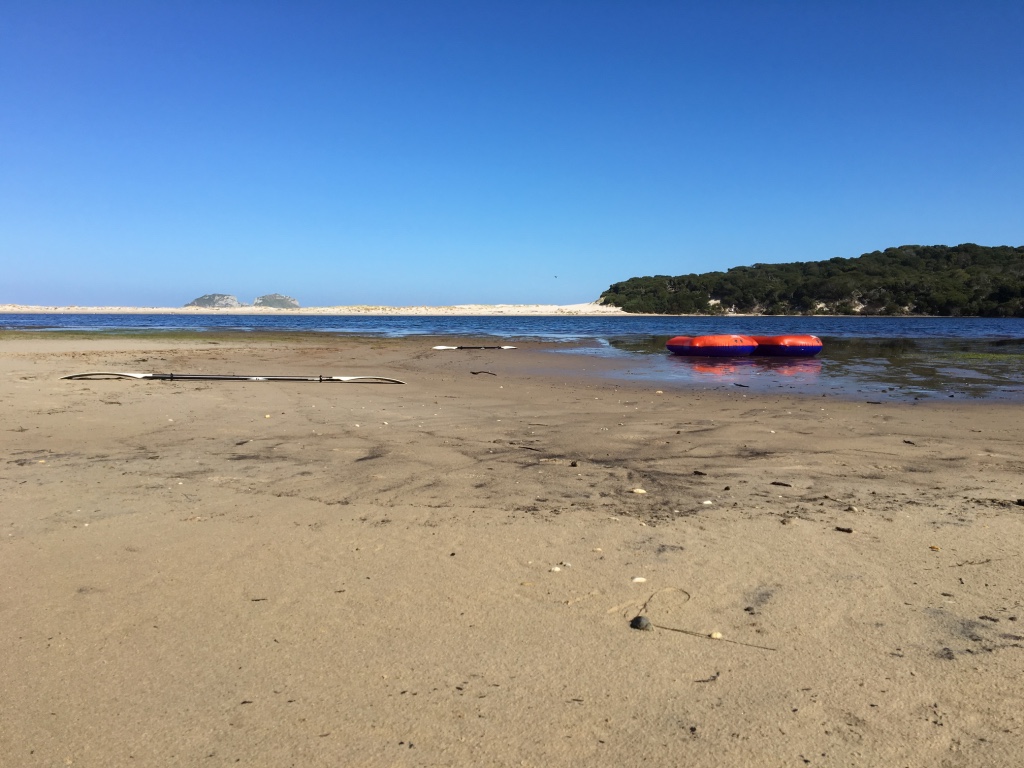 We also used the time and sunlight to dry a few things out as much as possible.
After lunch we set off, headed along Prion on the dunes just behind the beach. All was good.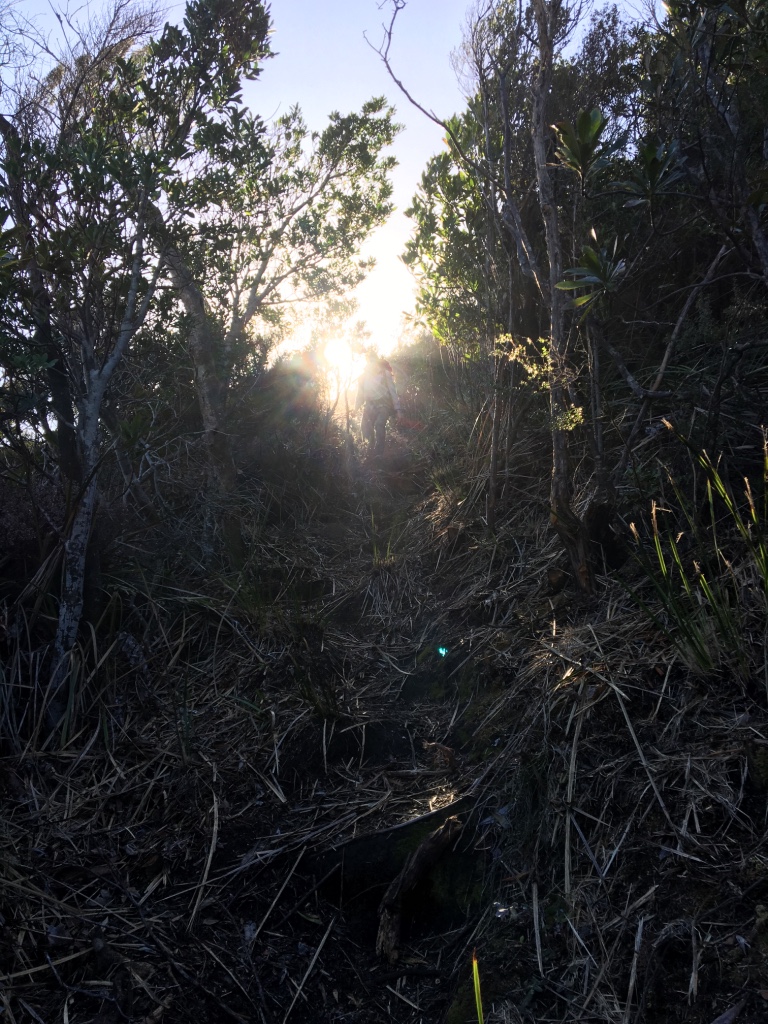 Then we got to Milford Creek.
Milford Creek is usually a small creek crossing, but today - for some reason - it was a lot harder.
Getting across the creek was fine, but either the river had changed pushing it very very close to the dune bank or the tide was in (thus achieving the same thing), but we had to walk through the thick bushes and it was chewing up the time. We were hoping to get to Surprise Bay for the night, but the unexpected bush bushing put an end to that.
In the end, it was so difficult we just pulled out the pack rafts again and just paddled to the end of Milford Creek where the South Coast Track again heads inland.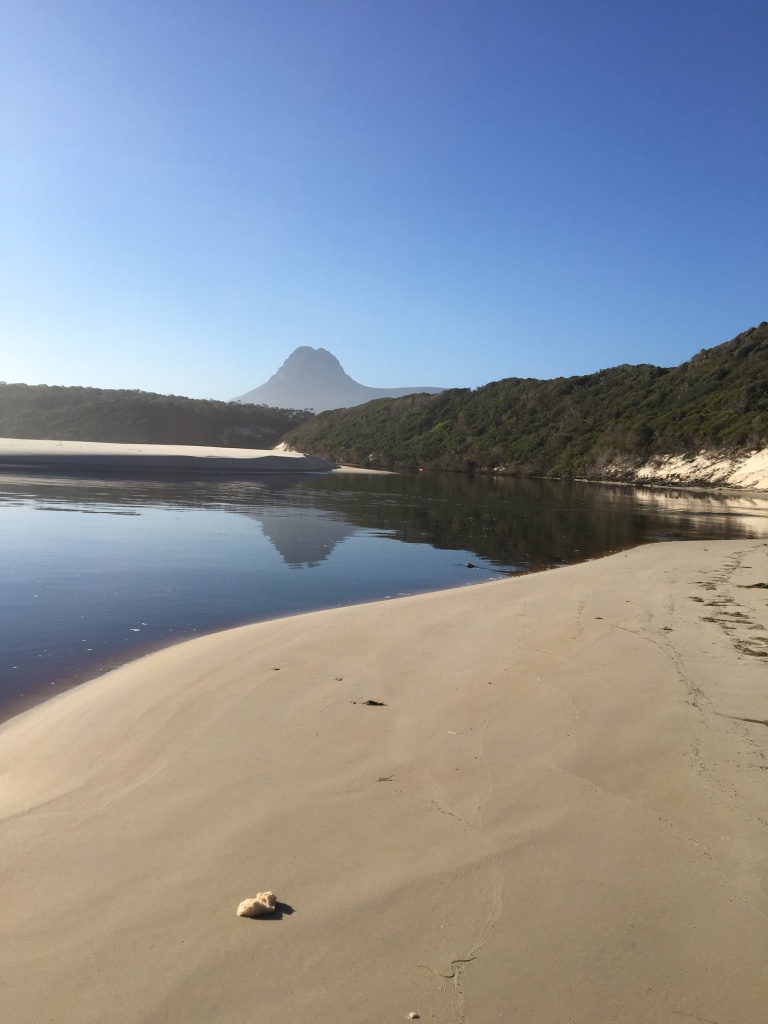 The river was so close to the bank, the easiest way to get through this section was to use our packrafts
I'm not sure if this section is always like this, or if we were just unlucky but it was a lot easier the first time we did this section of the SCT several years ago.
If you know the answer (has it changed and is it always like this, or if it was a tidal thing) please let us know in the comments!
Anyway, in the end this section ended up taking an hour of our time. Very unexpected. It was just after 4pm when we set off to the camp for that night which had now become Osmiridium Beach.
Osmiridium was about another hour away, and the time flew. We walked into the campsite (which was new to us - last time we did SCT we skipped it) and walked down to the beach to see the sunset.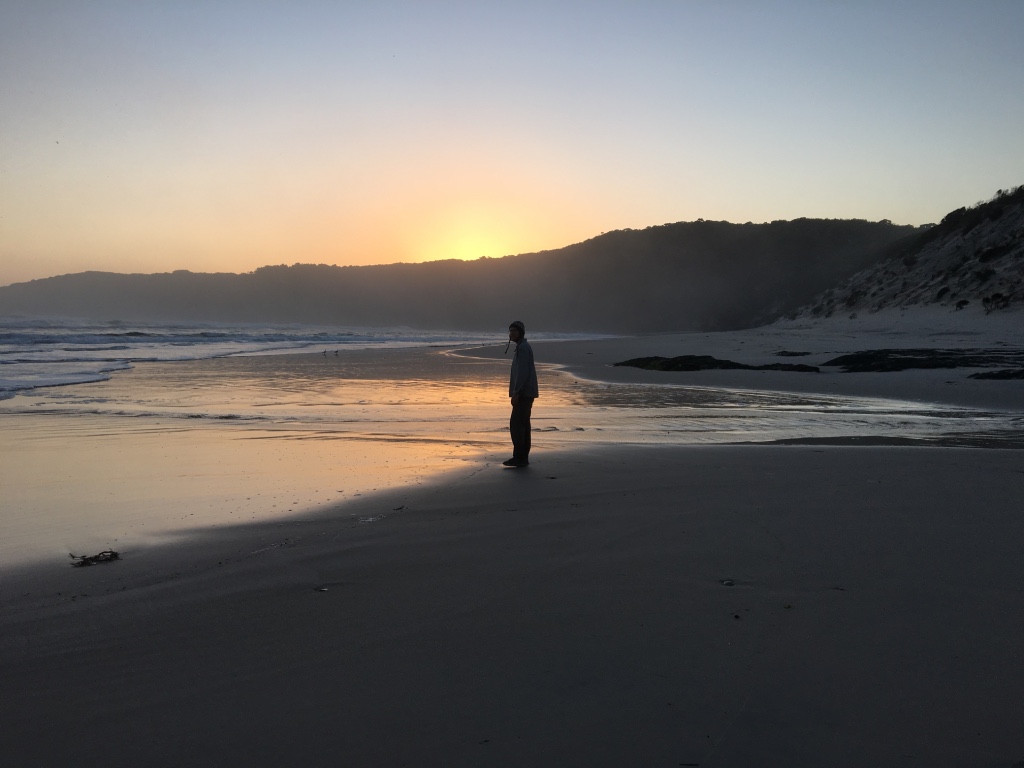 Not bad!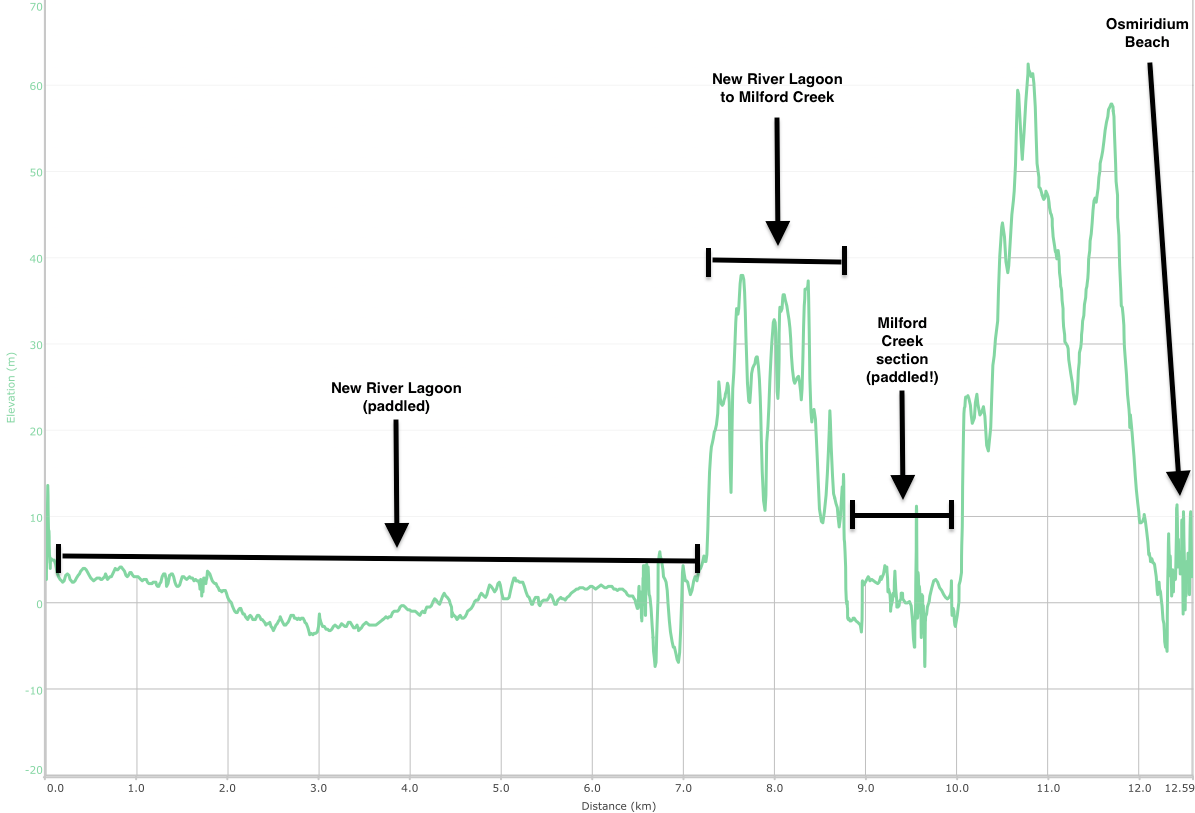 Day 7. Osmiridium Beach to South Cape Rivulet 
We got going at about 8:30am, knowing the day was going to be a big one. Last time we did the SCT, we walked from Surprise Bay to Cockle Creek. That wasn't going to happen this time round, but the walk to South Cape Rivulet was still going to be difficult.
We also knew very early on that we'd be pushing to to make it to camp on time before it got dark.
It ended up being about 21km long, which included going over the South Cape Range which sits about 450 meters high. It meant going all the way up, then all the way back down again.
The weather was okay, but the forecast had rain in the afternoon.
Took us two hours to get to Surprise Day camp, giving us 5-6 hours to get to South Cape Rivulet. The clock was ticking.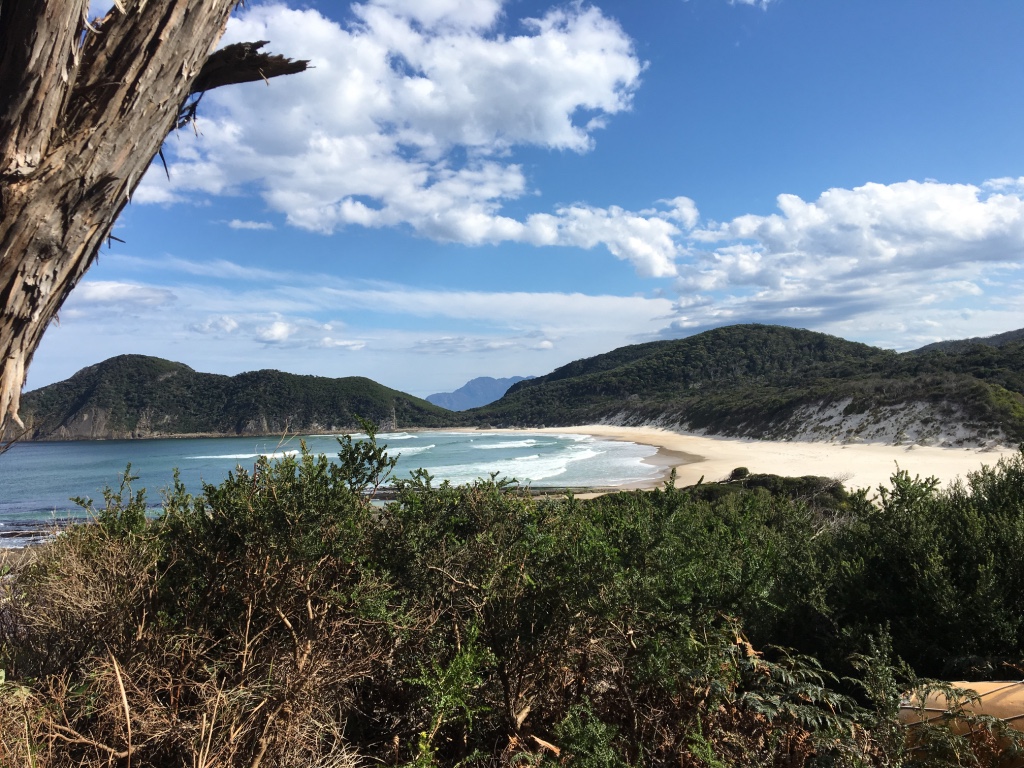 So up we went. Up the range, up and up and up. Dash was like a rocket, I struggled. We were both fatigued, but Dash's spin class training was giving him a serious boost.
We got to Granite Beach fairly quickly all the same - about an hour or so from Surprise.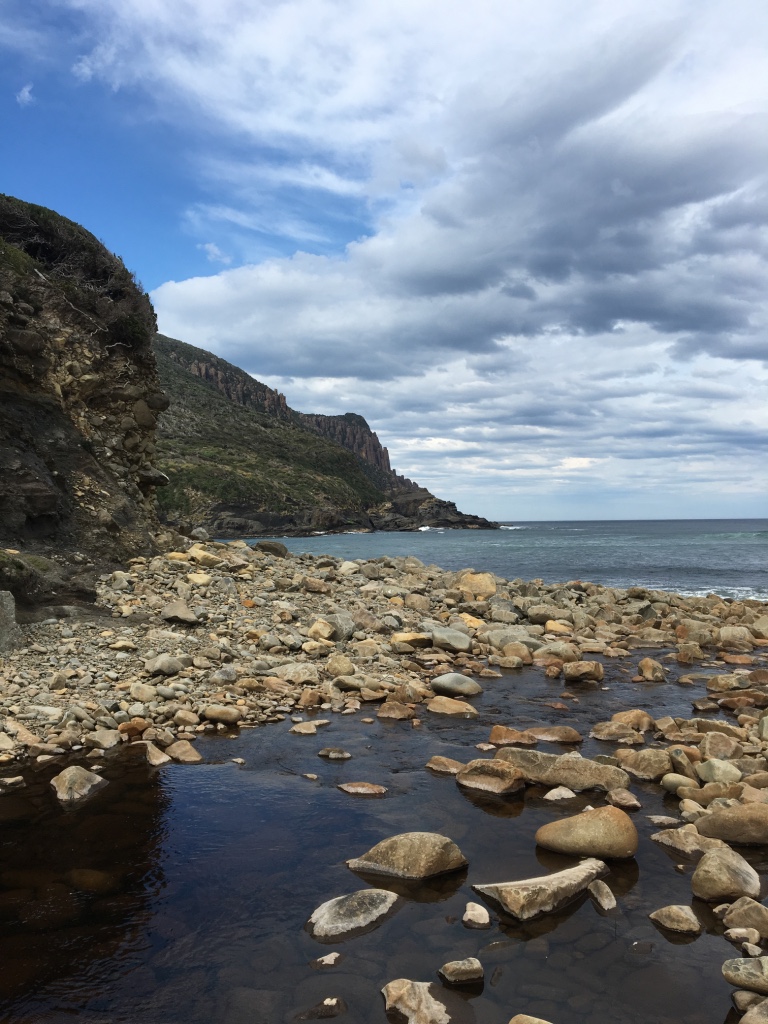 Then came time to finally do the South Cape Range.
The first section is about 1.2km long, for a 320 meter rise. It's steep. The next section is about 2km for the final 140 meter rise to get to the highest point. But then, there's the down again.
The top of the range is generally the muddiest/worst. Here's what I wrote about this section last time we did it (in 2012):
It was muddy, and full of roots. It wasn't nice walking. You had to pick your way though a potentially ankle-breaking track and wade through pools of water and mud. The track was also pretty overgrown too, which made it very slow going.

I've heard that people take hours and hours and hours to do this stretch – especially when it's raining – and now I understand why.
Nothing has changed since then. It was pretty horrid. Of all the sections on the SCT, the stretch over South Cape Range needs the most essential track work. The whole part over the range needs to be boarded to stop the huge, huge mud piles and track erosion.
From the top to the camp site at South Cape Rivulet, it's about 7km. 7km to lose the 450 meters, with a few more hills added in for fun.
We plodded along, getting closer with every step. But we were running out of daylight rapidly. The last few kilometers, it was gloomy and getting darker. While sunset was close, much of the gloom was the clouds and trees blocking out the sun.
We sped walked the last kilometer, finally arriving at the campsite with about 30 minutes of daylight to spare.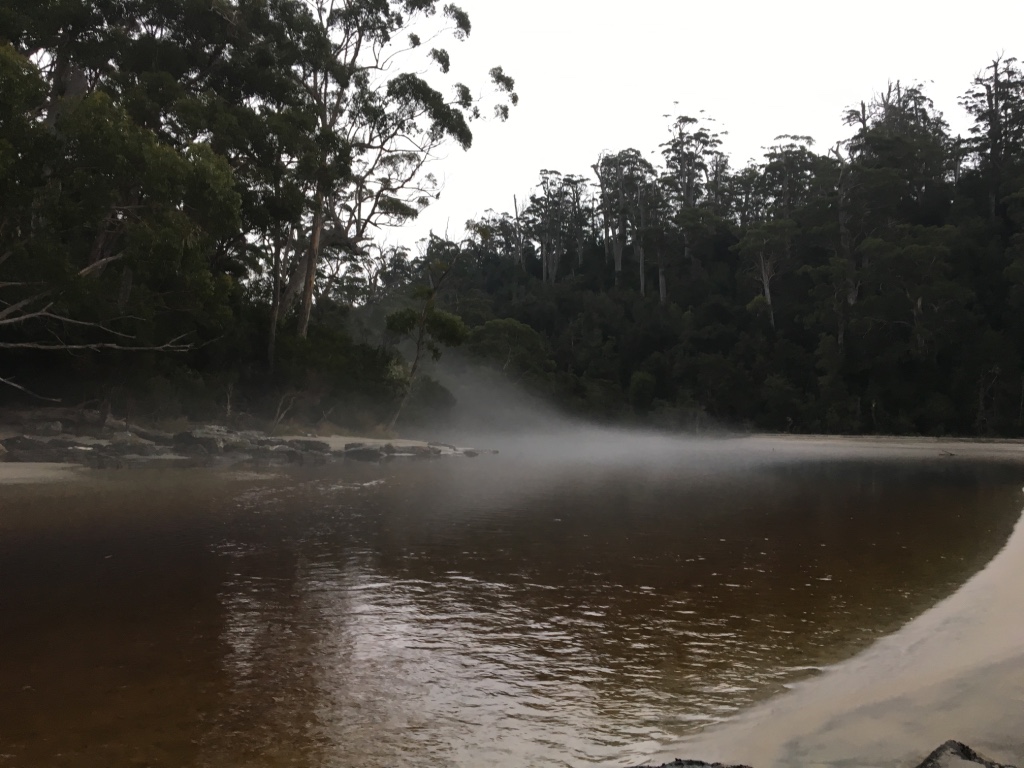 We were buggered. A very tough day, and a day that both of us would pay for later with small injuries.
I wrote about the sleep in at Cavern Camp causing problems down the track. This was - arguably - one of them. Had we reduced our sleep in and got going a little earlier, we may have made it to Surprise Bay which would in turn have given us more time to tackle the Range. That said, the Cavern Camp sleep in was bloody nice.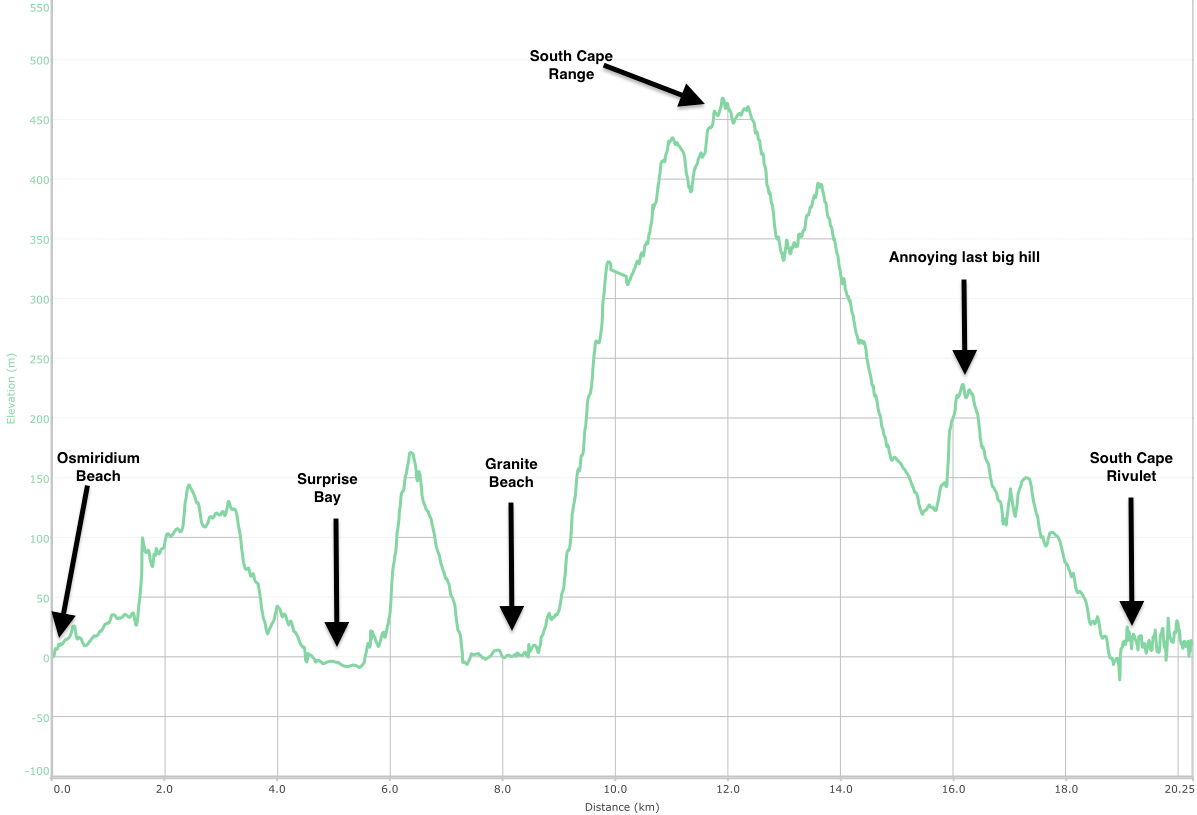 Day 8. South Cape Rivulet to Cockle Creek
Final day! About 11-12km total. Should have been easy. Urgh. But we were tired, fatigued, dirty and ready to finish.
We set off from South Cape Rivulet camp at about 8:30am. I had messaged Dad to aim for about 11:30-12pm at Cockle Creek for a pick up.
After walking along the beach, you come to a 100 meter or so hill that is Coal Bluff. It's not too hard, but not really welcome when all you want to do is finish!
Nonetheless, Coal Bluff was conquered quickly. We took the time to take a few quick shots near the top, just for old time's sake.
By that, I mean I had a photo taken here in 2012 when we both first walked the SCT. I wanted a before/after kinda photo. Also interesting to look back on the amazing weather we had in March 2012!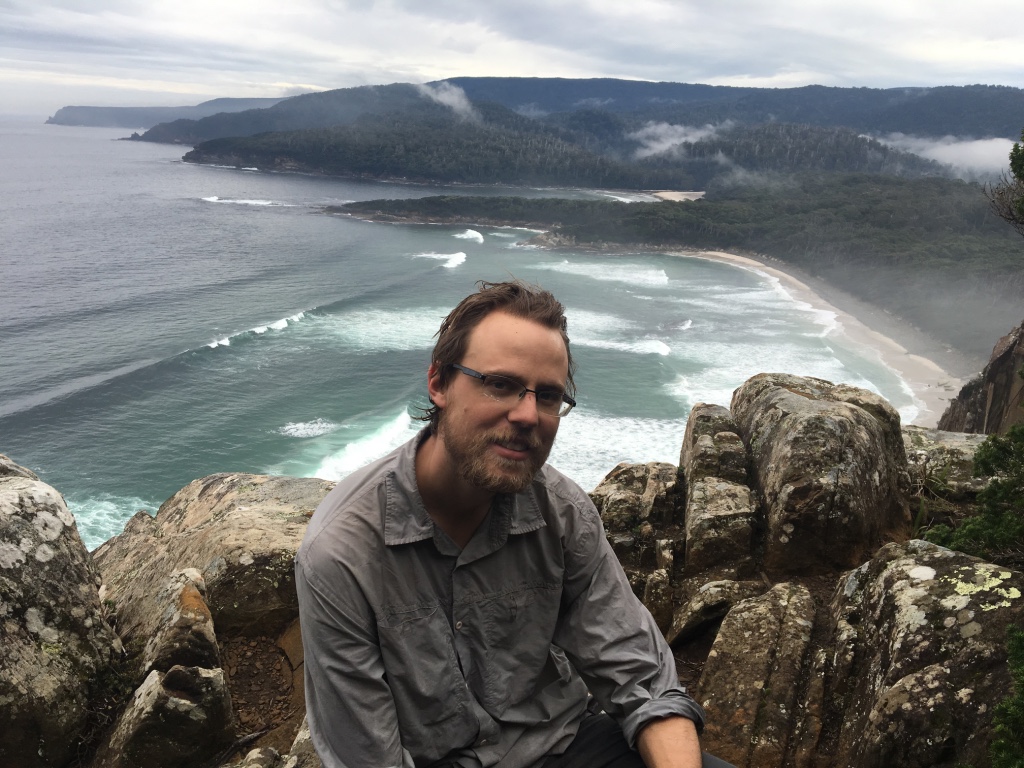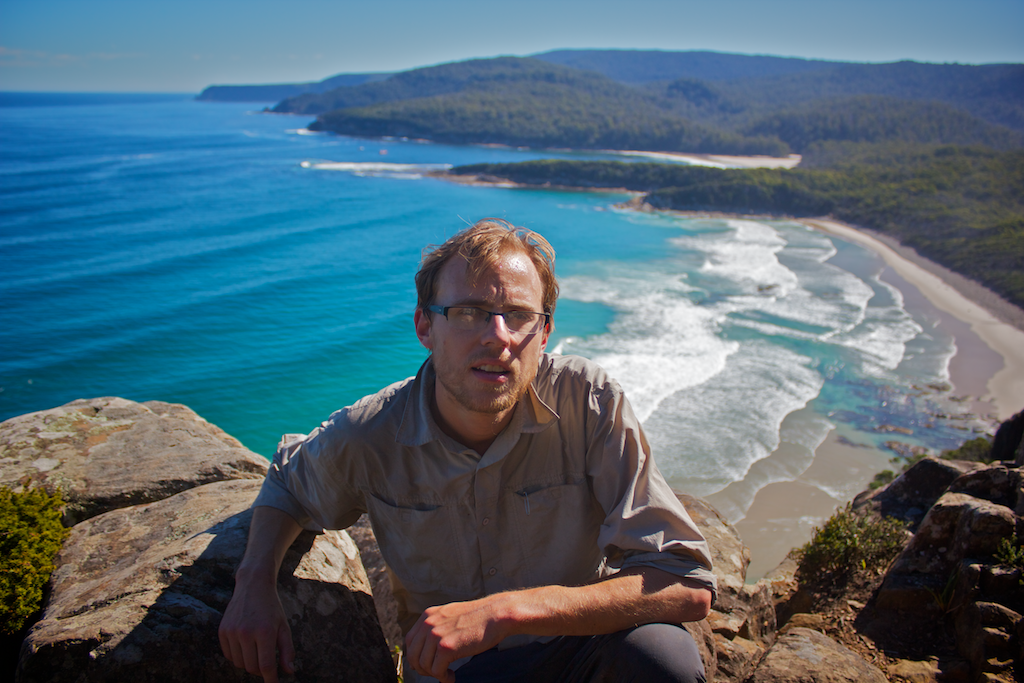 After that, we came to Lion Rock. Then all that was left was the six or so kilometre walk back to civilisation.
At about the 9km mark, we ran into a group of three people who were just starting their walk to Melaleuca. They were the first people we'd seen in a whole week. They were clean, keen and looking strong. We were dirty, tired and ready to lie down.
After a few more kilometres we ran into Dad who'd been walking up the track to meet us.
The final bit was easy, then we were done!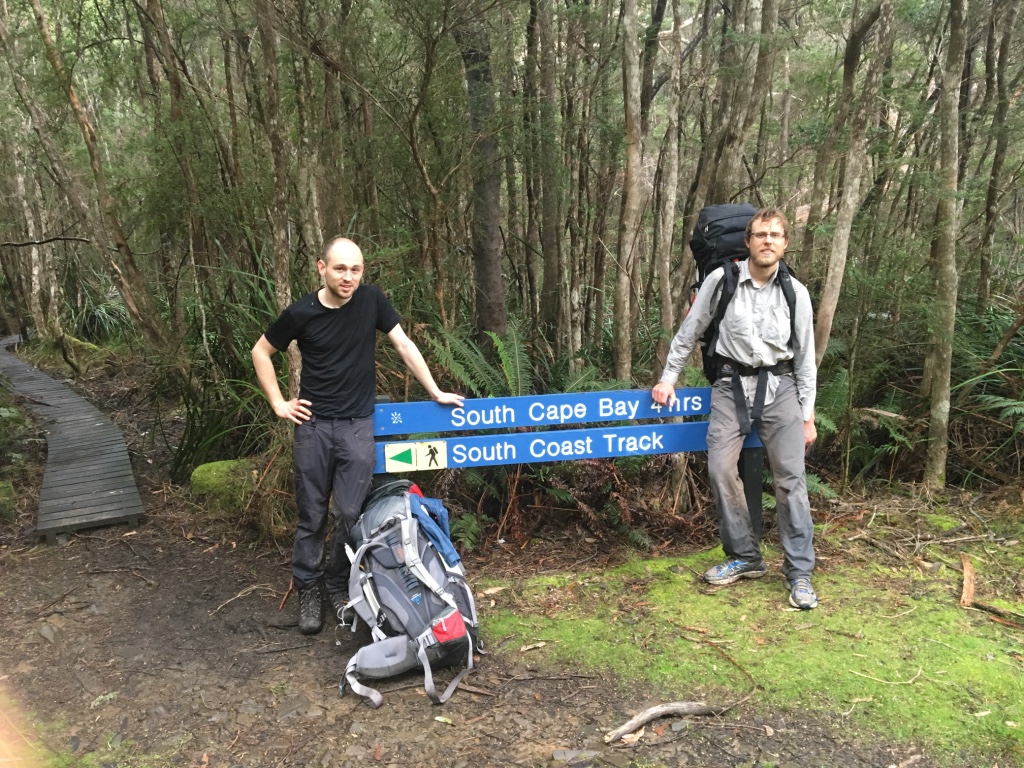 We chucked the bags in the car, grabbed some towels and hit the beach for a traditional after walk clean up swim!
And then we had a beer. Why the hell not?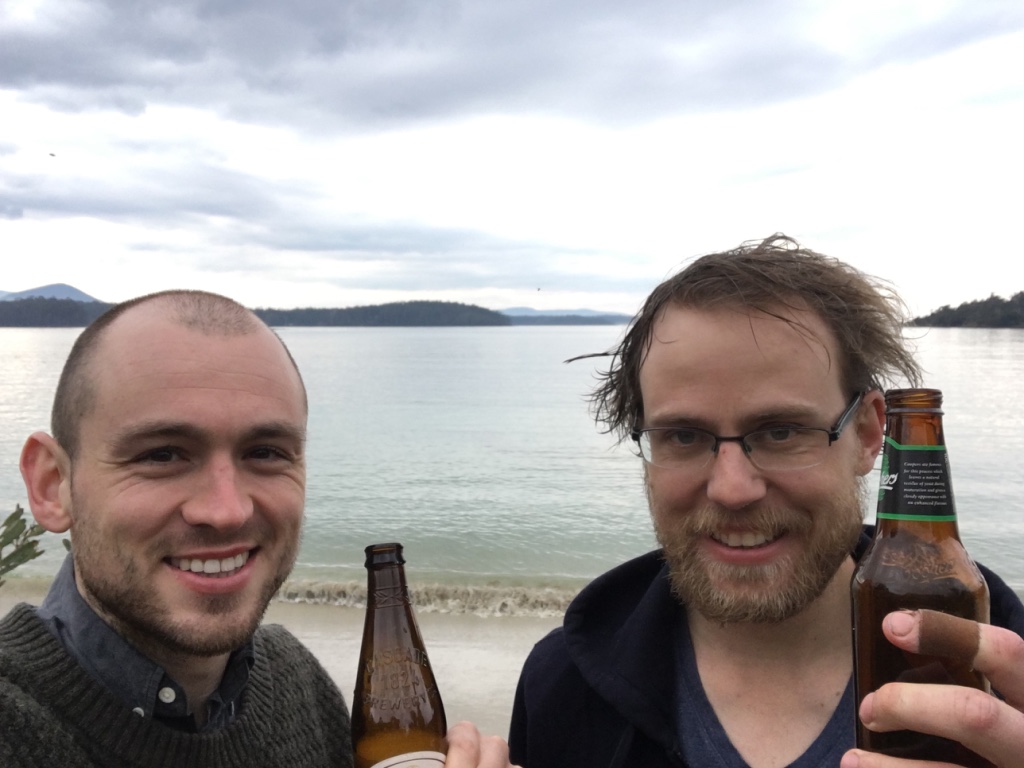 Here's the elevation information from the last day: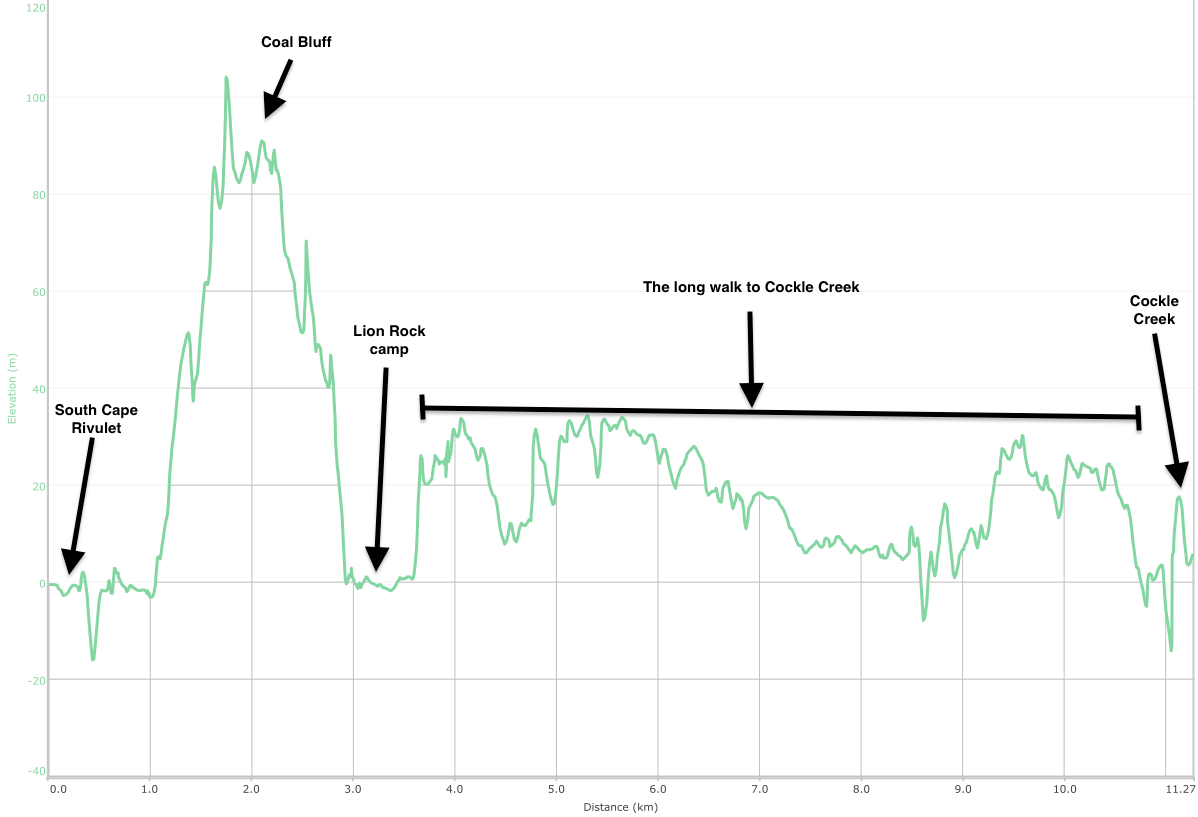 Oh and here it is for the whole walk (if you click on it you'll be able to see all the details).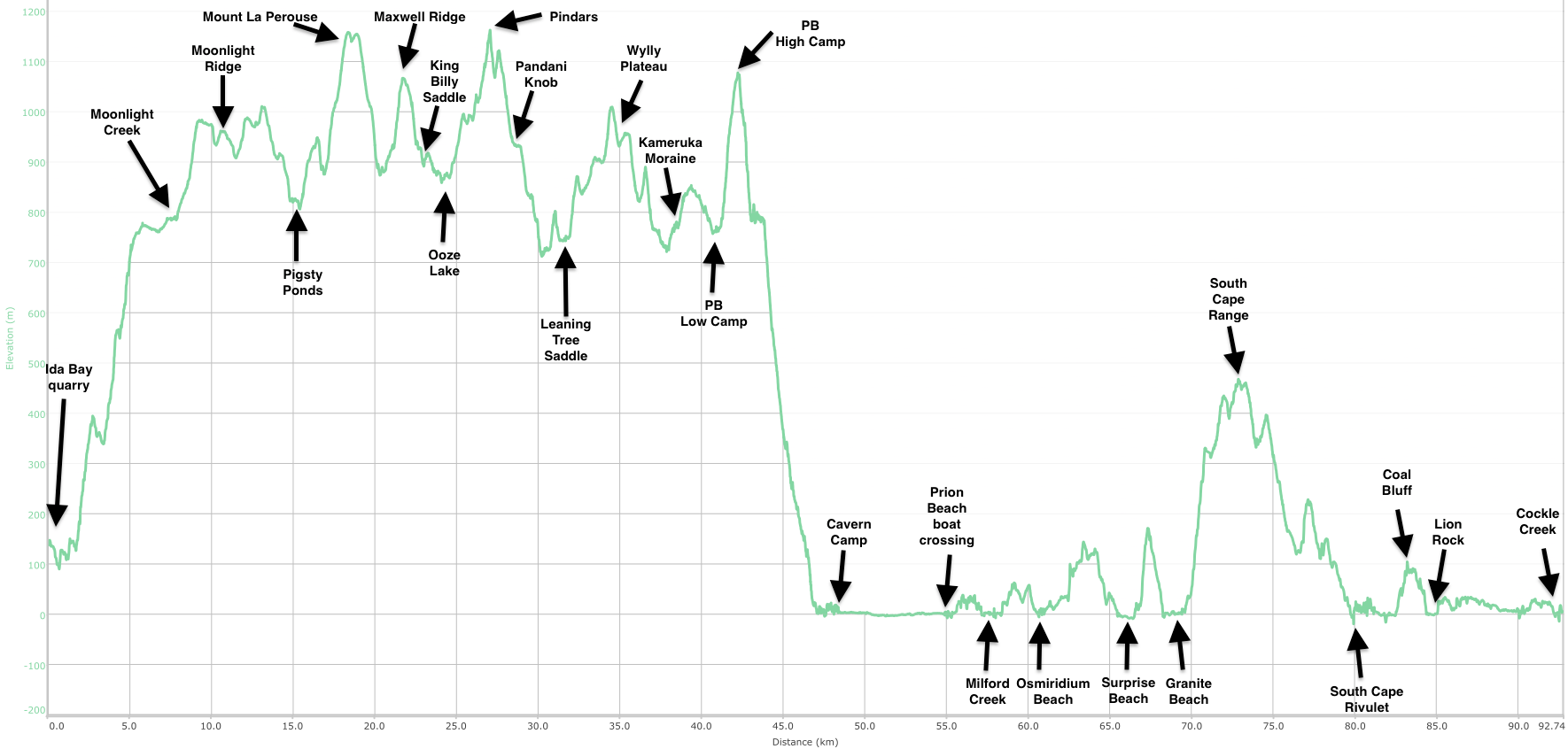 So that's it! A blog post of the Southern Ranges, going for more than 5200 words. I highly doubt anyone will read it, but just like the walk it's sometimes more about the journey.
And with that, for this blog post at least, we've reached the end!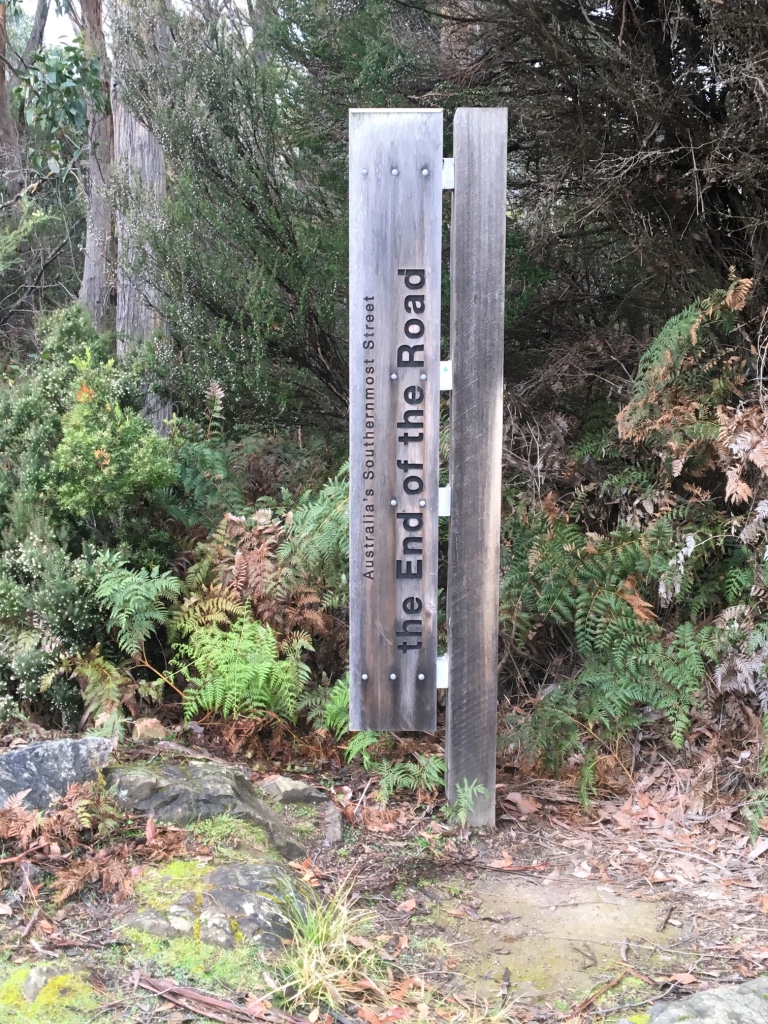 (Actually not quite the end. Massive thanks to Dash for his company and all the photos used here. I didn't take a single one. I didn't even take my phone camera out. What a lazy shit.)
PS: I've since been back, for another go!
Further reading
Comments
---
luffy:
September 26, 2016
This was very enjoyable to read! Well done on your walk.
---
Stephen Edwards:
January 25, 2017
we are about to tackle this walk starting 22n february so found it very interesting. ours is a group of five and planning to do it in 8-9 days, hopefully we will make it!
will:

January 26, 2017

Oh wow! Have a great time. I hope the weather is good for you. Are you going to try to get to Vanishing Falls?
---
Gavan Duffy:
June 25, 2017
Well this took me back!
I did this circuit the opposite direction in '91. I was fortunate enough to have a second pair of cordura gaiters which became arm guards against the damned scoparia. Made all the difference!
Didn't have the rain you did but the wind at Pigsty Ponds took our tent and hurled it over the trees. We had to run helter skelter to retrieve it. Never found all the tent pegs… fortunately that was our last night.
Thanks for the post!
will:

June 26, 2017

That's a great idea Gavan! The track wasn't too bad when we were there – for most of it.

I've heard it's got significantly easier since the 1990s. Perhaps – if the scars have healed – you could go and try it all again one day!?

Thanks for your comment.
---
Mark and Robyn:
July 11, 2017
My wife and I were gazing up at those peaks from a pleasant spot on the beach at Recherché bay.
We wanted to find out more about them, and found your story online. We have just read it and found it inspiring… well done to you both!
will:

July 20, 2017

Thanks Mark. Hope you enjoyed your stay. Recherché Bay is a lovely spot!
---
J:
August 23, 2017
Milford Creek … I did the SCT back in 2004, and I remember a crossing very much like this. It may not have been Milford, but your photo resembles what I remember.
No one else I've spoken to remembers a crossing like that (easy across the creek, but then a waist-if-not-chest-deep walk down to where the track leaves the creek.
I'd say it's a tidal effect … it just didn't look "right" … if the crossing I did was normal I would have read about it, and others wouldn't look at me like I'm daft.
---
John Chapman:
September 14, 2017
Nice to read your account.
PB and the Southern Ranges, it is one of the few walks left that is similar to what we used to have to put up with in the 1970s. Its still scrubby although easier to follow the route than it used to be. The weather is still the same, on our last PB trip our tents were flattened all night at PB Low Camp by cyclonic winds, impossible to use a stove even in the tent – simply too dangerous.
On another trip we pitched our tent at Leaning Tea-Tree in a shallow lake as all other sites were taken and it lat least had some wind shelter, thats all part of a Southern Ranges trip.
Regarding Milford Creek, after storms, the sand moves. It is sometimes an easy walk across sand. However the river gradually moves east and eventually eats into the scrubby bank as you found. It changes each year and you never know what it will be like until there. Over the last 45 years I have seen it change multiple times. There is now a very rough cut track in the scrub and I suspect parks will eventually cut a proper track through the dunes from Milford Creek to the lagoon Outlet – this will be needed if they construct the announced commercial huts (thats an issue in itself).
All the best, and keep up with the blogs, they make interesting reading giving others some perspective on what its like to walk in the south-west.
Regards John
will says:

September 15, 2017

Thanks for the story/info John!

Also, thanks for all your books. I've read many of them over the years. Always very useful.

See you on the track one day.
---
Anita Robnik:
October 16, 2017
An enjoyable read, thanks! My youngest son Zane is currently up there! Climbed Pindas, Wylie and Vic Cross today and plans to climb PB with an early start tomorrow. Sounds like he will be avoiding the heat for a change rather than dodging the rain and wind.
Reading your blog also gave me some visual on what terrain is like. With strong winds it would have been very difficult and psychologically challenging.
I am itching do the SCT sometime soon. 🙂
Zane is currently working on a challenge of climbing all 158 Tassie Abels, if he gets PB under his belt tomorrow, he'll have 22 left to climb, if you're interested his blogsite is abelzane.blogspot.com.au Thanks again for the great read, I can just feel that wet oozing in the socks… 🙂
Cheers, Anita
will:

October 17, 2017

Hi Anita,

Thanks for the link to your son's blog! Looking forward to reading his adventures. Climbing every Abel will be a massive achievement. He's already done so many too!

Make sure he posts a PB trip report too. I love reading them all.

Oh and the SCT is amazing. I've got a small write up here: https://thegreatambler.com/posts/the-port-davey-and-south-coast-track/

It's no where near as detailed as my PB walk, but might give you an idea of the track. They've improved a few things since we did it too, though the walk over South Cape Range is still a bit of a slog.

Anita Robnik:

October 17, 2017

Thanks Will. I'll check it out tonight. I hear a few tracks have had upgrades recently. I've stepped onto the southern ocean from the Cockle Creek end, itching for more!!
---
Tim Walkden-Brown:
February 5, 2018
Fascinating report; as I read it I was there experiencing your tribulations and elation.
The Southern Ranges and predominately PB are in my blood even at my age of 72. your report reminded me so vividly of my 2 trips to PB. The first in 1967 when, with John deClifford, I did PB in a weekend. Check out my article in the Hobart Walking Club's Tramp… Issue #18, the article "Where Angels Fear to Tread".
Later in Easter of 2005 I did the same as your trip. This one turned out to be a spectacular and iconic trip for me once again.
will:

February 6, 2018

Thanks Tim!

I'd love to have a read of your report. I'll have to track down an issue somehow. Maybe I'll dig one out of the library when I get a chance.

I was thinking last night that I'd love to head back. Just to try it again (and hopefully get better weather this time)
---
Rob Axford:
February 22, 2018
Great report Will!
I have read this a number of times now. Once or twice before we did it and now again after. We followed the same route as you did. We used some of your info as a guide so thanks for that. It's was a year ago today. One of our team, posted above before we left. (Steve Edwards).
I think I would have given up at Pindars Peak with all that snow. You did very well. We crossed it in driving rain, hail and howling wind. Really not much fun. We were very lucky to spend a night on PB in dead calm conditions.
I have been writing our own trip report over the last few days. I will pass it on when it's complete. Cheers,
Ax.
will:

February 22, 2018

Awesome! Post it here when you're done. Can't wait to read it.
---
Kate:
March 12, 2018
What a great read! After an overnighter near hill one last week, I hope to get all the way through soon, but maybe not solo for this one 🙂 Nice work
---
PhilM:
February 13, 2019
We are planning the walk on the southern ranges but can't seem to download the file of the track? Is there any chance you can send it to me?
---
Martin:
March 28, 2019
Excellent read, thanks for posting it. I don't know if I'd want to do that trip in September! PS – just reposted this into a 20,000 person hiking group, so I reckon it'll get a few more reads.
will:

April 1, 2019

Thanks Marin!
---
Eddy De Wilde:
January 23, 2021
I just searched PB Track notes and wasn't hopeful of finding anything. What a surprise to get a blow by blow account. This gives me a good picture of what I'm in for. How heavy are the pack rafts and where did you get them from? Best wishes
will:

January 25, 2021

Hey! Glad we can help.

Packrafts weren't super light or really that useful in the end for this trip – but they were a nice change from walking.

We got them from Wild Earth. 1270 grams in weight + paddles (another KG or so).
---
Joanna James:
February 5, 2021
Thanks so much for your write up, Will.
Loved reading about your adventures. Respect to you and Dash on your impressive achievement. I'm looking at heading up to Pindars Peak this summer, though only along the NE ridges route, and was hoping for a good description of the track and amount of effort involved, so thank you. Looking forward to reading more of your posts. Happy walking!
---
Rick:
December, 18, 2021:
What a great article! Funny and real.
I'm contemplating a return to PB in a couple of weeks. New year's eve 2000 was spent on Wylly plateau (slower going than expected - got lost a few times 😉) on a solo walk of the circuit.
will:

December, 18, 2021

Hi Rick! Let us know how it all goes. Love to hear about the trip!
---
Adam:
February 27, 2022:
What an epic trip. I'm doing the south coast track in 2 weeks.
I was going over the map, got side tracked googling Precipitous Bluff then came across your story.
Even though it sounds like a gruelling slog, I'm envious.
Great read.
will:

February 27, 2022

Thanks Adam. I'm equally envious that you're going to be out and about on the South Coast Track!

What a walk that'll be. You'll enjoy every moment!

Don't forget to take a big look up at PB as you pass by. It was the SCT way back that first got me fascinated by PB. It'll probably do the same for you too.

Best wishes and have a great walk!

Will
---