Day 1 - Scott's Peak Dam to Junction Creek
Distance: 9.1km 
Walking difficulty: Easy 
Mud: Yes 
Date walked: 11 March 2012

When I saw a man at Hobart airport with a backpack, I asked him where'd he'd just been bushwalking.
I'd just arrived off a flight from Melbourne, with the aim of starting the Port Davey track in Tasmania's Southwest National Park the very next day.
"I just finished the South Coast track mate," he said. "Bloody beautiful down there. The weather was perfect." I asked him if he saw many people on the track. "Not a single person once we left the plane. Had it to ourselves. Make sure you check out Louisa Bay," he added.
"Where are you off to?" he asked me. I told him my friend Dash and I were also heading down south. Then I added weren't just doing the South Coast track, we'd decided to add Port Davey into the mix.
"You're a bloody masochist to be doing both," he cheerfully replied. "South Coast was tough work, and you're adding another week to it."
24 hours later, Dash and I were lifting our heavy bags to our backs, waving goodbye to my Aunt who'd dropped us off at Scott's Peak Dam, and taking the first step. The beautiful day in Hobart had vanished, and the bad weather looked like it was setting in.
We said goodbye, and took our first step up a small hill, going through a bit of forest and coming out on some board-walks. Today's walk was a Great Amble. We only had to get to Junction Creek, about 9km down the track.
We knew there'd be mud on the track. It greeted us warmly 2km from the car park. The area hadn't had a good rain in ages, so if it's raining I'm sure it'd be worse. This was the first day, we didn't fully realise there'd be much, much more to come.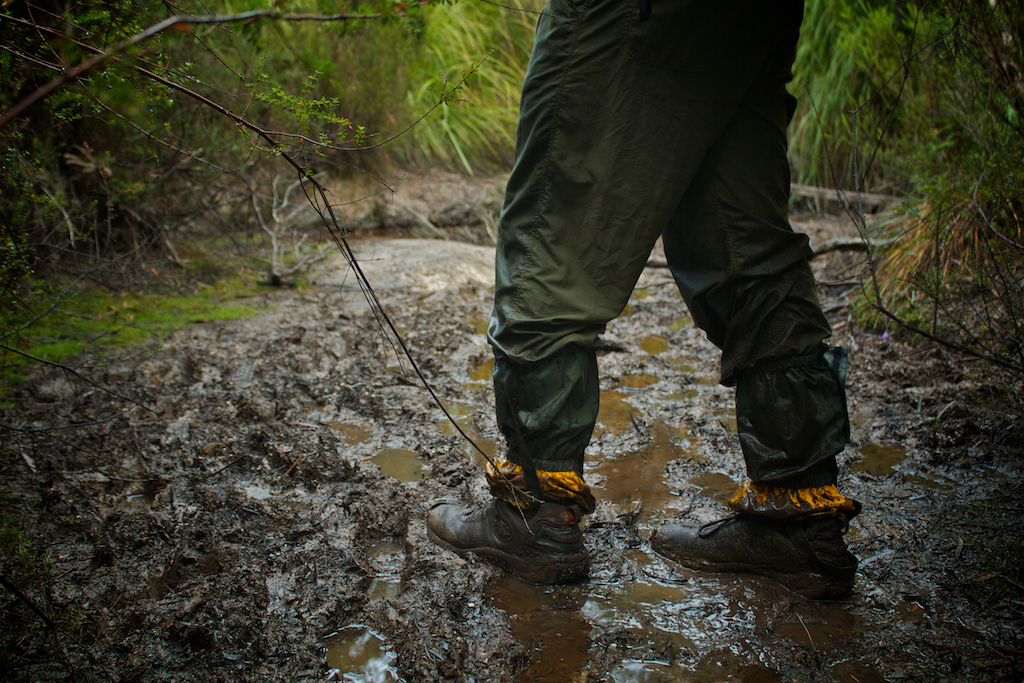 We passed about six people on the first day, all returning. I thought it would be normal to see people every day. The next time we saw a person would be about 72 hours away. We met one guy and girl who'd come from Cockle Creek, our final stop. It was their 10th day. They mentioned the mud we'd be facing the next day, but we didn't realise how much there'd be.
We made it to camp at Junction Creek at about 5:30pm. If you've managed to keep your feet dry to here (which would be highly unlikely), you've got to walk through Junction River. So you may as well jump in the nearest mud, because walking is much easier when you're going through it rather than around it. We washed it all off in the lovely (and very cold) river.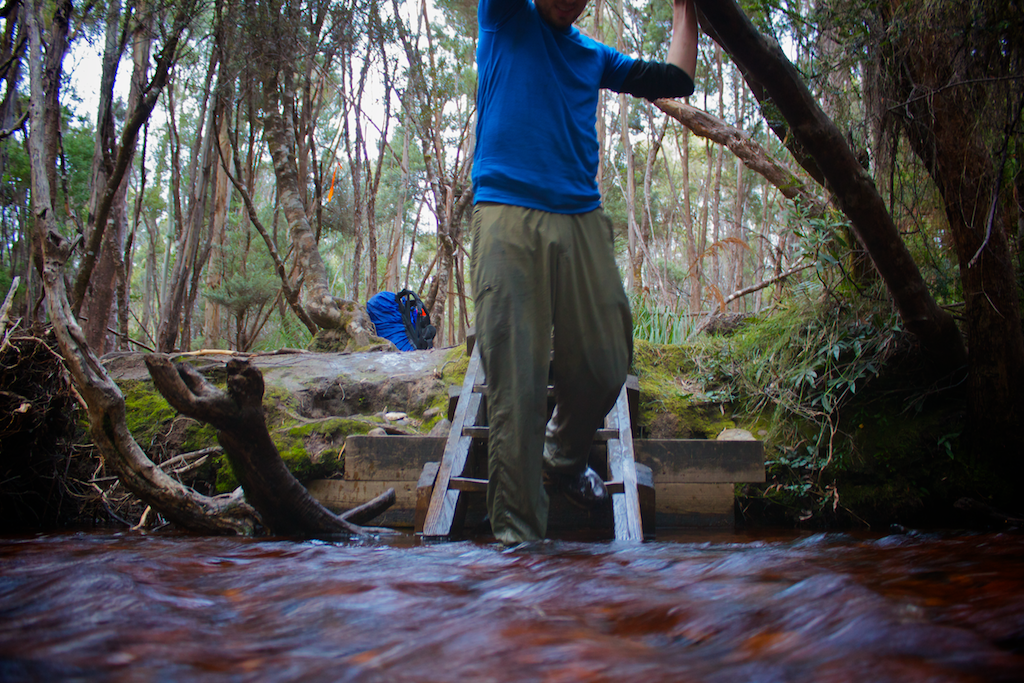 We had a look around the immediate campsite. The best, and driest, one is actually up the hill about 100 meters. Find the track leading out, follow it up the hill. You'll come across a smaller campsite up there, good for about 2-3 tents.
Note: We took an old 4 litre wine-bladder with us. It's perfect for the South Coast walk. You can fill it up at the creeks, and if you're staying a little back from them, you've got all the water you need. This wine-bladder was one of my most prized possessions.
Dash reckons you can pick up Hobart's ABC 936 here. He heard a bit of it. We didn't hear any more radio until we got back to Hobart.
It started to rain as we went to bed. A slight worry…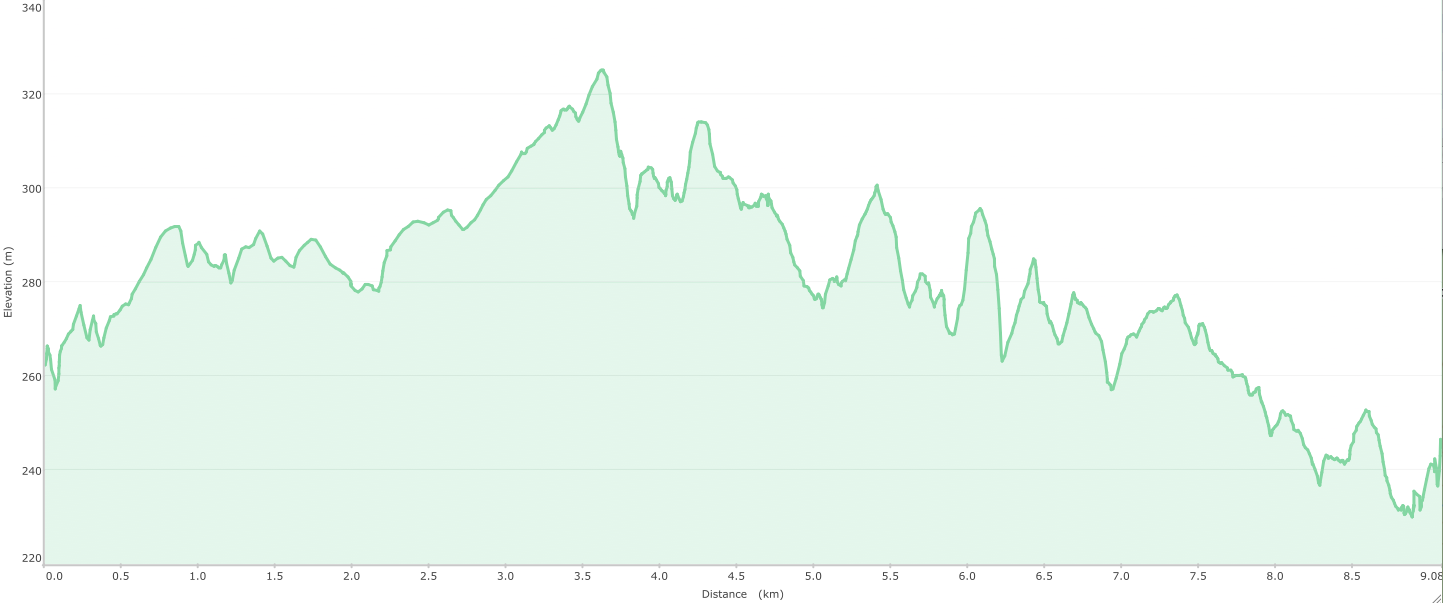 Day 2 - Junction Creek to Watershed Camp
Distance: 21.3 km
Walking difficulty: Hard
Mud: A metric f**kton
Date walked: 12 March 2012

The rain stopped overnight, and when we got up, the ground was quite dry. It was a positive start to the day. Junction Creek to Watershed Camp is quite a long jump. Ideally, with more time, it'd be great to stop and sleep at Crossing River.
As soon as we turned the corner from the camp onto the track, the mud began. It never stopped. It ranged from boggy mud, to watery mud, to slippery mud to muddy mud. What ever it was, it was still mud. Day 2 was the big "Day of Mud". By far the most amount of the stuff on the whole South Coast and Port Davey tracks.
We complained a lot about mud on Day 2. You'll see that in the videos. I apologise. We were still getting used to it. We knew that there'd be a bit of it around, but not that much. And if it had been raining a lot in the days before we got there, there would have been more mud still. So cross your fingers that you get a dry stretch.
Things got good when we made it to Crossing River. It's a lovely little camp. The campsite feels quite big, it'd fit several tents. The river is lovely too. The rocks on the far side are great to sit on in the sun for a bit of lunch, or if you're calling it a day and sticking around for the night.
We made it across safely.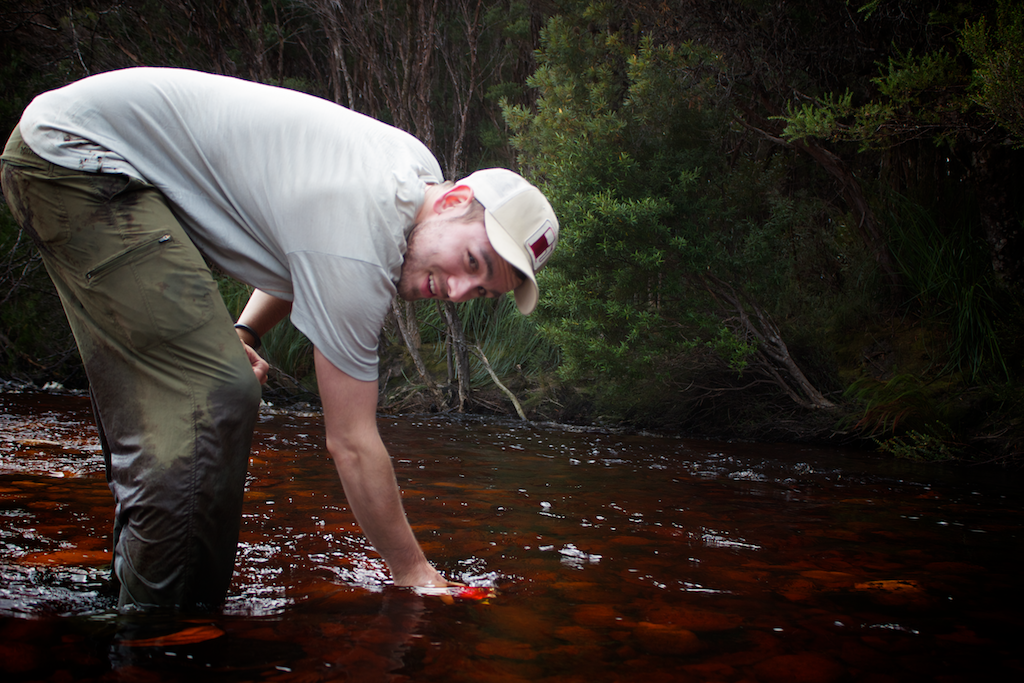 We didn't stick around very long. We had lunch later on, which we regretted. Crossing River was a time for a break. It helped clear the phycological blocks we had because of the mud we'd already come across.
Unfortunately there was many more kilometers we needed to clear, so we knew we had to keep going. But Crossing River was a highlight for me.
Dash took a swim. I took one a bit later. It was revitalising. It's cold, but I highly suggest it!
Then we left Crossing River, walked for a bit, came across more mud. Complained some more.
The issue with the mud is that it wears you down. It's painful, boggy, relentless and demoralising at times. The track isn't maintained at all. It's just a small gap to get through the scrub, branches and bushes. There are a few rocky bits, but then it's straight back into the mud. Sometimes the track is only a foot or so wide, so you're walking along and then you slip right back into the mud! There's a lot of slip and sliding.
Staggered into Watershed Camp, only to find a pretty small, wet place.
Watershed Camp is one of the smallest, crappiest camps on the whole track. It could fit 3-4 tents, and is widely populated with leaches. They're everywhere. If it was raining, the water would flow through this place too, on the way to the river. The river is about 50 meters from the camp.
Ate dinner. Cursed the mud one last time. Hoped it wasn't going to rain. Set the alarm. Went to bed.
Day 3 - Watershed Camp to Forest Camp
Distance: 22.4 km
Walking difficulty: Hard
Mud: Less than yesterday
Date walked: 13 March 2012**

We were happy to leave Watershed Camp. Up around 7am. Gone by 8:05am.
Looking at the map, we figured we wanted to skip Spring River and get to the unofficial Forest Camp. It turned out to be a good decision. While the distance is a bit longer, Spring River is a big of an odd place. It sounds lovely, and you picture something similar to yesterday's Crossing River. In reality however, it's a bit icky.
We set off from Watershed strongly, and were soon weaving through the bushes before heading up the hill again and getting out of the dank, damp forest. I found a water bottle that had been pulled off someone's pack, so make sure you've got everything secured because the tight scrub will do some damage.
After about 8km from Watershed, we got to a John Chapman suggested campsite. This is where we were aiming for the day before, but it turned out to be a bit too far and we had no chance of making it.
But in the end it was a great place to have morning tea.
More leaches too!
There'd be room at this camp spot for a few tents. If you need more space, there's another small campsite for a few more tents just after crossing the creek.
I liked this place. It wasn't gloomy like Watershed. It was open, and had a water supply. All was good. Nice time for relaxation!
I reckon if we'd stayed at Crossing River, you could skip Watershed and make it here. It'd mean a longer day on day 1, but you get a better choice of campsites.
After morning tea, we entered the Lost World Plateau. I loved it. Dash did too.
I loved it out here. It was flat(ish), and most importantly it had solid ground underfoot. It allowed us to get some quick kilometers down, since we were planning on skipping Spring River.
The views of the mountains and rolling hills around us were amazing. It was nice to be able to walk along, without having to worry about slipping over and breaking your leg. Though by this time, we were suffering a few blisters and very minor cuts.
It goes to show we're getting into this walk. It's Day Three. It's going well. I'm having fun. I think.

- Dash
Then the walk started to drag, and we started getting hungry. Spring River - the lunch spot - was tantalisingly close, but never seemed to turn up. Eventually we got there.
It hadn't rained for ages, so we had no trouble getting to campsite. But in flood, or heavy rainfall, this place would be horrific.
I had a waist-deep wade though strongly flowing water even to get to the river bank and there was no way I was going to be able to swim it.

-Our Hiking Blog (2008)
Spring River was hard. It would be harder still if there was more water around.
John Chapman mentions in his track notes there's a tree you can use for a crossing. As far as I can tell, it's gone: it's either washed away or it's broken. I also couldn't find the campsite of the other side of Spring River. The only campsite I could find was the one you first come across when you enter the clearing.
UPDATE 28 Feb 2016: Apparently there's a new bridge there now. That should make getting across much, much easier.
It took Dash and I about an hour to figure out how to get across. While the water wasn't moving fast at all, I wasn't too keen about swimming across. I also wasn't too keen about crossing the broken log. (I actually did cross it in the end, though in reverse, just to see what it was like. I didn't have my pack on either. It would have been easy to slip off and get everything wet.) I have no idea how you'd get across in a flood, or if it'd rained a lot recently.
Spring River was a struggle. It didn't have a great vibe to it either. There was also a lot of toilet paper around. Maybe that all gets washed away come flood time?
After clearing Spring River we got off the Lost World Plateau and started getting some altitude. The walk along the mountainous ridge was a pleasure. You can see the whole plateau, and see Spring River snake its way through the land on the way to the sea.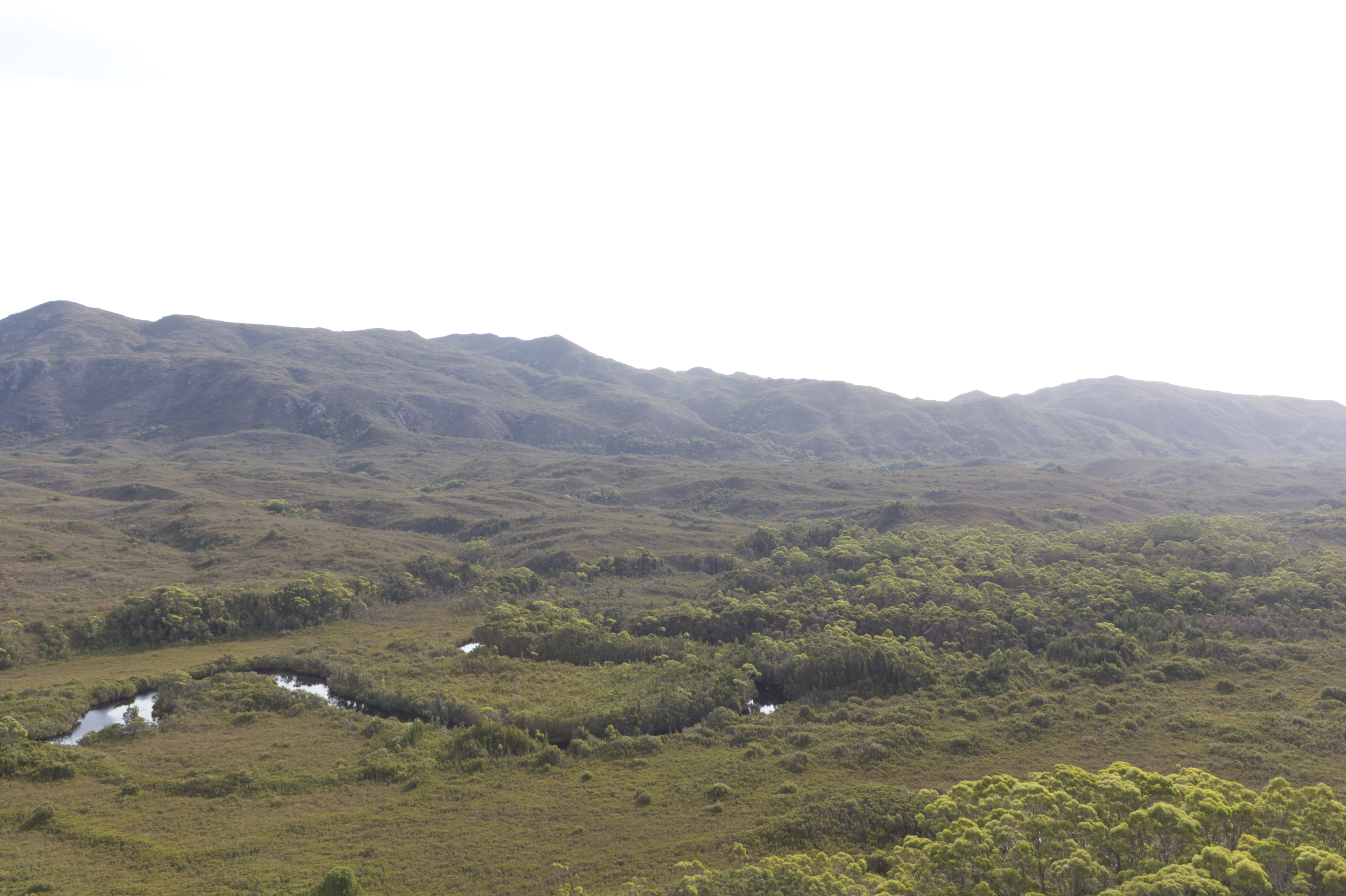 After a whole lot more walking, we made it to Forest Camp. It's a wonderfully dry place, high up from the river. There's room for about 3 tents (4 if you push it). There are a few logs to sit on to cook dinner. This was one of my favourite campsites on the entire trip. The only thing to keep in your mind, is the river is a long way off. Probably a 15 minute walk down the hill to get water, then all the way back up it. Again, the water bladder was worth it. I could bring up 5 litres, which was easily more than enough.
Up early tomorrow, as we were gunning for Melaleuca.
Day 4 - Forest Camp to Melaleuca
Distance: 20km+
Walking difficulty: Medium
Date walked: 14 March 2012

My parents were flying into Melaleuca, so we decided to make the jump and stay the night in one of Melaleuca's cabins.
In order to do so, we got up early.
The walk to Farrell Point is about 6km away through undulating lands. The walking was easy and only took a couple of hours. There are a few hills to walk up and down, but the views are magnificent. There's a side trip here you can do if you want (we didn't do it, but it's on some of the maps).
After getting around Lindsay Hill, you get a brilliant view right down into the Bathurst Narrows, which you have to cross by boat.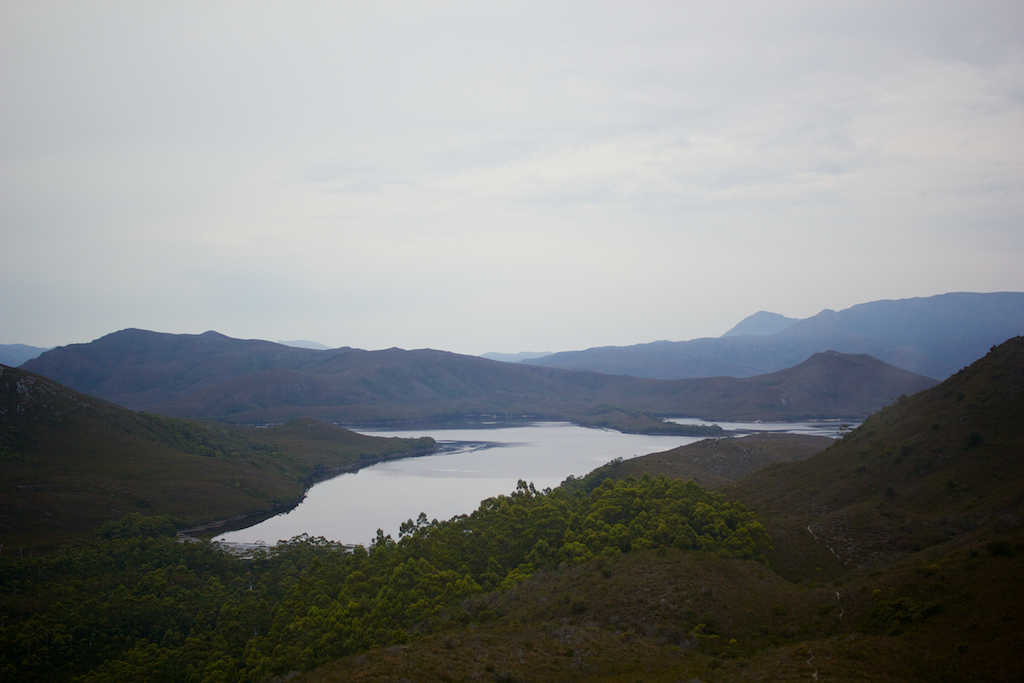 If you want to stay here, you've got a choice of campsites. Either Farrell Point (this side) or Joan Point (other side of the narrows). I didn't get to check out Farrell Point's campsite, but Joan Point's was nice. Wouldn't have been a bad night. Though there's no obvious water around so it could be a bit of a search.
The weather probably gets to decide where you stay. If it's dangerous looking, stay at Farrell Point until it's safe to go. If it's nice weather, cross and stay at Joan Point. That way if it turns nasty overnight, you don't get stuck.
Crossing the Bathhurst Narrows is a bit of fun too.
We crossed easily (there was a strong current), and had lunch on the rocks of Joan Point. We saw several boats passing through it, and one man pulled up in his tinny. It was the first person we'd seen in days.
Launching the plastic boat was easy. The fibre glass boat was not. I have no idea how you'd get this into the sea if you were by yourself. There were actually three boats when we were there. I think one of the fibre glass boats had a hole in it.
After lunch, it was a 10km+ walk into Melaleuca. It didn't seem to take that long. We were moving pretty fast. It took us about four hours. We had a walking style by now. Walk hard for one hour, then have a five-minute break.
We saw the runway about 30 minutes out from Melaleuca. It was very exciting. We ambled into Melaleuca by 3:30pm. Heaps of time to spare and explore. Melaleuca is a fascinating place.
We grabbed our new supplies from the hut (we had the food for the South Coast Track flown in), and staggered up to the huts.
We stayed the night in one of the huts. We dried out all our stuff. We had a think mattress. It was luxurious and bliss. There was no one else around either. So we had the hut to ourselves.
As the sun went down, we finished the fourth day - and the first leg - of the trip. We were ahead of schedule, and had heaps more food than we needed. The great weather helped significantly.
The total distance walked in the last four days was 76.80km, according to my GPS. In "moving time", (when the GPS was moving), it took us 21 hours and 29 minutes. So we averaged 3.6 km per hour for the Port Davey Track.
Day 5 - Melaleuca to Louisa Creek
Distance: 24.6km

This turned out to be a much longer day than anticipated, mainly because the campsite was - for the first time - full.
But I'll come back to that.
I got up early to see my parents fly in on a little plane from Hobart. Flights are offered by one company (it used to be two, but one company unfortunately went broke). That same company had earlier flown in our food supplies, which we picked up at the hut. It made the bags heavy again, but better than lugging it all the way from Scott's Peak Dam.
A few other people (a party of five) also got off the plane. We would see them time and time again down the track. It's a popular place, but we were conditioned from our Port Davey track trip to see no one but ourselves. It takes a bit of getting used to.
Once we finally got going, the walk to Cox Bight was easy. There's duck-boarding most of the way. We flew down the track and stopped for lunch just before the beach. Then it started to rain (kind of)
Lunch was nice. The beach was great. It was also a reminder on how far we'd walked in the past few days.
From Point A to Point B.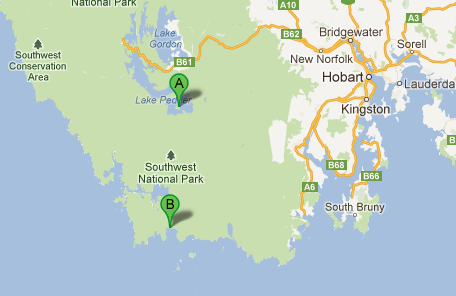 It was also great finally getting to the south coast. You could look out, and know there's nothing between you and Antarctica.
As we walked along Cox Bight, there was a bit of rain.
There also seems to be a slight error in the TasMap map. It seems like you can go on the beach the whole way to the campsite, but you can't. The tide may have been in, but we had to cross the land again. Not to worry.
We planned on missing the official Point Eric campsite and pushed onto Buoy Creek. When we go there though, it was full. As I mentioned earlier - because we left so late - all the other parties from the plane go there before us and set up camp. It wasn't a bad camp. Room for about 5-6 tents.
After a quick discussion, it was decided we'd push on, cross the Red Point Hills and stay at Louisa Creek. It wasn't easy! But we managed eventually, and got there about 30-45 minutes before dark.
Louisa Creek was a lovely spot too. Campsite was flat and the creek was beautiful. We even went for a swim! You could fit 3 tents there comfortably on one side of the creek. Probably a few more on the other. Go left before you cross the creek to find the campsite.
You'll know you're there when you have to come down some stairs. There's another creek about 700m before Louisa Creek. Push on through the first one.
Day 6 - Louisa Creek to Louisa River
Ah rain. I knew ye was coming.
It was an easy day. You could almost jump from Louisa Creek to Louisa River. It was a bit of a rest day for us too.
We ambled along the track, getting wet, and looking forward to putting up the tents, getting into the sleeping bag and doing a bit of reading!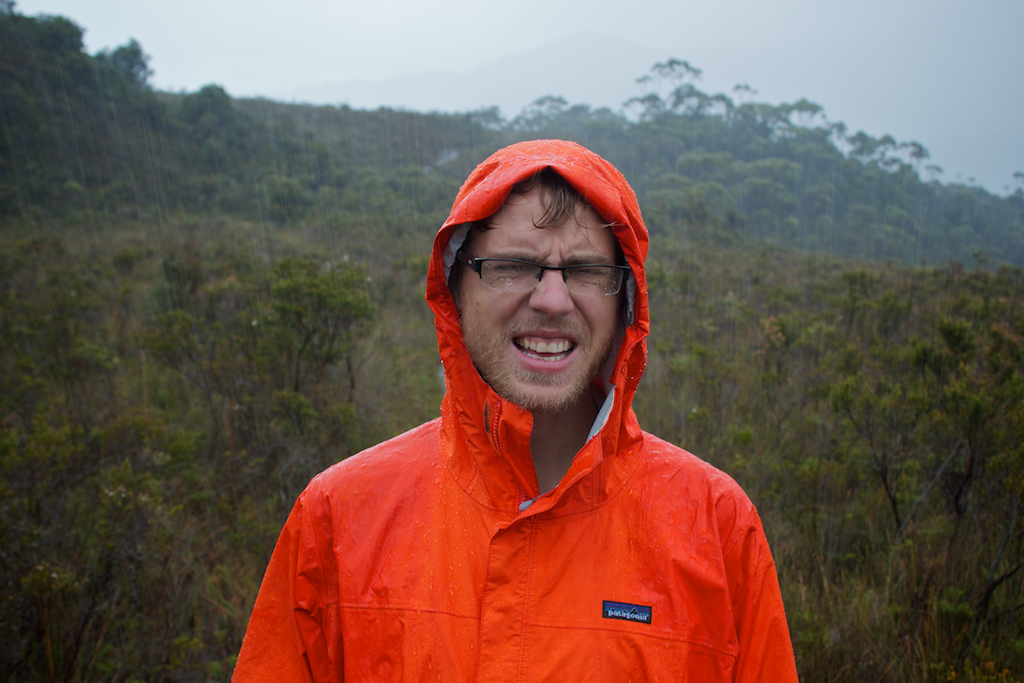 Tents went up and books were read. It was a really nice day in the end. Nice to have a break.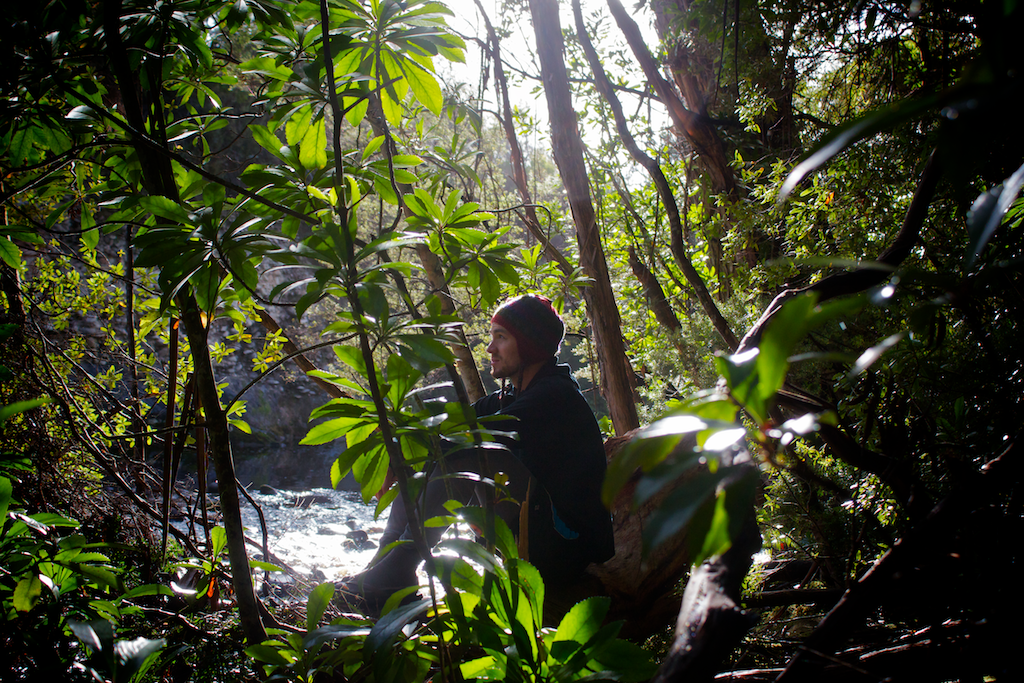 My parents left us, and walked down to the beach. They spent the night there and then walked back to the airport at Melaleuca. We walked on.
The next day, was Ironbounds Day!
Day 7 - Louisa River to Prion Beach Boat Crossing (via Ironbounds)
Walking difficulty: Hard and mountainous 
Distance: 22.9 km

I was always looking forward to the Ironbounds. It was always going to happen, so there's no point putting off having to walk over it.
We set off nice and early and powered along the track. Then the incline started. It was slow, methodical walking, but soon enough we were at about 500m with an amazing view of the south coast and looking back down towards Louisa Creek.
At about 750m, visibility unfortunately got poor and we couldn't see anything.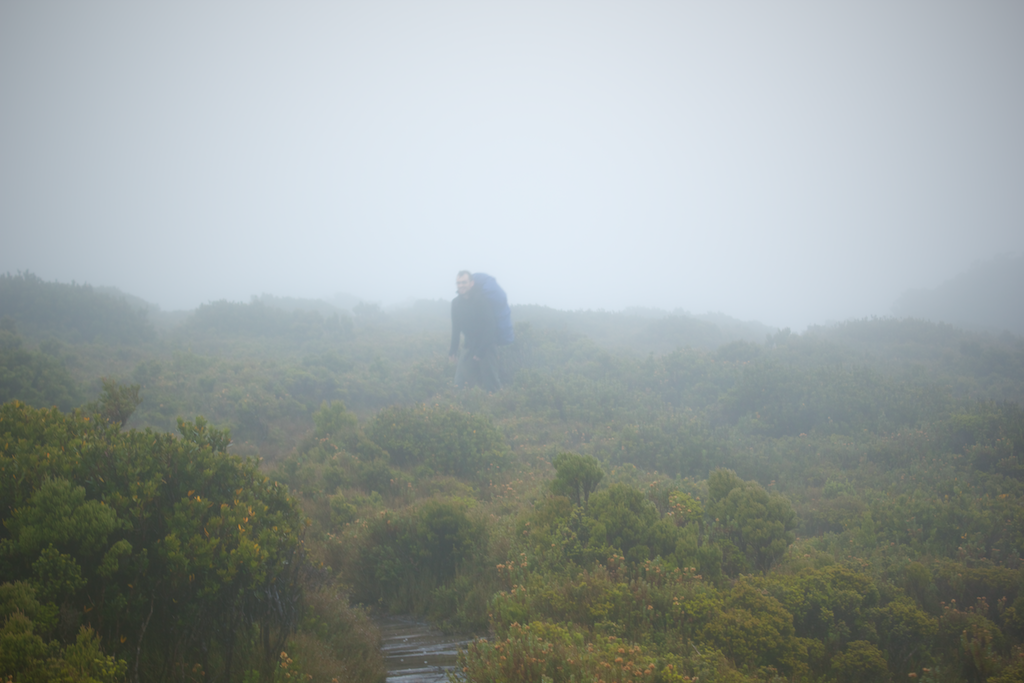 At the top of the mountain, it was windy and wet and cold. There was nothing to look at and nothing to do. It was easy walking up the top, but then we started descending again.
I always prefer to walk up hills, rather than down. Walking Slipping down the west-side of the Ironbounds wasn't much fun. The track was narrow, there was quite a few trees and bushes and scrub covering the track, and thousands of tree-roots to climb over and under. It was really slow going. It also got old really quickly. Unfortunately, as the saying goes, 'what goes up must come down'.
Then, as was always going to happen, the mud made its return.
We pushed on, and decided not to stay at Deadman's Bay camp. We had lunch there and through it'd be a good idea to walk on to Prion Beach camp.
When we were at sea level, it was wonderful. The weather wasn't warm, but it wasn't cold either. And after walking up and over the Ironbounds we even went for a swim in the salty-sea. It was wonderful.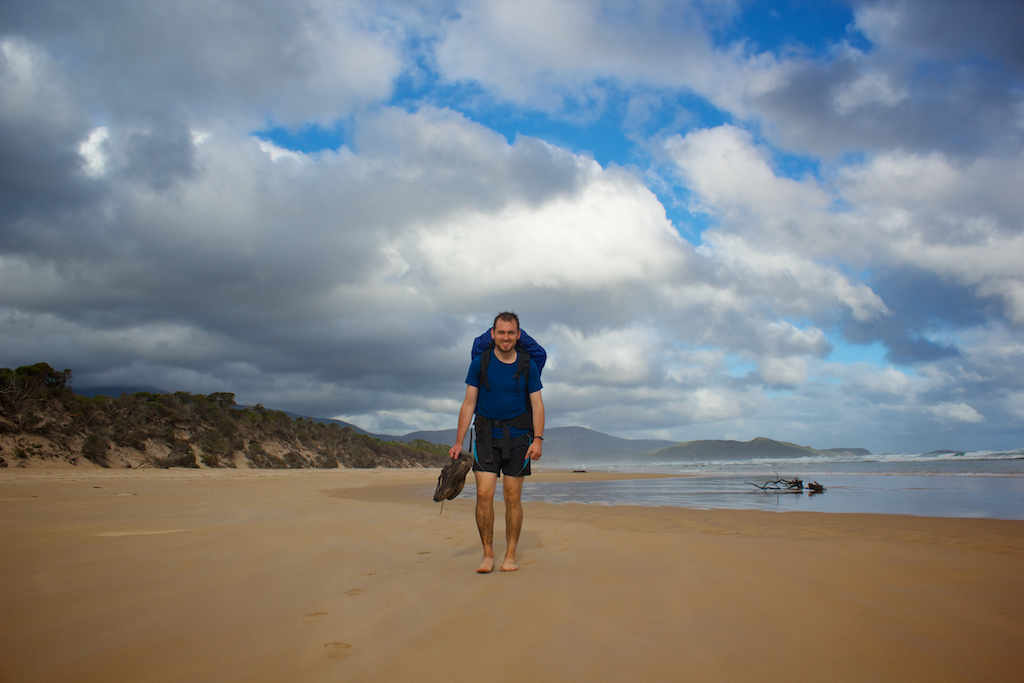 It was about 4km along the beach and as we turned and looked behind us, there was some really odd weather going on. Wind was blowing the sea onto the beach, and there was an erie mist. In the sky, a huge black cloud was hanging there - blocking the Ironbounds from view - and more worryingly, looking like it was about to rain heavily for days.
Dash saw some crows, which he reckoned was a sure sign of impending doom.
We scampered along the beach, made it finally to the boats. I rowed Dash over, who went to find some water (it was hard to find water here), then I rowed back and back again. No one else was around at Prion Beach that night.
I also got to finally see Precipitous Bluff in the distance when rowing across the narrows. It was brilliant. I'd been looking forward to seeing the Bluff for a long time. Though, due to the weather and impending doom (which never happened), I didn't get a photo. Good excuse to go back and walk to the top of it.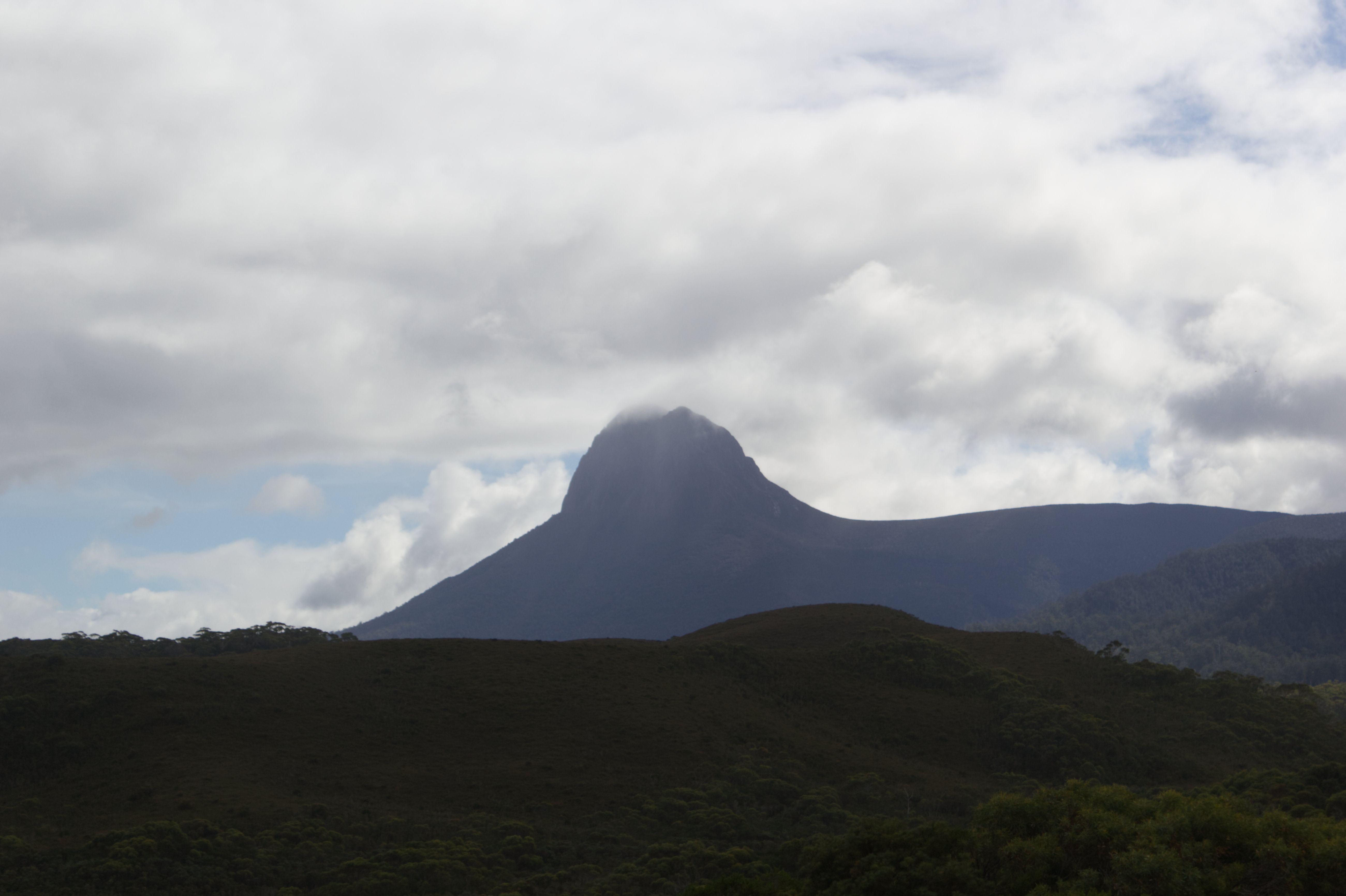 So was it worth the extra effort to walk from Louisa River to Prion? I thought so. Firstly, it wasn't too hard and it meant we were a few kilometers down the track from everyone else. Secondly, it meant our next day to Surprise Bay would be an easy half-day walk. Thirdly, in hindsight, (as you'll see in the next post), spending extra time at Surprise Bay was one of the best decisions/things to happen on the trip.
Day 8 - Prion Beach Boat Crossing to Surprise Bay
Walking difficulty: Easy

Due to our extra walking the day before, it wasn't too much of a jump from Prion to Surprise Bay. There were a few bogs along the way, but nothing too serious.
Leaving Prion, the mood was high.
There were some lovely tracks through the forest on the way to Surprise Bay. We ran into a problem crossing a river though. It turns out I'm no Bear Grylls.
Silly us. I'll blame it on the fact we knew we were getting closer to the end.
Three or so hours later, after leaving Prion Beach, we made it. Dash was very impressed.
It was a gorgeous spot. It's worth walking to from Cockle Creek, just for a night or two away.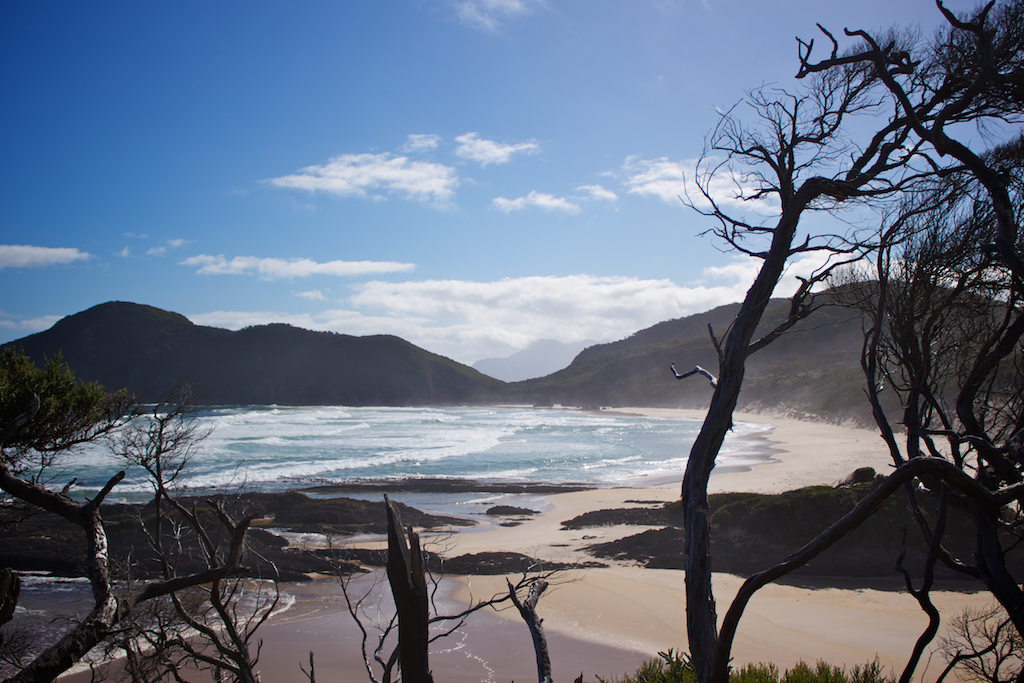 We camped in a top spot, overlooking the beach. The weather was warm and the sky blue. Water was freezing though.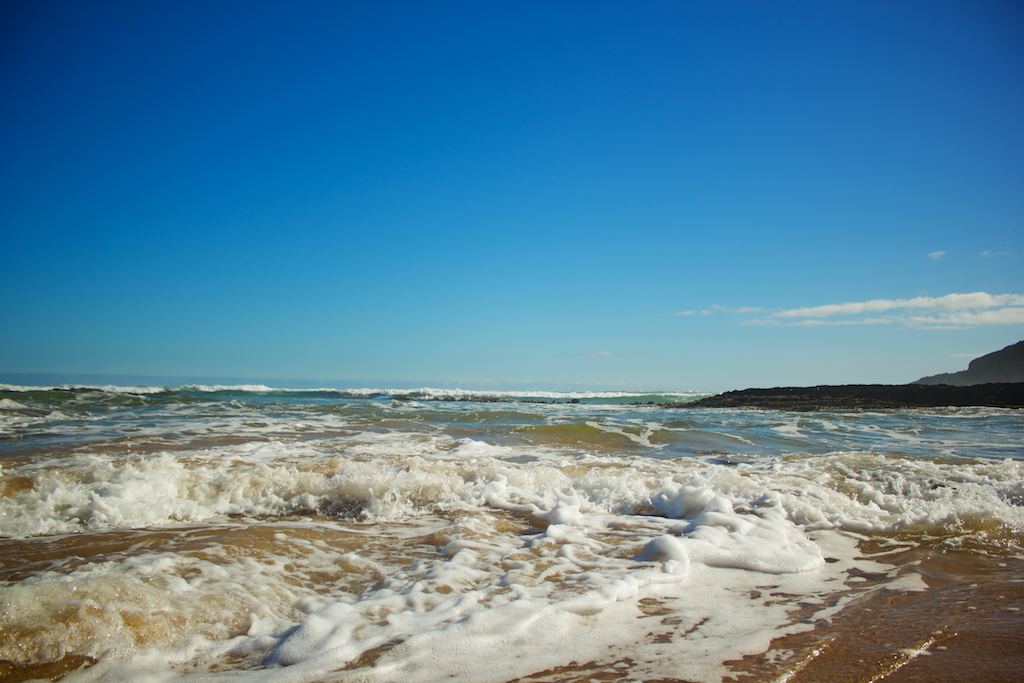 We got here in the morning, so there was plenty of time to try and take some wanky photos.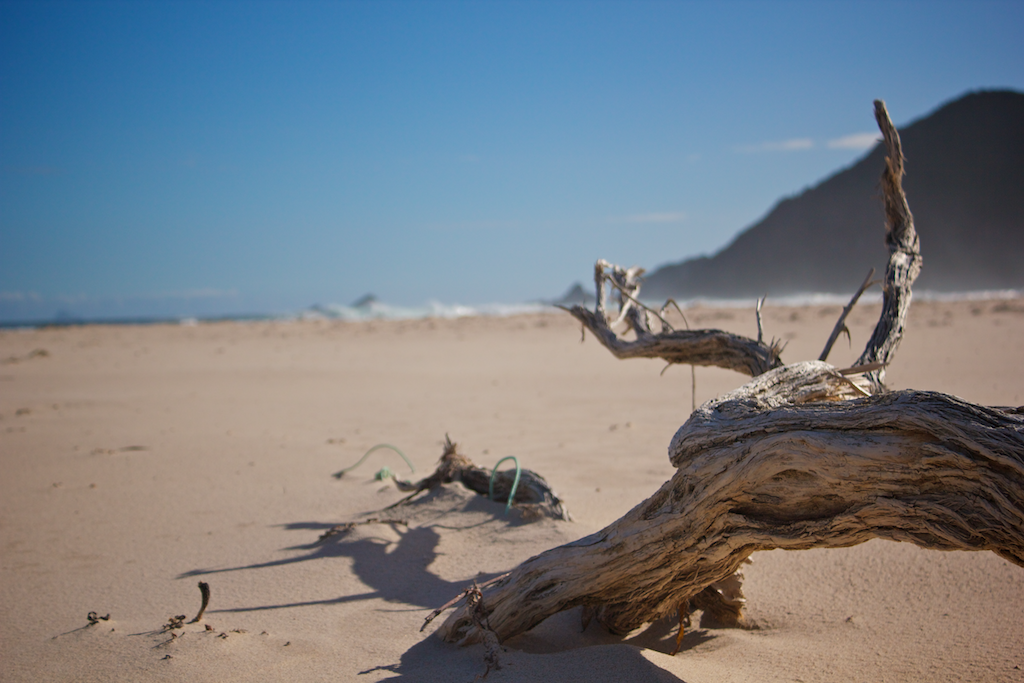 Slick!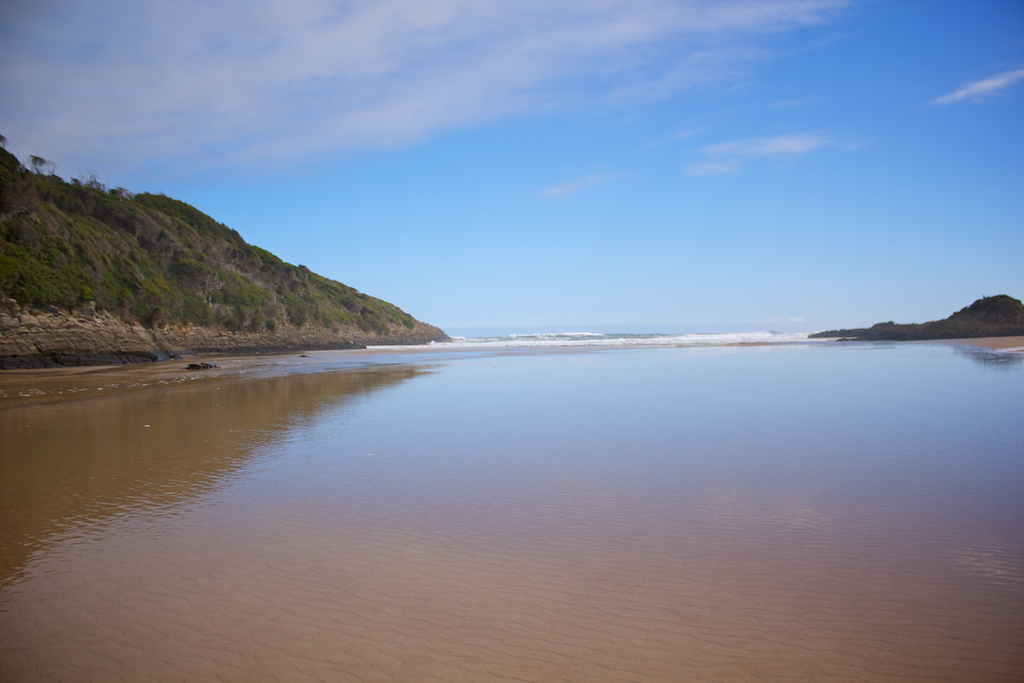 Then night time came, and there's a wonderful light show provided free of charge. You can even see the Ironbounds way off into the distance.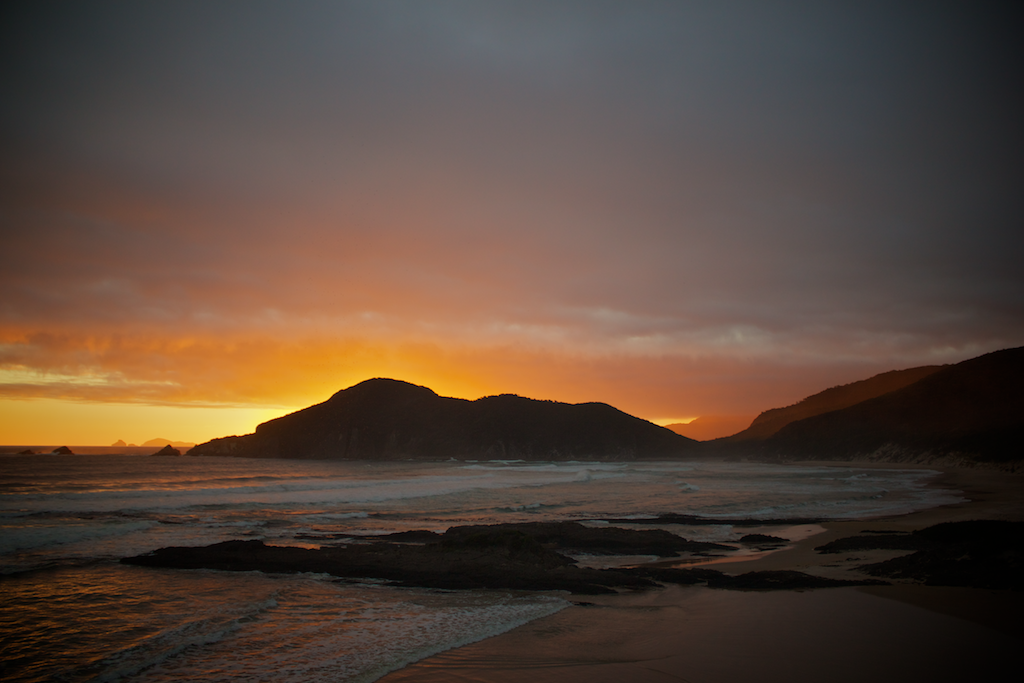 This is also from the campsite. Not a bad view!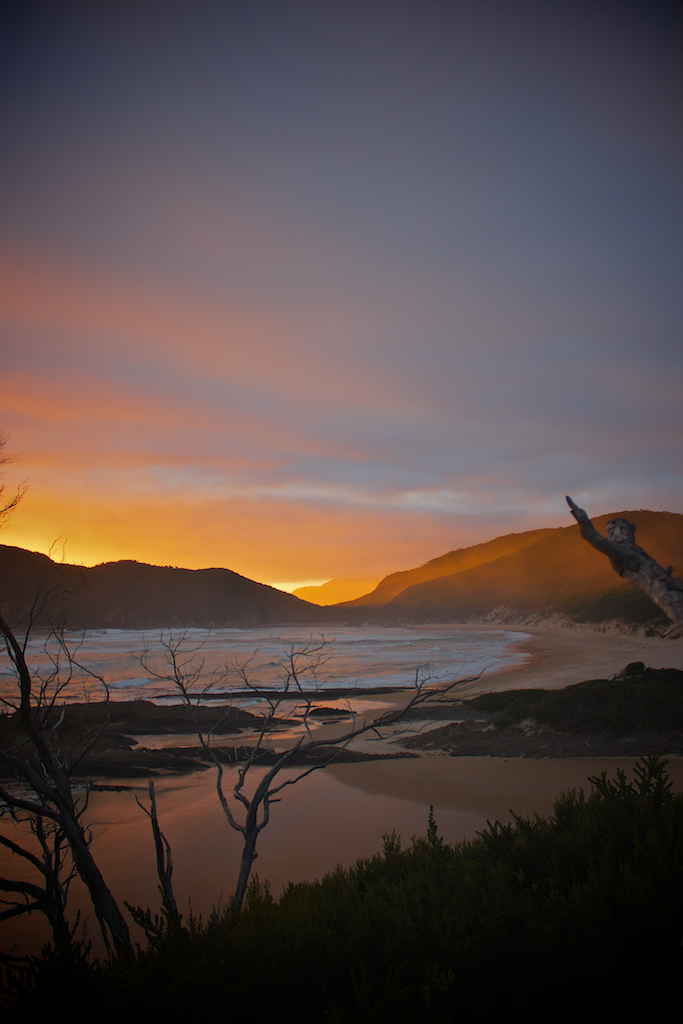 All in all, an excellent break day at Surprise Bay. If you can manage a rest day, make it at Surprise Bay.
Day 9 - Surprise Bay to Cockle Creek
Walking difficulty: Hard (hilly and muddy)
Mud: Yes. Again.

We didn't yet know it, but day 9 was to be our last day. We were planning on staying another night before making our way back to Hobart, but the how shower and non-hydrated meal was just too enticing.
Though we paid for our decision. It was a long, hard, hilly, muddy, root-filled day.
After leaving the wonderful Surprise Bay early, we soon made it to Granite Beach.
While it was something different to walk along, it wasn't pleasant to do so.
There's a cool waterfall thing though.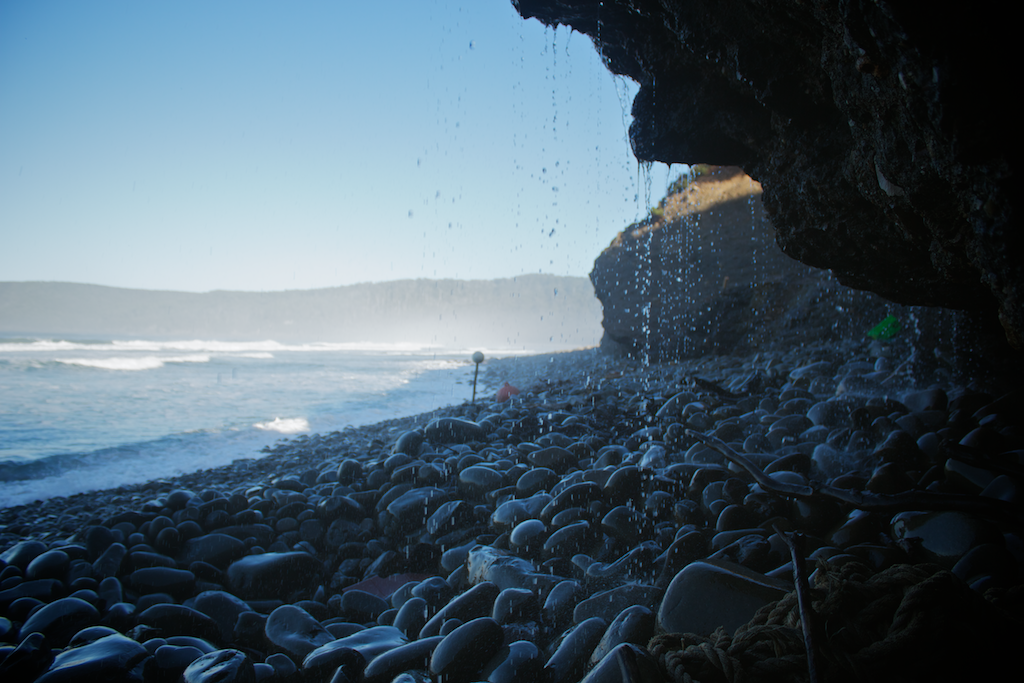 The rocky beach is but a warm up for the hilly slog ahead.
Then up the 450 meter hill. It was a hard walk, but the view is worth it!
The view is spectacular from the top.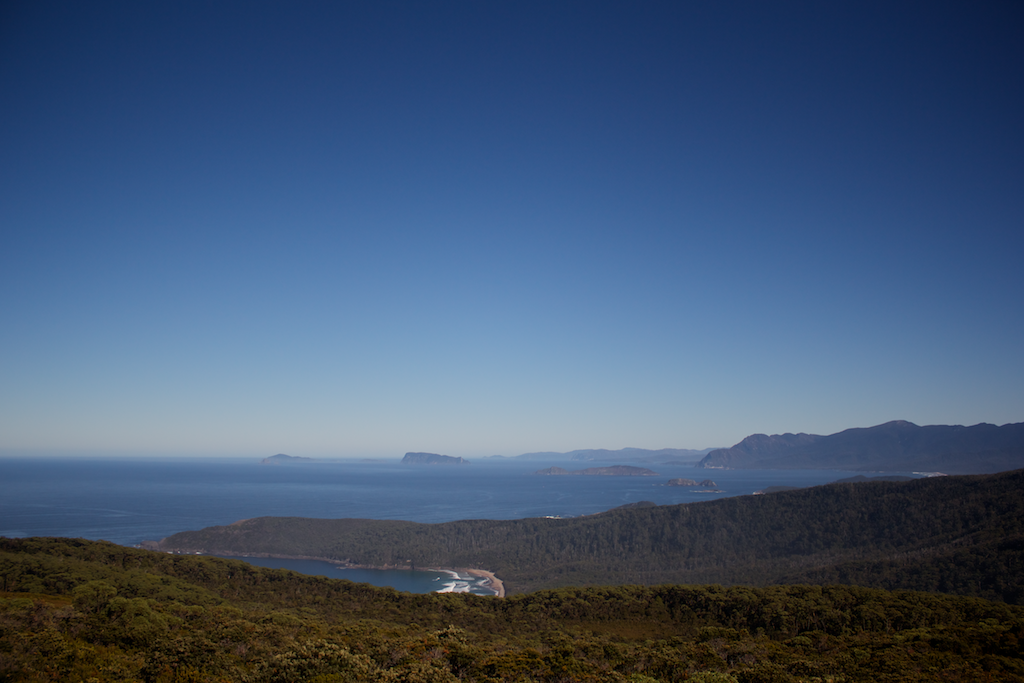 After that, a bit further along the track. Up and down some more hills. We made it into South Cape Rivulet camp, where we stopped for lunch.
In a way, the South Cape Rivulet stretch, was the hardest. It was muddy, and full of roots. It wasn't nice walking. You had to pick your way though a potentially ankle-breaking track and wade through pools of water and mud. The track was also pretty overgrown too, which made it very slow going.
I've heard that people take hours and hours and hours to do this stretch - especially when it's raining - and now I understand why.
We were thinking about staying at South Cape Rivulet, but decided to move on.
That meant another beach, then up another hill to Coal Bluff.
When the day is nice, and you've slogged up a hill, the view is always worth it. That's why you're out there.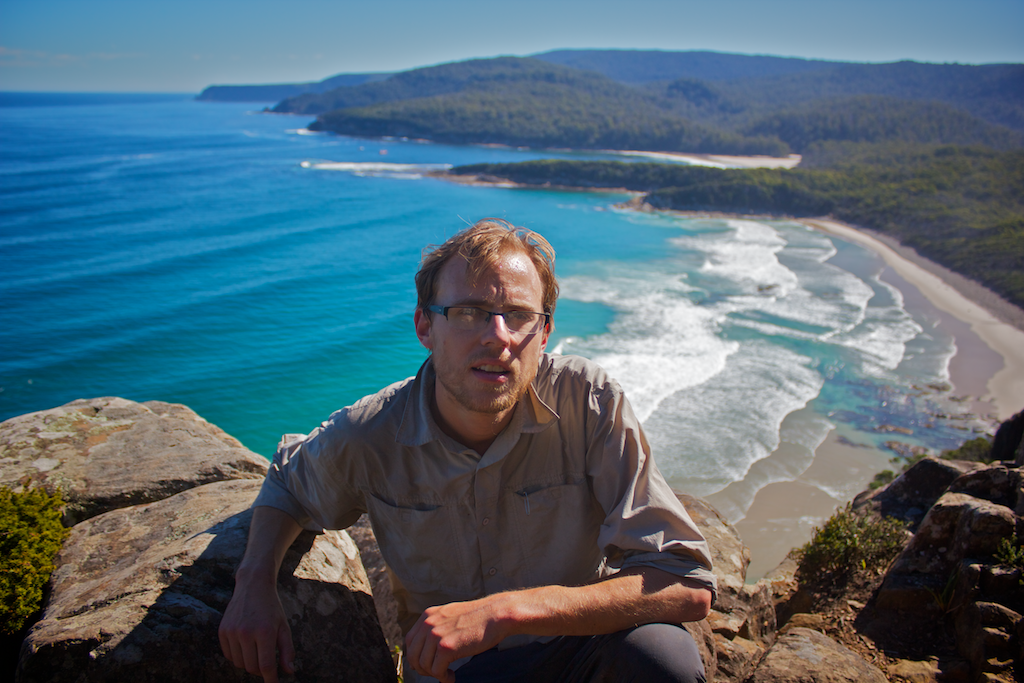 I assumed we'd be able to get a least a bar or two of mobile reception from Coal Bluff, but I was dead wrong. The mobile didn't work until we were about 50 meters from Cockle Creek's visitor centre.
We got to the final official camp on the track, about two or so hours walk from Cockle Creek. You can see Lions Rock from there. We decided to keep going, once again. So close, may as well make it home.
Two hours later, we finally staggered off the track, in time for dinner and a warm car ride back to Hobart.
Cockle Creek is lovely too.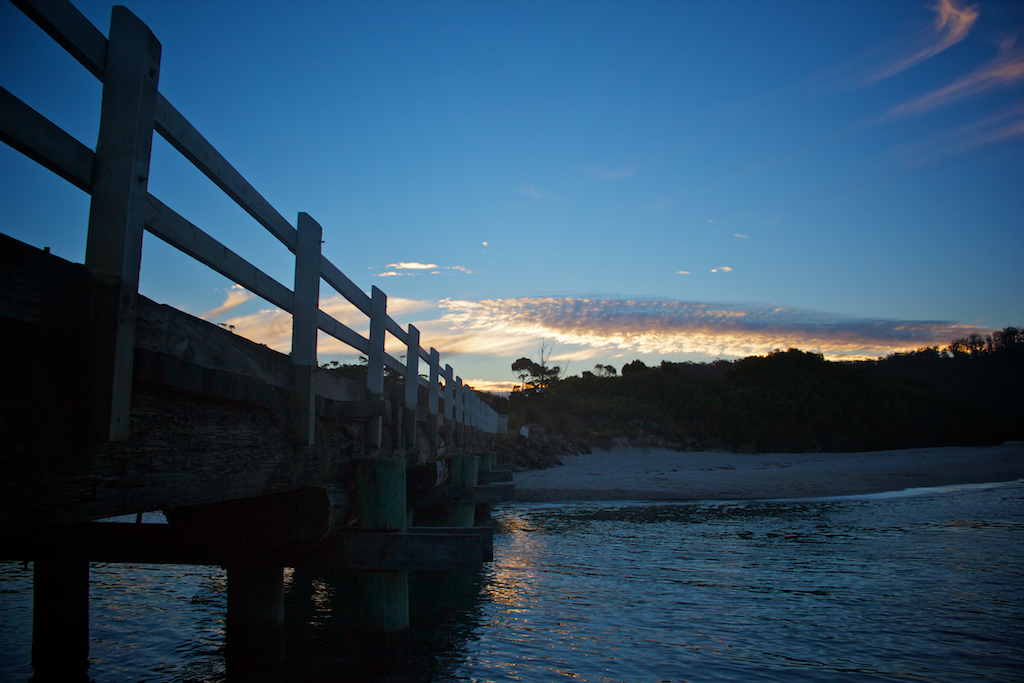 Elevation summary (South Coast Track)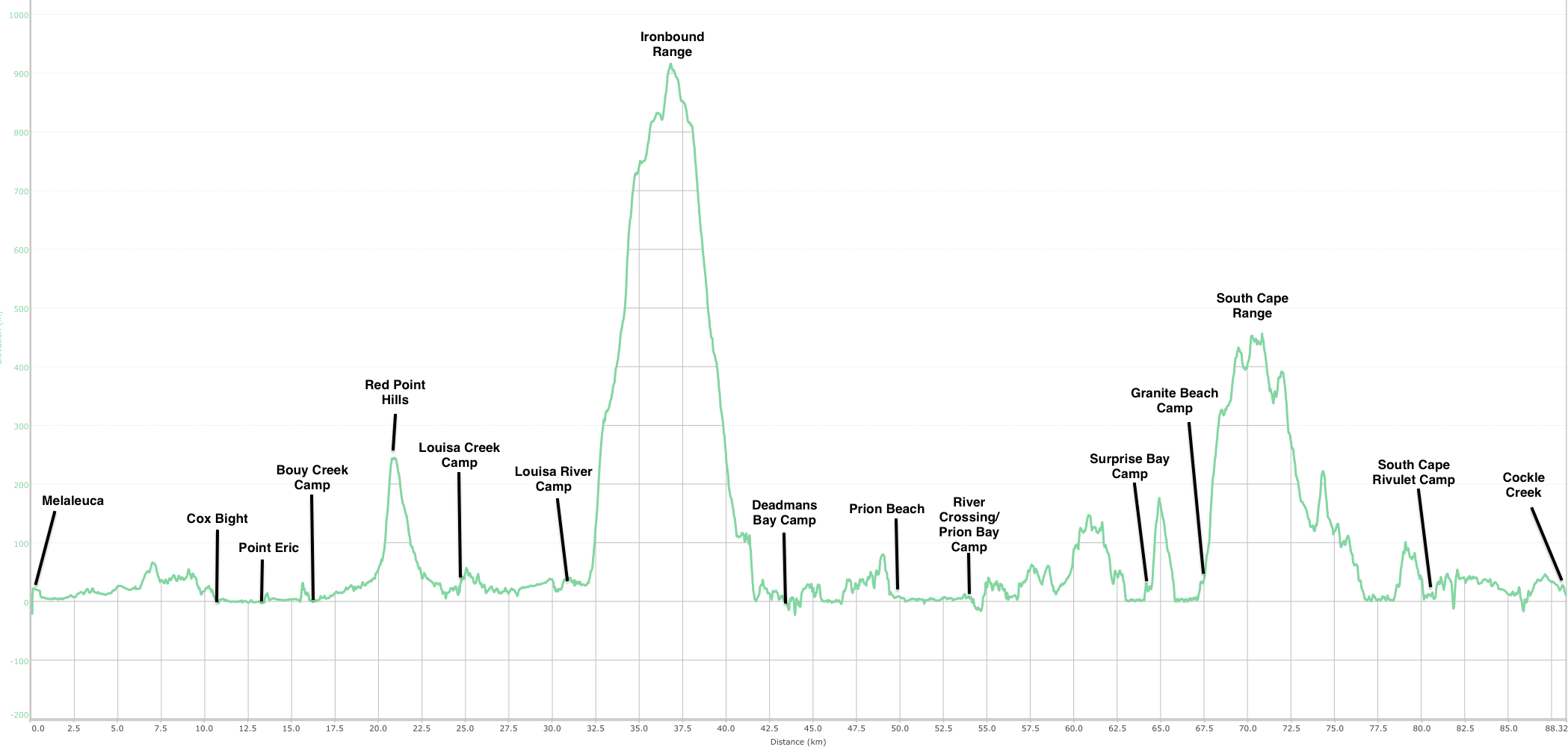 ---
Comments
Jo:
November 20, 2016
Thanks, loved reading about your walk.
will:

November 20, 2016

Thanks Jo!
---