I always knew I had to go back.
After the wounds (metal more than physical) eventually healed after our last Southern Ranges walk in 2016, there was a distinct feeling that I'd missed so much.
Sure I'd walked the 90km or so, but due to the cloud, wind, rain and snow that blocked the way at every turn, I hadn't actually seen anything.
I'd come close to the tops of mountains - including the mighty Precipitous Bluff - but not close enough.
So when a perfect weather window opened in January 2022, I took the opportunity.
I packed my bags and made a beeline back to the Southern Ranges.
Day 1: Car park to Smiths Saddle
I set off from Hobart at the crack of dawn, keen to get walking as early as possible.
I knew the weather would be good, but that didn't mean I had all the time in the world. I had given myself four or so days to cover the Southern Ranges and the return trip (the route of which I hadn't yet decided).
It was an ambitious schedule, and I knew the days would be long and the number of kilometers covered per day would be on the higher side.
As I set off, the first thing I noticed was how much drier it was. The track that leads to the Ida Bay Caves (and Mystery Creek Caves) was much less muddier this time round.
But I didn't really remember how steep it was walking up the hill to Moonlight Ridge.
Up and up I went, following a very well defined track. Eventually, I popped up out of the forest, and after a little bit more walking found myself looking back on a view with the most lovely blue sky.
I could see famous mountains all around me, with Federation Peak the most obvious to pick out from the line up.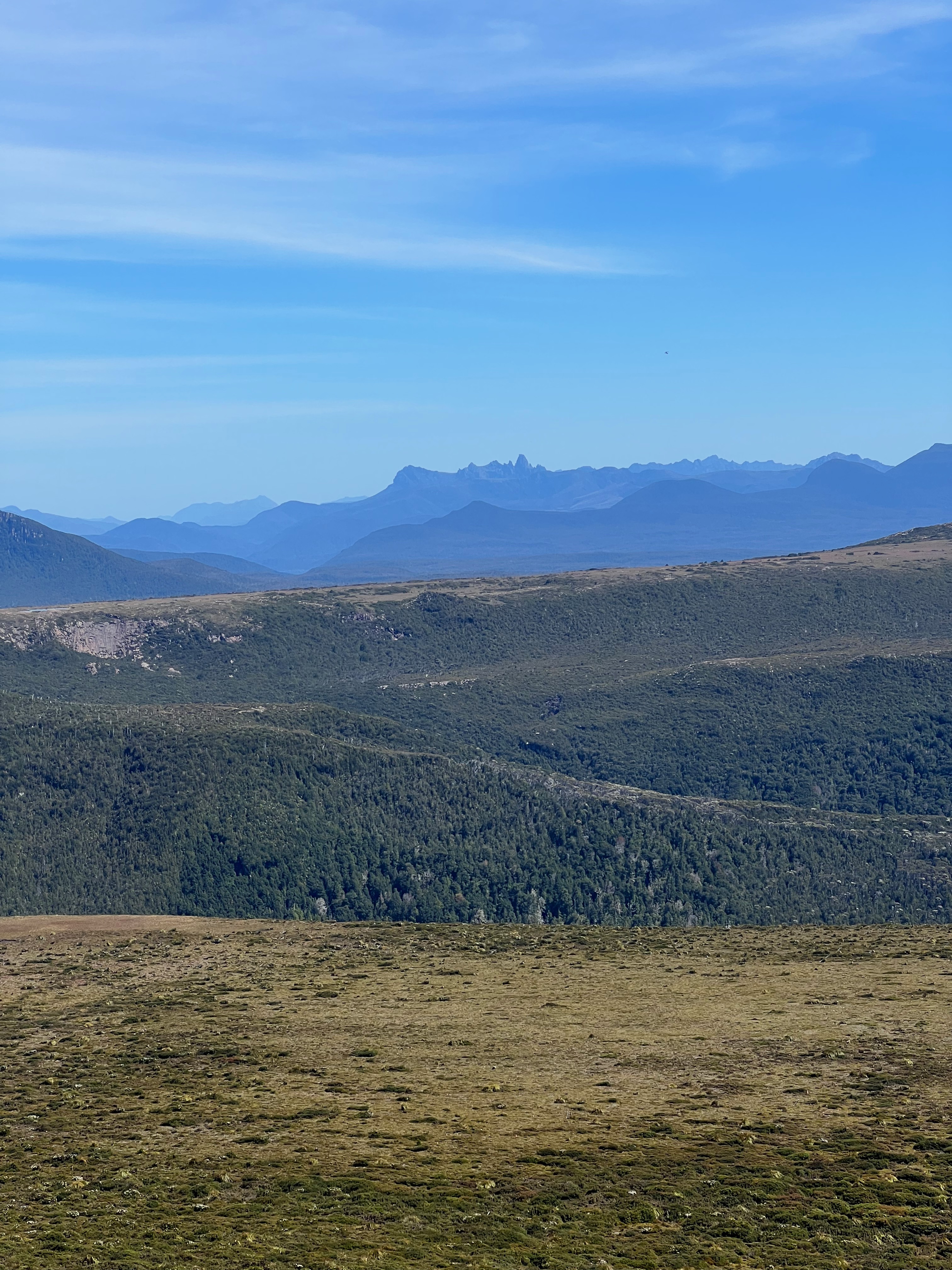 And way off in the distance, I could see what was coming in the days ahead.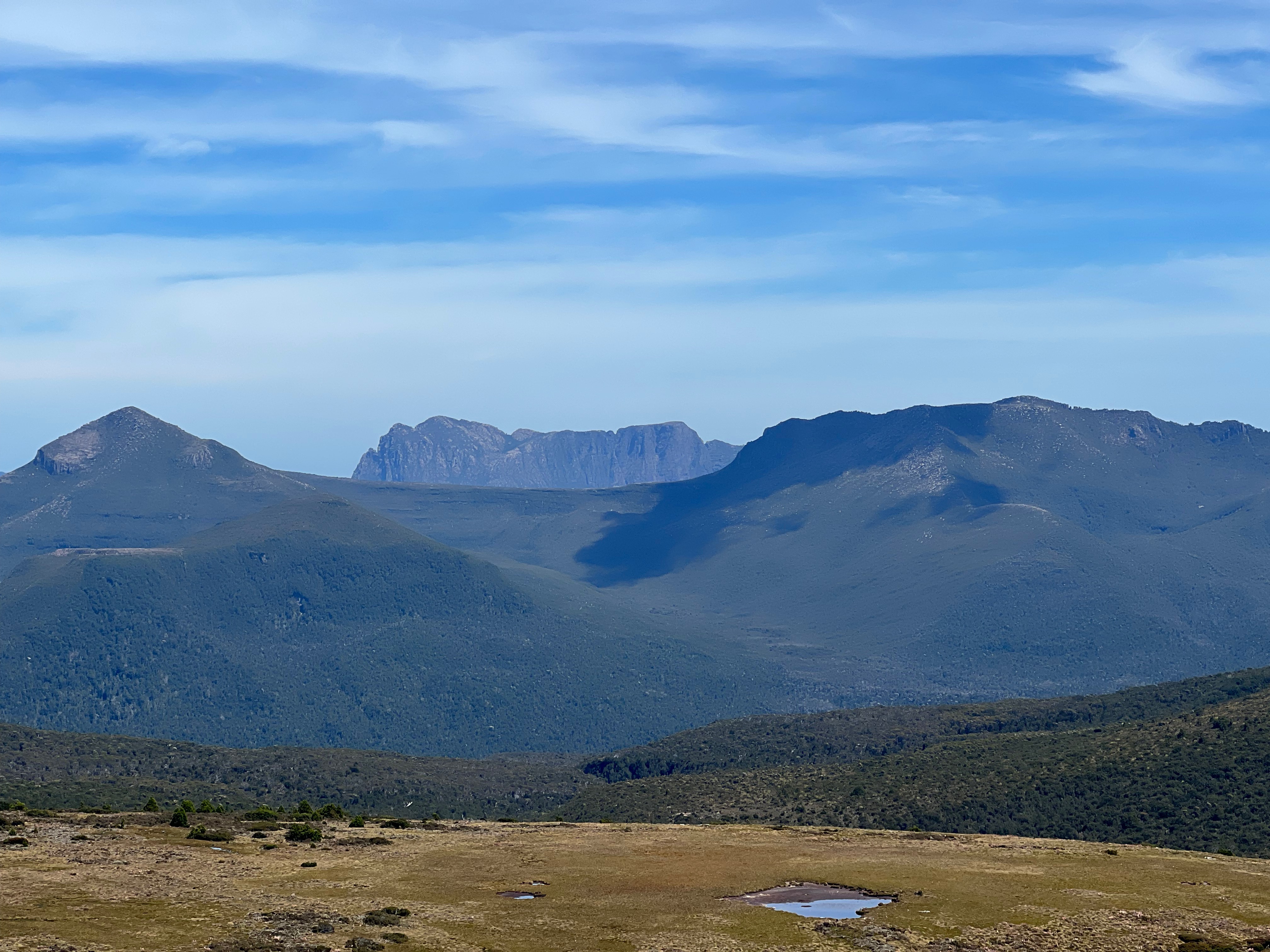 It was incredibly lovely walking along Moonlight Ridge and past Hills 1, 2, 3 and 4. The weather felt light, the day sunny and with a touch of breeze to keep things cool.
Eventually, after about five hours, I made it to Pigsty Ponds - a beautiful area with a less than beautiful name.
I'd met several people walking out after staying the night, and found five more relaxing around the ponds.
I sat down for lunch, and was joined by about 600 flies so ended up eating as I paced backwards and forwards to keep them away.
I had a big drink and set off for Ooze Lake - another nice area with another less than beautiful name.
The walk up onto Maxwell Ridge is rather steep, but as you get higher the views expand out - and soon you get a lovely look back on where you've just come from.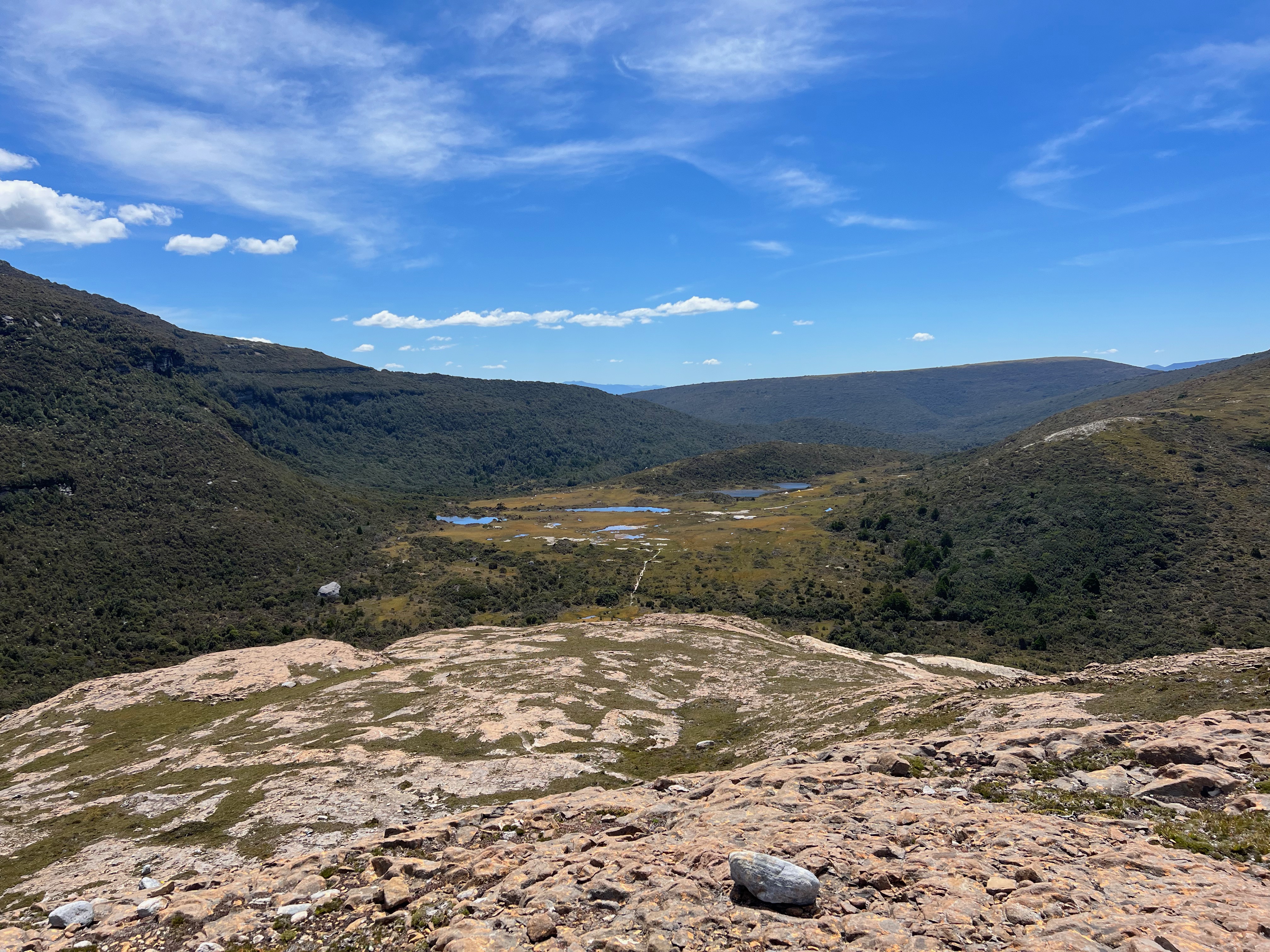 You also get an awesome view back along the four hills, as they recede into the distance.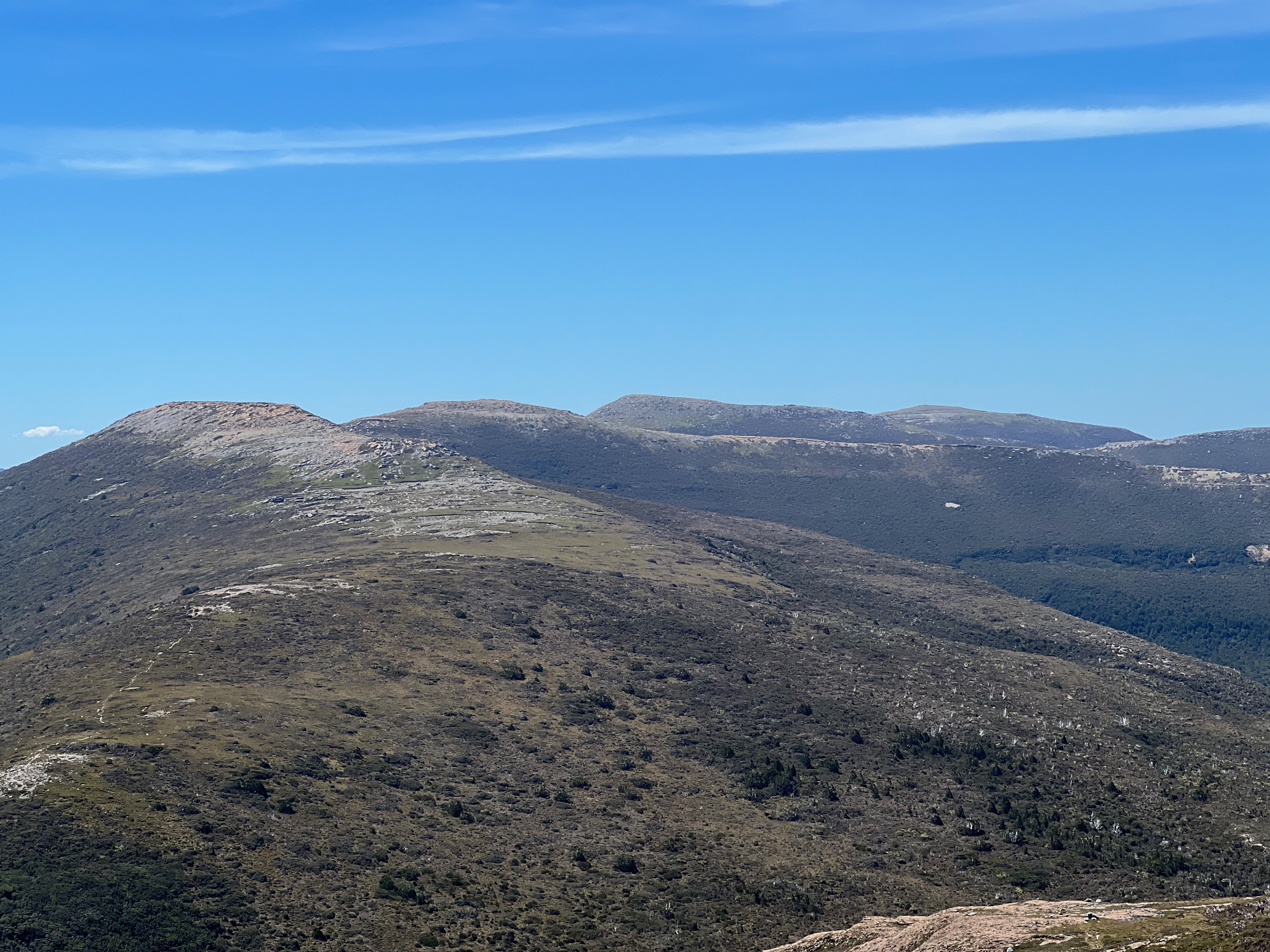 And before you know it, you're at the top - looking down on it all.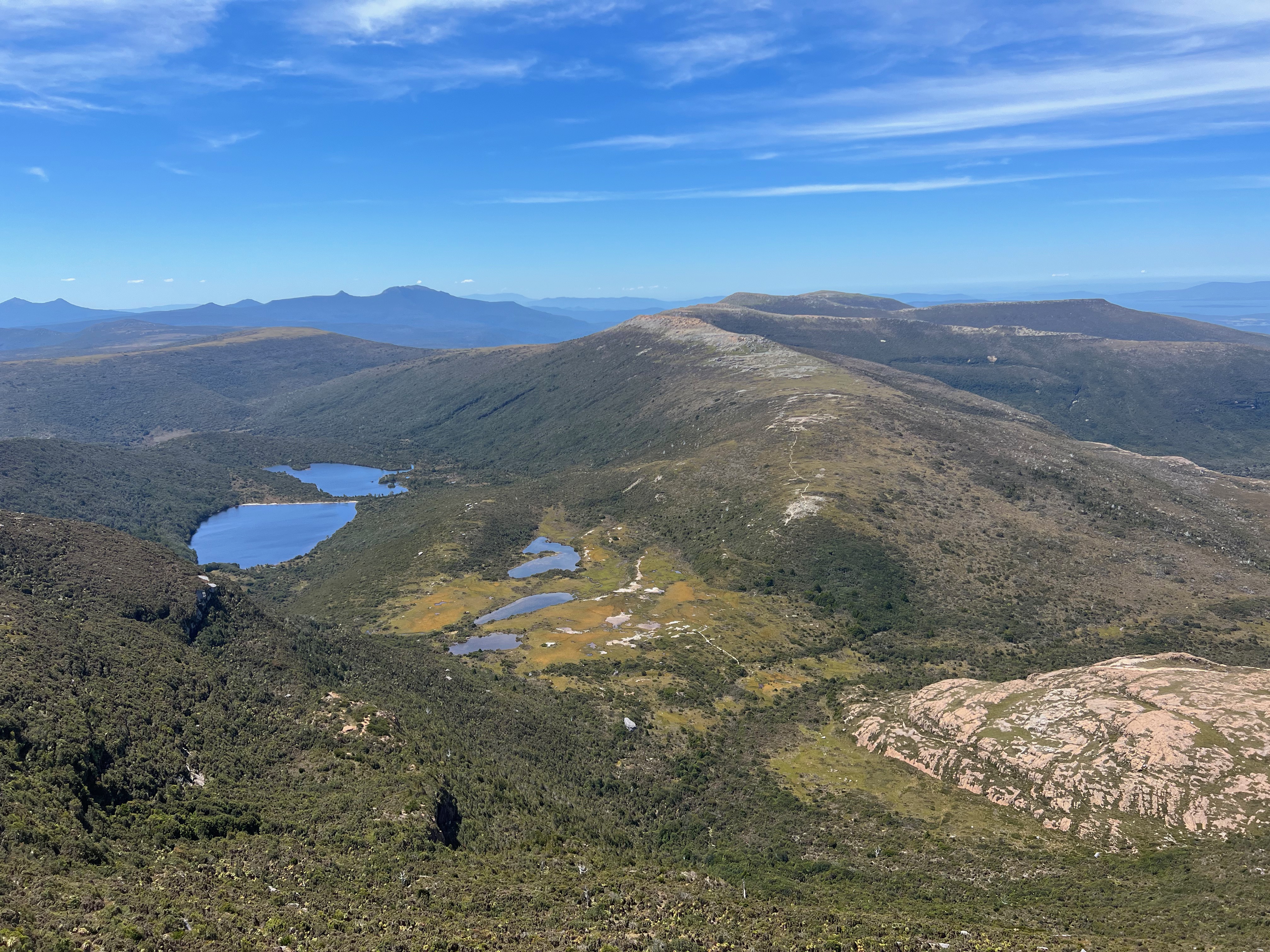 Unlike last time, I had a 360 degree view as I walked along Maxwell Ridge, making my way round the U bend and down the other side on the way to Ooze Lake.
I picked my way though the scrub and it wasn't long before I was having another big drink from the lake.
I'd realised that water might be a bit of a problem this time round, and I'd originally packed about 2 litres of water carrying capacity.
I was worried that it wasn't going to be enough, so I was very happy to find a plastic bottle someone had dropped on the track. I had found myself an additional 500ml of water carrying capacity!
I filled up the drink bottles and started making my way up towards the target of the day: Pindars Peak.
Last time we'd struggled in this section, as the wind was incredibly strong and there were the snowdrifts that nearly saw the end of the whole trip.
However in the warmth and sunshine it was much easier, and before long I'd climbed up the track near Lake Mountain and made my way up the ridge to Pindars.
After a brief pause to work out how to negotiate a small little climb near the top, I was on the top with a wonderful view down the Prion Beach.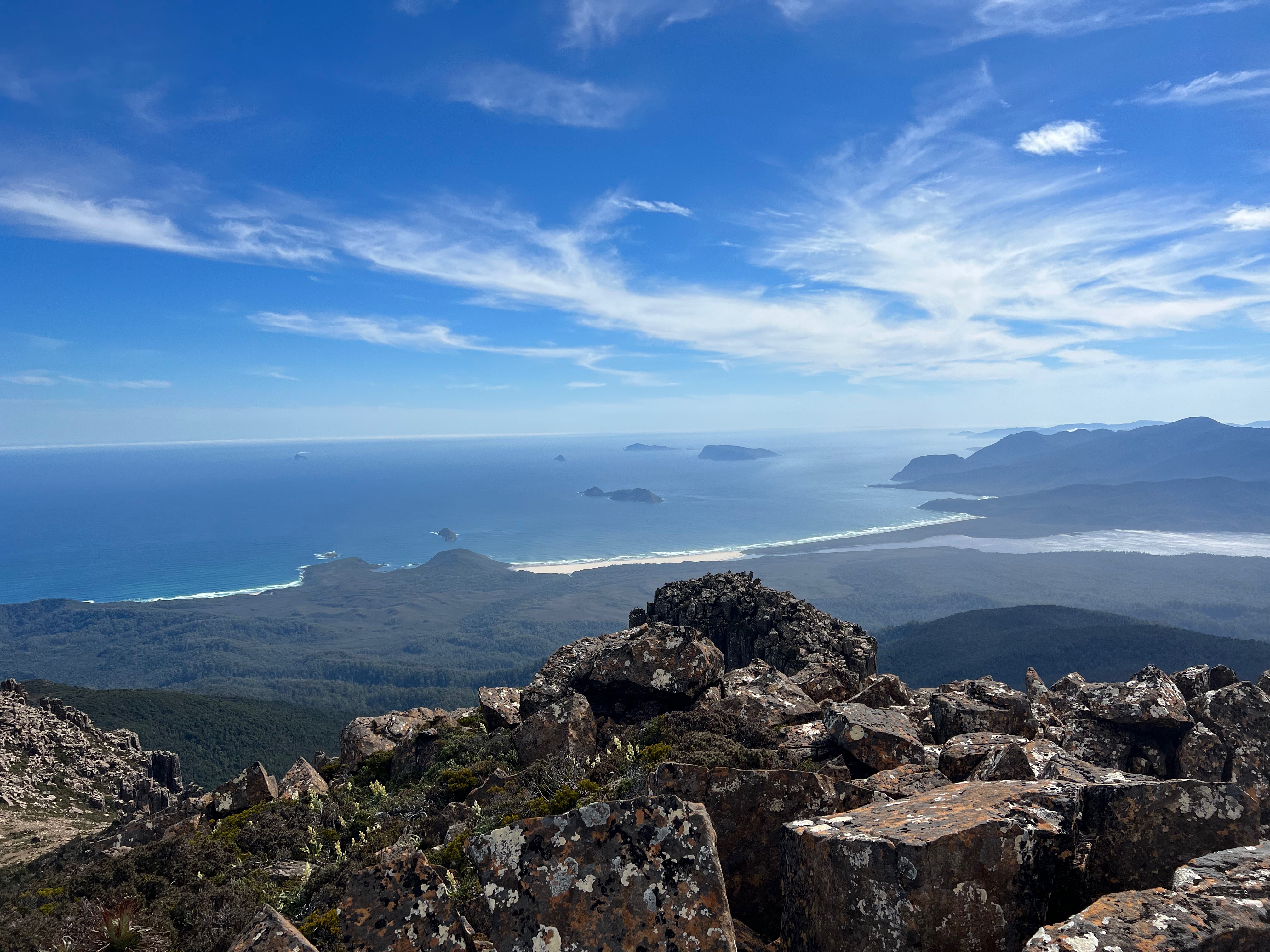 The wind was barely blowing and I was rather hot. The waters of the south coast looked inviting and I wished I could be there, swimming in the waves.
But alas, that was a few days away, so I spent the rest of the time soaking in the views instead.
I could see the route I needed to take down the other side of Pindars, towards the various saddles - Smiths and Leaning Tea Tree - with the Big Daddy Target of PB far off into the distance.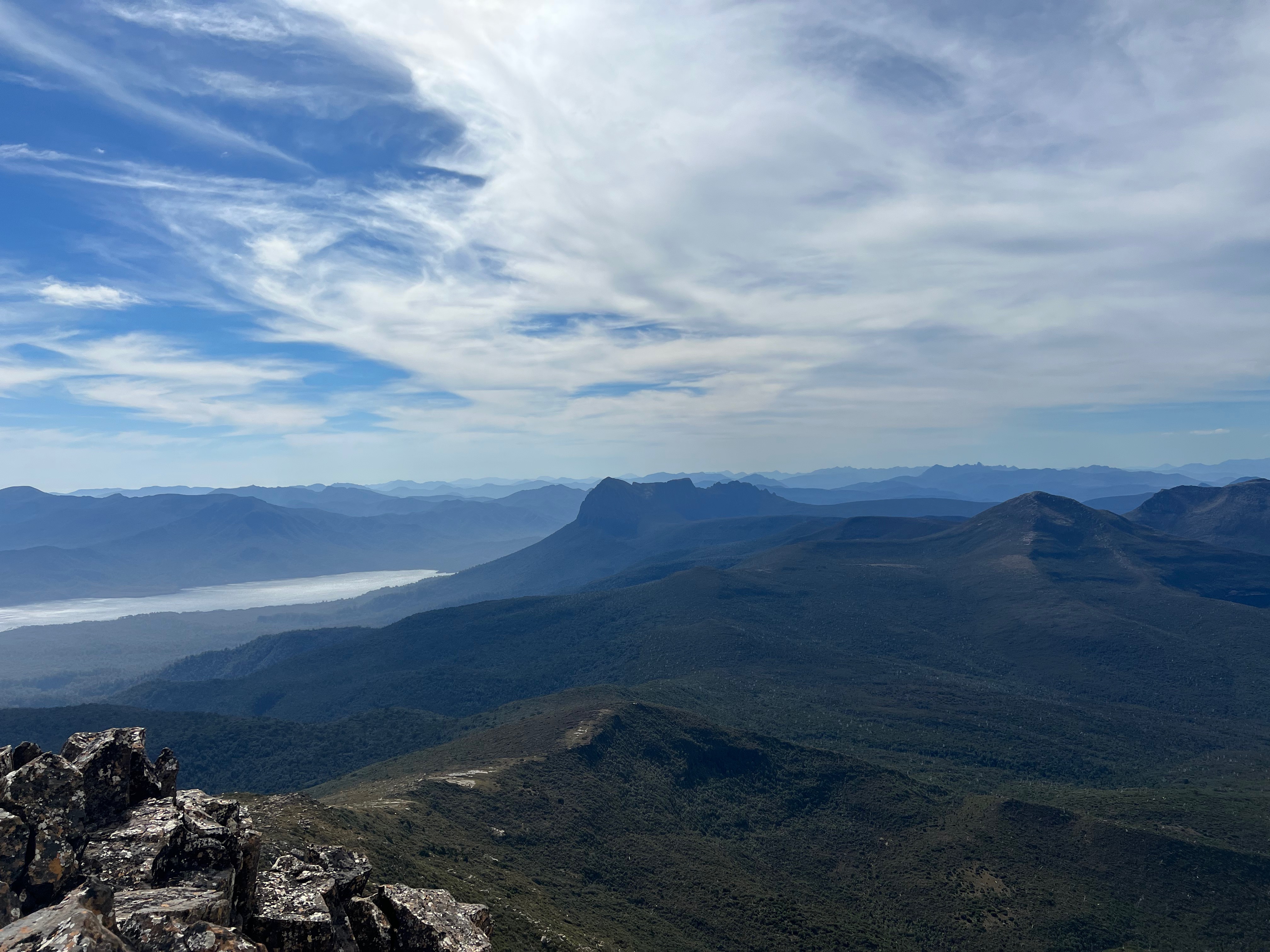 Time was getting on, and I had been hoping to get to Leaning Tea Tree saddle for the night, but I think I suspected by now I wasn't going to make it that far.
About an hour later, I was looking back up on the wondrous peak of Pindars from its other side, and well on the way to Pandani Knob.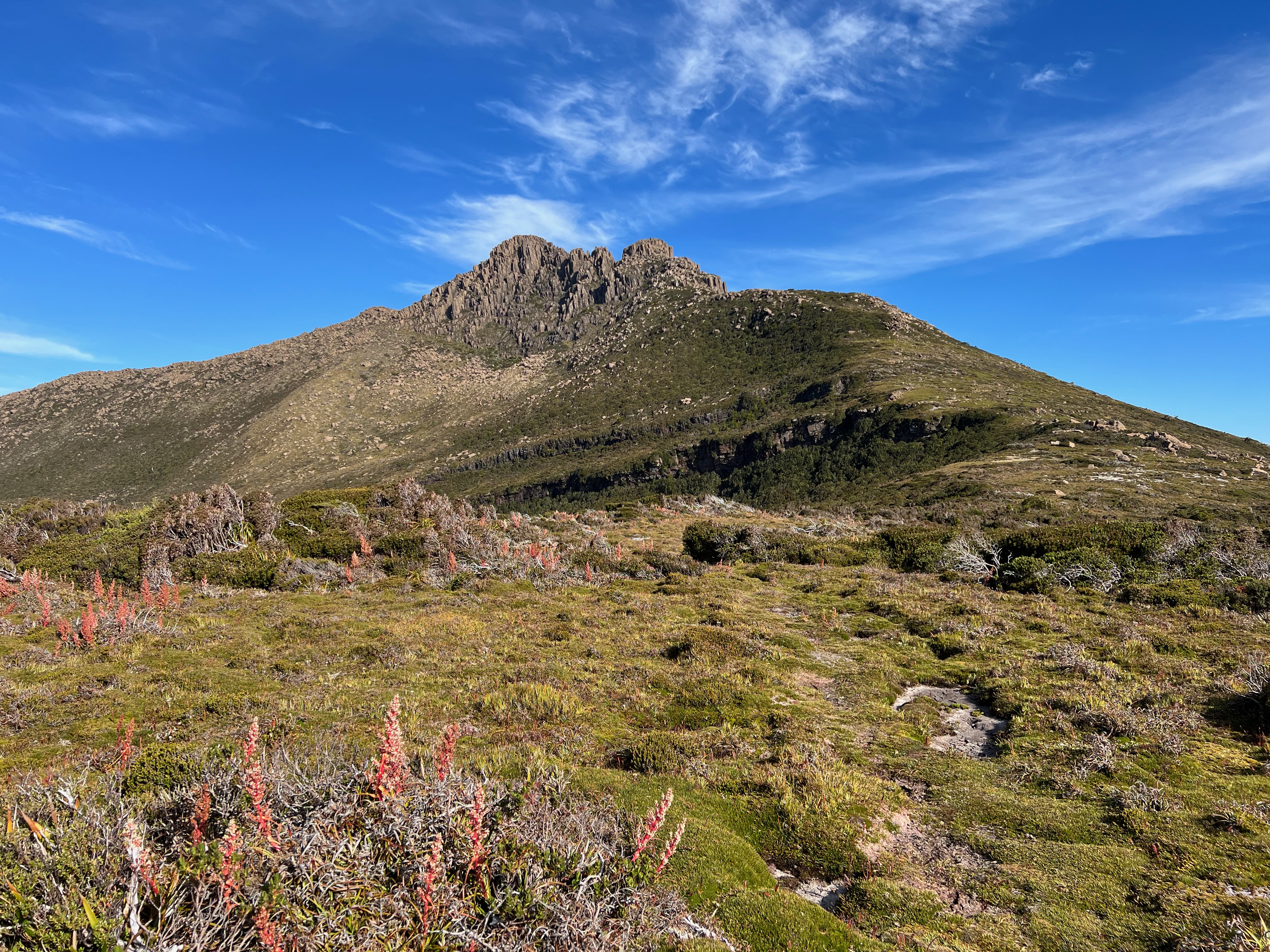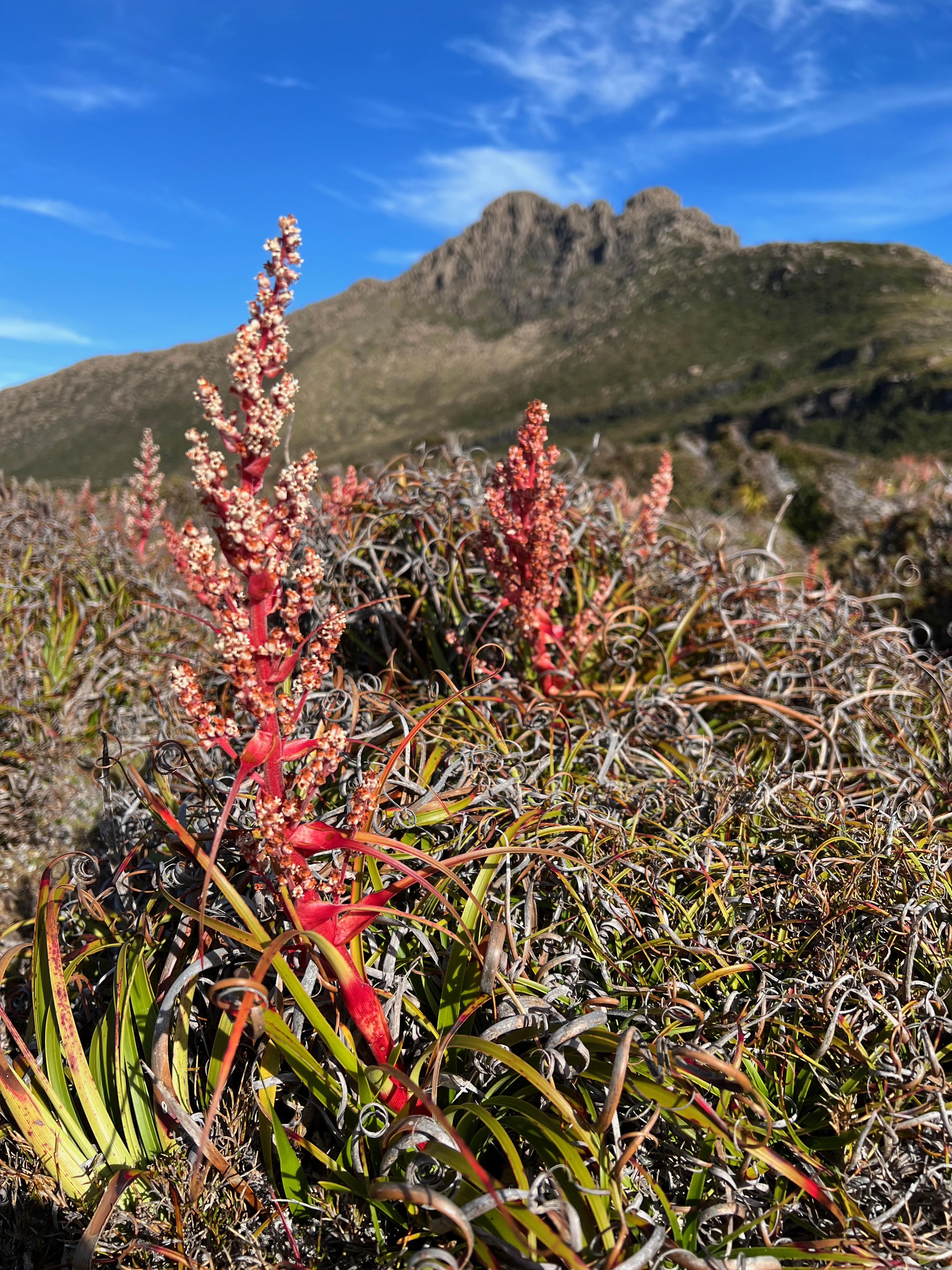 I nearly stopped at Pandani Knob for the night, but a lack of water (not that I needed it, but I'd prefer it if I could) kept me going.
Eventually, about 30 minutes later, I stopped for the night at Smiths Saddle where a very small, if not a little muddy, waterhole was discovered.
It was good enough for dinner, which I promptly made and went to bed. I sadly lost my GPS track data for the day somehow, so I'm not sure how far I walked but it was quite a long one.
Day 2: Smiths Saddle to PB Low Camp
Day 2 would involve two more mountains we sadly could visit the first time we came through: Mount Wylly and Mount Victoria Cross.
I woke rather early to a swarm of mosquitos flying outside my tent. They'd got caught in between the outer skin and the inner mesh.
There were a lot of mosquitos and march flies on this trip. "Nuclear" is a word I've seen describe them this season.
The weather, again, was stunning and PB was getting much closer by the hour.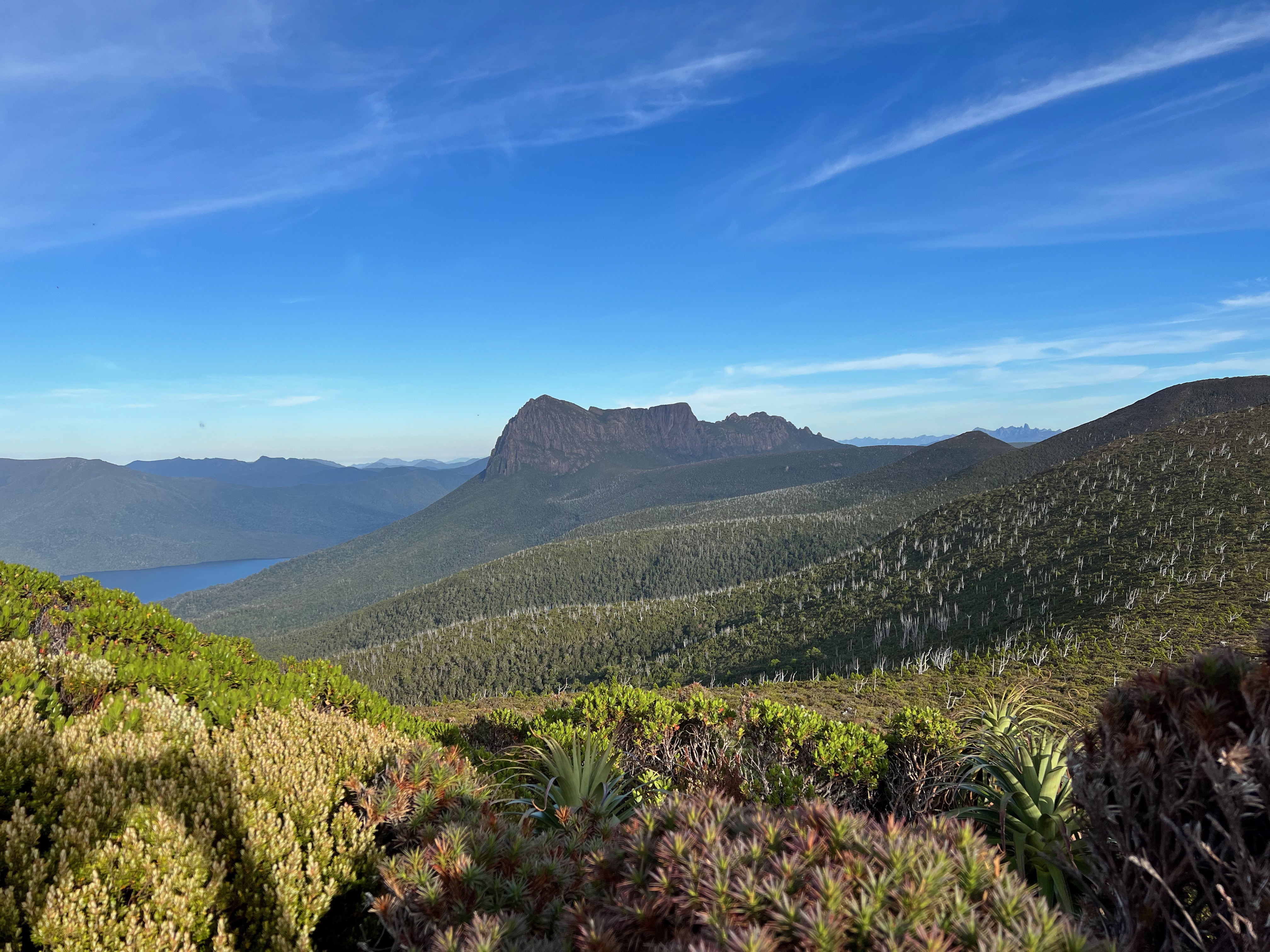 I could already start to make out its impressive, raggard features. This was the view that we'd missed so much last time we had come through.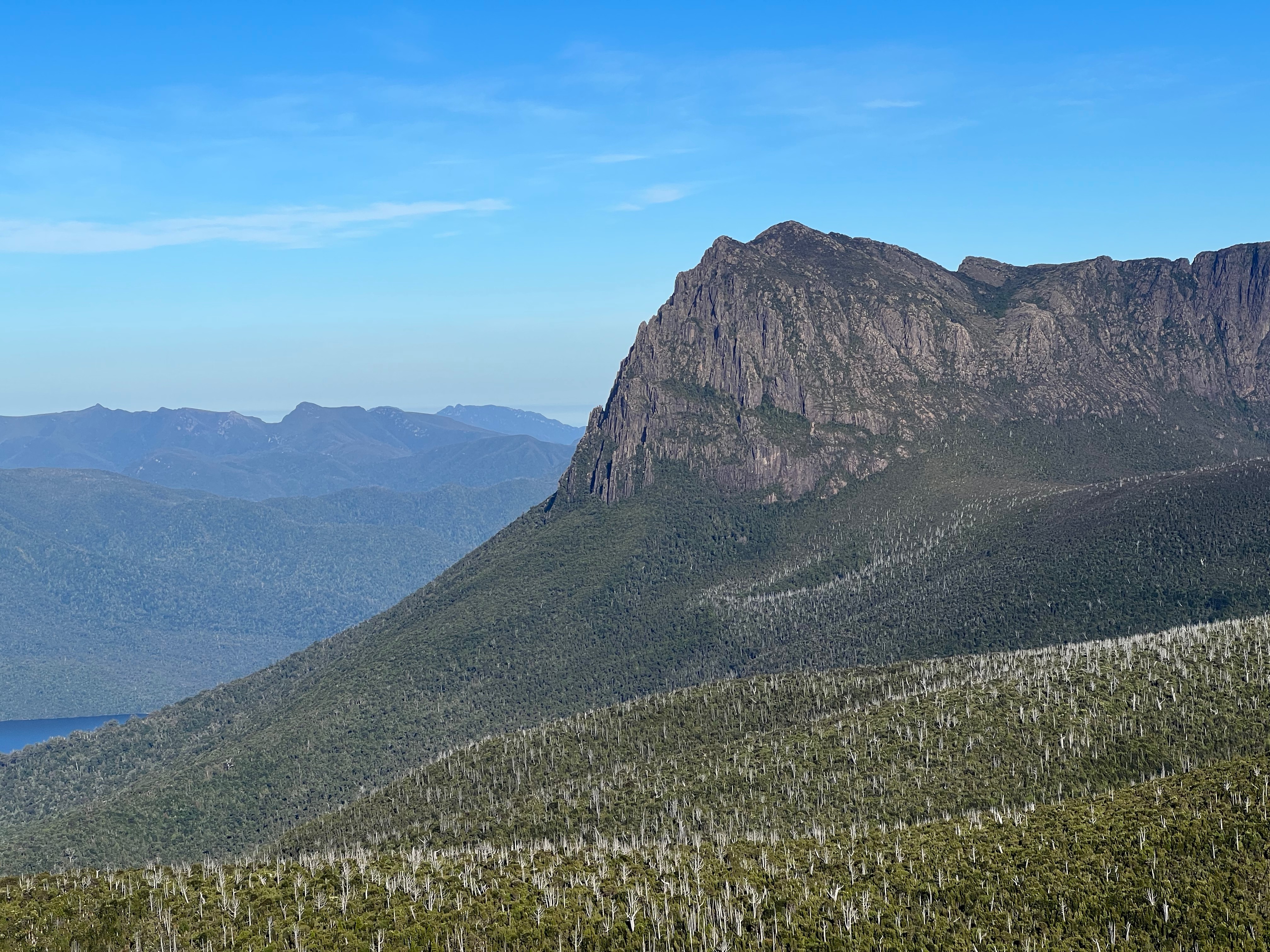 As I walked through Leaning Tea Tree saddle, I remembered last time we were here. We'd camped on a very small rise in what was basically the middle of a lake.
This time round, the water was in lovely little pools, where it was supposed to be.
It was a very pleasant spot and the water here was much better than Smiths Saddle.
I had another big drink, and got moving towards Wylly Plateau.
After a scramble, I was up the top of Mount Wylly with a very nice view of the next mountain I was going to climb: Mount Victoria Cross.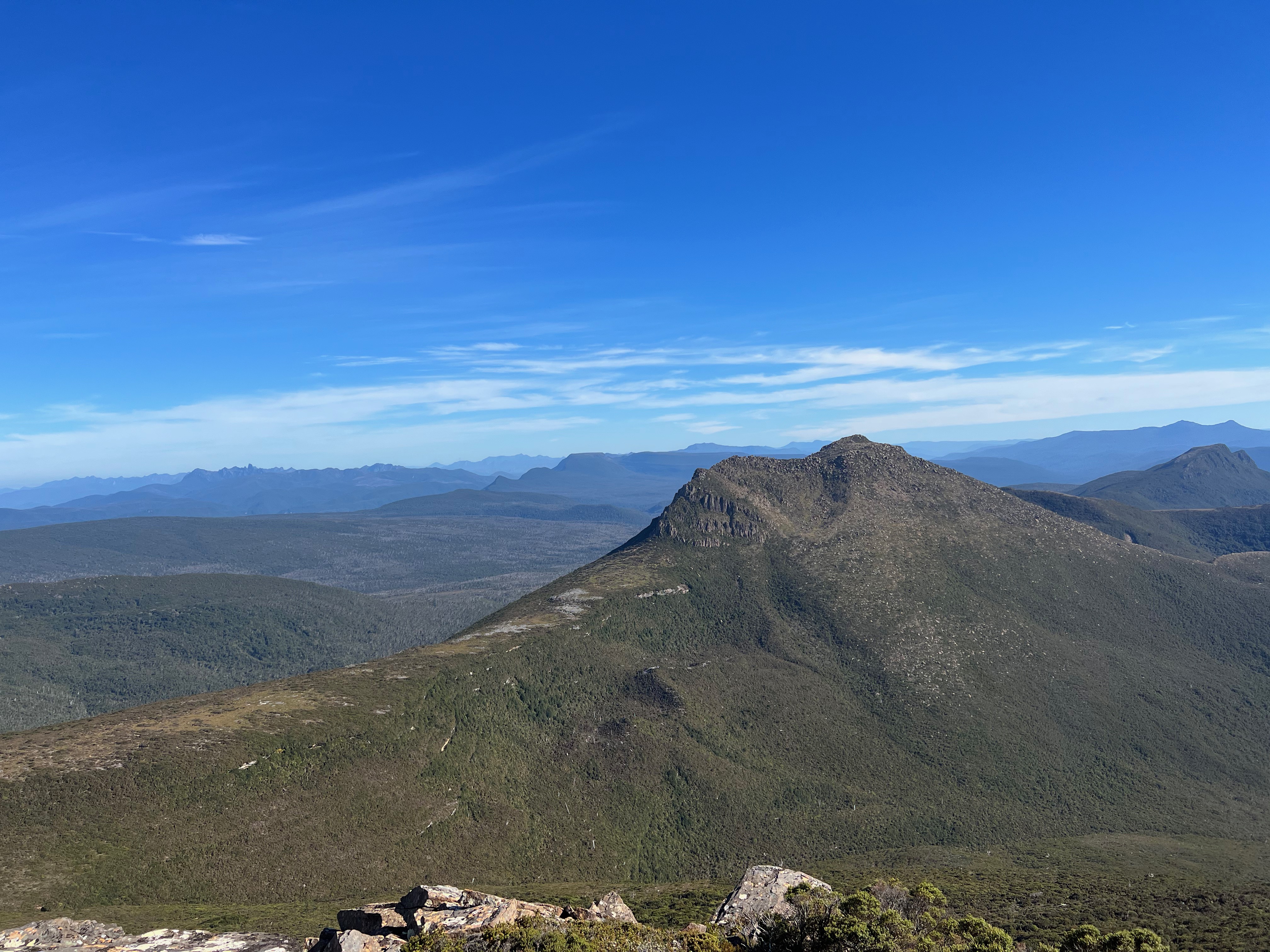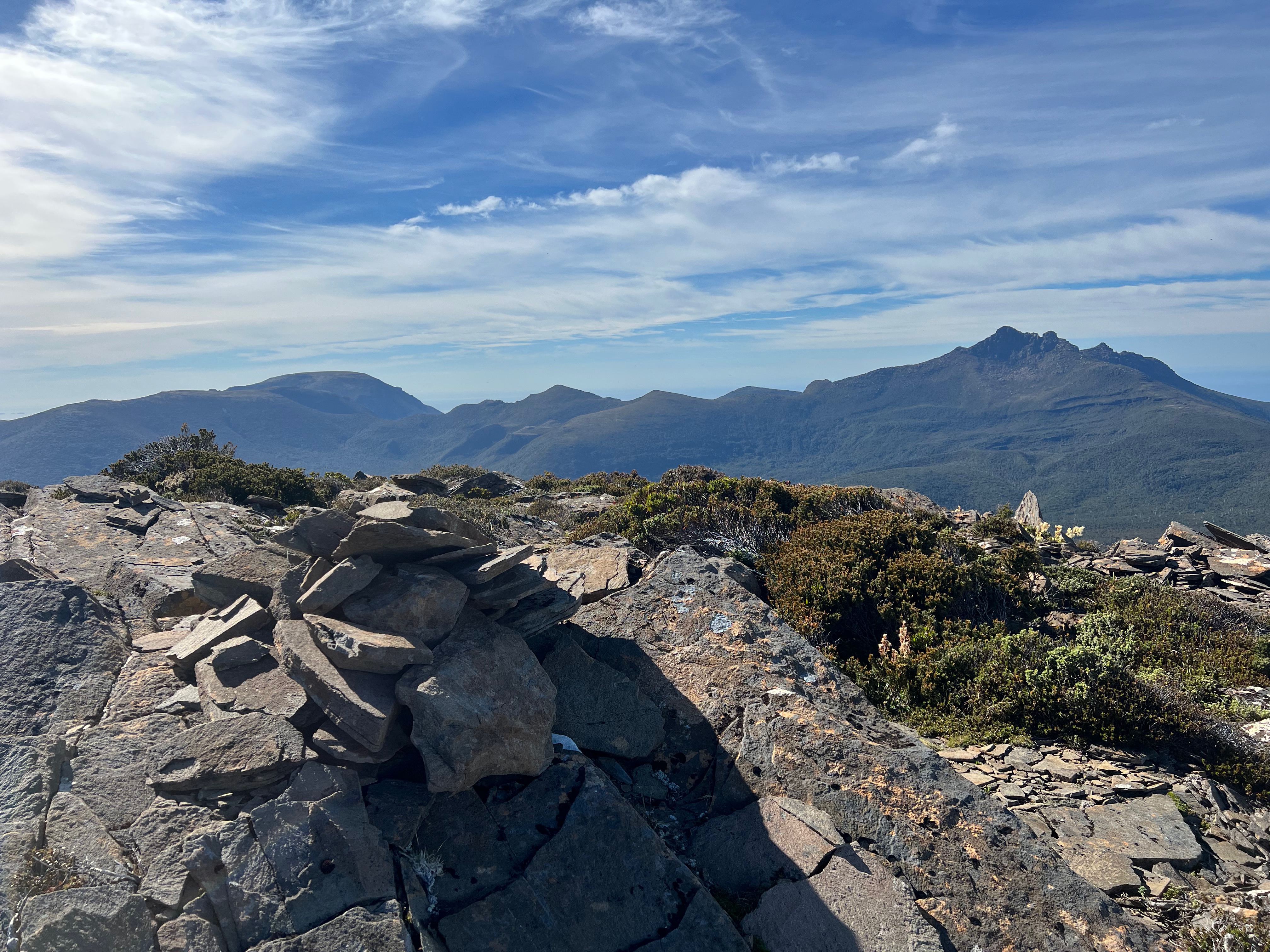 The day was heating up, and it was warm.
I slowly picked my way down Wylly and across to the connecting ridge towards Victoria Cross.
I found myself in a bowl where you basically head straight up to get to a small plateau.
It was slow going. I was a bit more tired that I would have liked, but it was fine.
After about two hours from the top of Wylly I was on the top of Mount Victoria Cross, again with lovely views.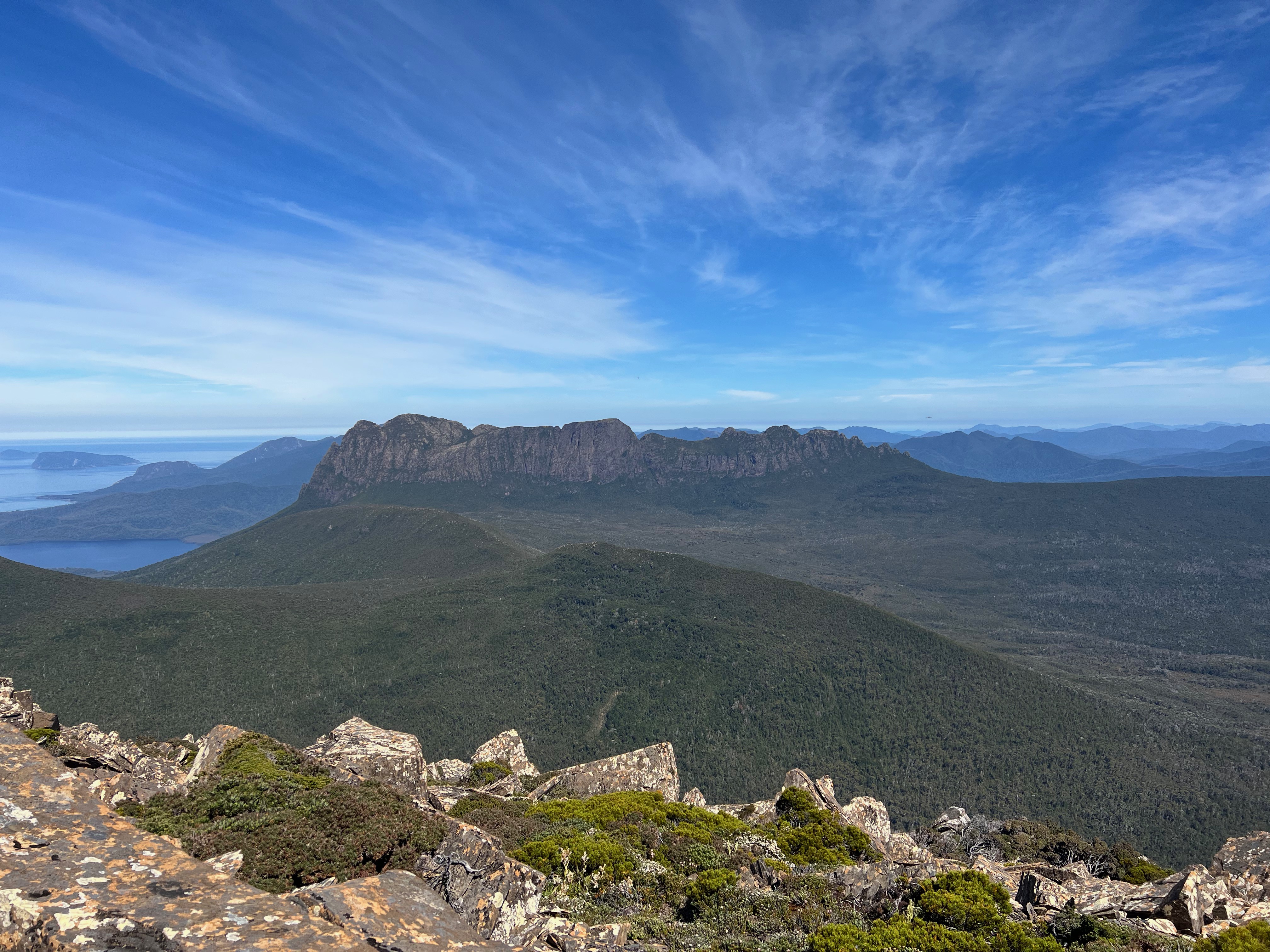 So with Pindars, Wylly and now Victoria Cross visited, there was one big mountain of the trip left: PB.
The walk back to Wylly Plateau was uneventful, as was much of the walk down to the start of Kameruka Moraine.
Last time we'd been through here, it was all a bit of a mess. Wet, jungly, overgrown and lots of heading down little tracks the wrong way.
And actually, it was much the same this time. Though perhaps a bit warmer.
The saddle before Kameruka Moraine is a maze. Sometimes it feels like you're going round and round in circles. It's incredibly easy to lose you bearings and start wandering the way you just came.
After several false turns, I started the climb up Kameruka Moraine and the eventual boulder hopping along the top. Towards the end the walking becomes easier, and eventually you find yourself at PB low camp.
Again, water proved a big problem. I couldn't find any, and had no idea if there would be any on top of PB at High Camp. I vaguely remember a waterfall somewhere on PB, so I set off to see if that would provide the water I needed.
It was a rather long climb, and I wondered if expending extra energy was worth it. I scoured cliffs, following ever so slight wet patches to see if they'd turn into a delicious pool of water.
Nothing turned up. I was starting to get a little worried. I remembered last time we were here it was rather wet. Water could be found by opening the tent and just scooping it up. Why would a waterfall be running? It'd been weeks since it rained last. Everything was empty. The mud was cracked it was so dry.
And then I found it!
A large pool of water, waterfall barely running. But it was good enough. I polished off the rest of my water and filled up all my bottles, carrying them back to camp much happier.
Dinner was delicious and I was treated with a lovely setting sun on the sides of PB. The flies had pissed off too, which was nice.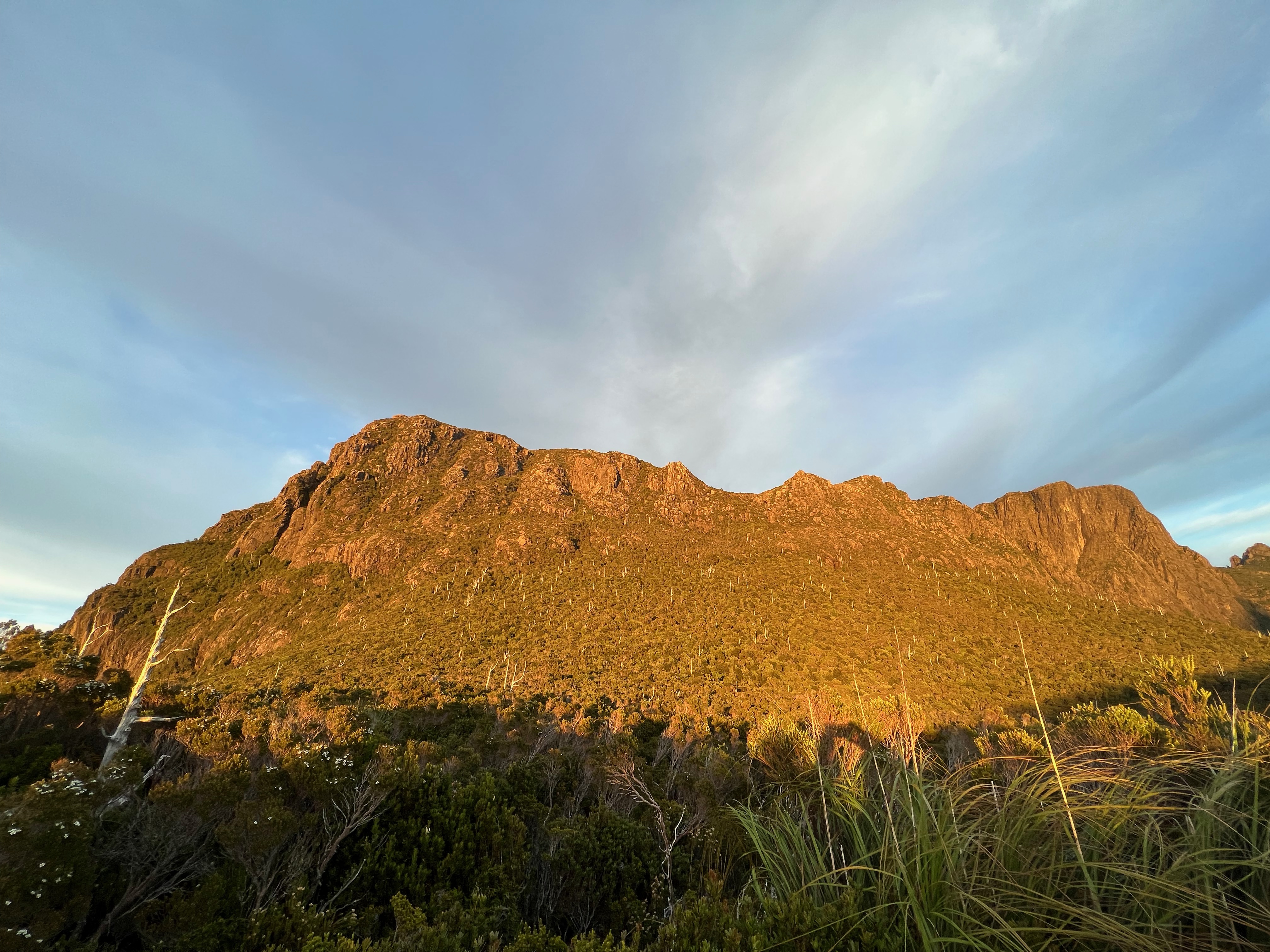 After another drink and I was in bed, happy and tucked up for the night.
Day 3: PB Low Camp to Surprise Bay
I again work early, looked out of the tent and saw yet another lovely day. The top of PB was going to be awesome.
I'd already walked half way up PB the day before, so I needn't repeat that too much.
Towards the top, I saw a few rocks that I remembered from our trip several years ago, including one which I distinctly remember slipping on and hurting my butt. It was nice and dry this time and I happily stepped on it. That'll show it.
It was about an hour before I got to High Camp and made the turn off to the summit. I was 20 minutes from the top. Anticipation was rising.
I passed massive columns of rock, ducked under bushes and scrambled over slabs of rock. I made my way up and up and eventually, popped out at the top. I'd finally made it! The summit of PB.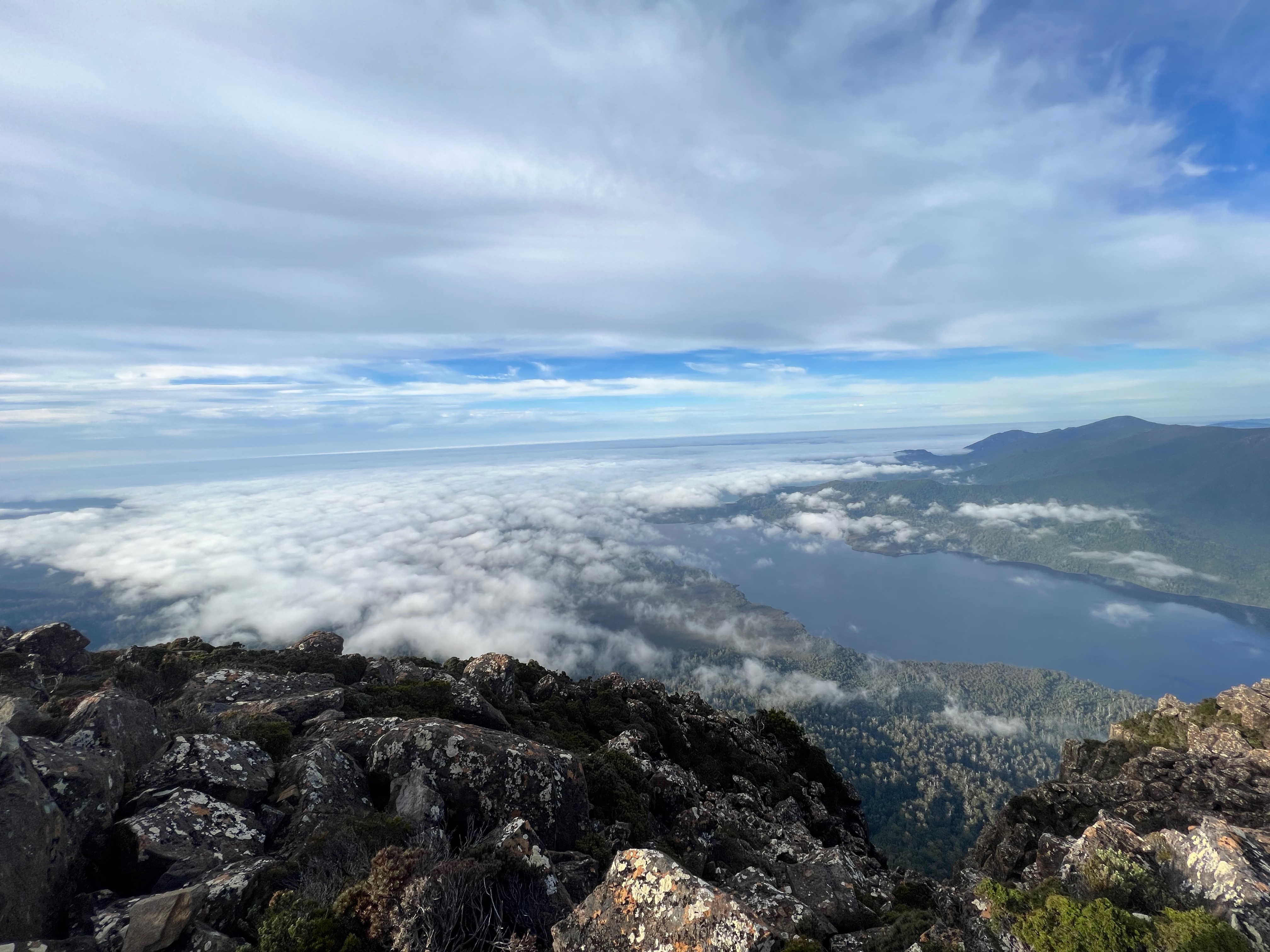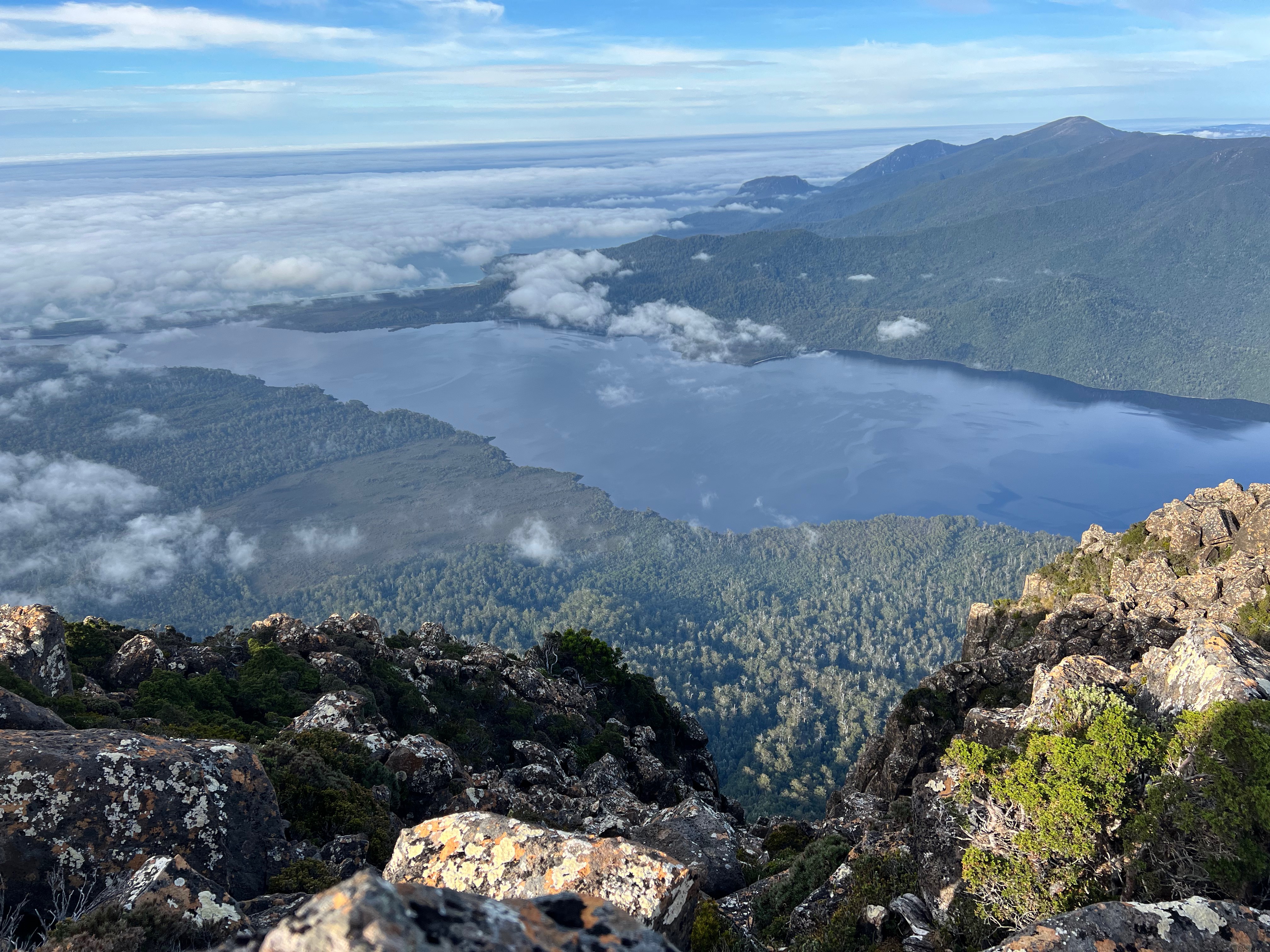 There was a little log book on the top, but no pencil so I amused myself reading a few of the older entries and just soaked it all in.
Eventually, I made a quick call home to say I was fine, safely re-stashed the logbook and said my goodbyes to the summit.
The dreaded decent from the very top to the very bottom had begun.
PB, 1145 meters high, slopes all the way down into New River Lagoon which is just above sea level. It's a long way down.
It takes hours to get down too. You descend though massive chutes, pick your way around the side of the mountain before plunging into the bush.
It's not always obvious precisely which way to go, but going down usually sorts it out.
Eventually the ground levels off and you find your way through the labyrinth that is around Damper Creek and then out of nowhere Cavern Camp appears. Always a welcoming place.
I had something to eat, a very very very lovely swim and started the two hour wade/walk down the lagoon. The lack of rain was in my favour finally. The lagoon was out quite a way which made the walk very easy.
It was very pleasant going, and I took the time to turn back and see PB getting smaller as I walked away from it in for the first time in days.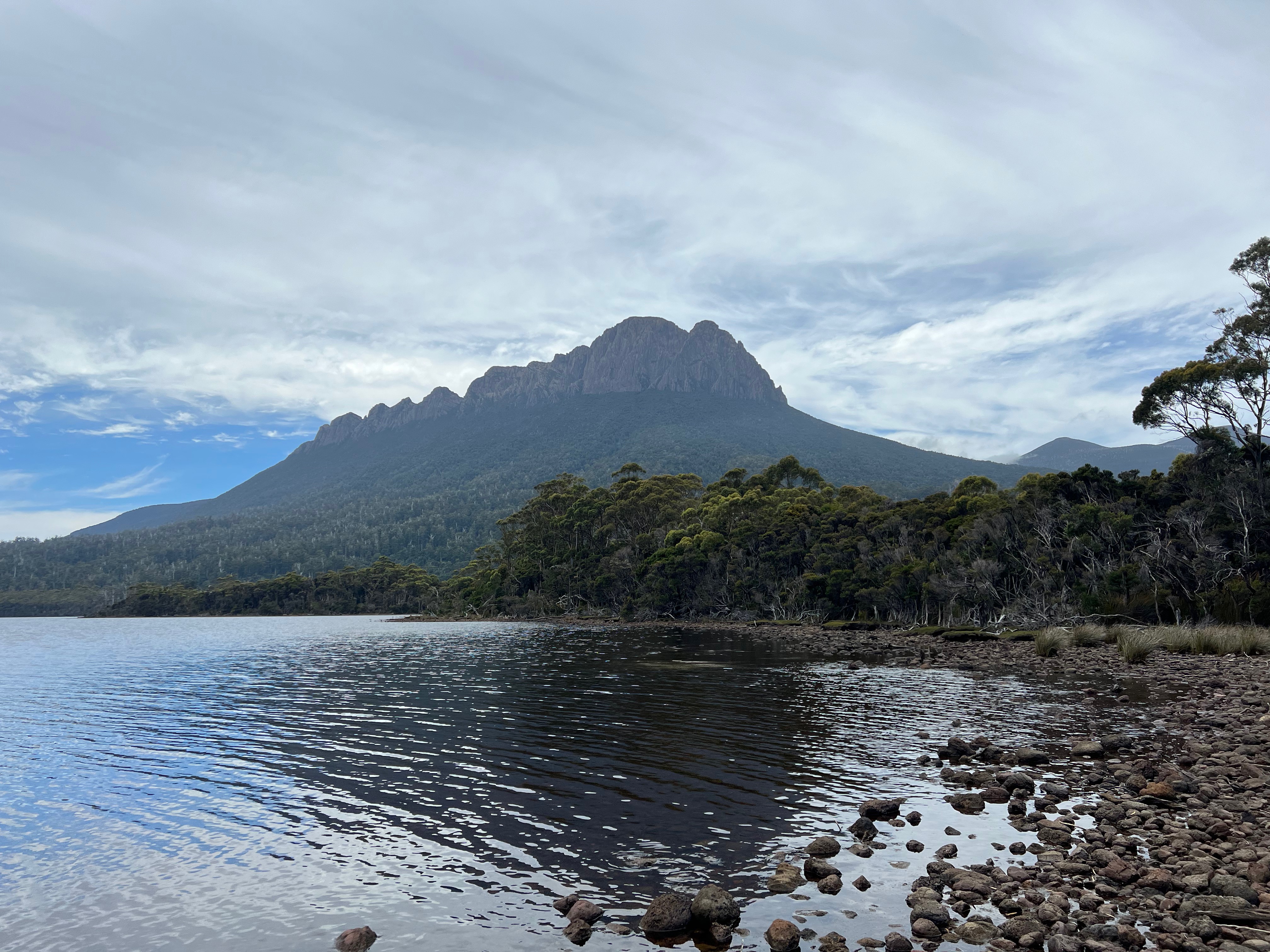 Ok there was more walking, but we've been here before
I needn't really go into massive details about the South Coast Track, as I've been along this part a couple of times before.
Just a few observations: I still stuffed up the dunes leading to Milford Creek. Thought I'd be smart and take the beach the whole way. It didn't work. At all.
And the new section crossing Milford Creek to around the mouth of New River Lagoon… isn't great. The bridge is good. The track afterwards, less so.
But that's the South Coast Track for you. It's always (mostly) a very pretty walk.
Day 4: Surprise Bay to Cockle Creek
The night was spent at Surprise Bay where I found a few people who'd also recently walked the Southern Ranges. One of their party had to be evacuated by helicopter, so it was fascinating hearing that story on how it all works.
I was planning on walking to South Cape Rivulet the next day, swearing I'd never walk from Surprise Bay to Cockle Creek in a day again after Dash and my first walk along the SCT in 2012.
However I got a message from home which meant I might need to get out a bit earlier than expected, so there was nothing else to do. The whole walk needed to be walked.
But a little tradition needed to be completed before I got there and I stopped near Coal Bluff for my (semi) regular picture in this spot.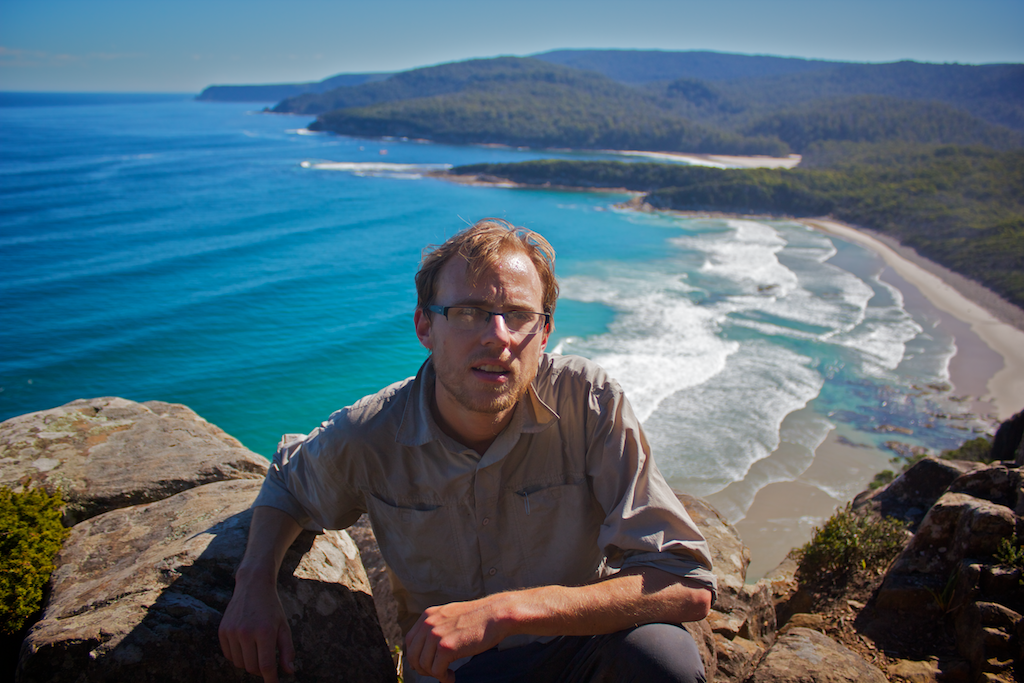 First taken in 2012 during the SCT, the tradition was formed during our Southern Ranges trip in September (yes, I know) 2016.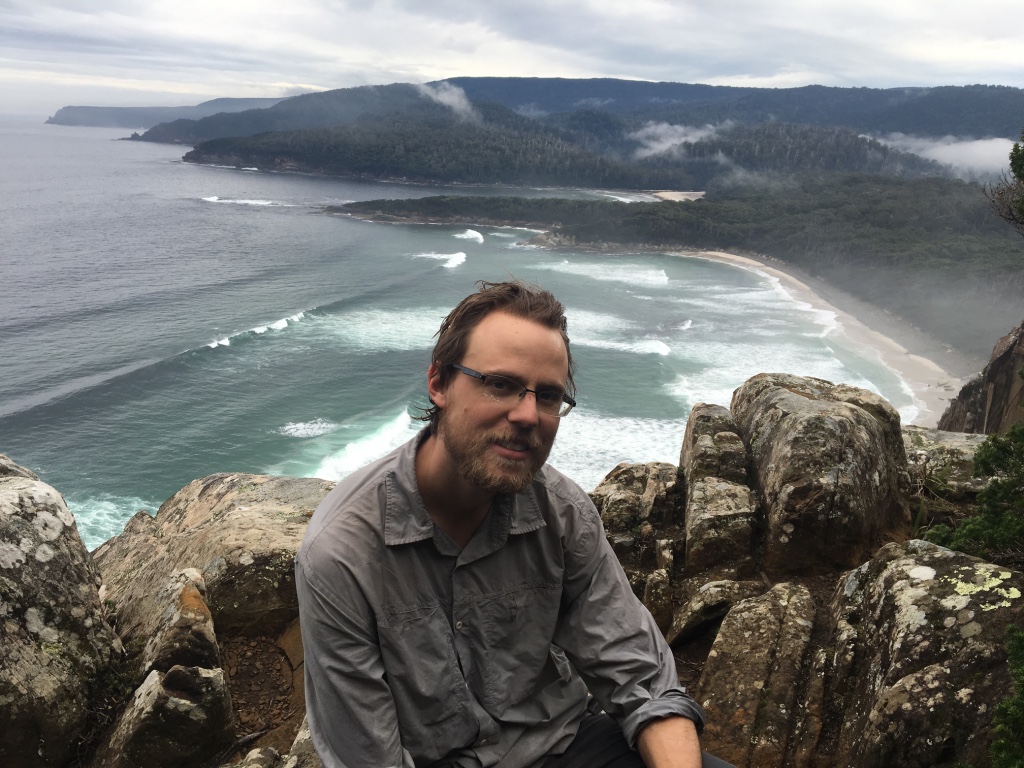 I didn't have anyone else with me this time, so a selfie was required.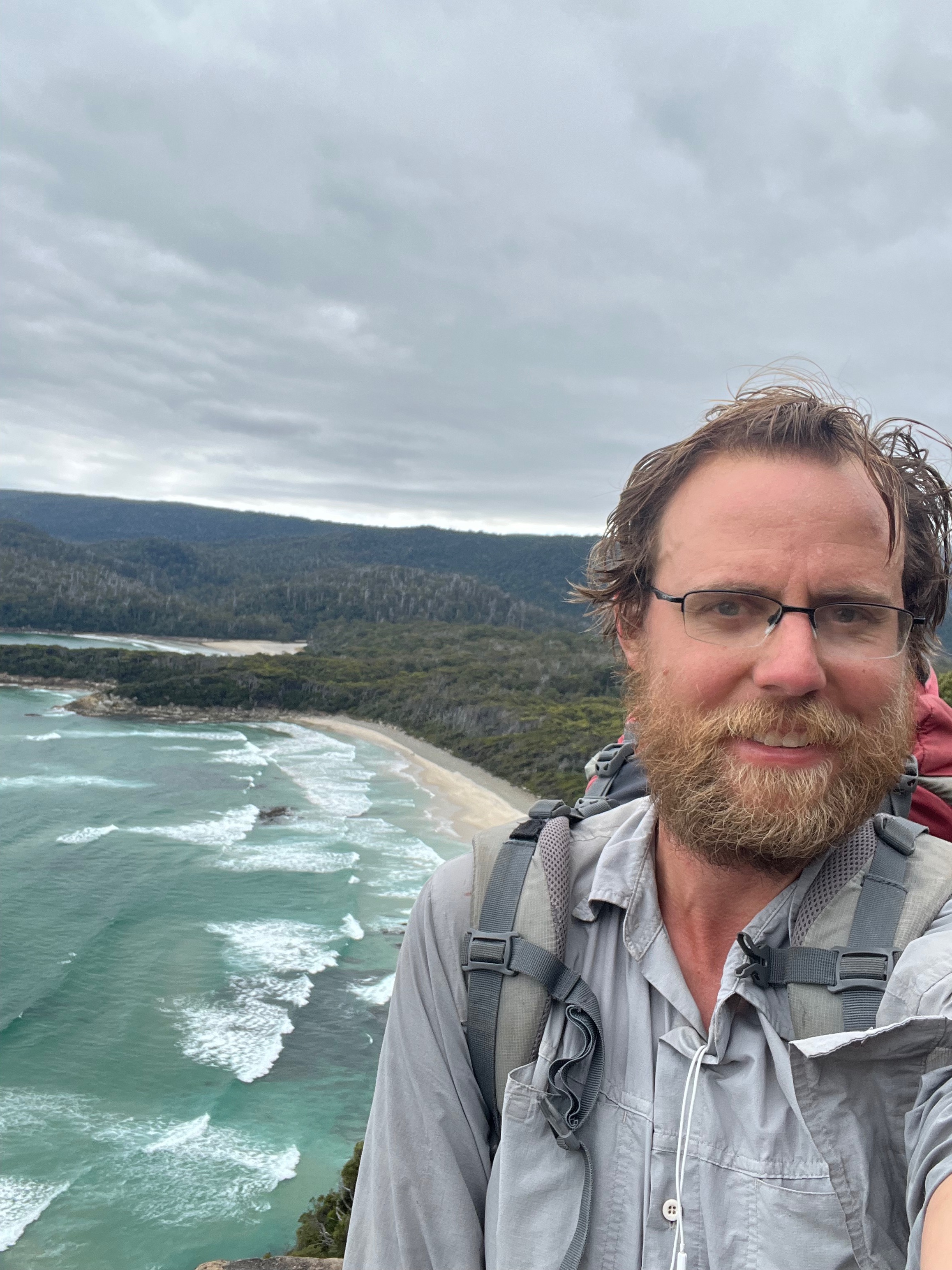 A few things:
I have worn the same shirt bushwalking a lot… is that at least 10 years?

I swear I've had new glasses too

The weather seems best back in 2012, though maybe that was the SLR camera I had (and Dash's great photography skills)

If I look freaking warm in the last picture that's because I was. I had rushed up the hill for some stupid reason. I slowed down a bit after this.
Anyway, that's three now. The tradition continues!
So see you in… 2026? Southern Ranges anyone1? I swear the pain wears off quickly.
Trip map2
Walk dates: January 22 - 25th 2022
Day 1: Saturday 22nd: Lost GPS data, so not sure how far.

Day 2: Sunday 23rd: 18km. 1223 meters ascent.

Day 3: Monday 24th: 24km. 1391 meters ascent.

Day 4: Tuesday 25th: 25km. 1737 meters ascent.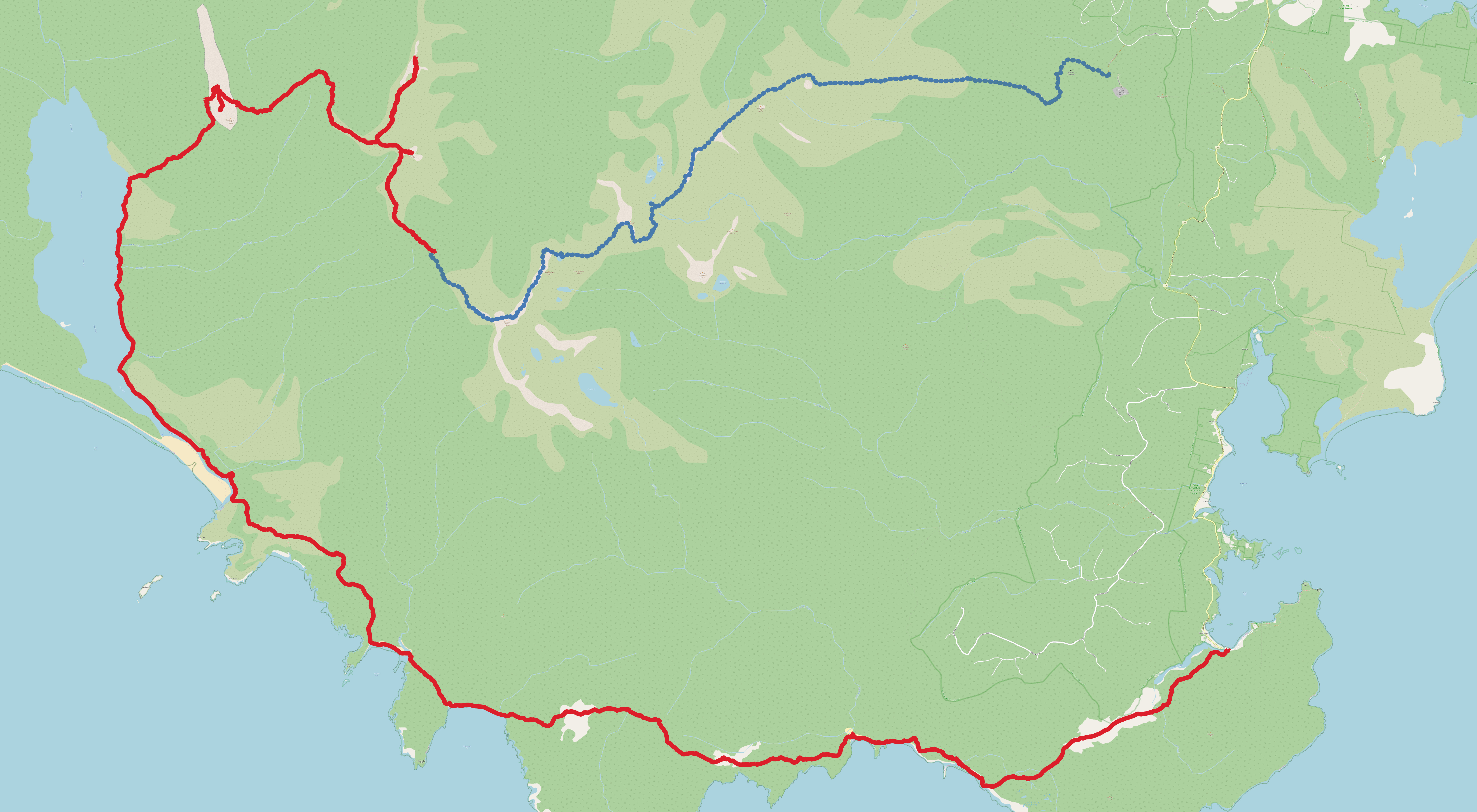 Further reading
---
Comments
Footnotes