WALK INFORMATION: 
DATES: 5 - 6th November 2021
DISTANCE: 23.9km
WEATHER: Very nice. Sunny. Not too windy. No rain.

I've been doing a bit of walking around The Gordon area lately, like visiting Clear Hill and The Thumbs a month ago.
So I was quite keen to get out to Wylds Craig and Mount Shakespeare, but we've had rather a lot of rain lately so it was proving hard to find a decent weather window.
Well, one finally came up on Friday November 5, and I grabbed the opportunity, throwing my gear into my bag and heading off Friday morning.
After working out how the hell to get there (see "A bit about access" below for more information on that), I found myself walking though the former logging coupe towards the Wylds Craig track.
Looking at a few older pictures, the coupe has really become much more vegetated over the years - but obviously still a long way from what it used to be.
After about 15 minutes, I was out of the old forestry area and I found myself wandering along, dodging fallen trees and following the very well marked track. There's a lot of pink tape out there.
You walk up a spur for about 30 minutues and come to a long flat bit that is a lovely to wander through. And just as I was thinking 'this seems a bit snakey', I saw a large snake moving off the track into the bush.
Soon I found myself climbing out of the forest onto the higher ground, and finally got my first close glimpse of Wylds Craig!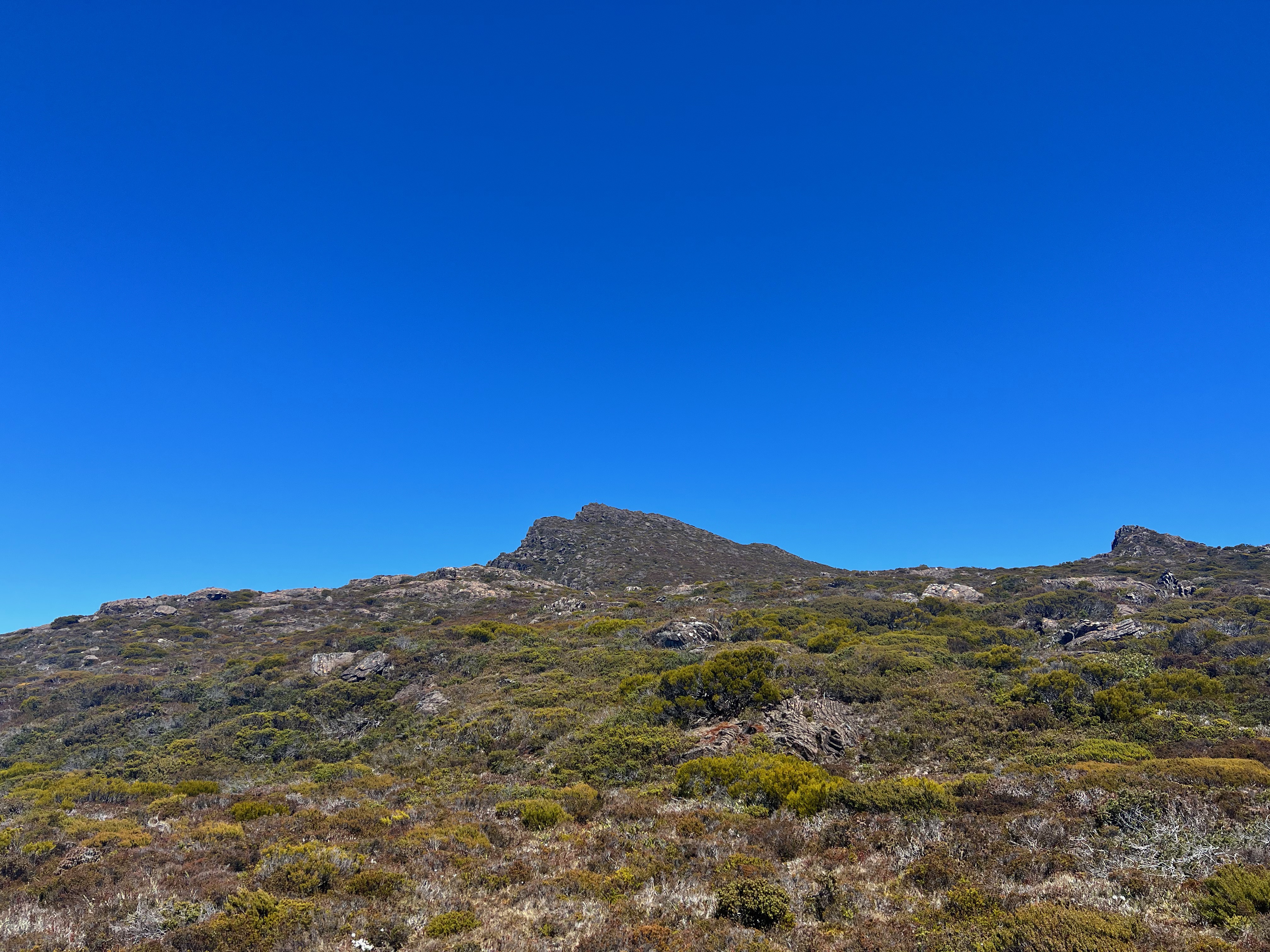 I left my bag at Goodwins Moor, and made the final push to the summit.
As I approached the top, a wedgetailed eagle flew overhead - having fun in the thermals or wind drifts that surround the mountain.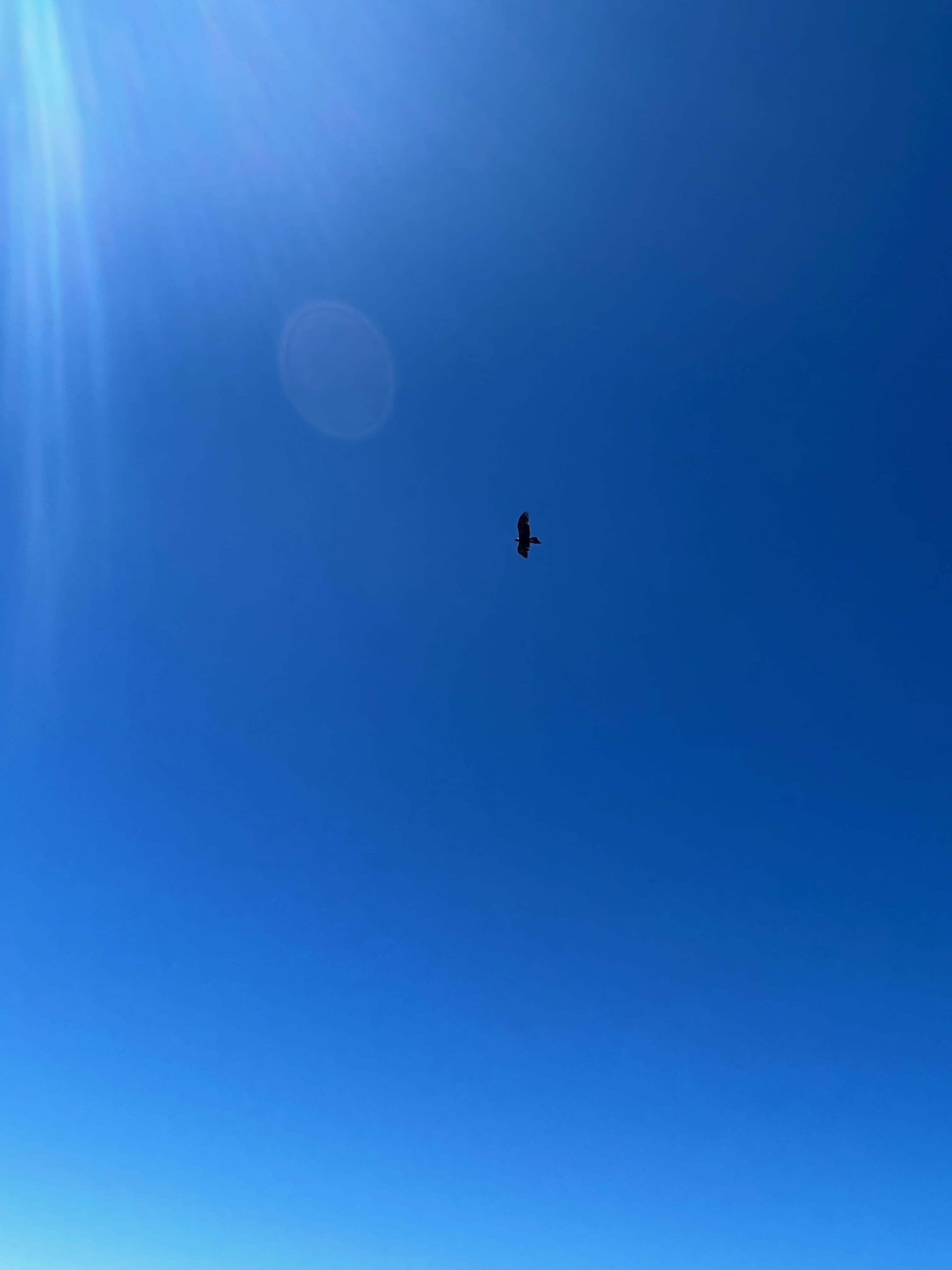 It was a lovely day, and I had amazing 360 degree views around me.
I spent about 45 minutes on top, having lunch and checking a few messages on the ol' mobile phone.
But it was time to move on over to Mount Shakespeare, which I had a very nice view of from where I was sitting.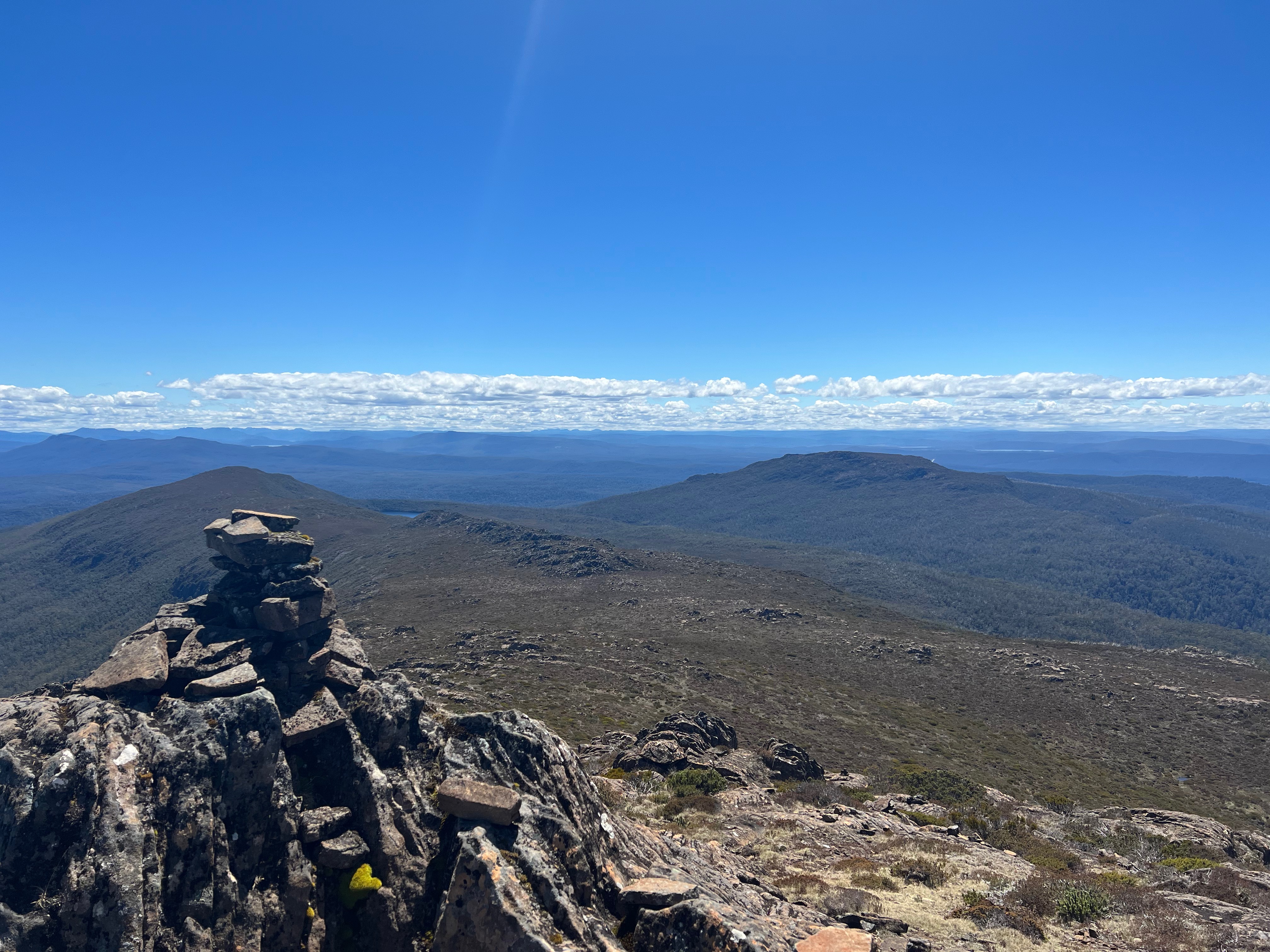 It seemed quite far away, and I knew that I had a bit of bush-bashing in my future.
The walk across Goodwins Moor was easy, but as I rounded Cunninghams Knoll I made a poor decision on the line I should take down to Lake Daphne. For those playing along, I'd recommend staying on the Cunninghams Knoll contours until you're west of it and then decend down from Birds Saddle. Don't get too close to the saddle valley, or you'll end up in quite a lot of bush.
I say this because the way I came back was much better than the way I got down.
All in all, it took about an hour and a half to get down to Lake Daphne from the Wylds Craig track.
I set off towards Shakespeare at 3pm, picking my way across some lightish scrub and the small valley that lies at the base of the mountain.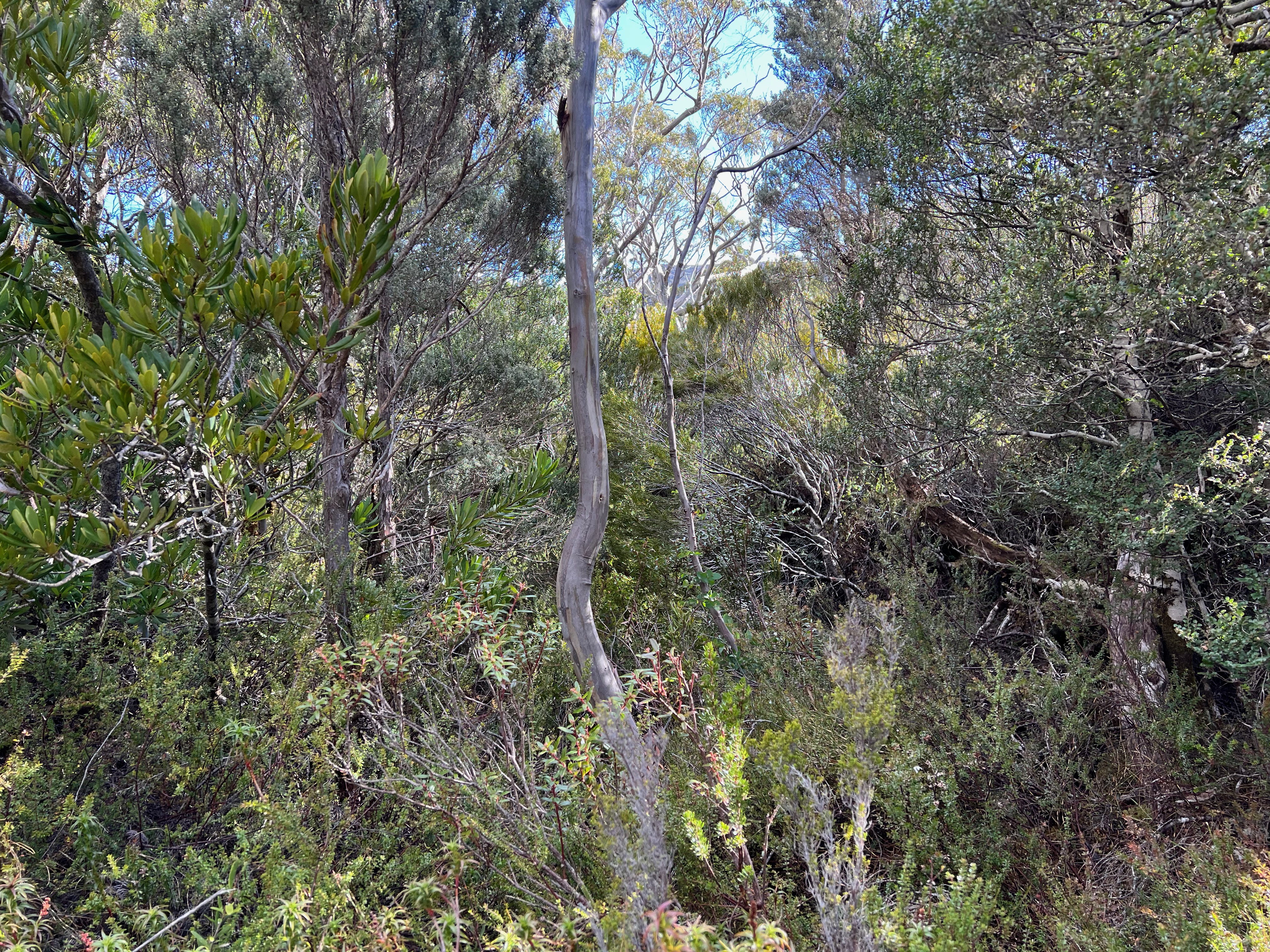 It was pretty obvious from the start that it was going to be a massive fight to work my way up the mountain. I slowly worked my way up the slopes, tracking in a north-easterly direction crossing under the peak high above me.
I eventually found a large boulder area which was a nice change and speeded things up a bit, but soon enough I was back in the unrelenting scrub fighting and dodging and weaving.
Eventually, after what seemed a very long time, I made it to the top. It was a tough walk, and not one that I'd like to do anytime soon.
It's possible I went a shit way and it's highly likely that there are better ways. But that's the way I went, and it got me there in the end.
Nonetheless, there were very nice views looking back at Wylds Craig and the Lake Daphene area where I'd soon be walking back to and sleeping the night.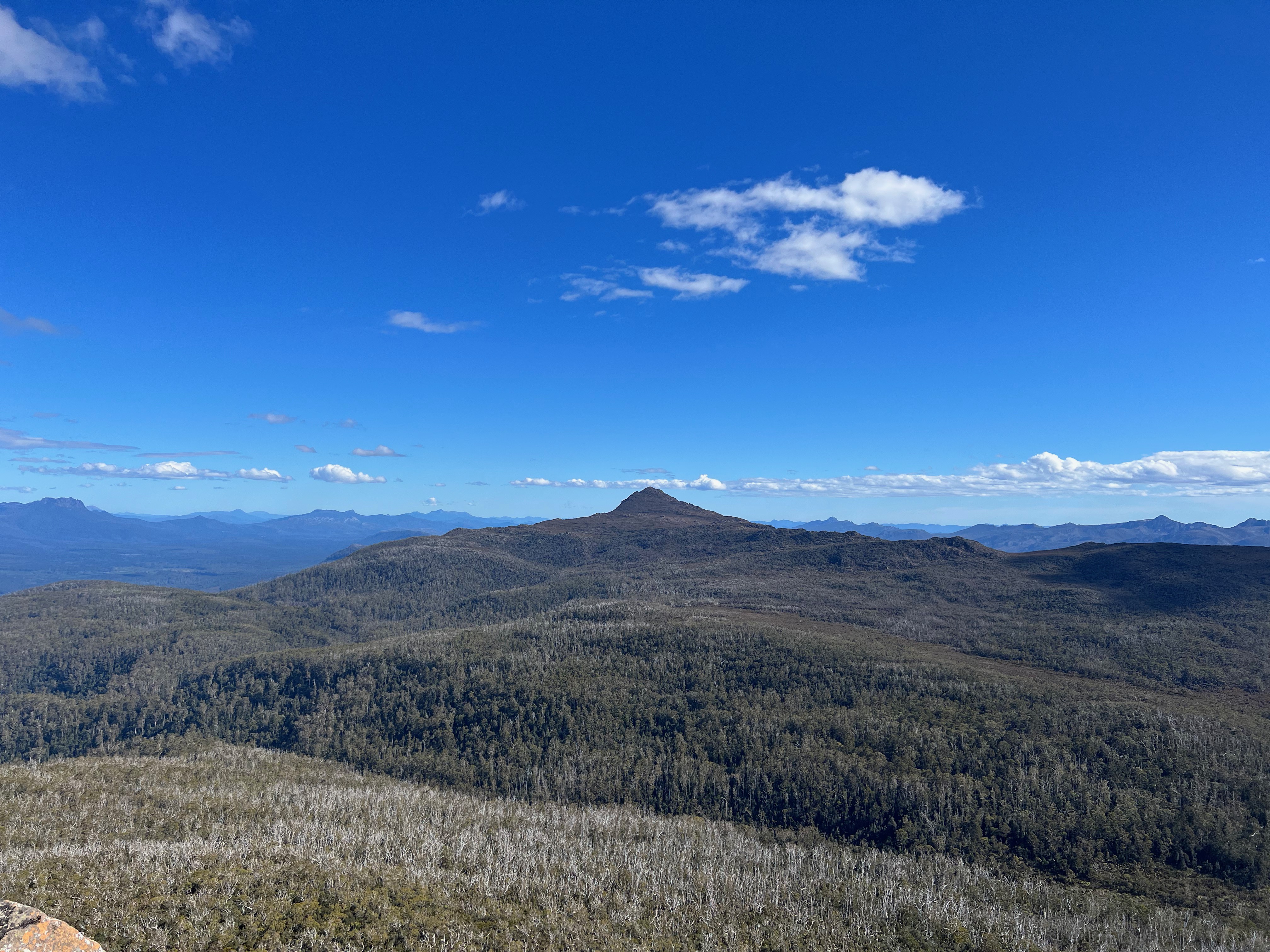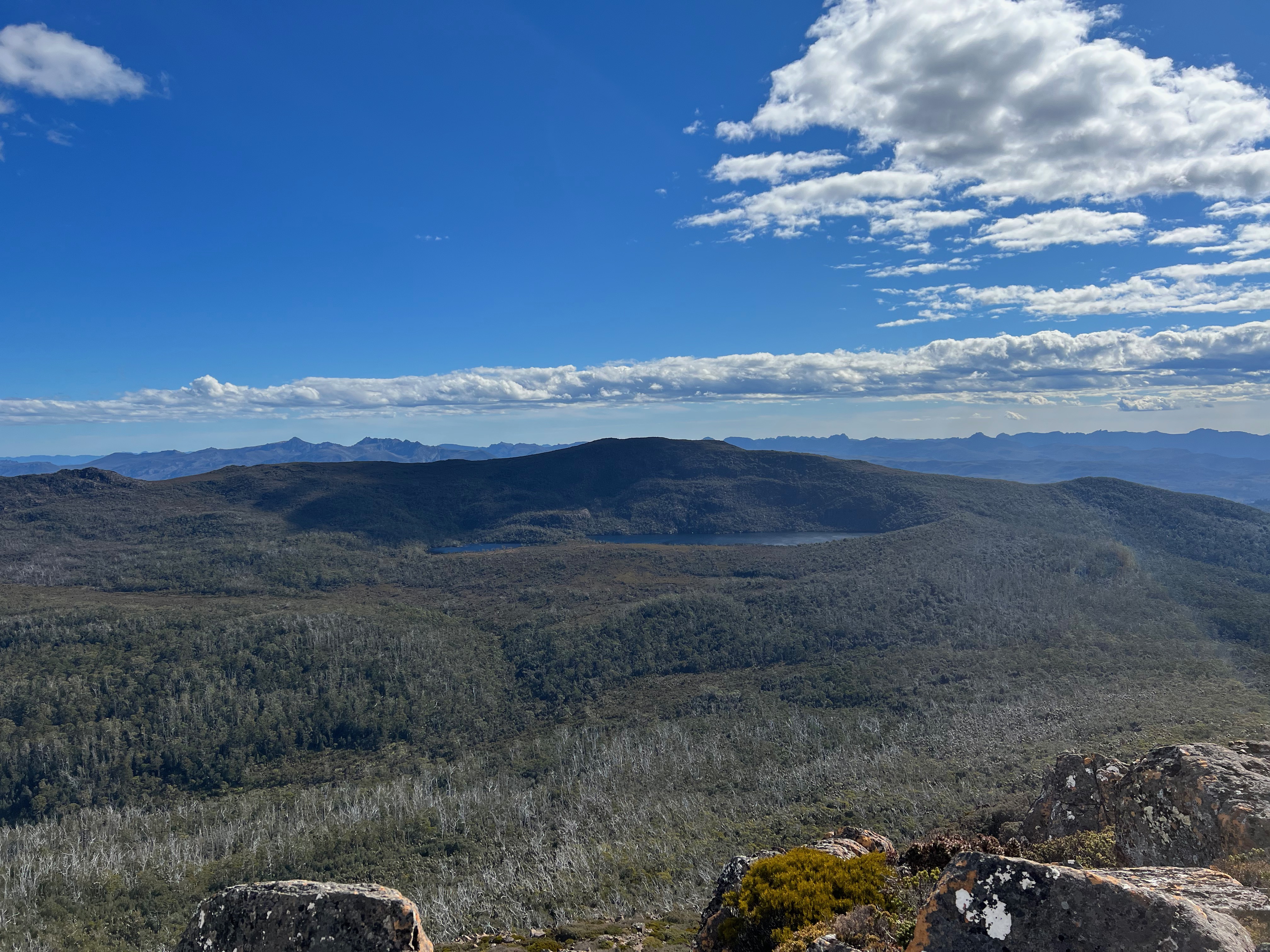 It took me about 1 hour and 45 mins from Daphne to the summit of Shakespeare, which I didn't think was too bad in the end.
Though I had decided that I didn't want to retrace my steps, so I went west along the top of Shakespeare before dropping off back down throught the forest of pain.
Without having to fight both bushes and gravity, getting back down was slightly easier and I was back at my bag in about an hour and a half.
I've seen other routes that stay far more to the west of the mountain than I did, and I'd be curious to see if they are any better. But like I said, unlikely I'll be heading back there any time soon to find out.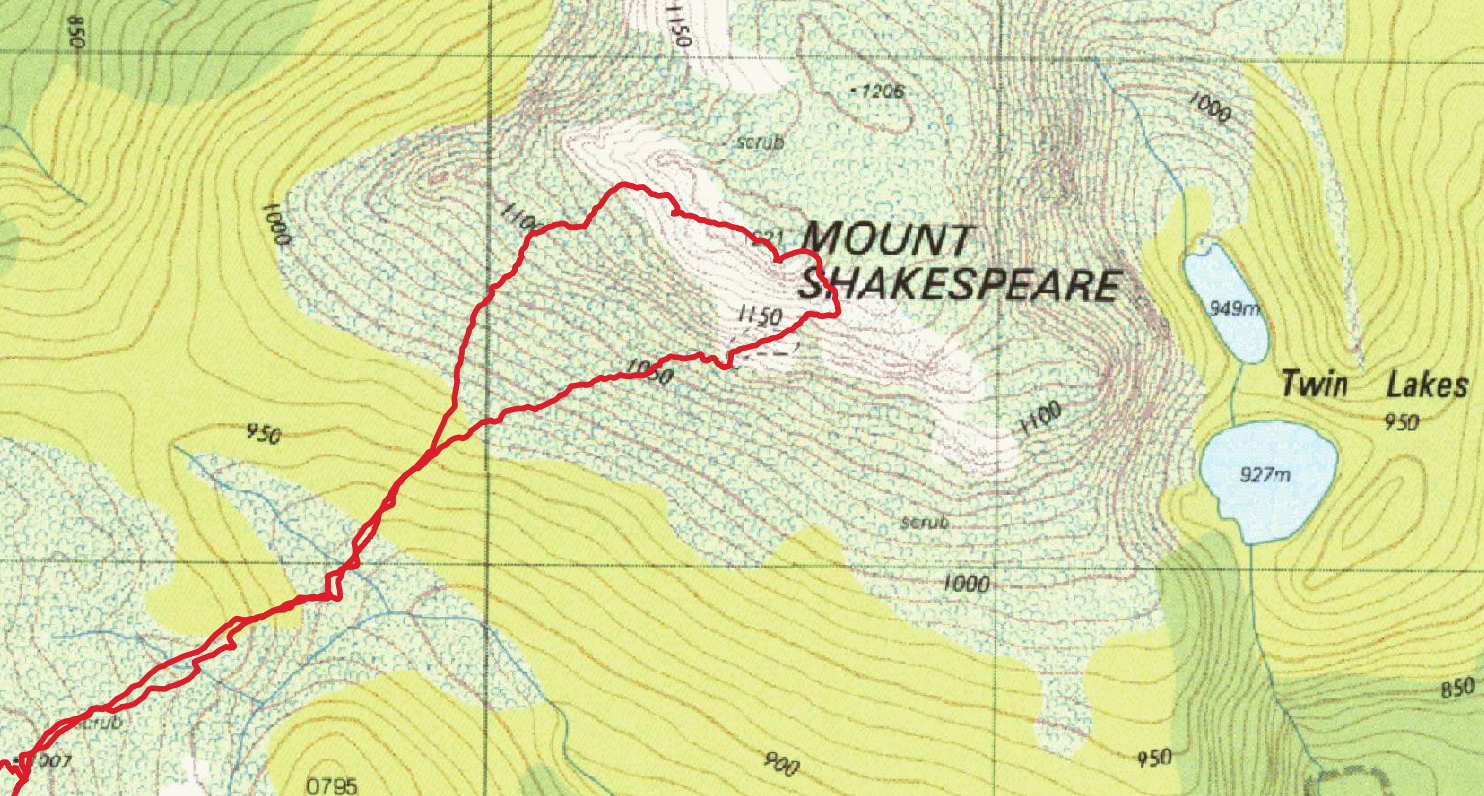 I found a little campsite closer to Daphne than Laurel, partly because I was trying to stay away from the noise of a running river all night. There was a fair bit of water around and rivers were running.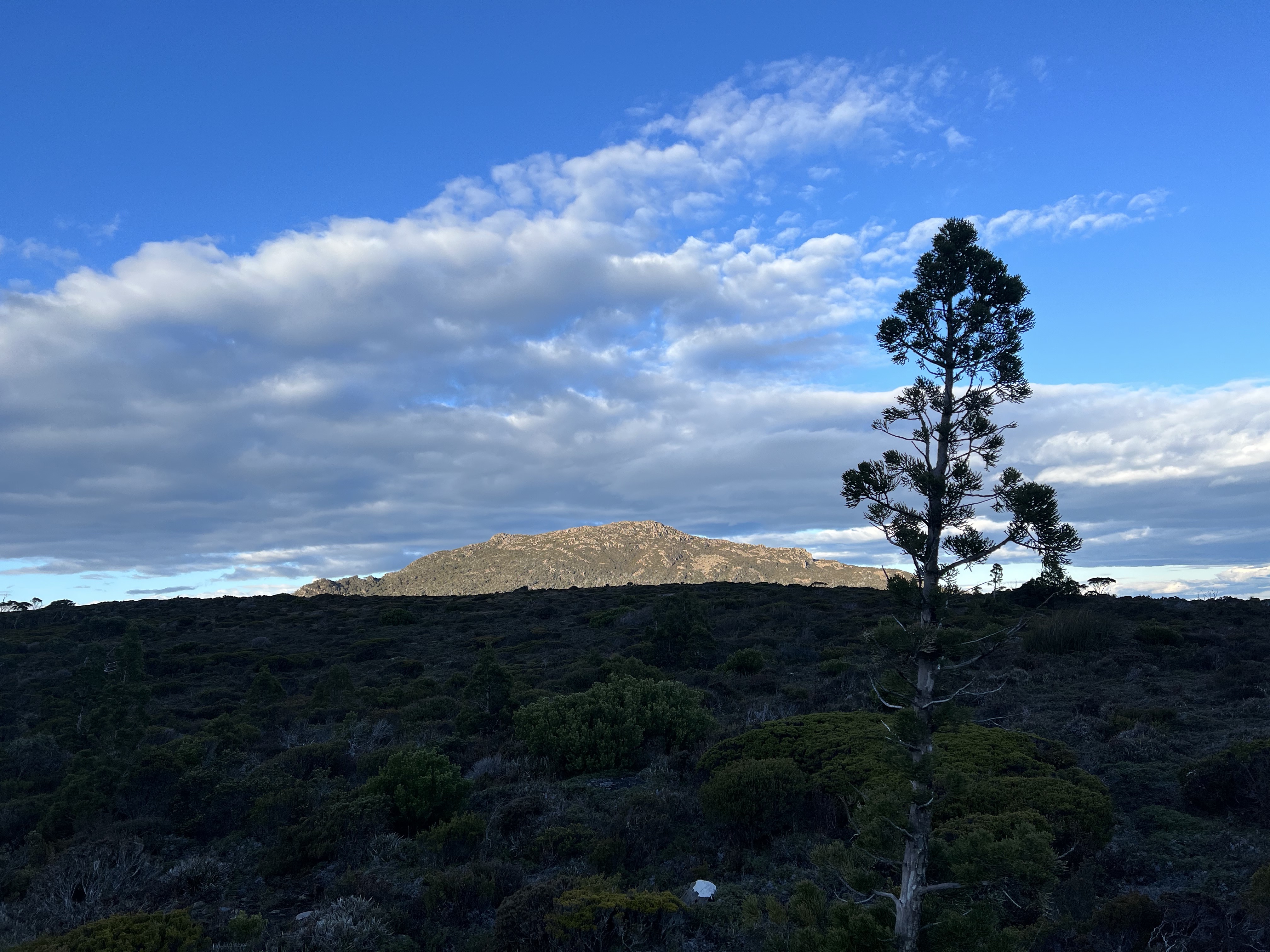 After a very sound sleep, I woke up in the morning and made my way back to Goodwins Moor. I picked much better routes back up to Birds Saddle too, which is why I suggest staying close to the knoll until you see a better line down. Don't just dive into the bush like I did.
Eventually, I made it back to the car from camp after about 4 hours and 10 minutes. The ol' legs were a bit tired, and I wasn't in a huge rush.
Trip Map
All up, the walk was 23.9km. Total elevation gain over the first day was about 1250 meters.
Second day elevation gain was only about 350 meters.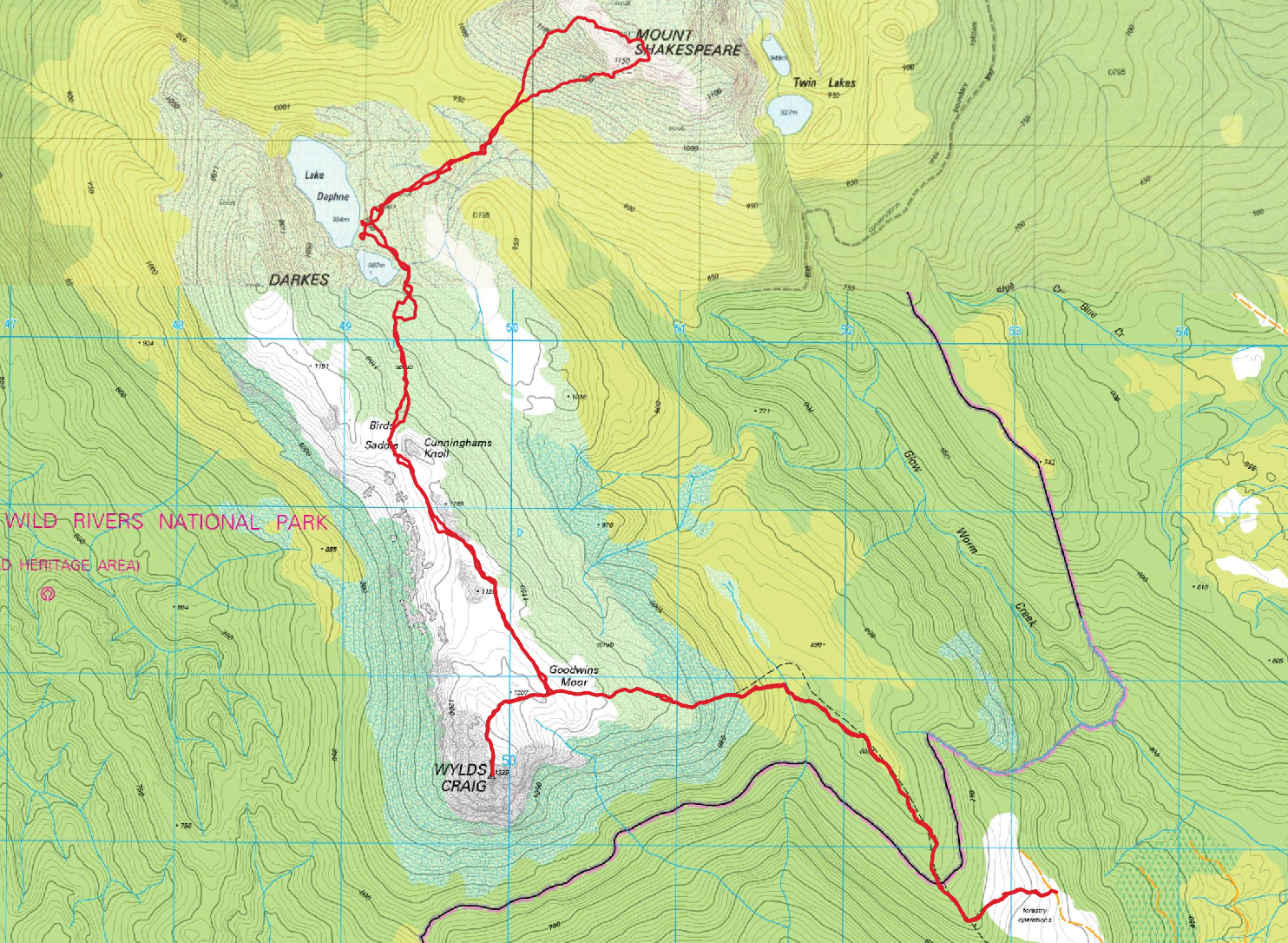 A bit about access
There's a bit of old information around regarding access to Wylds Craig track.
I thought I'd just give some quick notes on what I did, as of the 5th November 2021.
Firstly, one of the recommended roads from Wayatinah is apparently closed. That's what ListMap says, so I didn't attempt it.
Instead I drove 3 km out of Maydena, and turned off Gordon River Road onto Florentine Road.
Drove that a fair way up, before turning onto Tiger Road and crossing the Florentine River.
From there, I drove all the way along Tiger Road before coming to a very closed bridge which crosses the Florentine River.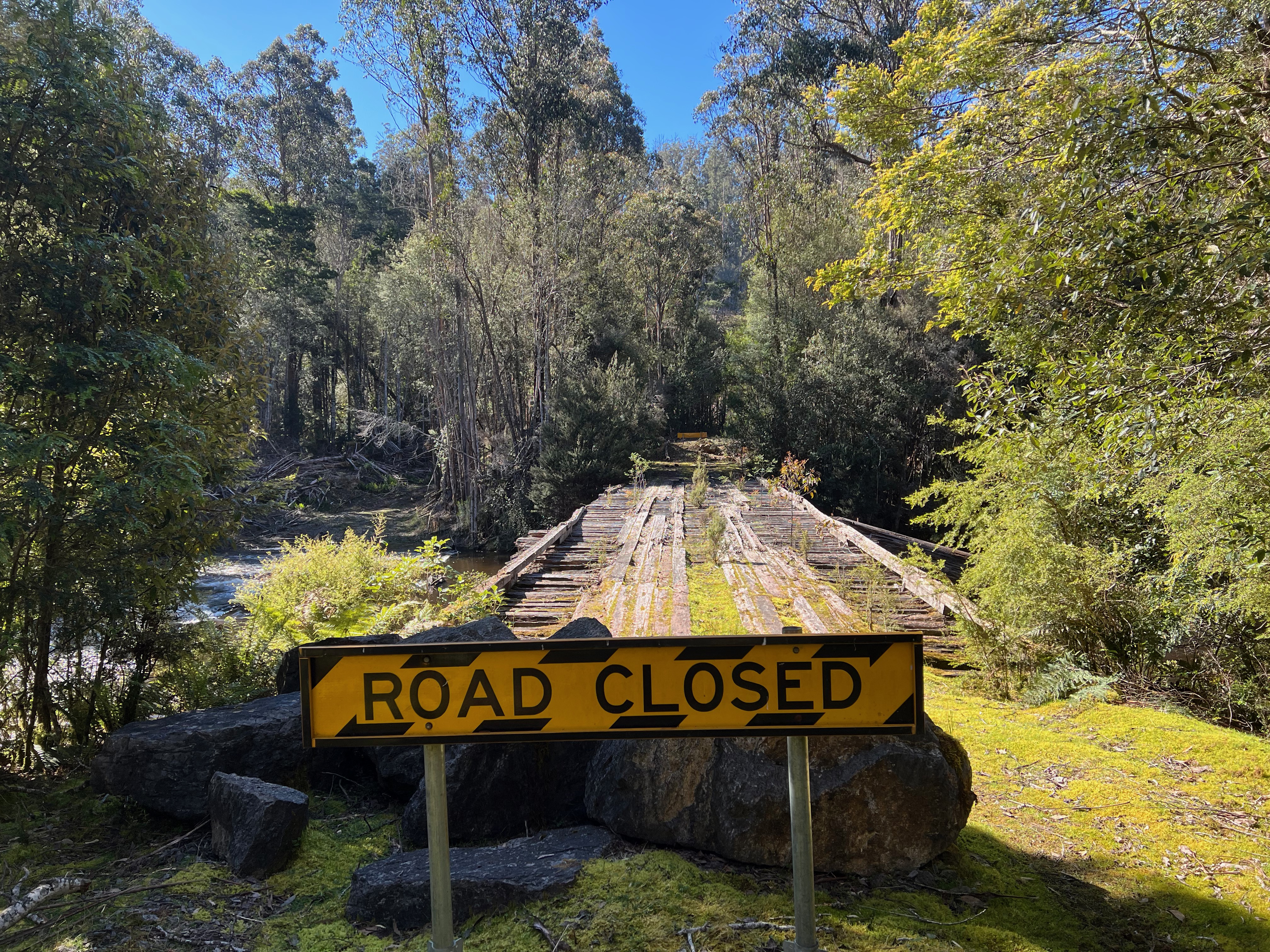 There is a possible crossing here via a ford for 4WDs, but I wouldn't have attempted it.
From here, you can drive up the hill on a spur off Tiger Road. It's pretty decently maintained and the drive was easy. I parked near the trail head on the right hand side of the road.
Here's a map of the whole route through the forest:
And a bit of a closer view of the final bit to the trail head: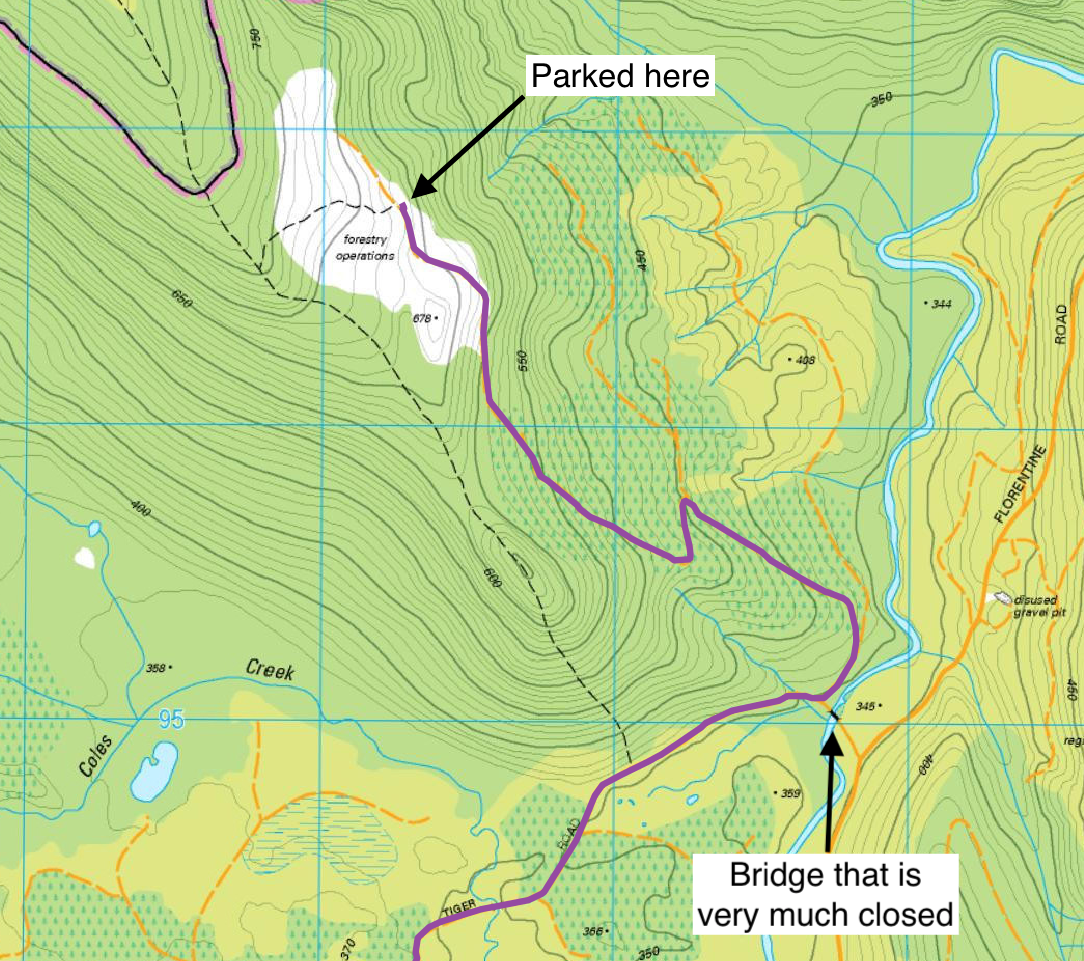 (Access information written on 8 November 2021. Please double check raods/etc before you head out.)
Further reading/watching
YouTube:
Bushwalk.com:
And for a bit of history:
---
Comments
---
David:
March 26, 2022:
Thanks for the road directions!
I'm heading up tomorrow morning but don't trust the road directions given in the Abels or google maps.
Lucky to have stumbled across your blog–would have been disappointed by that closed bridge!
---