WALK INFORMATION: 
DATES: 9 - 10th October 2021
DISTANCE: 29.5km
WEATHER: Mostly good. Bit wet.

I have to admit, The Thumbs and Clear Hill haven't exactly been on my walking to-do list.
It's not because I didn't want to visit them. It's just that I had never really even known about them.
A shame really, because it's such a beautiful, spectacular place.
A bit of a tangent into a town and a metal
I started the walk at the locked Adamsfield gate. Behind the gate is a small strech of 4WD road before you come to a few houses, which is basically all that remains (structually, at least) of the old town of Adamsfield.
The town boomed in the 1920s, thanks to a huge influx of miners looking to profit from the recent discovery of osmiridium in the area.
The town, which is rememberd as Tasmania's premier osmiridium field, was described as being "rough timber-built", but had three stores, a baker, pub, butcher, school, police station, bush hospital and a community hall.
None of it remains today. In fact, it's amazing to think 1500-2000 people once lived in this part of the world.
So I know I'm going off track here - so to speak - and writing an essay on Adamsfield, but never fear! I also want to talk about osmiridium.
Despite being quite fun to say, as far as I can tell osmiridium was used mainly in the manufacture of fountain pen nibs:
The Tasmanian product is however, particularly adapted for another very important industry: the fountain pen one.

It furnishes grains of the desired size and physical characteristics suitable for putting tips on the gold nibs.

Being eminently suitable for this particular purpose, it is much sought after and therefore commands a somewhat higher price.

- Percival Bartlett Nye (Government Geologist Tasmanian Mines Department 1928)
But it has other uses too.
According to this Mineral Resources Tasmania report from 1992 I found:
Osmium was used to produce osmic acid, used in fingerprint microscopy and recording.

The metal was added to tungsten to make electric light filaments; osmium compounds were used in medicine, as a stain in microscopy, and osmic chloride was used in the manufacture of poison gas (wartime use).
And apparently osmiridium has another name: iridosmine. Which is also quite fun to say, so that's good.
Actually, fun fact about the alloy (wow I'm really off track. Scroll down to the first picture if you want to avoid this massive tanget).
Osmiridium/iridosmine is a native alloy. It's composed of osmium (a super rare metal - only like 9 cubic meters of the stuff in the whole wide world according to an institue named after it) and iridium.
So fasicating stuff: a 100 year old historical connection. A mining boom and bust. And a metal that was once worth more than gold.
Anyway, it's all a long way of saying I didn't actually take any photos of the place.
All I got was this camping area thing. By the looks of things, isn't even original, being build with treated timber, colourbond steel and somehow wired for 12 volt lighting.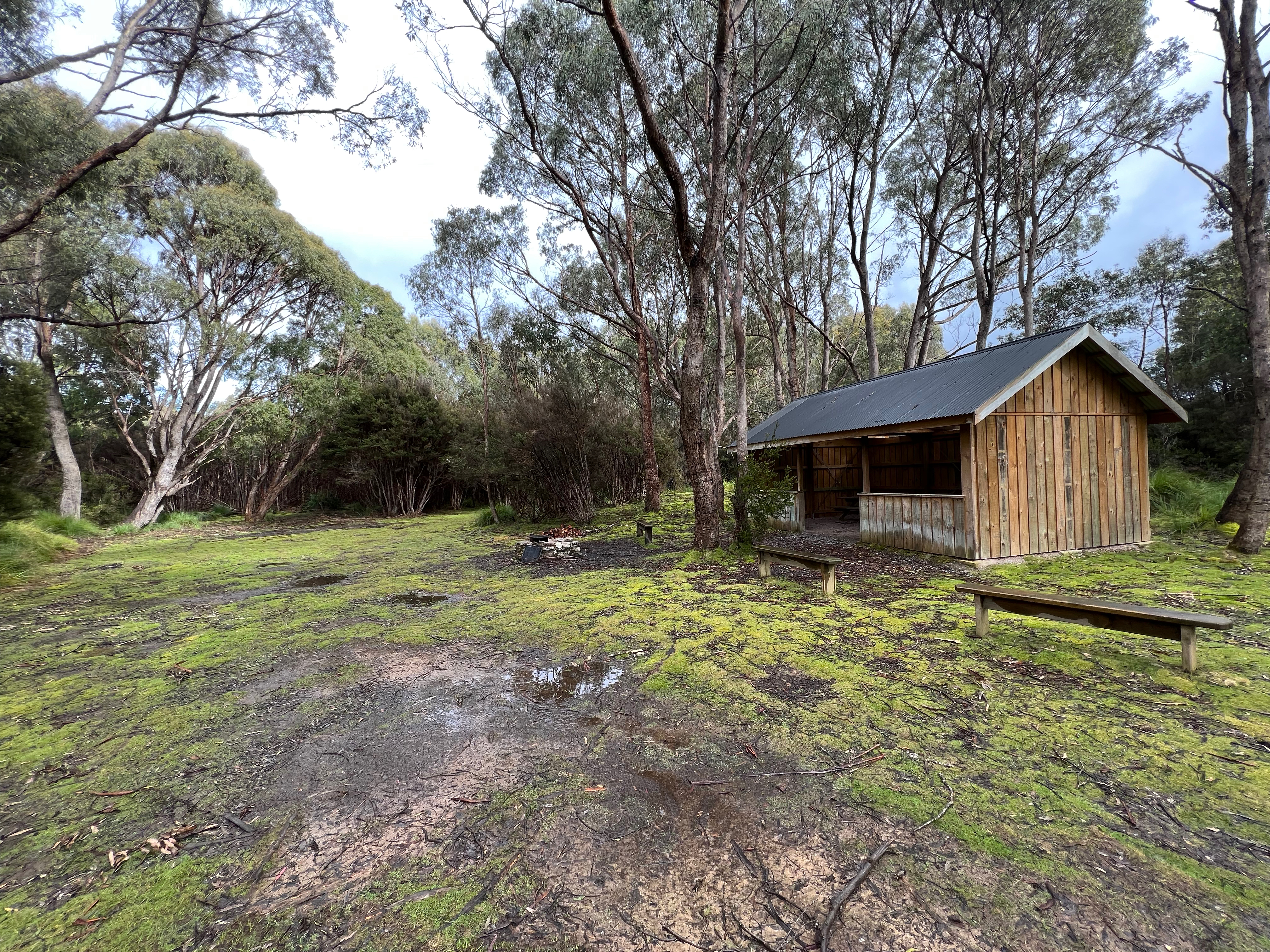 So yeah, that's Adamsfield and more research into osmiridium than I probably did for the whole walk. I Hope you enjoyed the ride.
The actual walk
From Adamsfield, it was a short walk down the road before I turned off and headed across the Clear Hill Plain.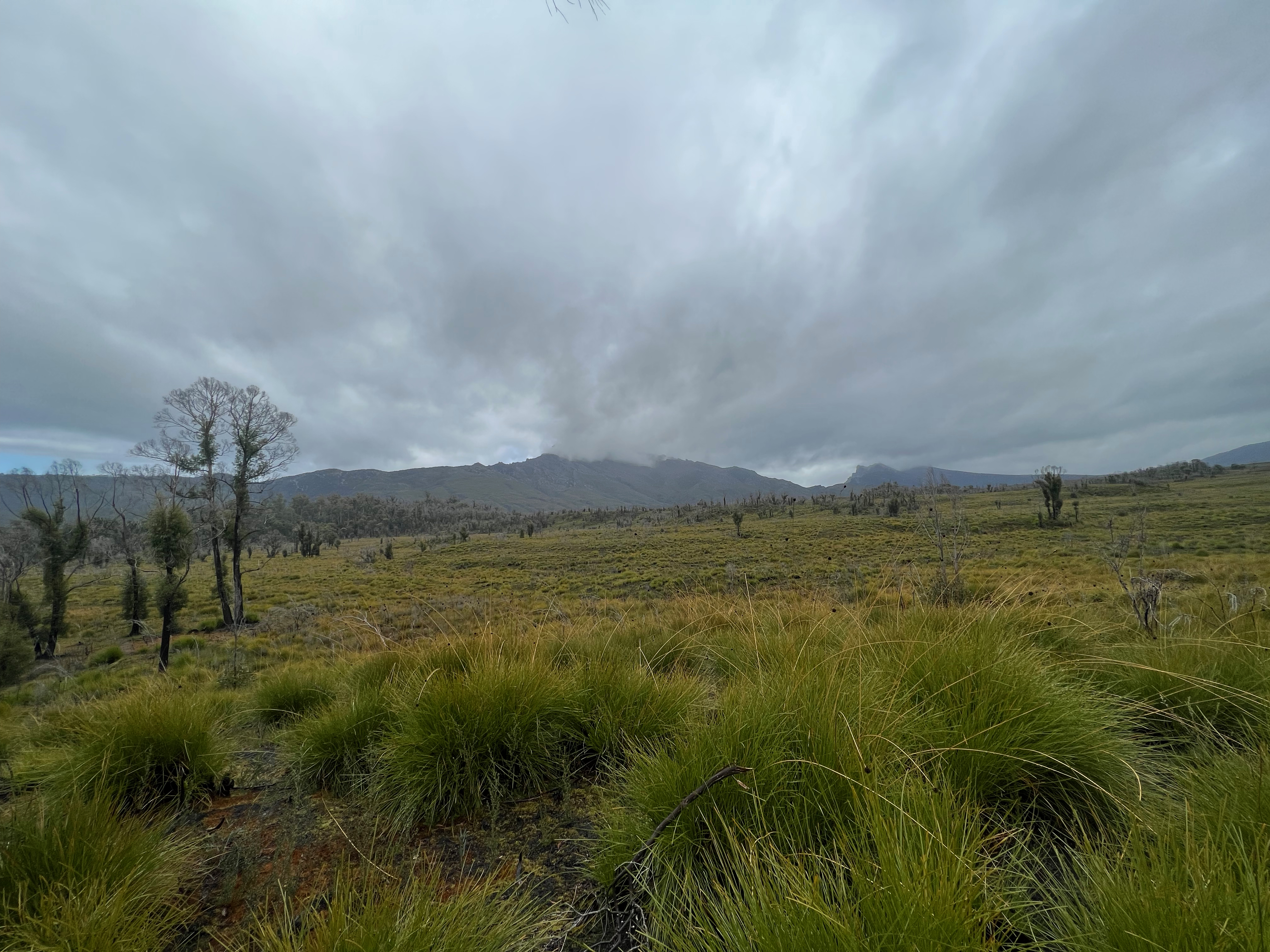 I initially hit a very scrubby section (probably in the area marked 'Swamp' on the 25,000 Tiger TasMap), but eventually I found a large fallen log and crossed over Main Creek. From there, it was a lovely and easy walk, crossing Cain Creek and finally making it to Abel Creek about an hour and a half later.
As I approached Abel Creek, I knew The Thumbs were getting closer - but sadly were covered in cloud. I hoped that they'd clear before I got there.
I left my bag on the southern steep slopes of Abel Creek, and moved quickly up the western flanks of The Thumbs.
Fire has been through this area recently, and it's now pretty easy walking.
I came across an odd looking type of rock, that I'd call Shitty Looking Concrete, but I'd later read was actually called Conglomerate.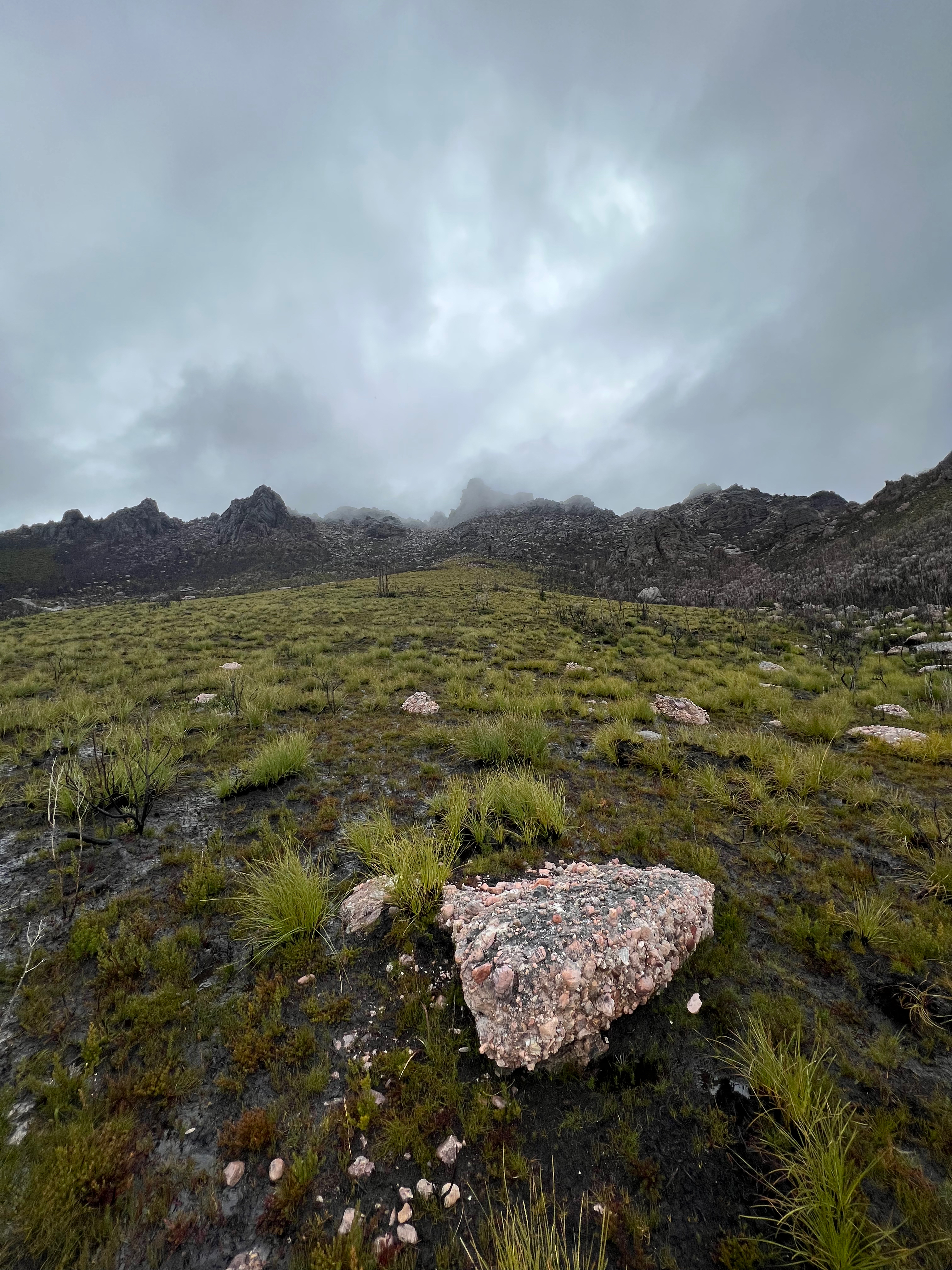 I decided to go up the right hand side, and approach The Thumbs from the back. But I misjudged a bit and ended having to scale a few ledges and boulder hop a few massive rocks before I found a way round the back.
And to make things even better, the weather was clearing!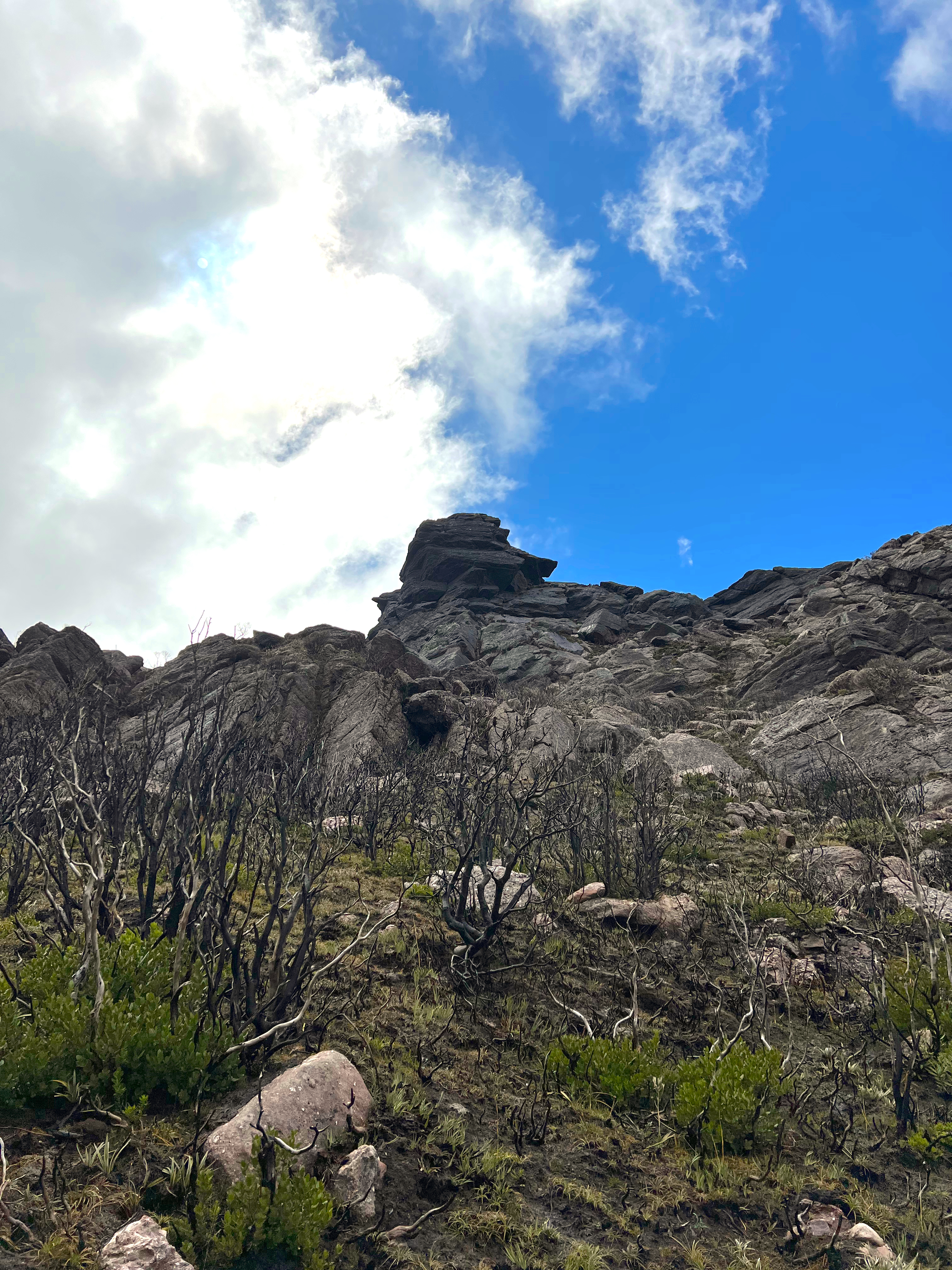 The top of The Thumbs is rather exposed, and you get there by scrambling up and over conglomerate rock to the very top. Slowly does it and I made it.
The view from the top is great.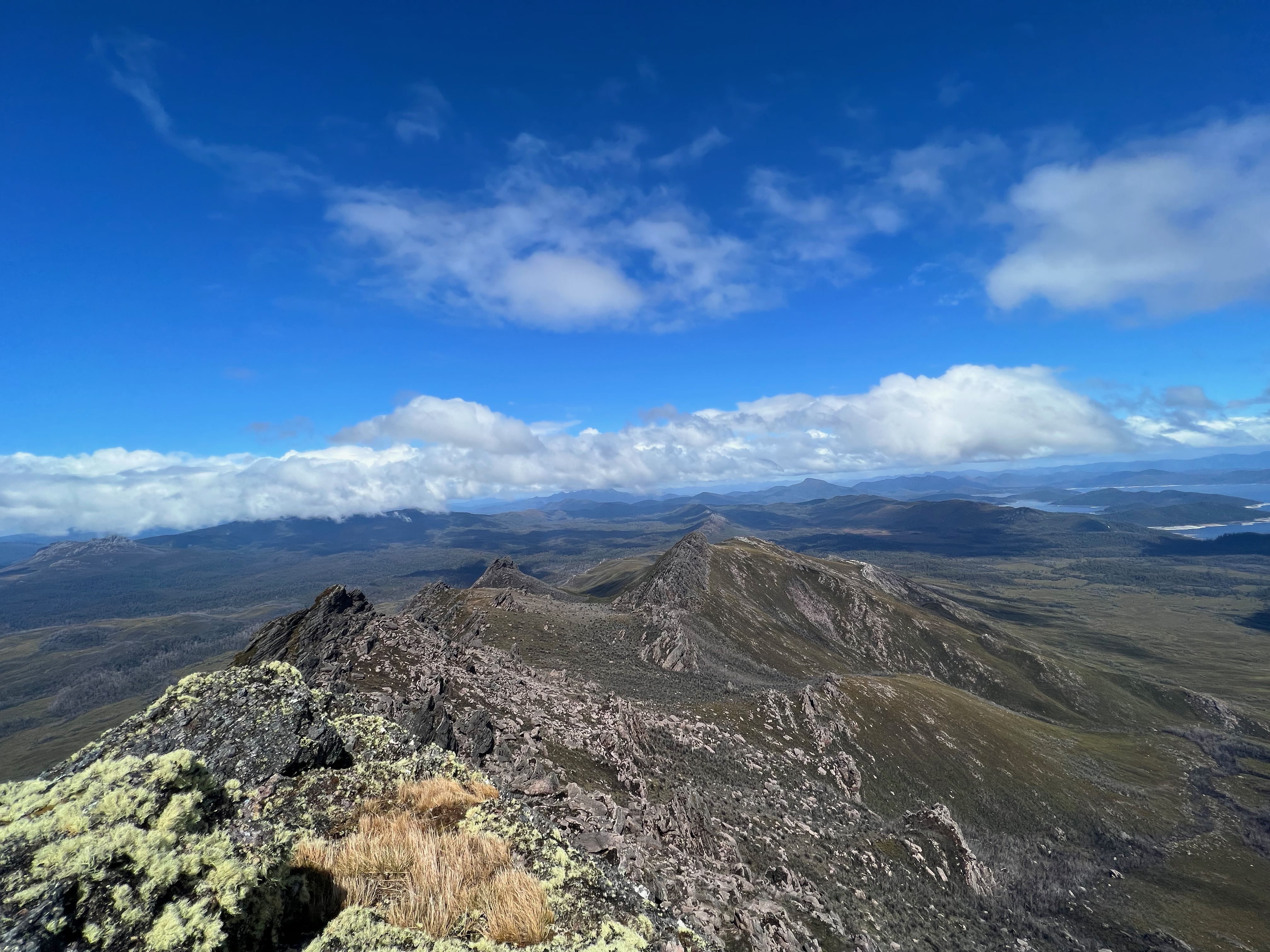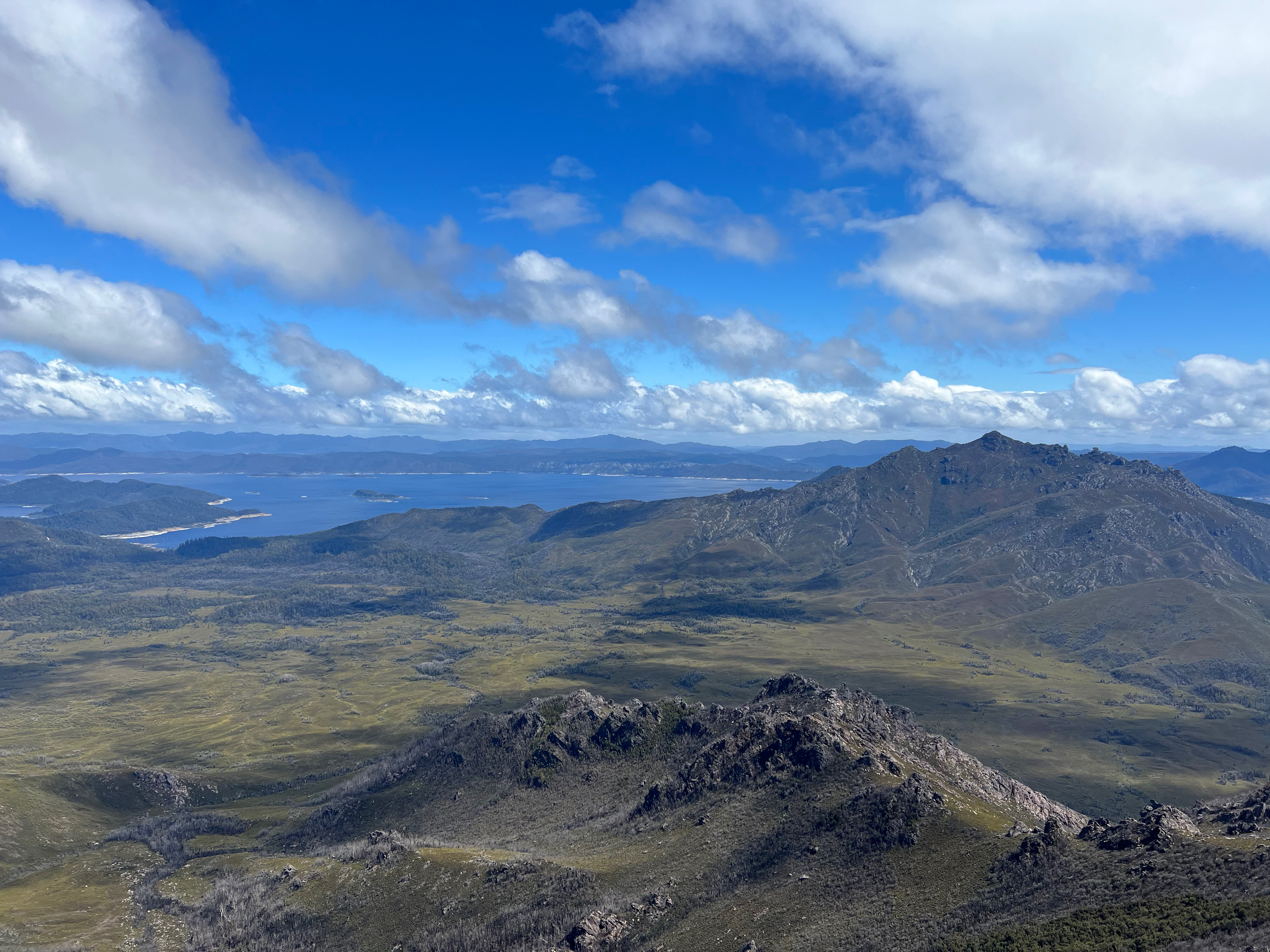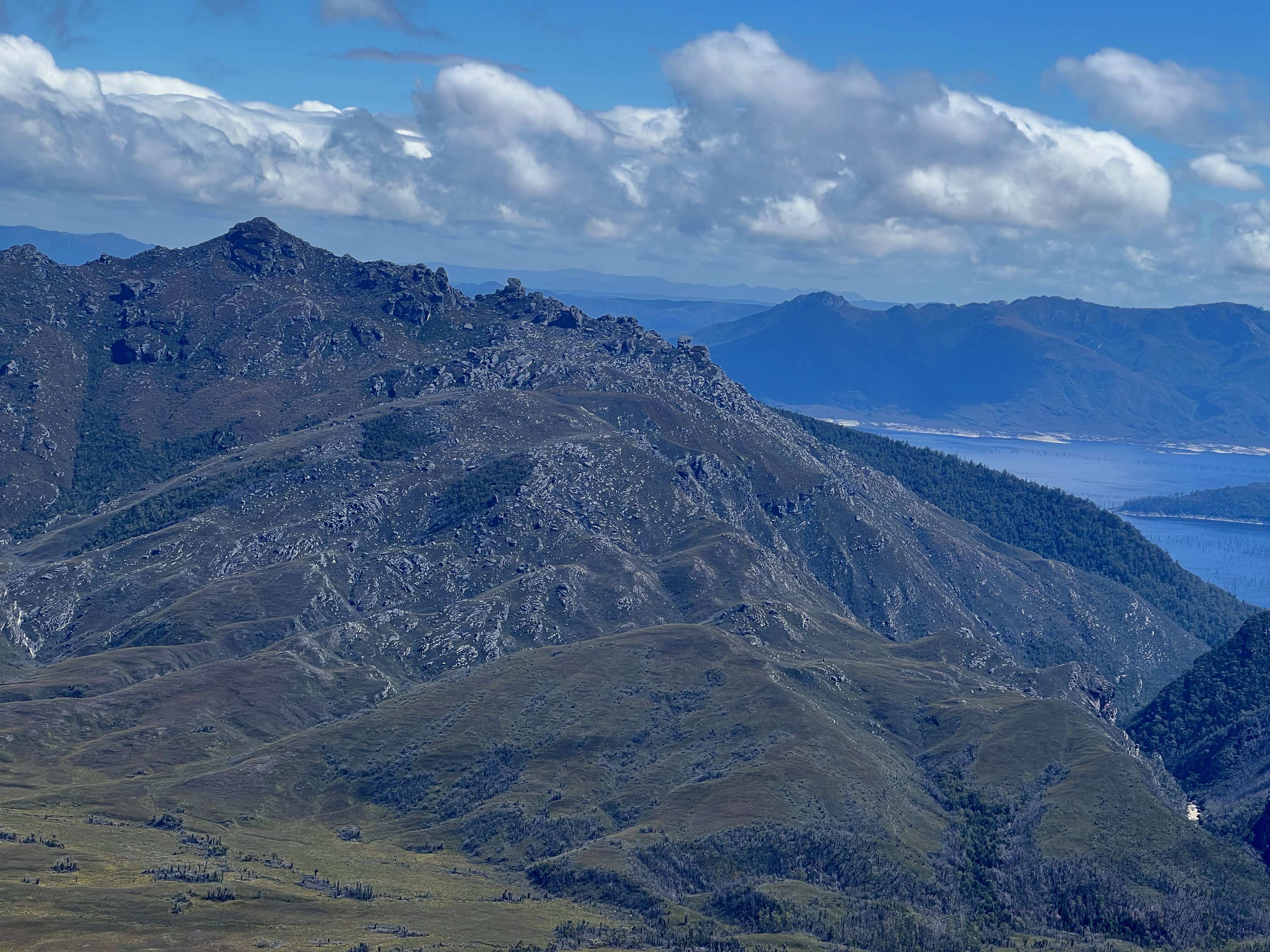 After a quick visit, it was time to go so I headed back down - this time taking the longer but easier route via the main Thumbs peak and the one to the south-east of it.
As I decended, the weather cleared even more, giving me amazing views back to where'd I'd just come from.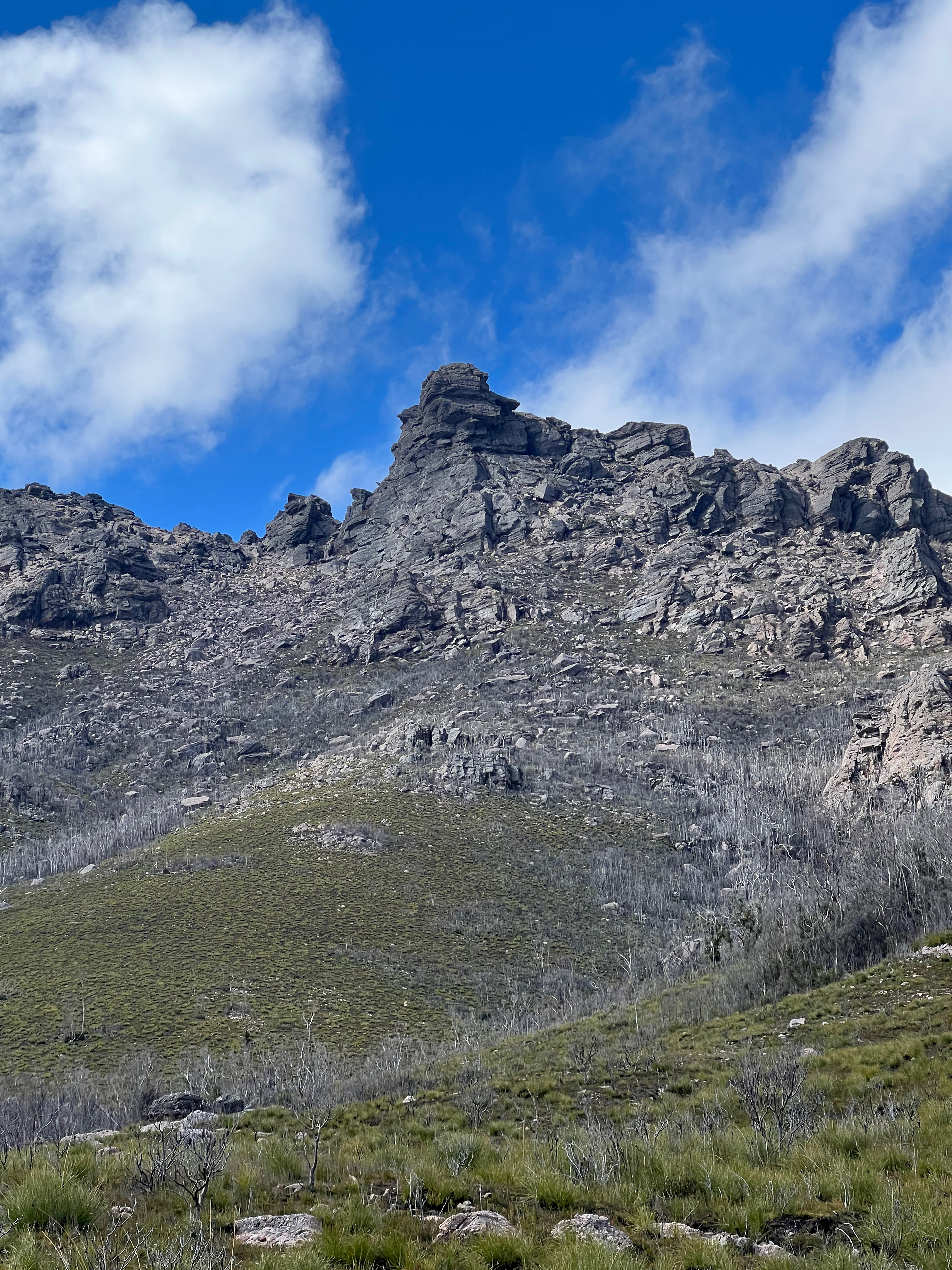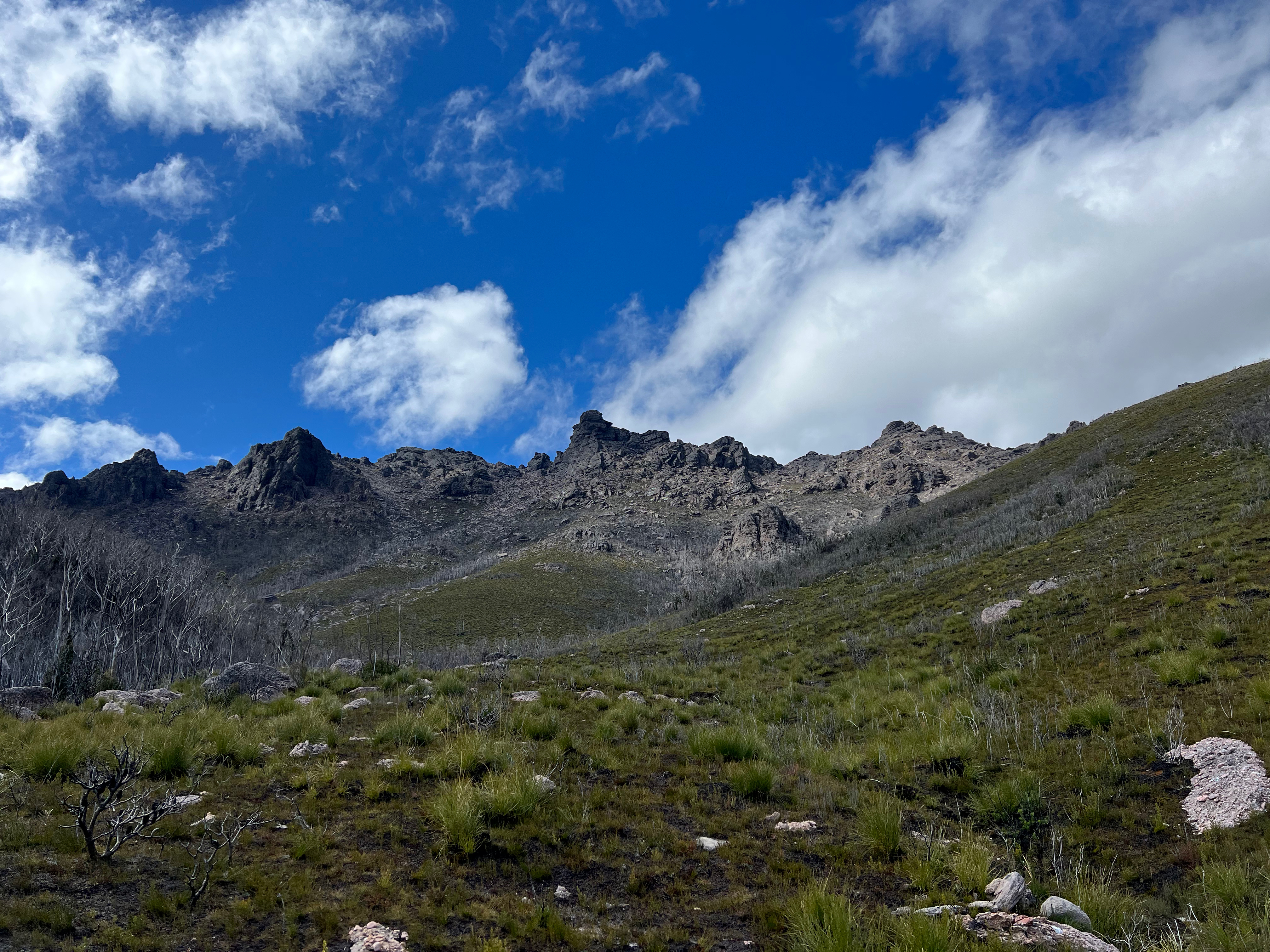 And now I faced a choice. I was originally going to camp near Abel Creek, but it was only 3pm and the weather was nice.
So I decided to head across the plain and up the side of Clear Hill. I wasn't yet sure if I'd go to the summit or not, but getting up onto the ridge seemed doable, and looked like I'd be able to find some place to put the tent.
I set off with a nice fast pace across the plain, and The Thumbs receded into the distance. I skipped the worst of the scrub and easily jumped the minor streams and creeks I came across.
About an hour and 20 minutes later, I had found a little tent spot. It had started to rain, so I set up the tent and got into it to stay dry while it passed.
20 minutes later, at around 4:45pm, the rain had stopped and I'd decided today was the day I'd attempt Clear Hill.
Problem was, I didn't know where the track was. It wasn't on any of the TasMaps I had (it is on OpenStreetMap - but I didn't have the track version with me), so I figured I'd just have to wander around until I found it.
I thought it was up on the ridge, but little did I know the track actually started a few hundred meters north of where I was. I was further south than I thought. Even further south than the track that heads up from Clear Hill Road.
I eventually stumbled upon the track and from there it was a very well marked track - tape and cairns - right to the top.
Another rain cloud came over just as I got my first view of the top, and I admit I swore when I knew I still had a fair way to go and was being lashed with wind and rain.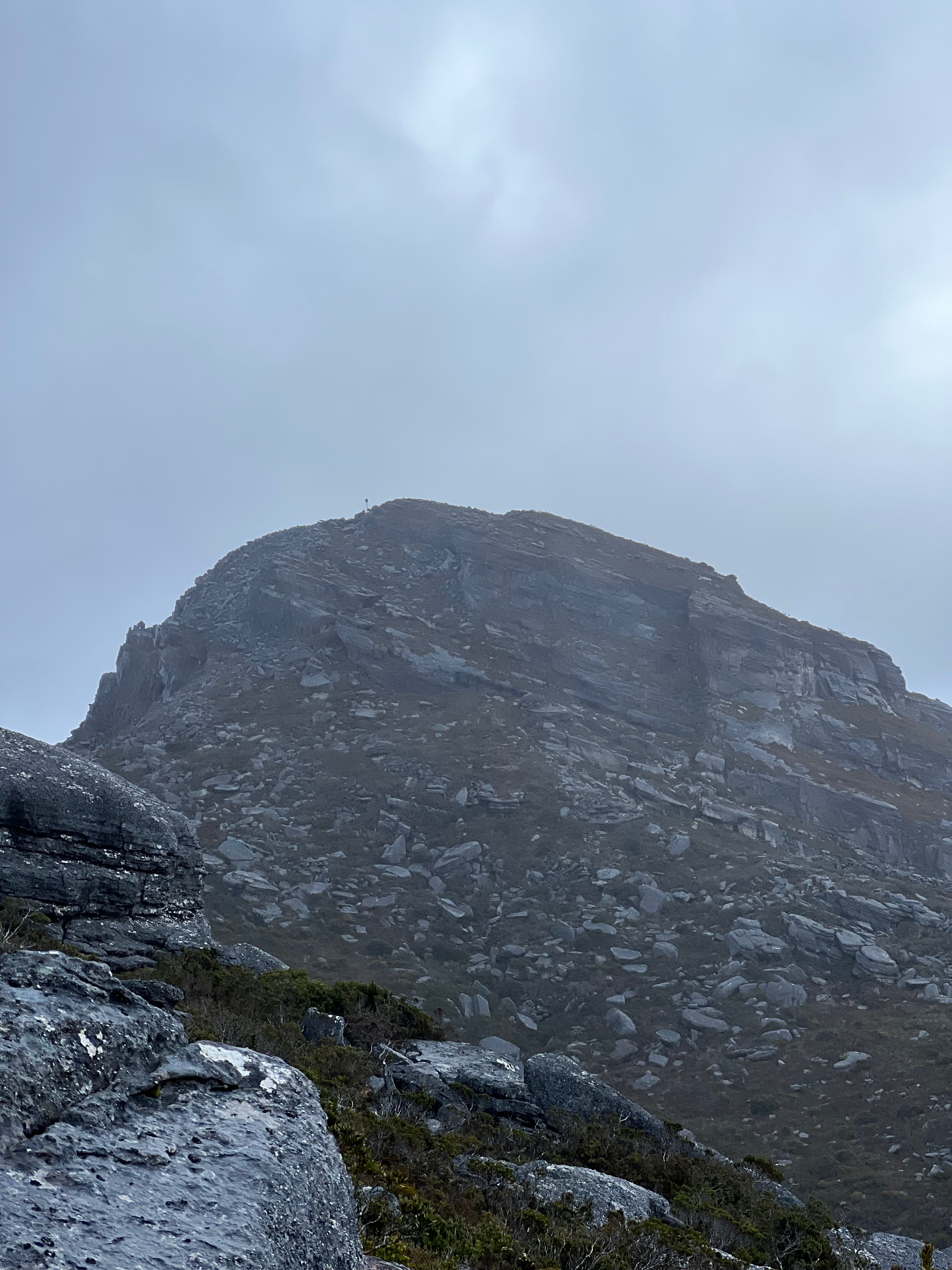 However, my self-protests were unnessessary because the worst of it cleared and before I knew it I was there!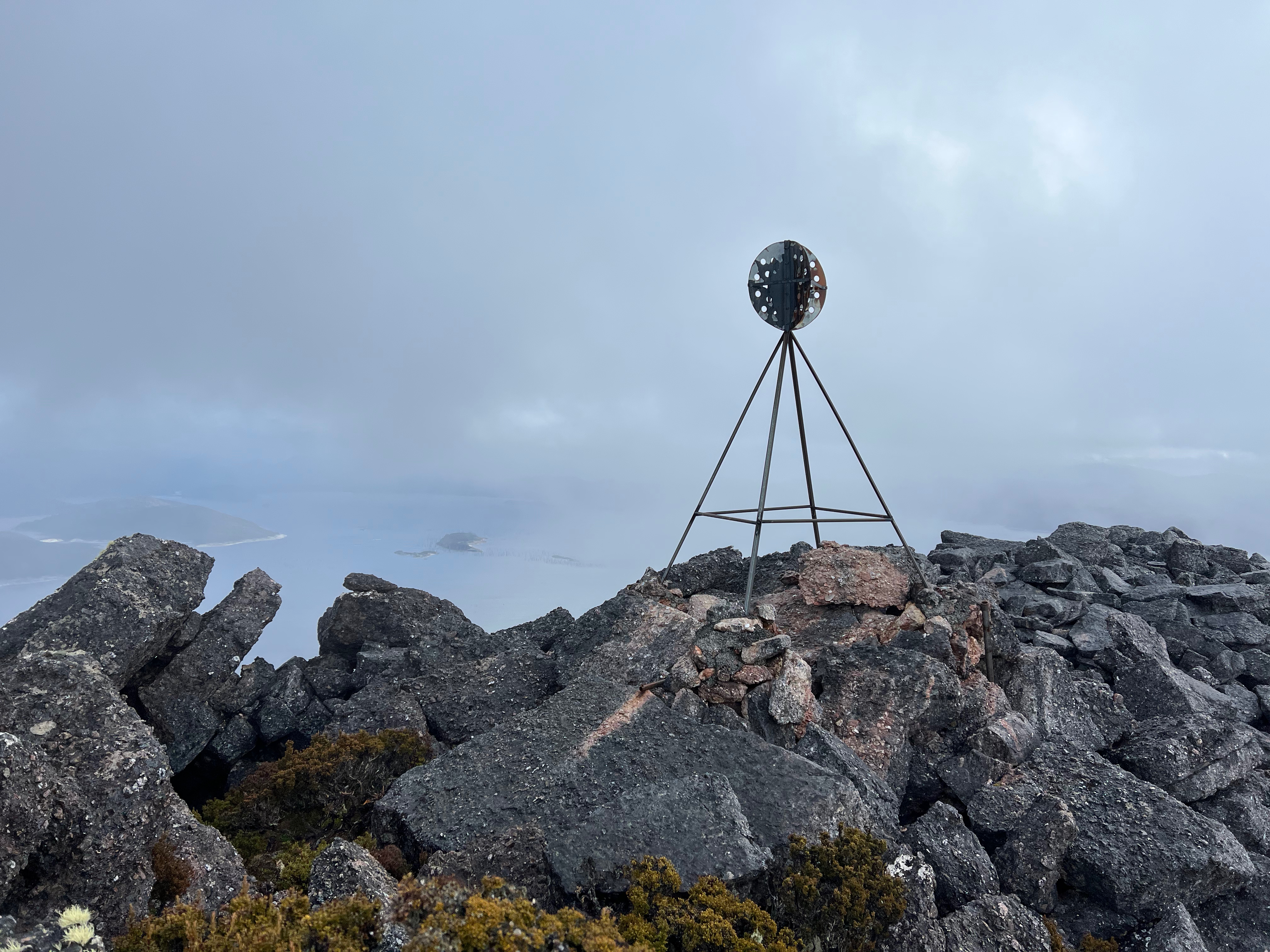 My second mountain in a day, and what a view I had! Amazing views of Lake Gordon, Stepped Hills and back to The Thumbs.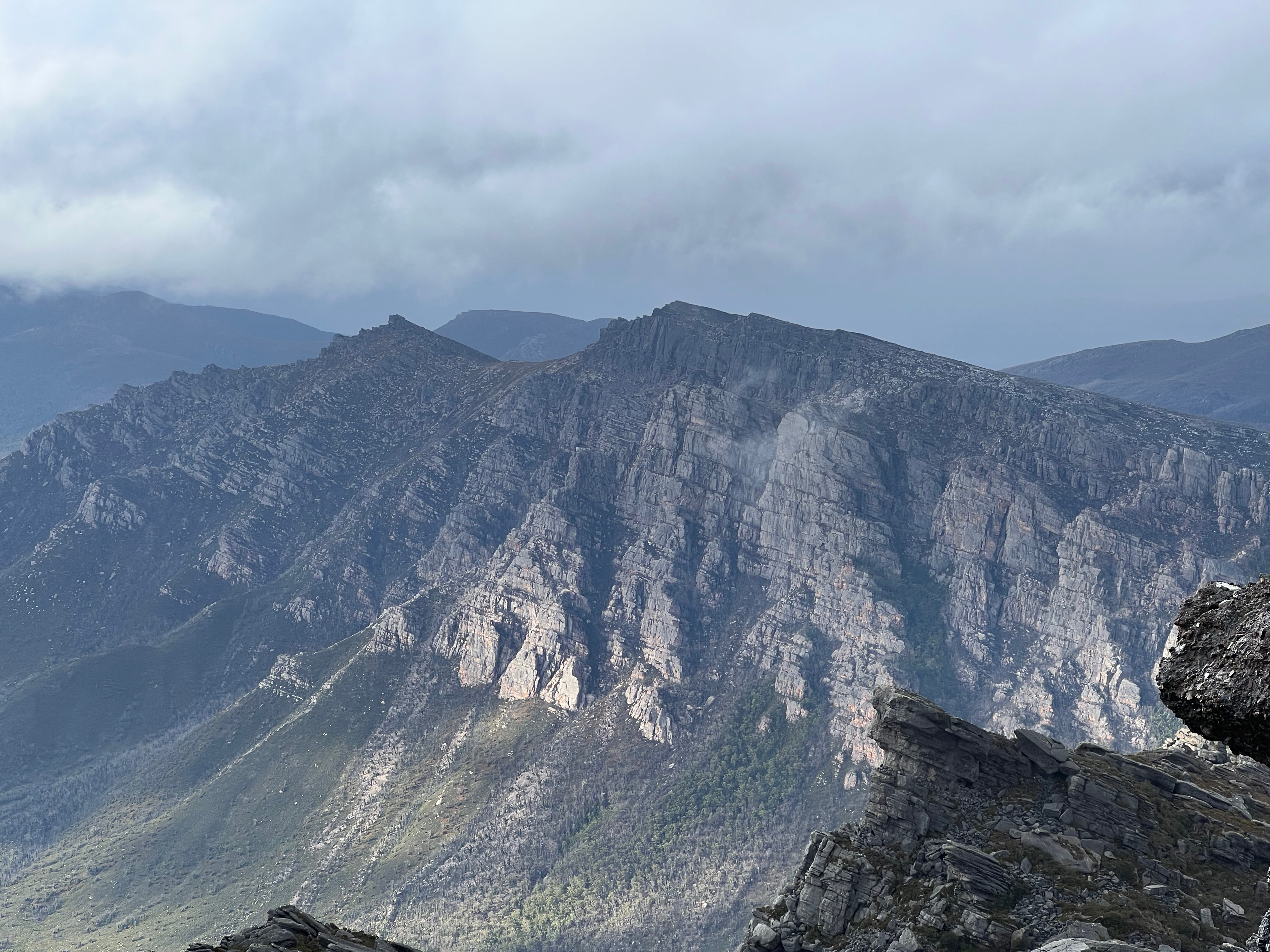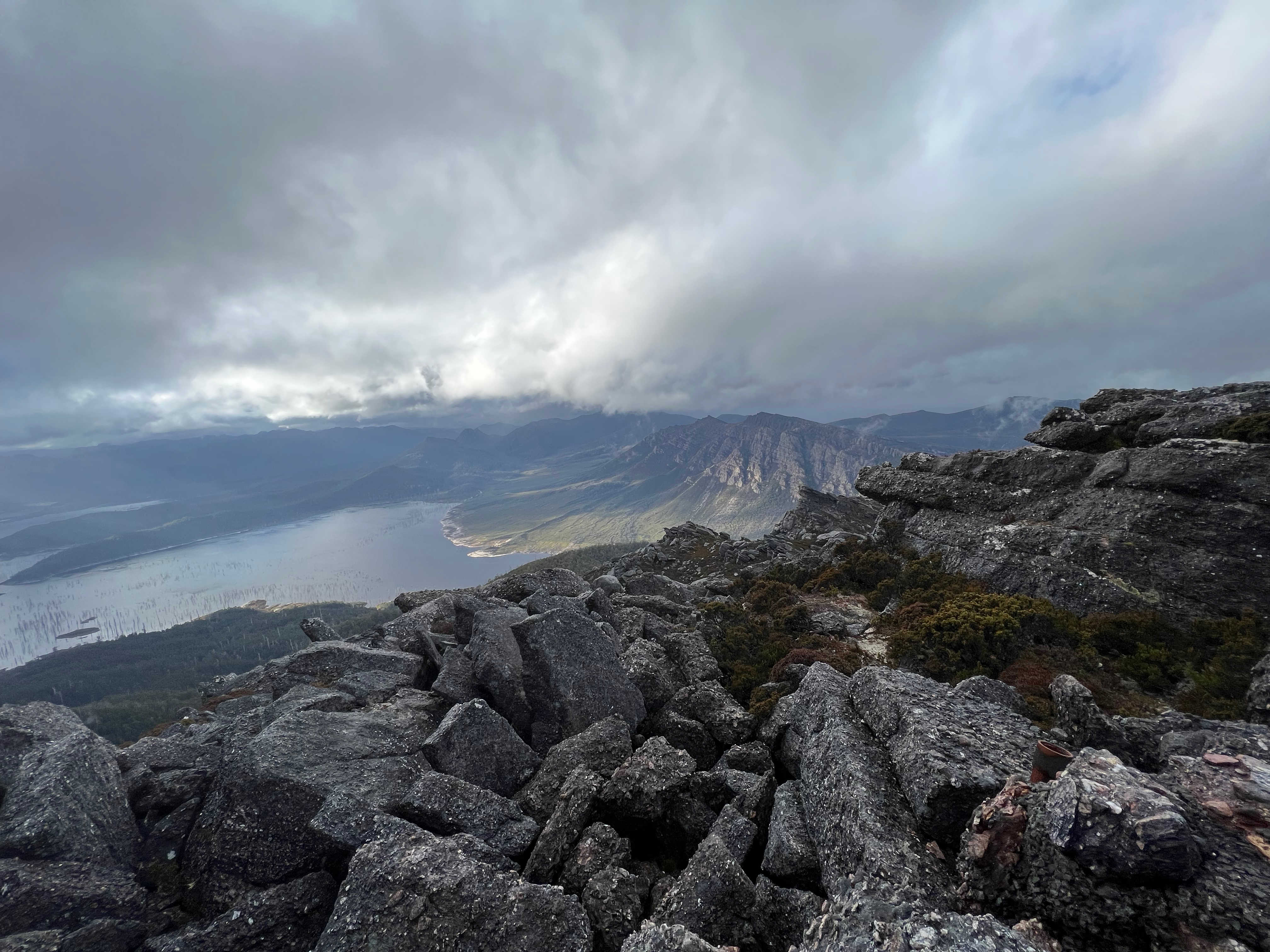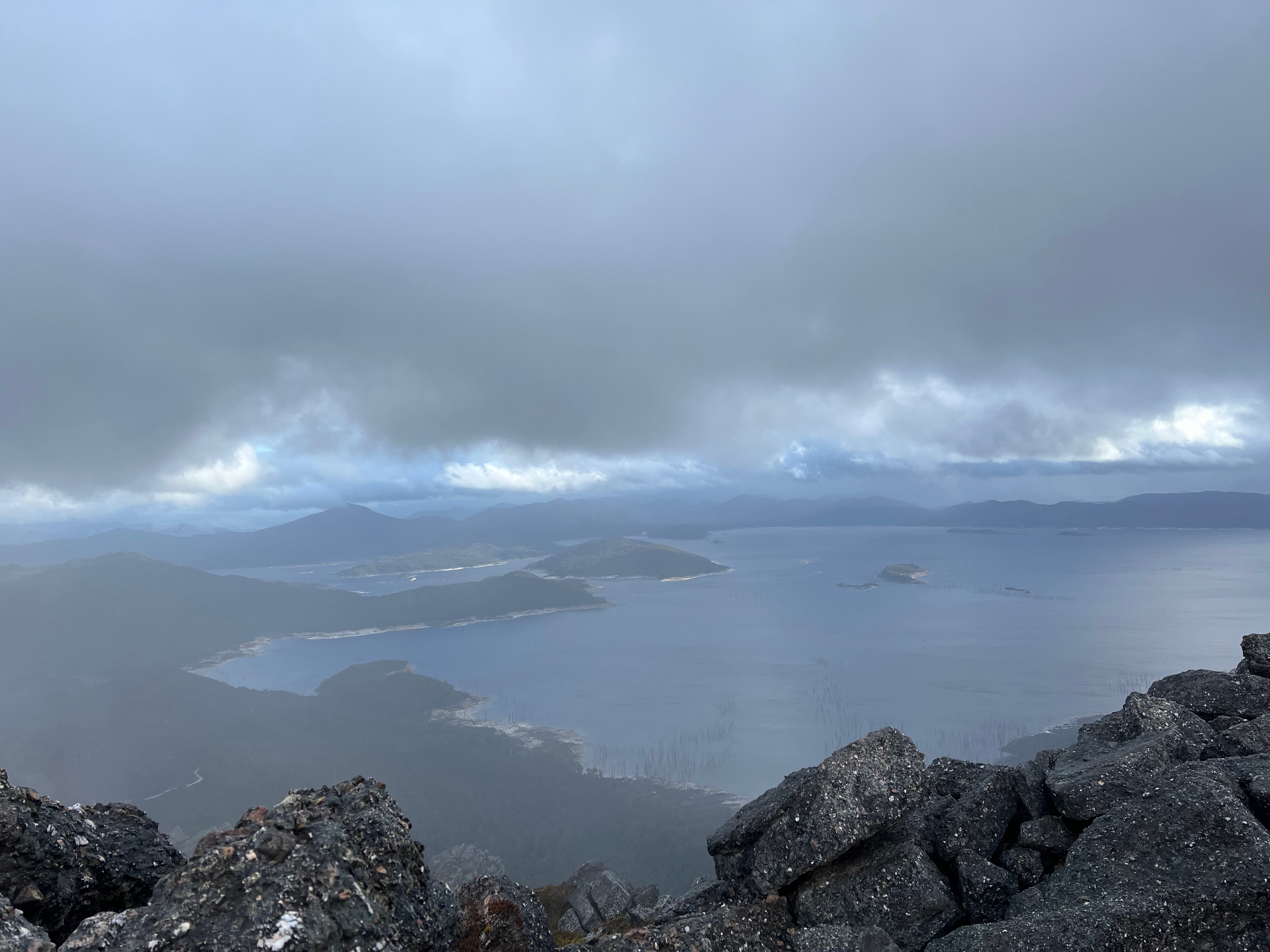 Sadly, I didn't get to spend a heap of time on the top as it was a bit windy and was getting late.
All in all, about an hour and 10 minutes to the top and about the same time down again.
After a quick dinner in the fading light, it was time to sleep.
After a rainy night, I woke to snow around 900-1000m on Clear Hill, The Thumbs, etc.
It was lucky I'd gone up the day before, as I don't think I'd have made it in the morning like I'd planned!
After packing up, I quickly found the track again, and found myself decending steeply towards Clear Hill Road.
After a wet (and now snowing) 10-15 minutes (though it felt longer) I made it back to road!
For anyone going up the track, don't worry about finding where it starts. It's much more obvious than you'd think.
Then I turned, and walked back to the car near Adamsfield.
Trip Map
All up, the walk was 29.5km. Total elevation gain over the first day was about 1950 meters.
Second day was basically all down hill.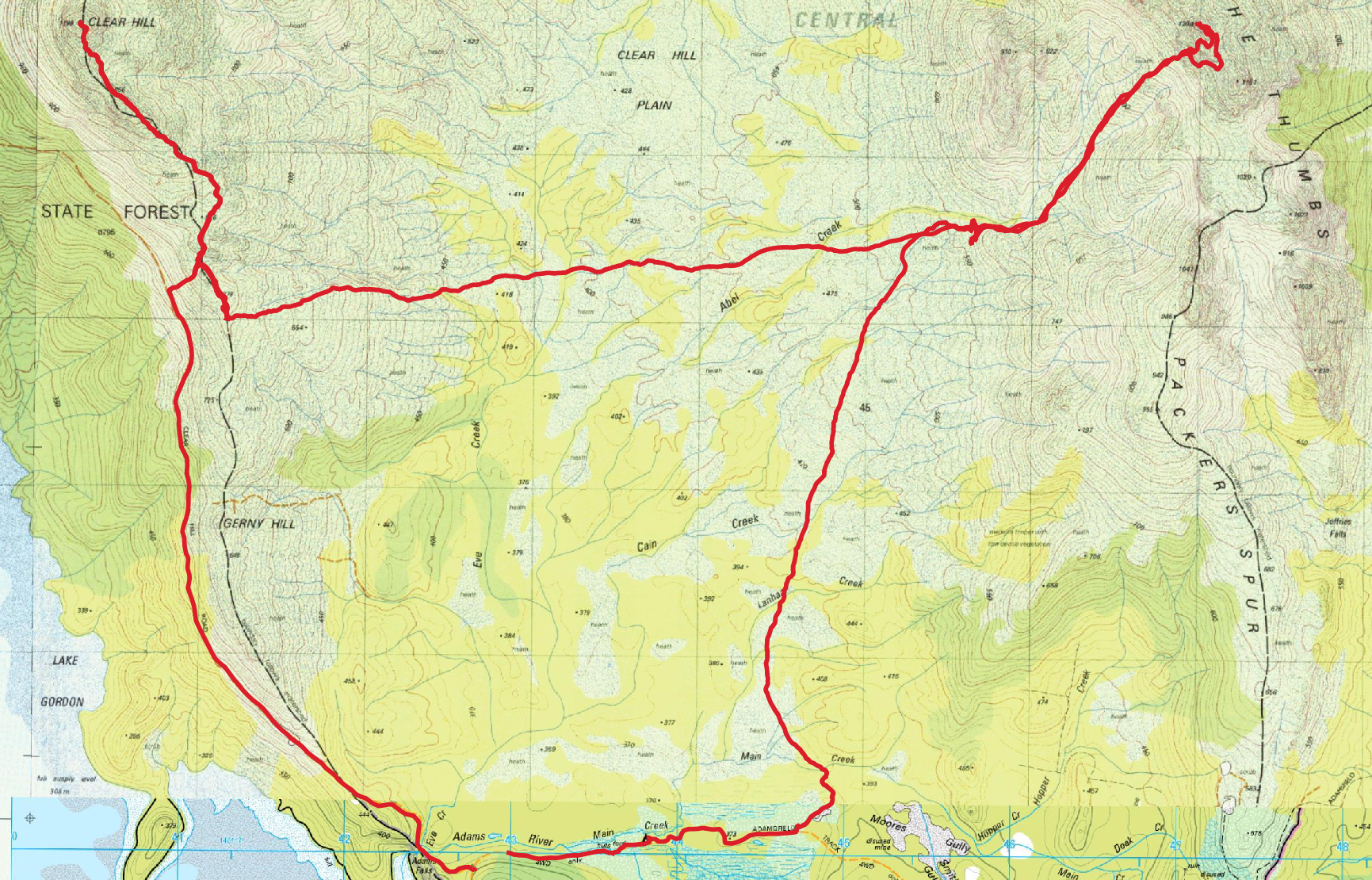 ---
Comments
---