"So to put this in perspective, we've got to do what we just did… all over again?"
Dash's quip amused me. We had been walking a couple of hours up the Bon Accord Spur. It was hot, and we were sweating more than a Finn in a sauna. What's worse was we had another 600m to go - upwards.
We had set off from Harrietville at about 8:20am, after I'd picked up a coffee at the general store and failed to find much else open. After driving around the town a bit, we decided to park at the entrance/exit to the other spur track that leaves from town - the Bungalow Spur.
From there, we walked the 1km or so through the town to the start of the Bon Accord Spur. Signed the book, and off we went.
We had decided to walk the Bon Accord Spur and the Razorback on the first day, and staying the night at Federation Hut. We planned to walk down Bungalow the next day. We knew it was going to be a big walk on day 1, but hadn't really realised that there was a lot of uphill to go.
The first 5km was easy. It's only about 170m rise. We came across a small campsite at the 5km mark. It's right near a river and would be a great place to spend the night.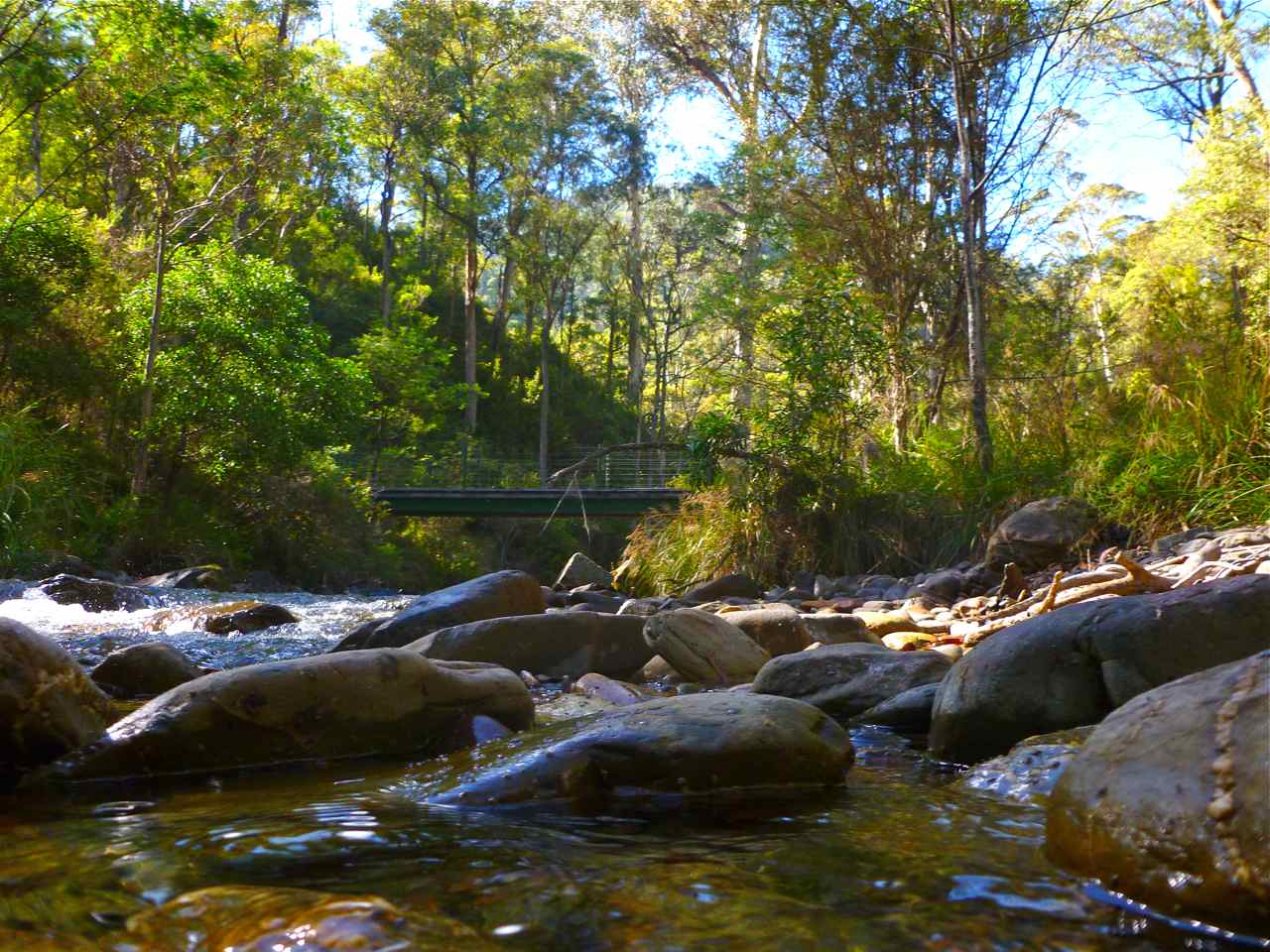 It's not a huge campsite (probably room for 2 or maybe 3 tents max), and it was also the last place we could pick up water until Federation Hut.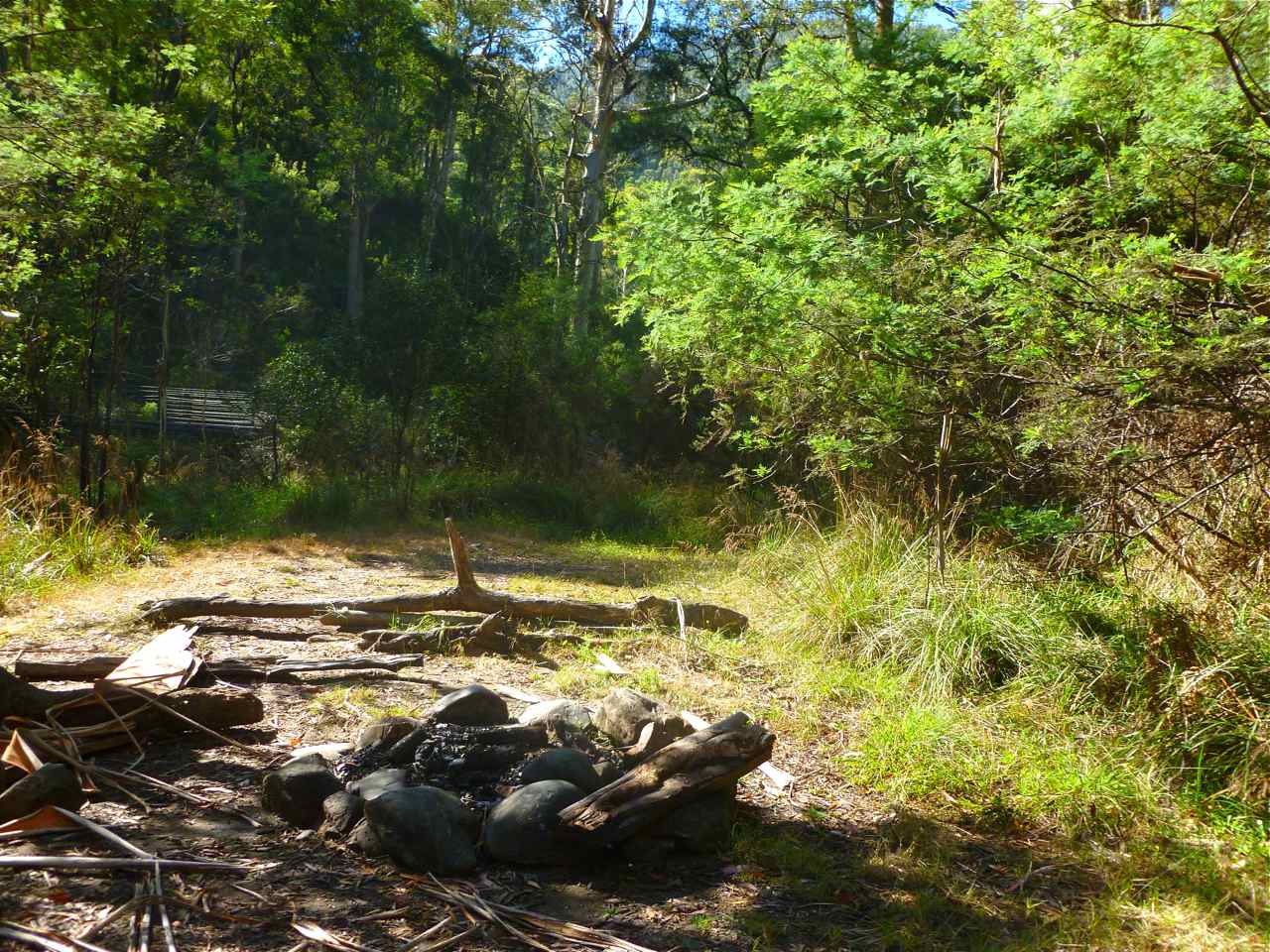 We had a quick break, before we set off on the next leg of the journey. We knew it was going to be tough, and tough it was. Over the next 3km, there's a 650m uphill walk. It was getting hot by this time (the weather was hotter than forecast) and we were both sweating heavily. We started to wonder if we'd run out of the 1.5 litres of water we had with us (we did run out a bit later on while walking along the Razorback).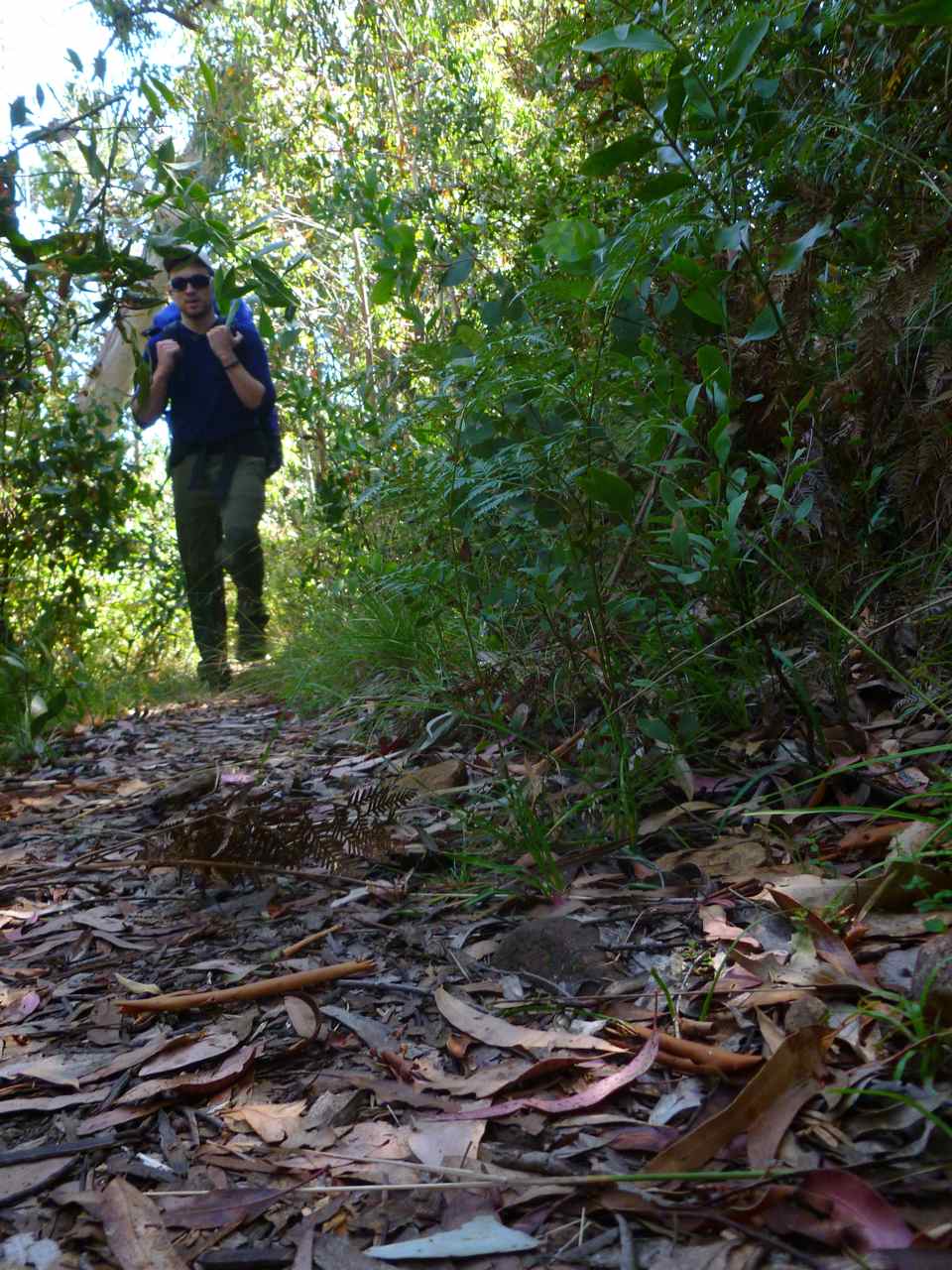 Eventually though, we slogged it up Bon Accord Hill to about 1278m before it levelled off again for 1.5km.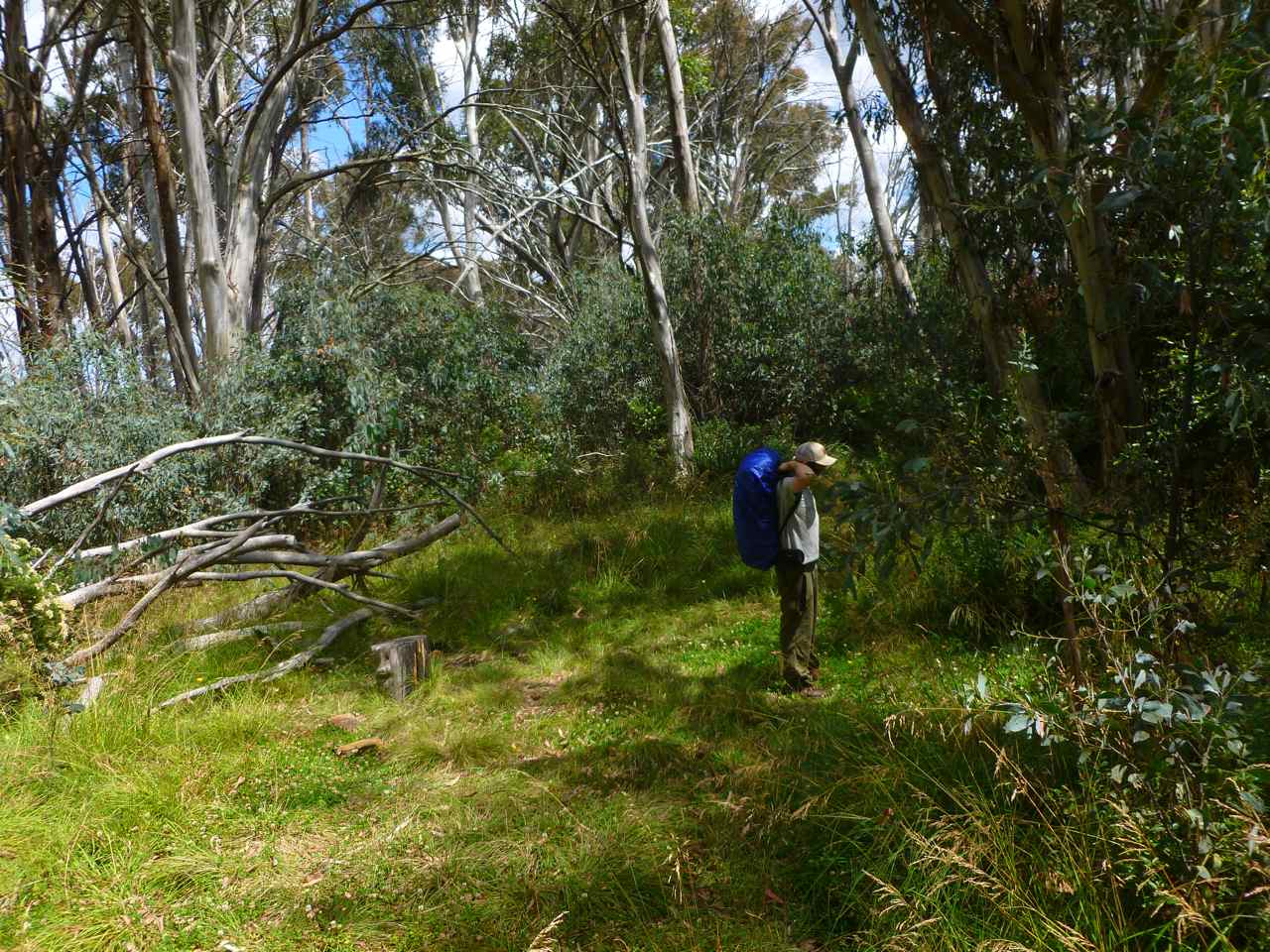 There was no immediately obvious water supply though, so you'd need your own supply. We were wondering if we'd missed the old Bon Accord ruins that were on the map. After a quick sit down, we started walking again and in 200m came across the ruins we thought we'd missed. After a few photos and a few deep breaths we started the next long climb of the walk.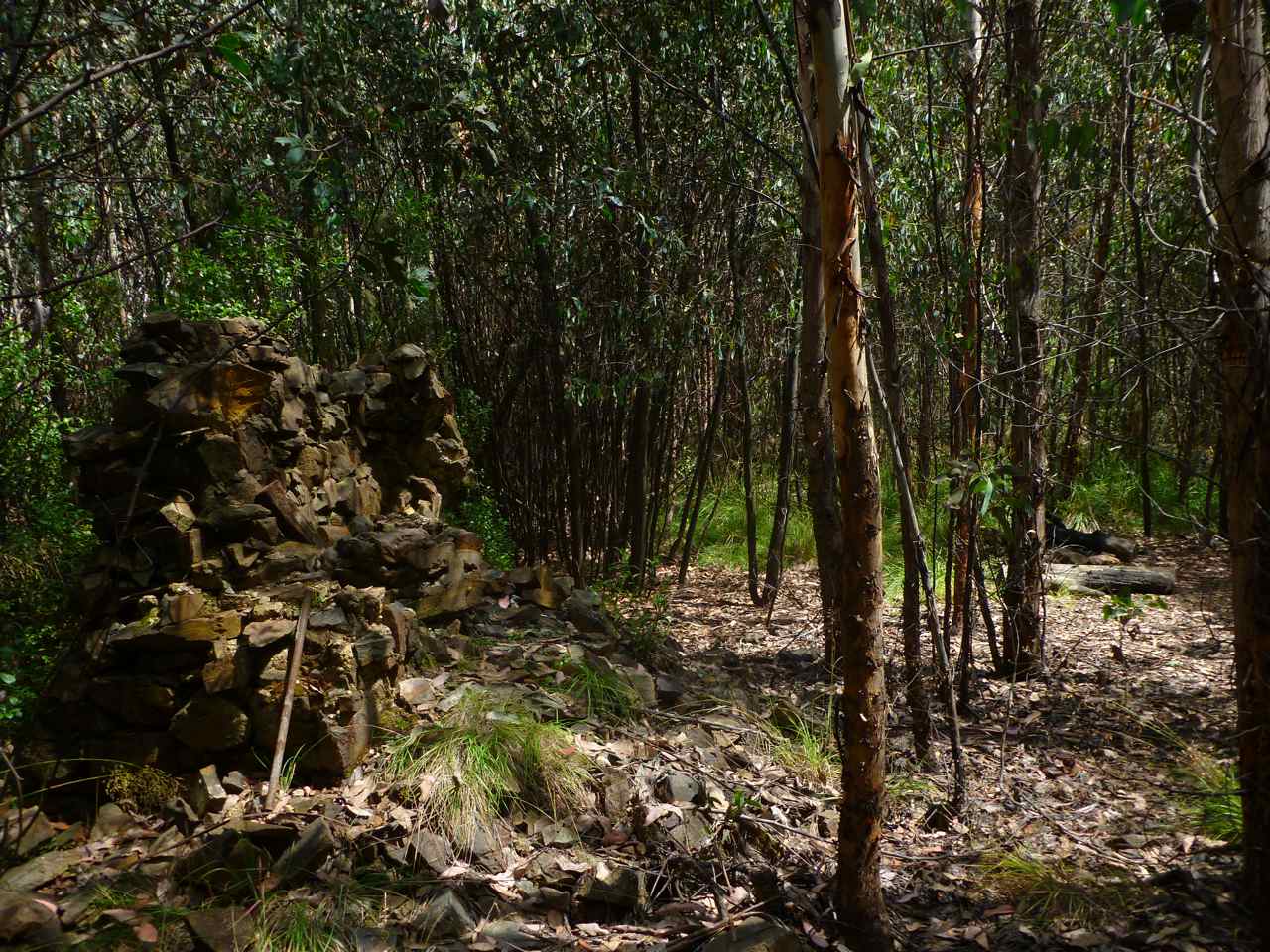 From the ruins to the Razorback/Bon Accord junction, it's about a 480m altitude gain. One foot after another. One step, then another step. It was warm and we were slow going. As we gained altitude, the plants started thinning out until they disappears completely.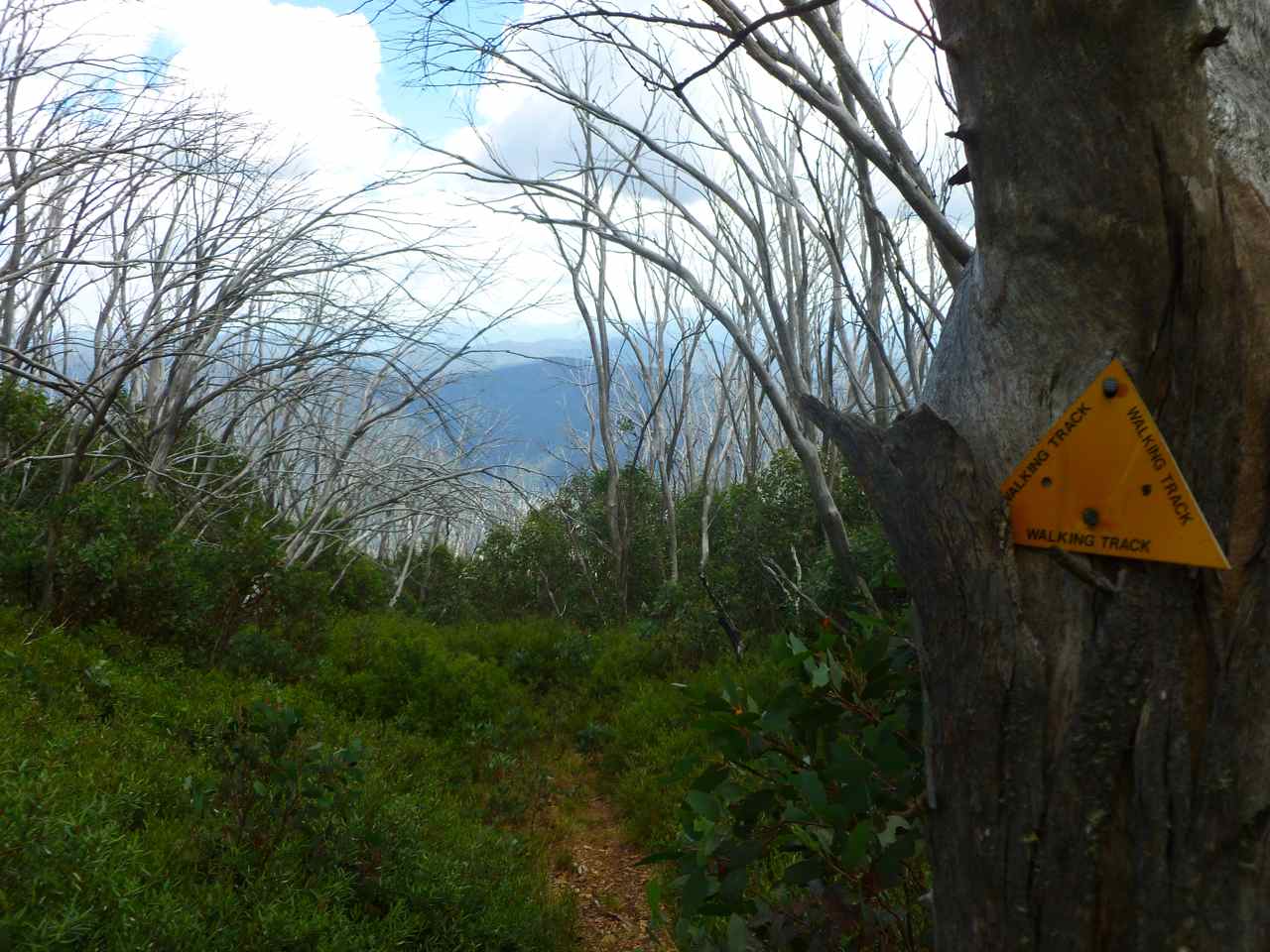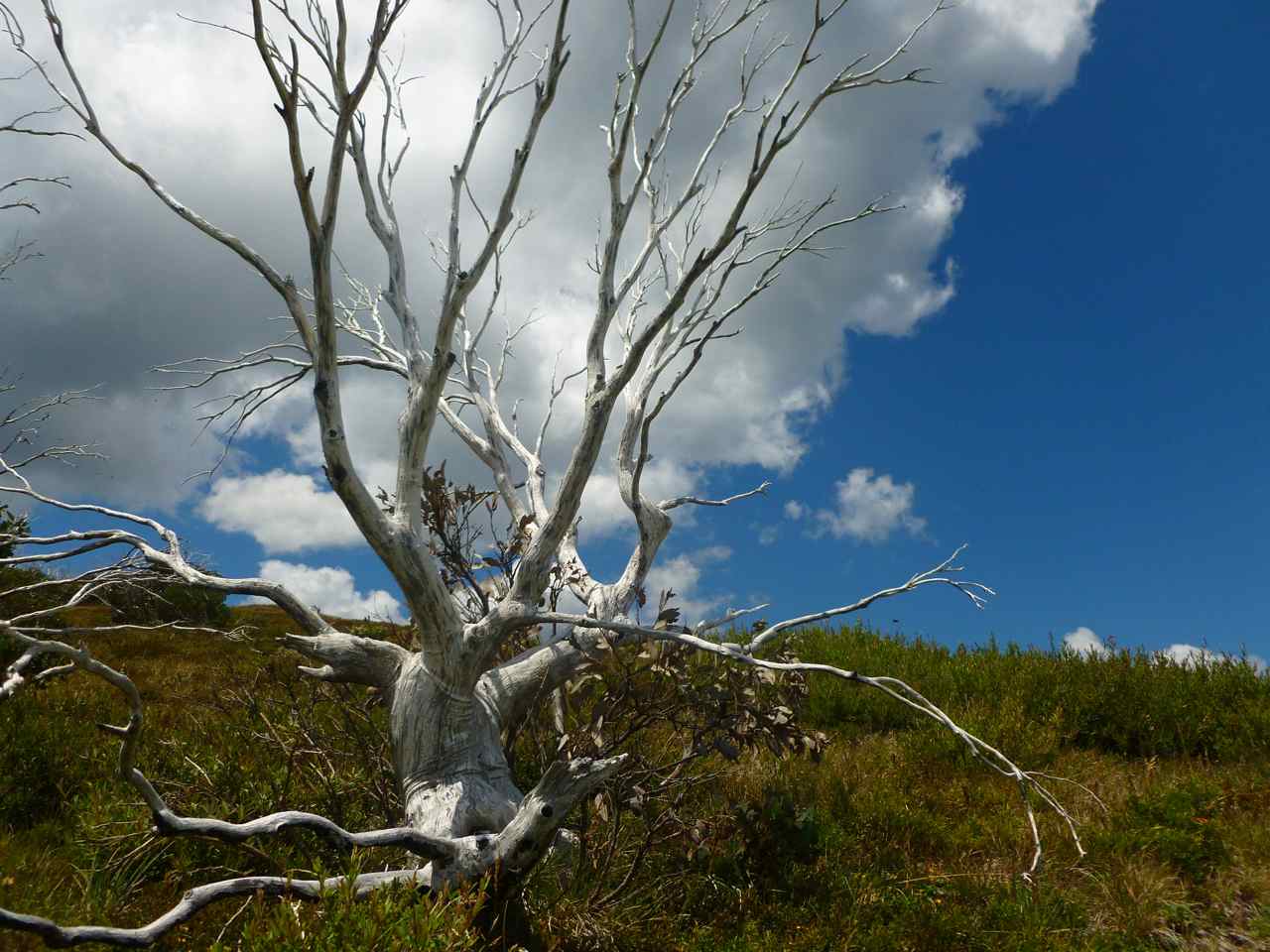 Finally we made it to the Razorback/Bon Accord junction. We sat down and had lunch. It was delicious.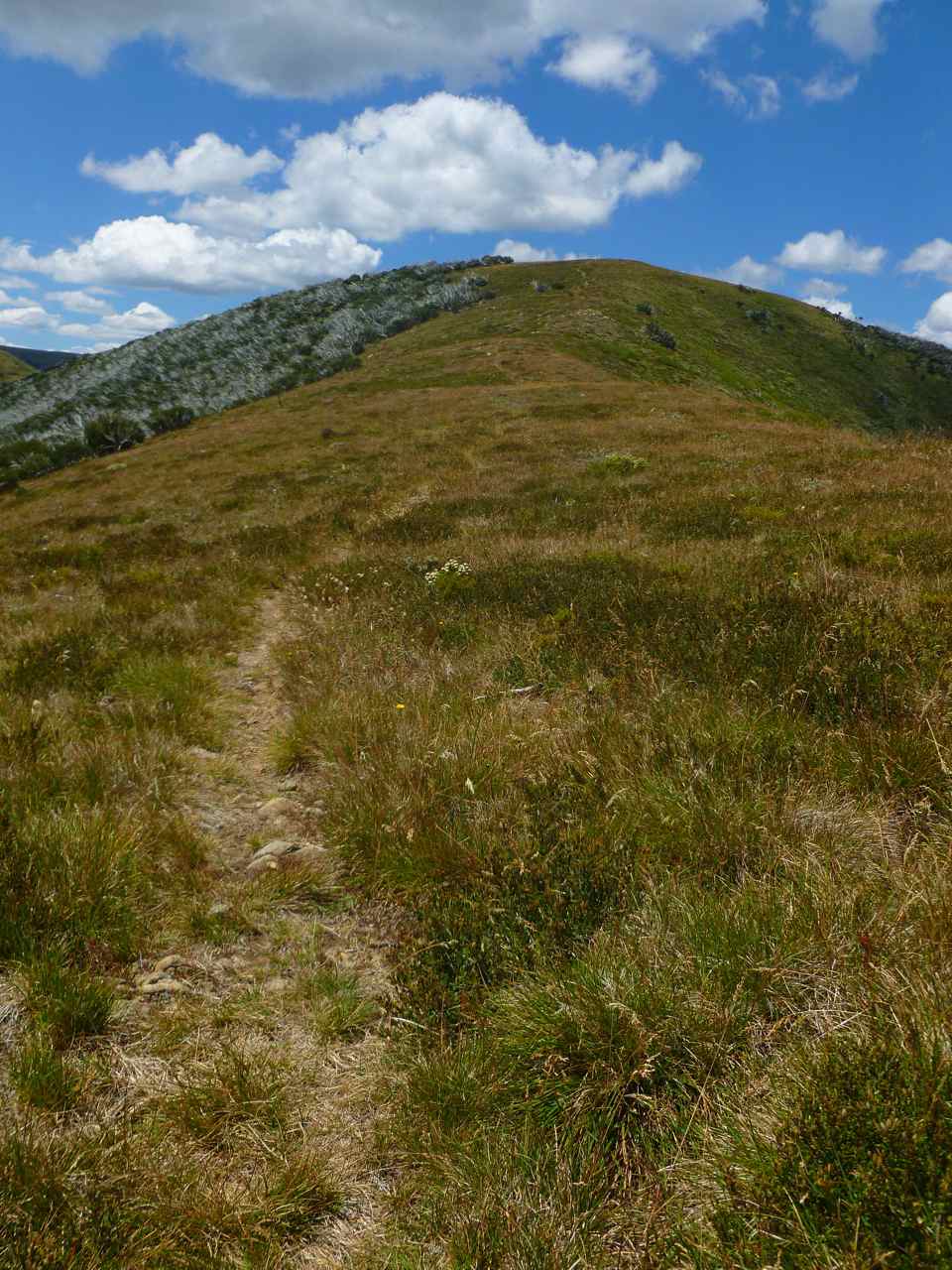 It was about 1:30pm by this point. We'd walked up about 1250 meters and it'd taken about 5 hours. Now, the Razorback was ahead.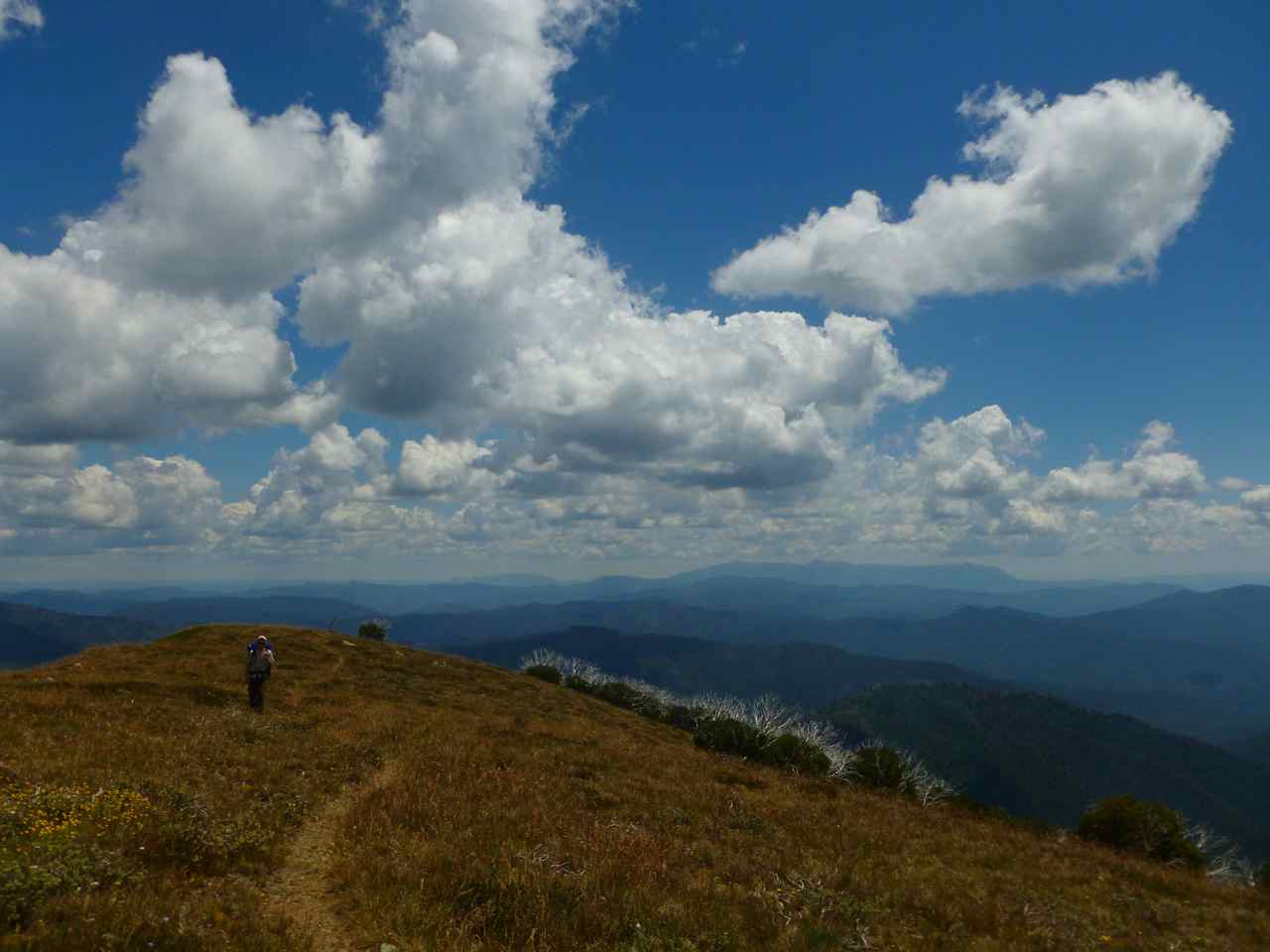 The Razorback is obviously much flatter and - at least on the day we were walking - much easier. We came across several people we were doing the journey to Mount Feathertop and back in a day. There's a possible camping spot in the middle of the Razorback, but again no place to get water. It wasn't on our map (I guess because it's not really a camping spot), but I suppose you could use it if you were desperate.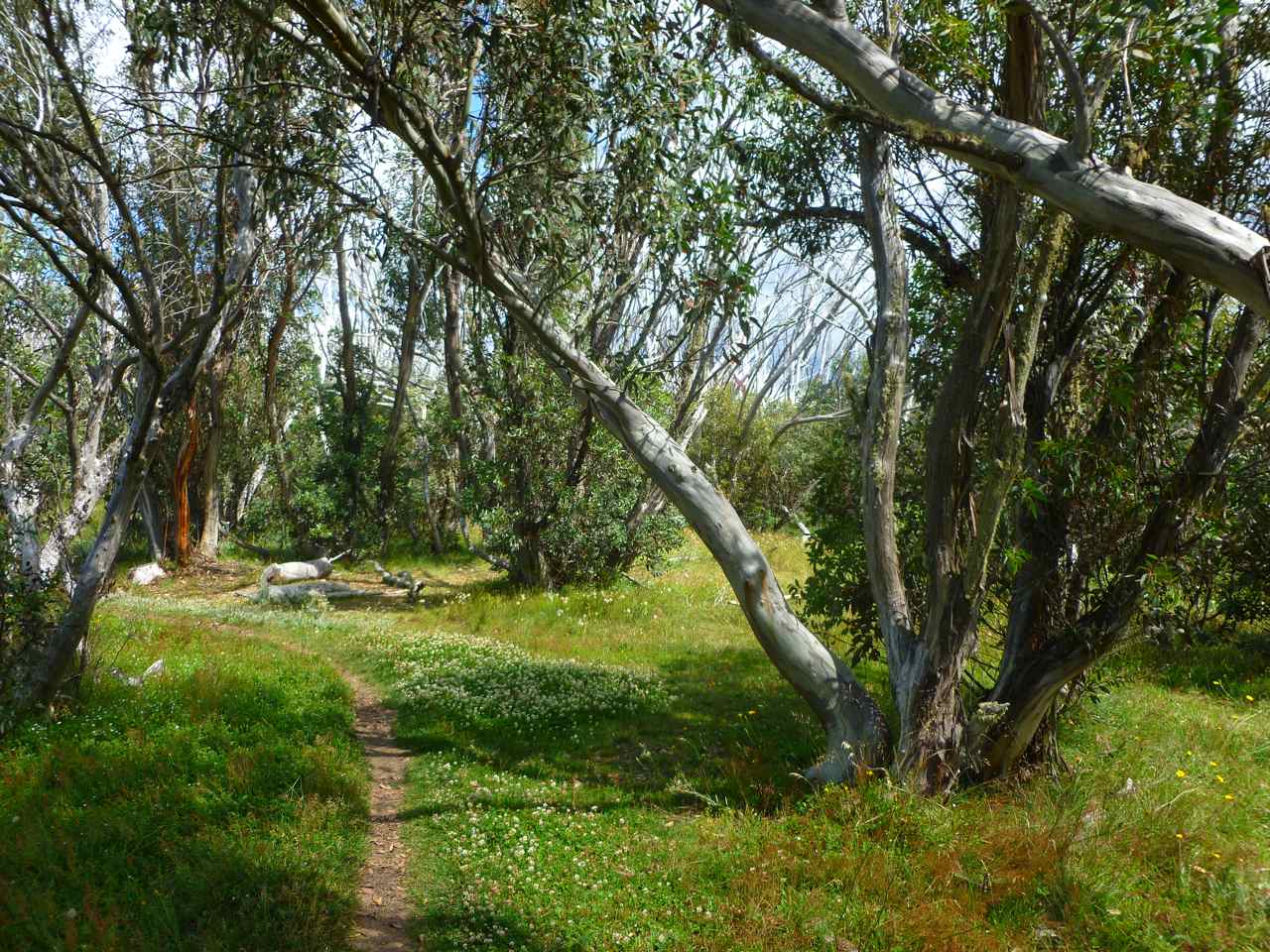 The Razorback took us about three and a half or so hours to get along. The site of Federation Hut was very welcome and we were much happier when we saw it. We could also fill up our water bottles (I ran out of water about 2 km away). I had a lot to drink. The 21.5km of Bon Accord Spur + Razorback (and about 1250m altitude rise) was pretty hard work.
It was a beautiful afternoon/evening at Federation Hut. The sun was shining and it wasn't windy at all. Dinner was delicious, and we were both in bed by 9:30pm. I slept well.
Next day, bounded up Mount Feathertop. Few quick photos before heading back down again. Windy at the peak, but not cold.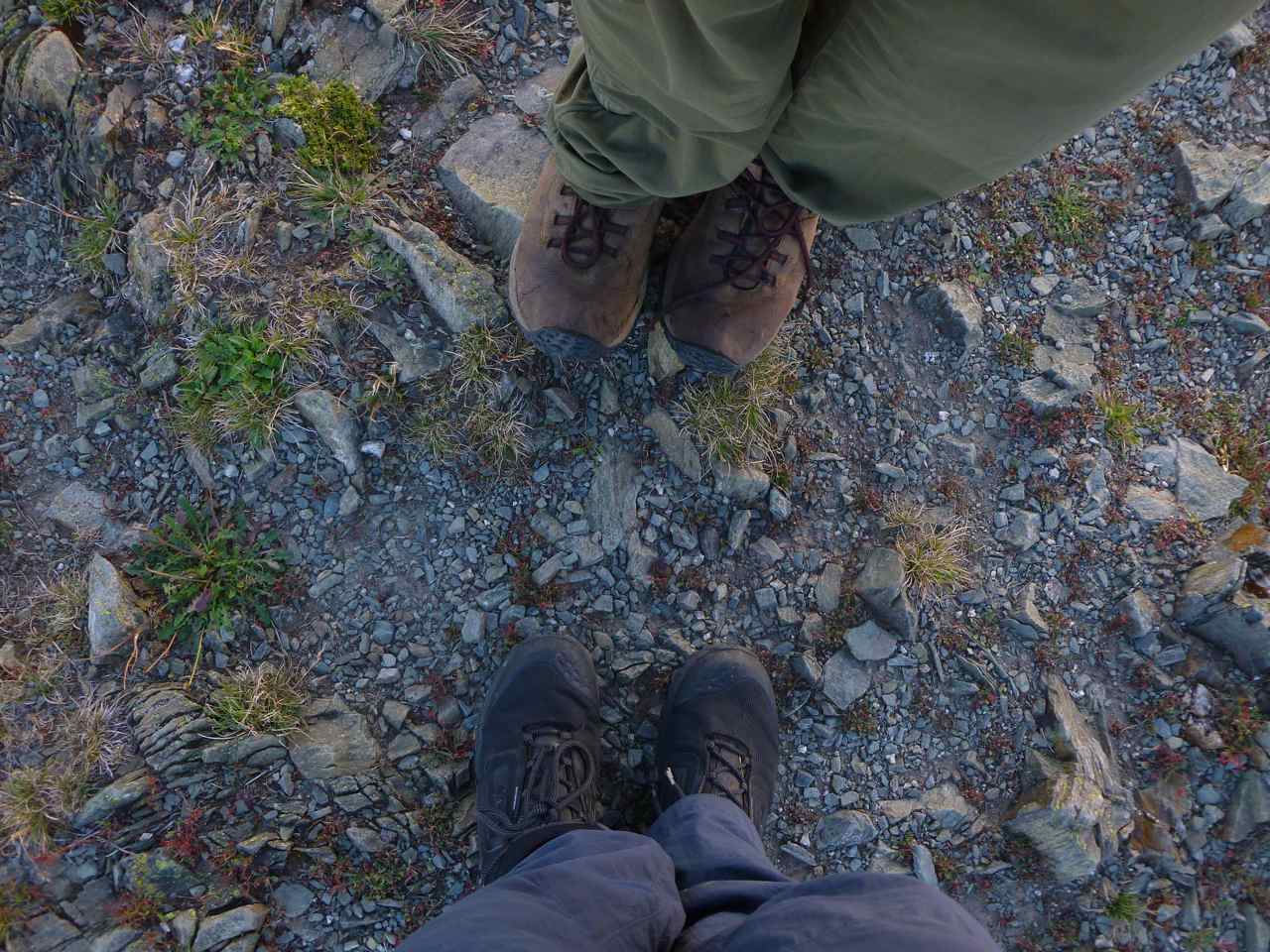 Packed up pretty slowly at Federation Hut (we were the last to leave), and just as we left a few runners turned up. They'd run the Bungalow Spur in 2 hours and 2 minutes.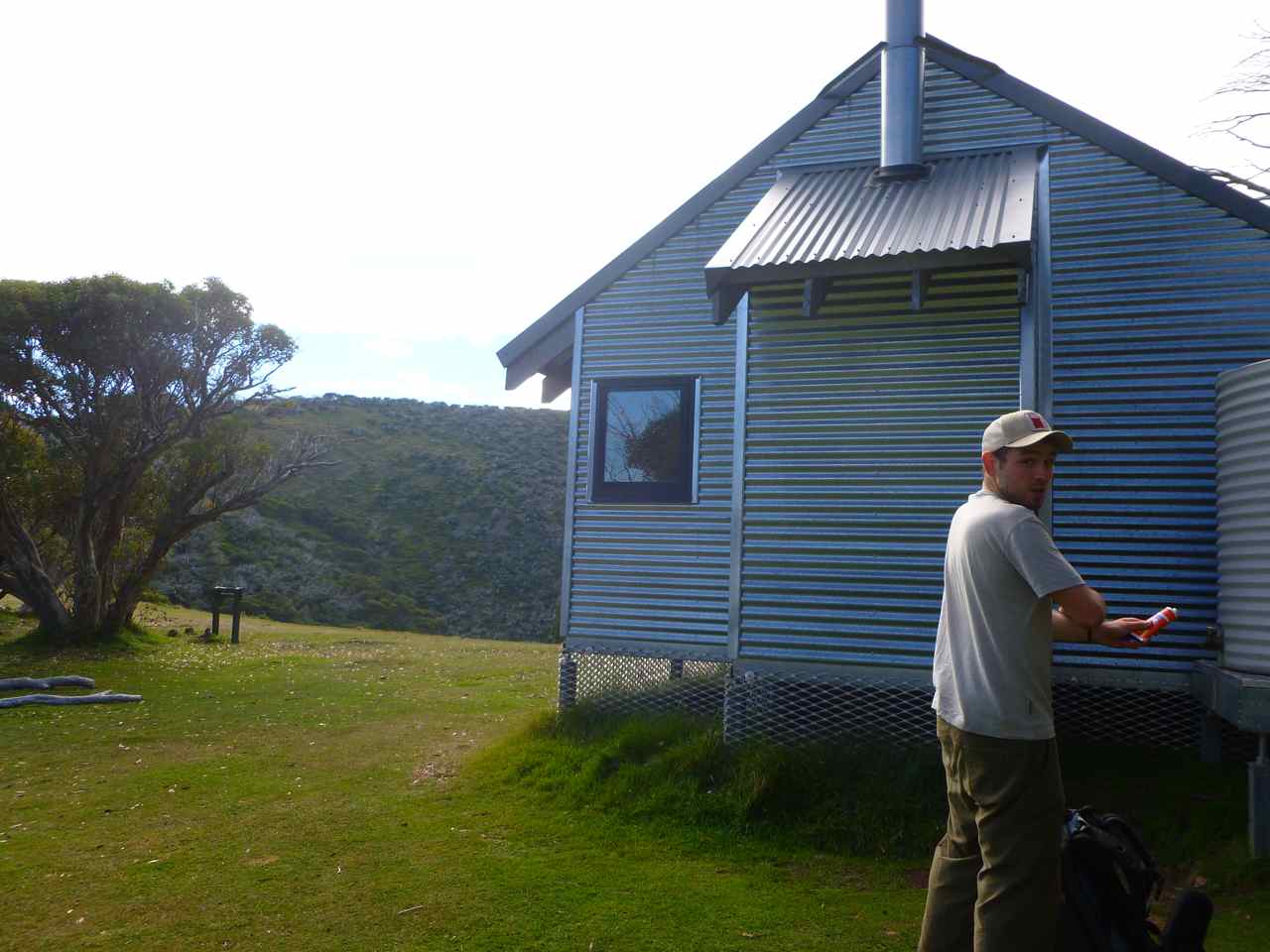 The walk down the Bungalow Spur was easy. We nearly flew down. It took just over 2 hours, which shows how fast those runners came *up* the Spur. We were back at the car at 11:20am.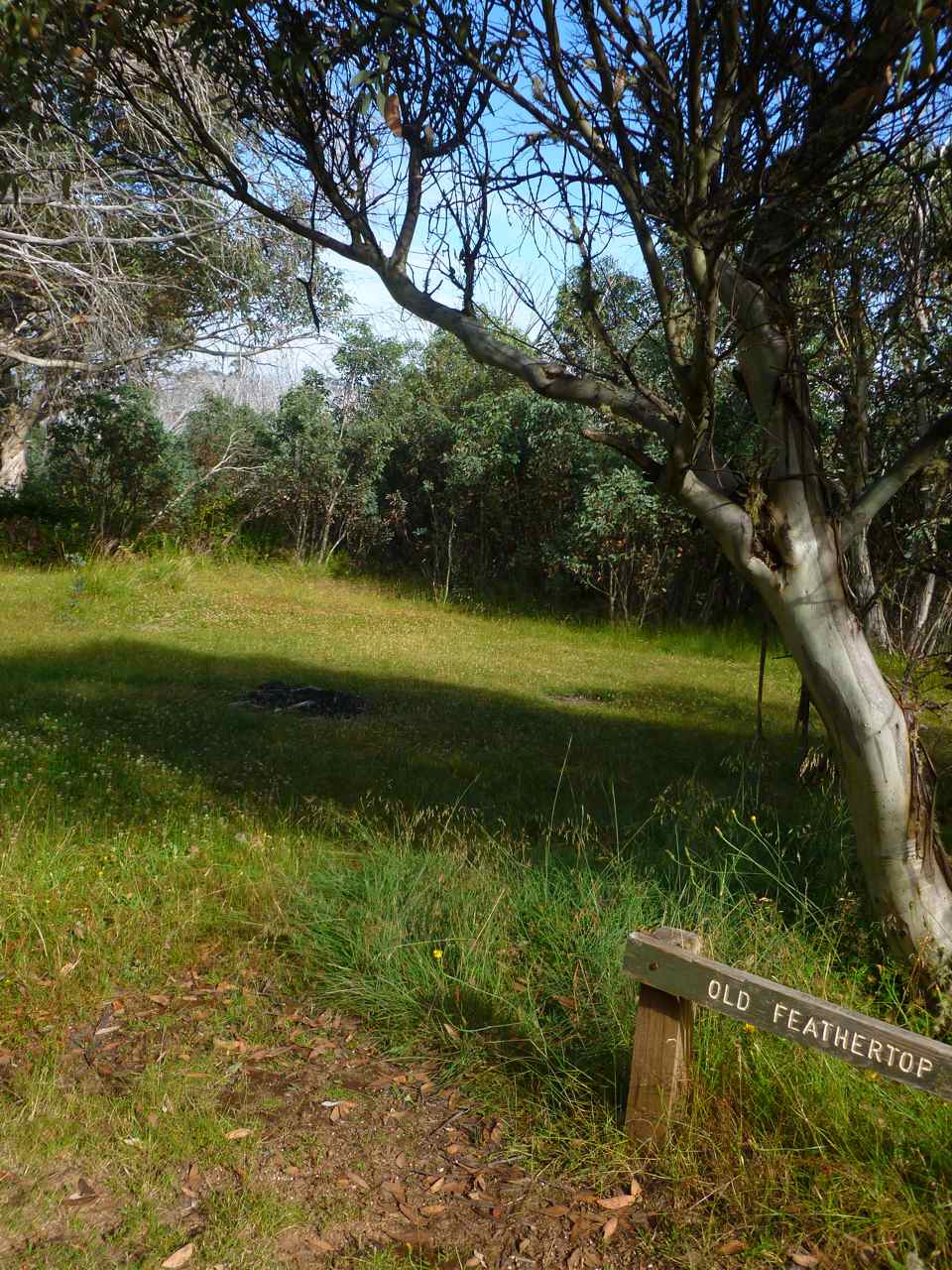 Overall, it was a cracking walk. We had brilliant weather, a great sleep, tasty food and covered some decent kilometres. I really recommend going up the Bon Accord Spur then doing the Razorback if you like a longer walk. It was much more satisfying than just doing the Razorback from Diamantina Hut. I've read a few bulges of people going the other way: up Bungalow then sleeping at Federation Hut, before doing the big walk (Razorback and Bon Accord) on the second day. That way would be similar I'd imagine, and it would be good to do it if you started later on the first walking day.
What we took: We took all the usual stuff (tent, cooker, sleeping mat, sleeping bag, etc) and a lot of clothes for layers. We didn't need any of them, but I suppose it's helpful to have it for Mr Justin Case.
A few notes: The signs lie. The signs said the Bon Accord Spur was 9km. It was longer than that. I also think the signs for distance of the Razorback lie. I don't trust any of them. They seemed to point the right way, but just weren't so helpful with distances.
Walk done on the 4th and 5th February 2012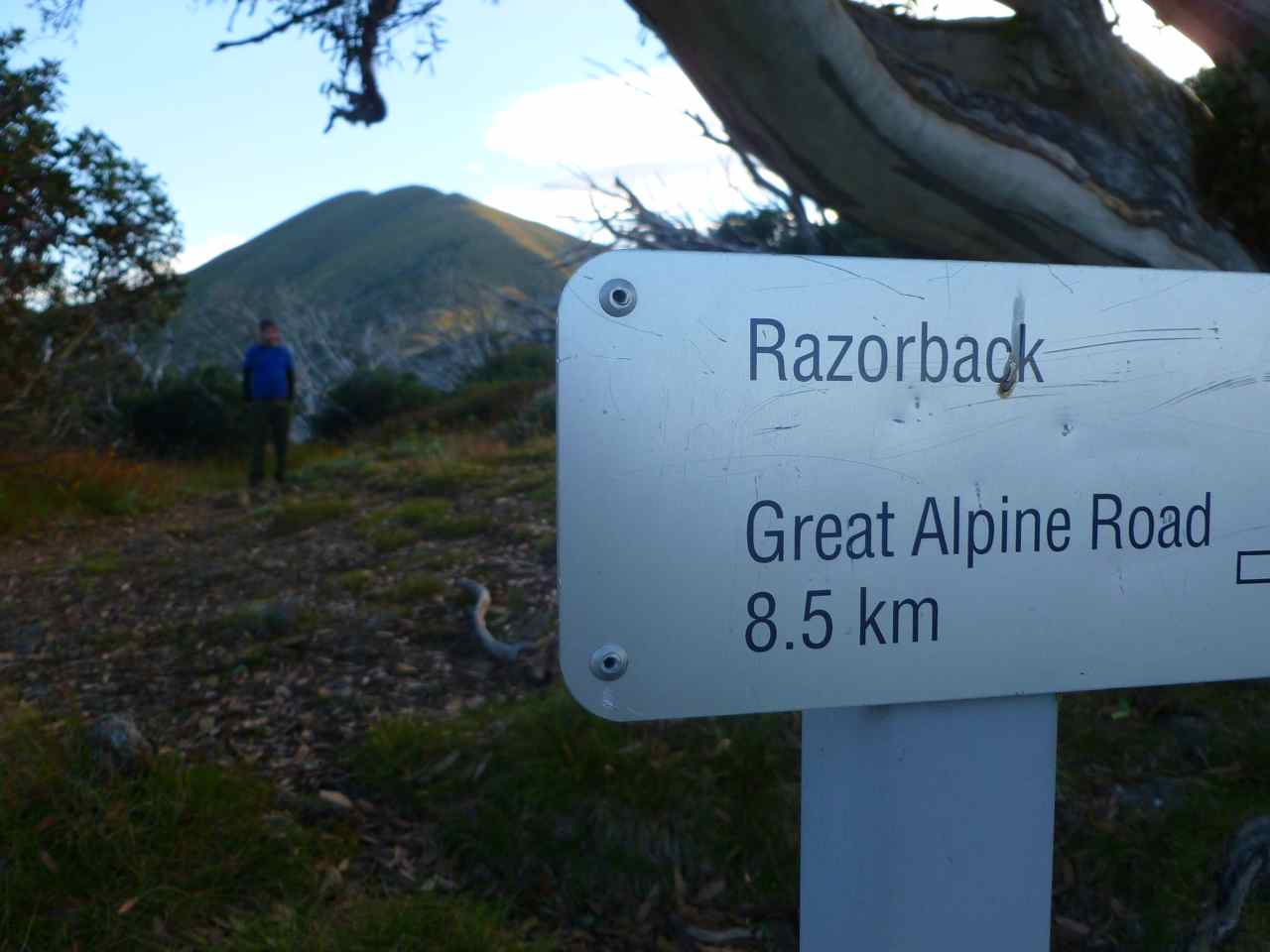 Elevation Profile: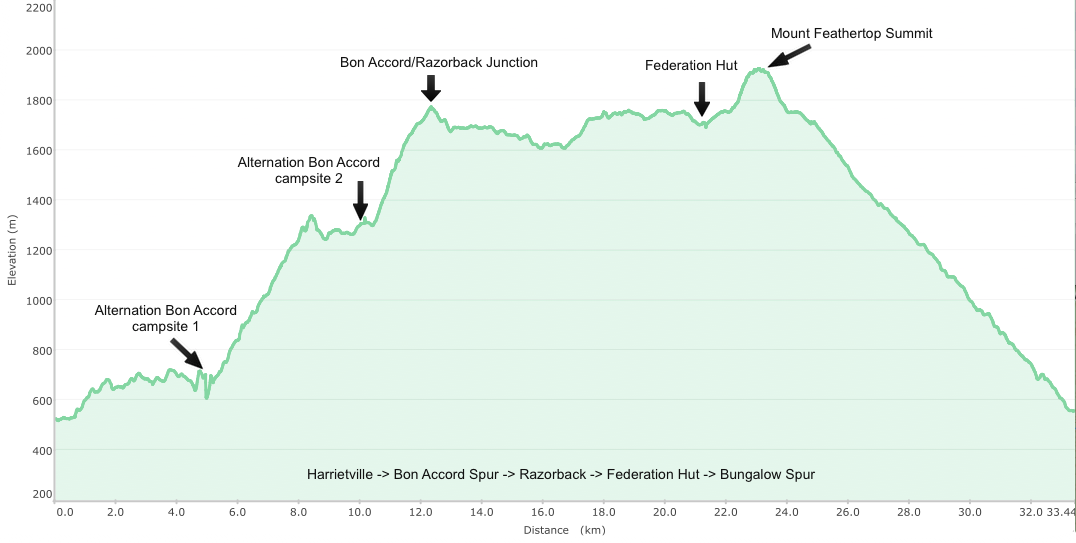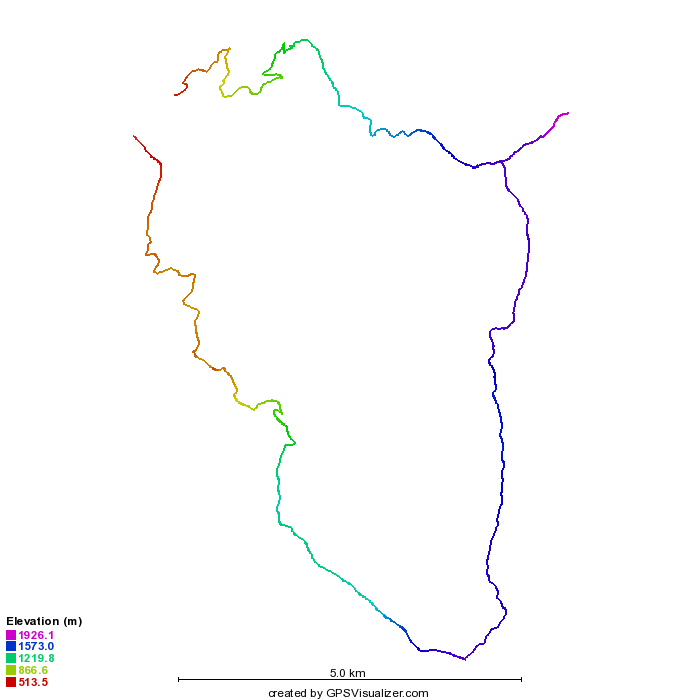 GPS map overview: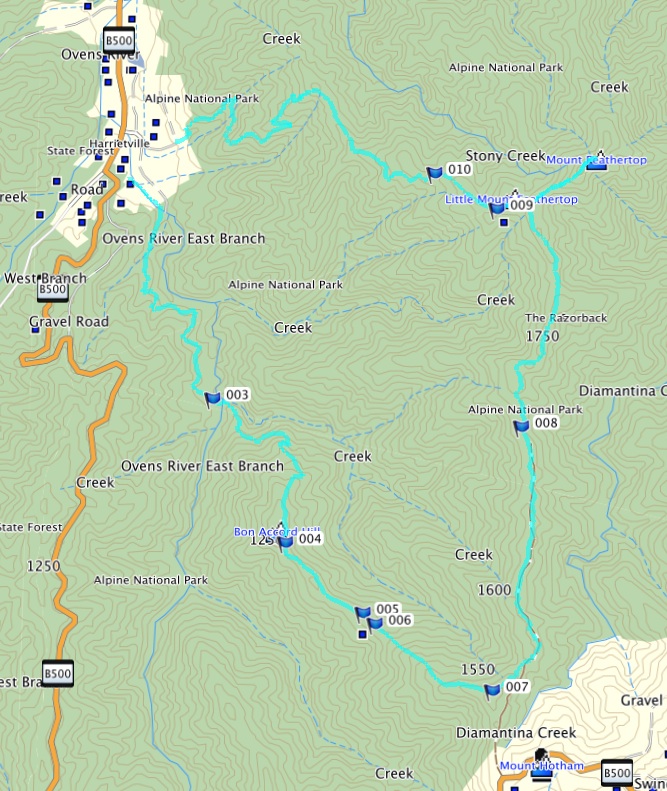 Other, similar blog posts on this walk:
Hiking Fiasco did the walk a few weeks before us and Feathertop
---
Comments
---
Kate Pascoe:
October 16, 2014
Thank you so much! So well done, easy to read and helpful. I am currently planning an overnight hike from Harrietville to federation hut via Bungalow Spur and was so happy to read your informative blog. Love it!!! Thank you!
---
Lauren:
November 12, 2016
Exactly the walk my partner and I have planned for December, fantastic notes thank you!
will:

November 14, 2016

Hi Lauren,

Thanks for the comment! I hope you enjoy the walk. It was a fun one.
---