WALK INFORMATION

Date: December 14 - 16, 2015
Distance: 27km
Weather: Perfect. Wonderful. Very nice.

This was a walk that was different from what I had imagined.
For some reason, I thought it was going to be a rather simple affair. When looking at the estimated walking time from point A to point B, I was thinking I could easily do it in half? quarter? of what was suggested.
'Meh, 8km. Not a problem. Polish that off before lunch,' was one of my thoughts. 'I'm usually a tad faster than Chappy/Chappo? (John Chapman), he says six - eight hours. I reckon I can do it in two,' was another.
This was a very silly thing to have thought. Like some sort of idiot, I had forgotten to account for the fact that the circuit can simply be described as very up and very down.
Other warning signs should have been the reason why I wanted to do the walk in the first place.
Mount Anne came to my attention after several walking groups, over several months, were plucked off parts of the circuit by the rescue helicopter.
Also the "Mount" part in Mount Anne should have been obvious.
So….
It's not an easy walk, by any account. But it is an amazing one.
We were lucky to have good weather from day 1 to day 3. Actually, it wasn't just good. It was stunning. Blue skies, very little wind, certainly no rain. Perfect. If I were to complain about something, it was maybe a few degrees too hot. But that is one of personal preference, and really is me finding a way to gloat about how good the weather really was.
In the end, we completed the walk in two nights/three days.
Day 1
One issue with the Mount Anne Circuit is that the start and the end points aren't in the same spot. They're separated by about 9km.
So here's what we did: I dropped off Dad and he started walking up the mountain. Then I drove to the exit point, parked the car, pulled a bike from the boot and then rode back to the start. I locked the bike up in the Mount Anne car-park and began the long, slow plod up the hill to try and catch father.
This is what most of the bike ride looked like. It wasn't very interesting. The bike also had only one gear. The best thing about the ride was it was over sooner than I expected.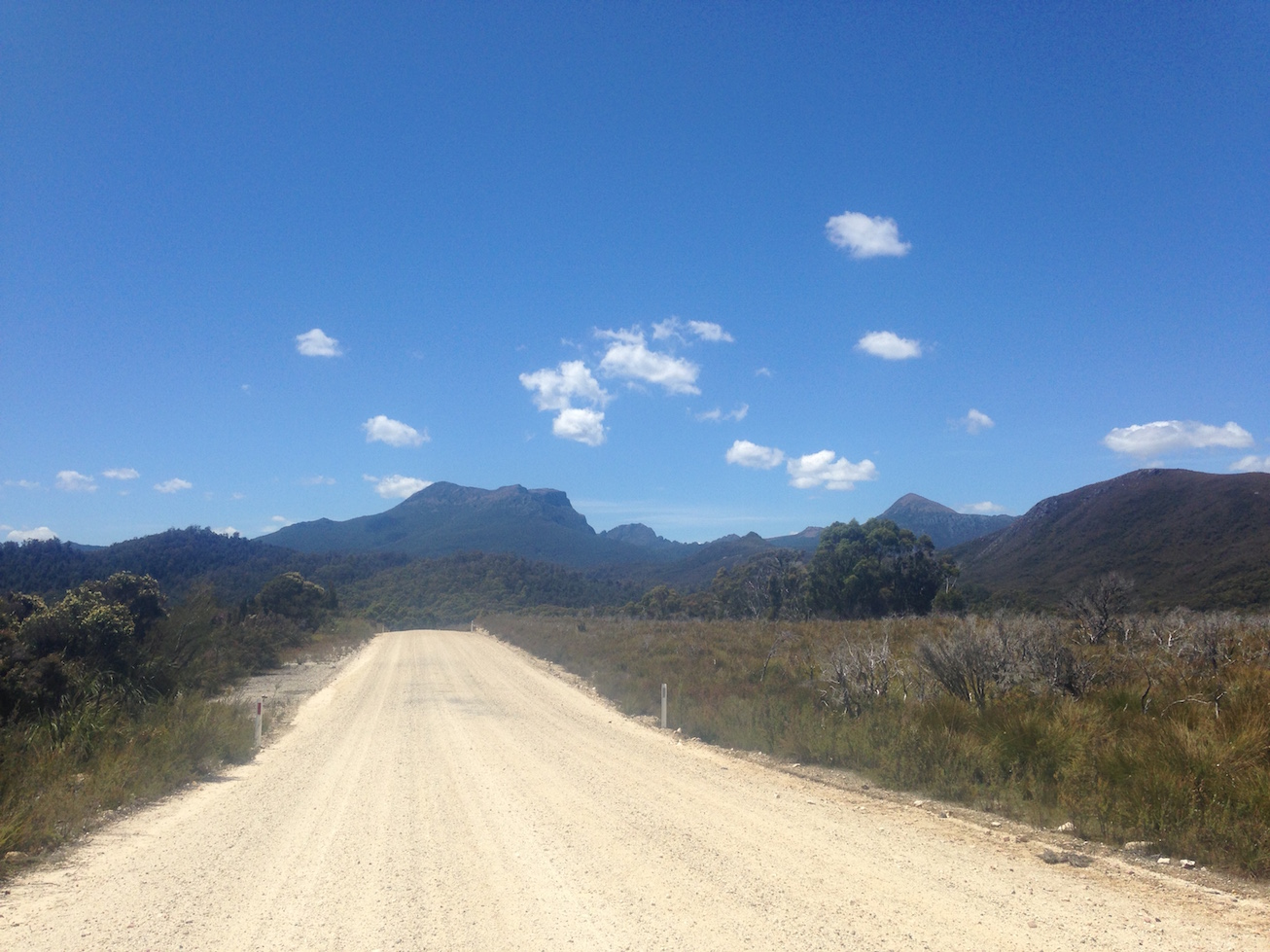 The long road. Made longer by a bike which had only one gear and suspect brakes
I walked through the car park, up the small hill to the registration booth. Then, then along the lovely flat part of the walk. Then, the hill began and it didn't stop for hours.
Up and up and up. Up a ridge, up a hill, up a pile of rocks. After a period of walking, I heard some scratching ahead of me. I thought I'd caught up to Dad (quicker than I expected), but it was a couple of young guys making their way to Mount Anne. I polished off the last of my water, said my good byes, and continued the slog which by this point seemed to have lasted longer than a Donald Bradman innings.
Not because Bradman is known for spectacularly long periods of time behind the crease, but because I don't understand cricket so even watching a grab of it on the news feels like eternity. Though to be fair I had probably been walking longer than the classic Australia v England 6th August 2015 innings, where Australia was all done in less than 19 overs.
Talking about being bowled out before lunch, I was starting to get a bit hungry. But there was walking to do, so I kept moving forwards and upwards.
I made it to the hut (see below) and heard Dad, but he was up the mountain (I think where this picture was taken). He was still going, so the chase was still on.
I sat down, had a drink of water that would put a camel to shame, ate more chocolate than Augustus Gloop and discarded (into my mouth) more nuts than Veruca Salt's squirrels. Another quick drink and I was off again.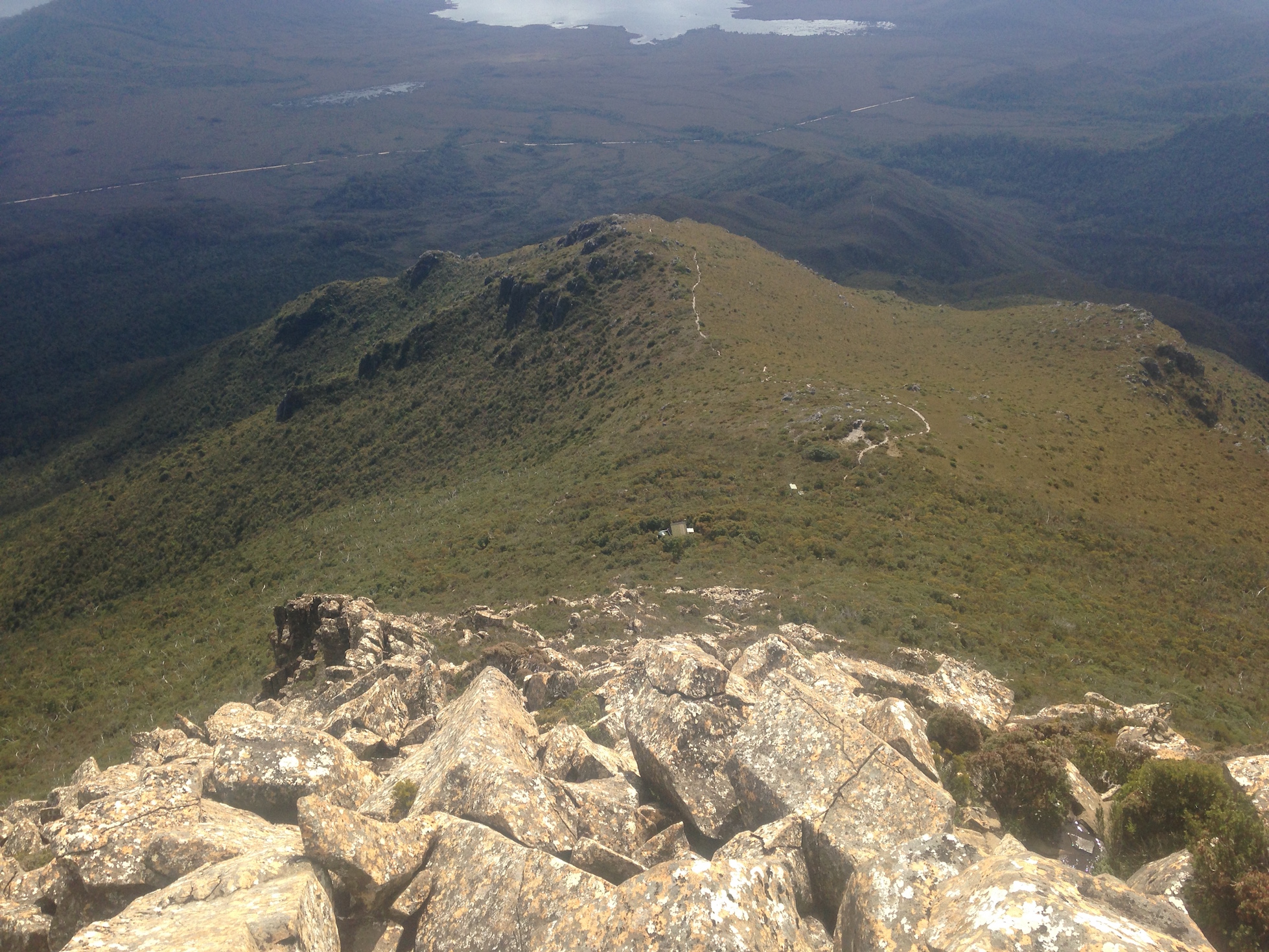 This is what you've got to walk up. See the tiny road in the distance? That's where you start.
Incidentally, right in the middle of that photo you can see the hut and a little to the right is the toilet.
That toilet used to, I'm told, be facing out - so you'd get one of the best views in the world from a toilet seat. But they've rebuilt the old shit-house, and now it faces in - so no view anymore except of a bunch of trees. A travesty of the highest order.
Before I knew it, I was at the top.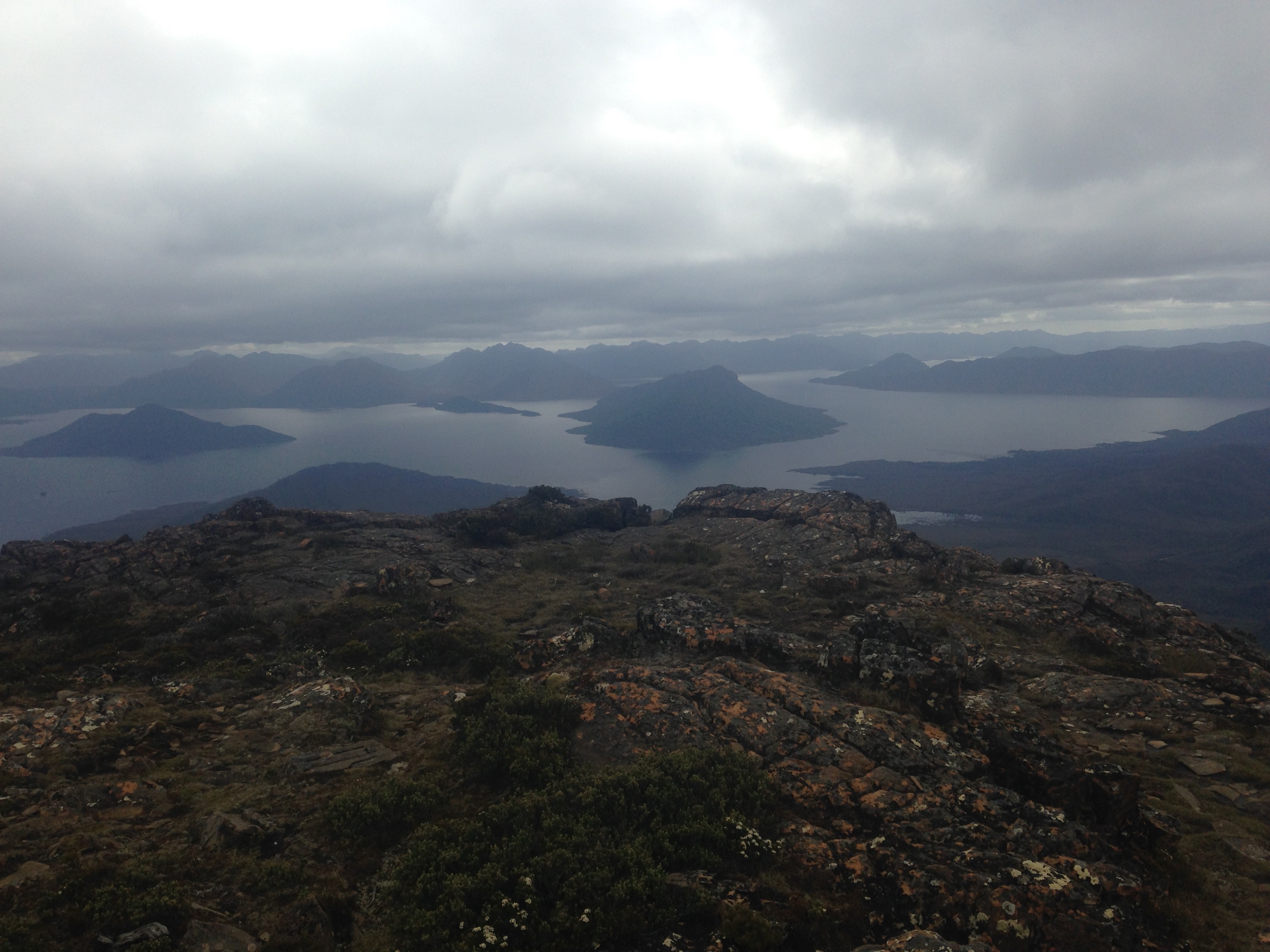 The top, for now
No sign of Dad though. He had disappeared.
Insert tension causing music here.
I kept walking. Another hour passed, and then, in the distance there he was. The chase was complete. I had caught up.
He'd spotted me earlier than I spotted him, and had the camera ready.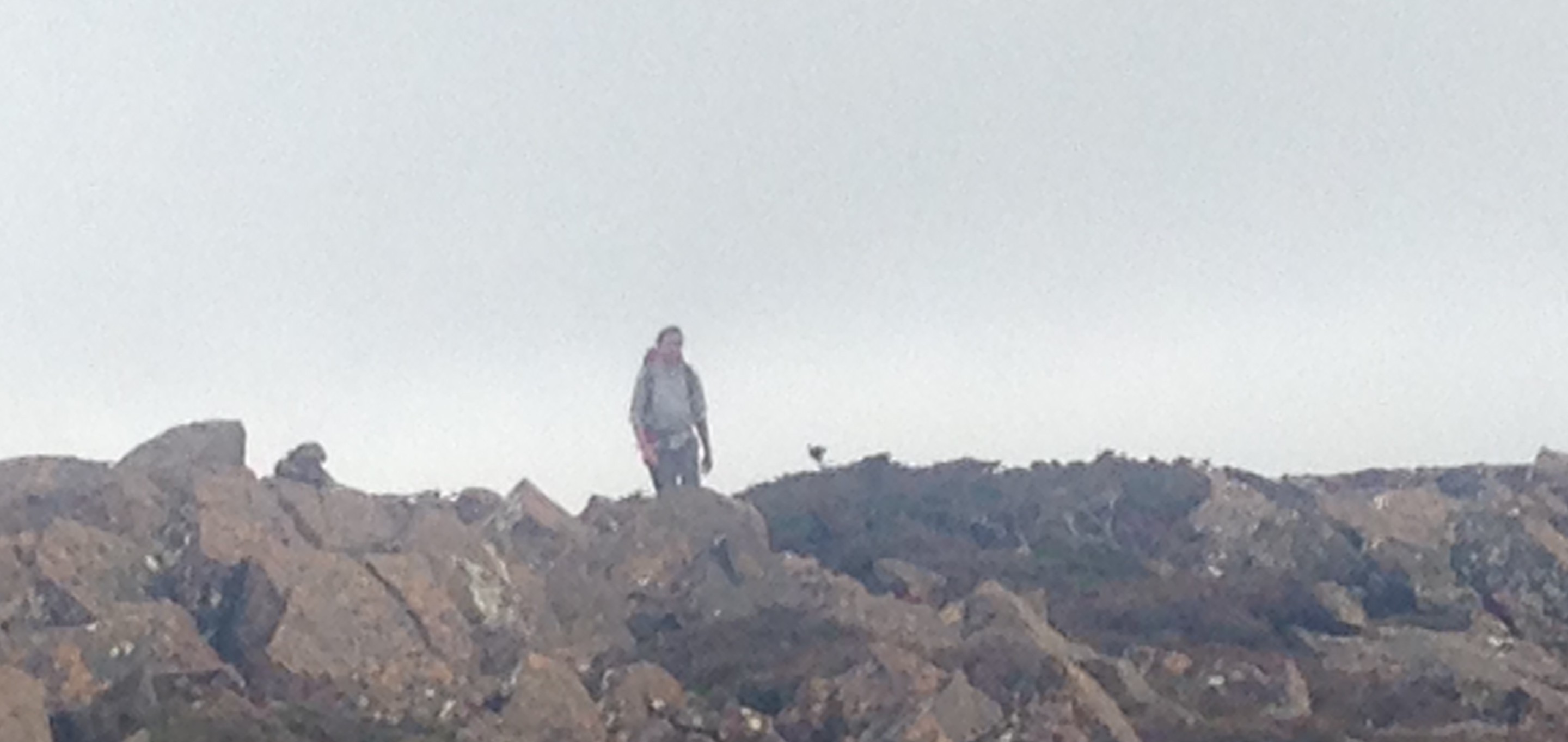 That's me wandering along
We regrouped, just in time to tacked the boulder field before the Mount Anne/campsite track junction.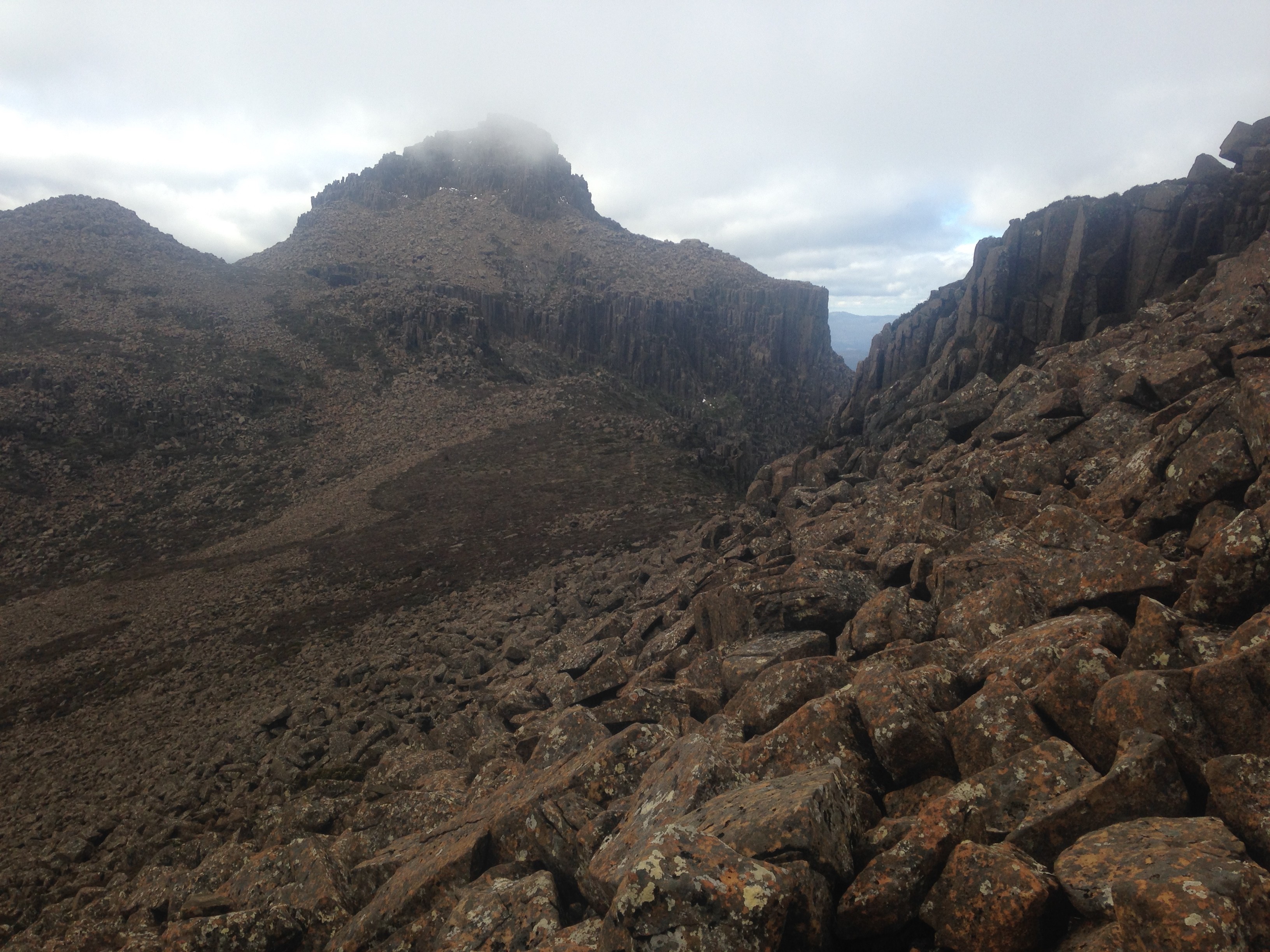 It wasn't long before we made it to Shelf Camp for the night.
What a place that campsite is on a good day. Spectacular views no matter which way you look. Straight ahead is the mighty Mount Anne: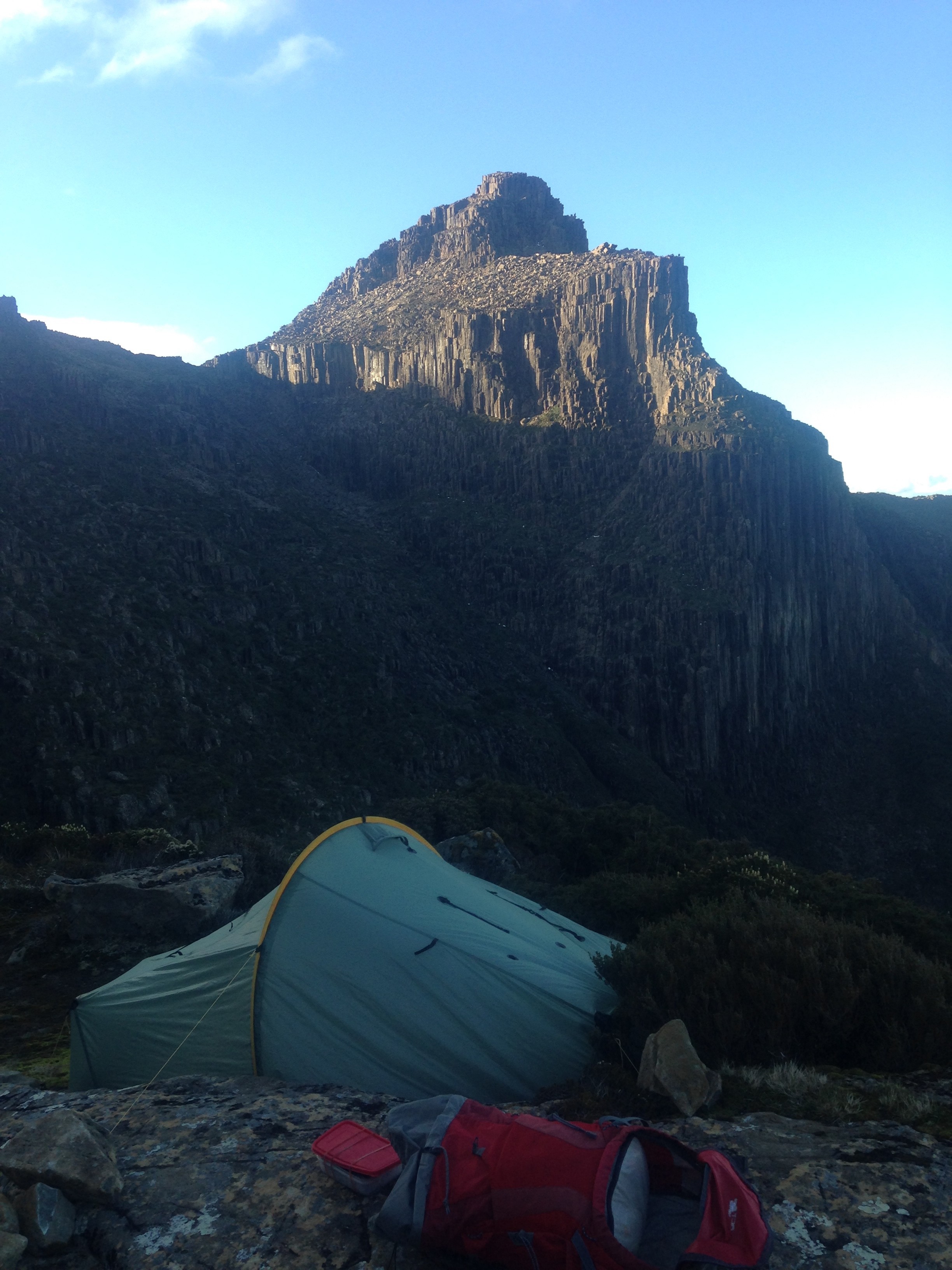 Or behind, the tiered cliffs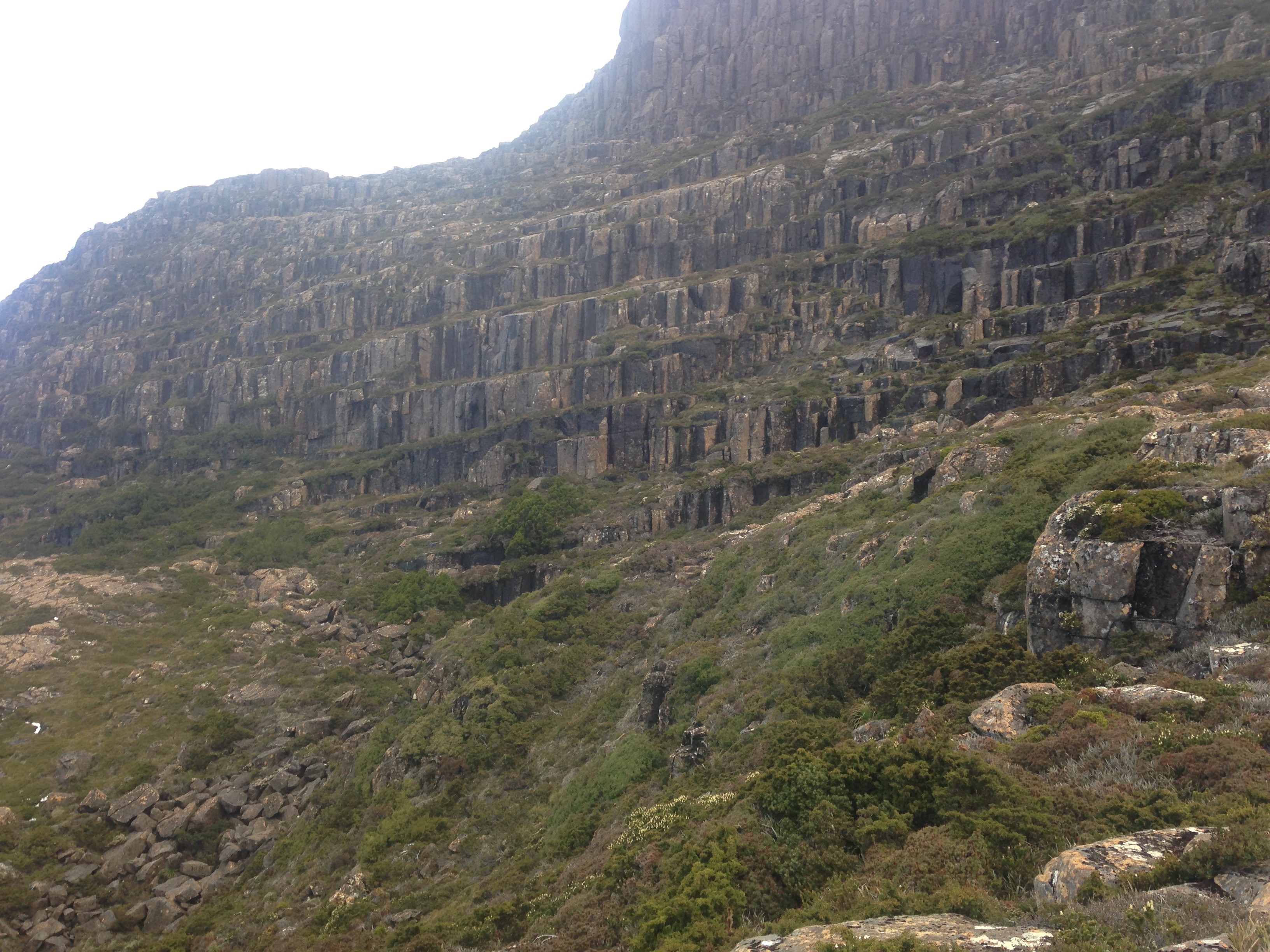 We had something for dinner, can't remember. It was good though. Then sleep.
My mat had a small hole in it though, which wasn't great. Especially camping on a sheet of rock. Oh well.
(Writer's note: I finally fixed the hole, in September 2016. Sort of when I finished this write up from February)
Day 2
The morning started slowly, as usual. Wasn't my fault. Never is.
When we got going, we made our way slowly towards the ridge line that would eventually lead to The Notch.
Firstly, we needed to get there.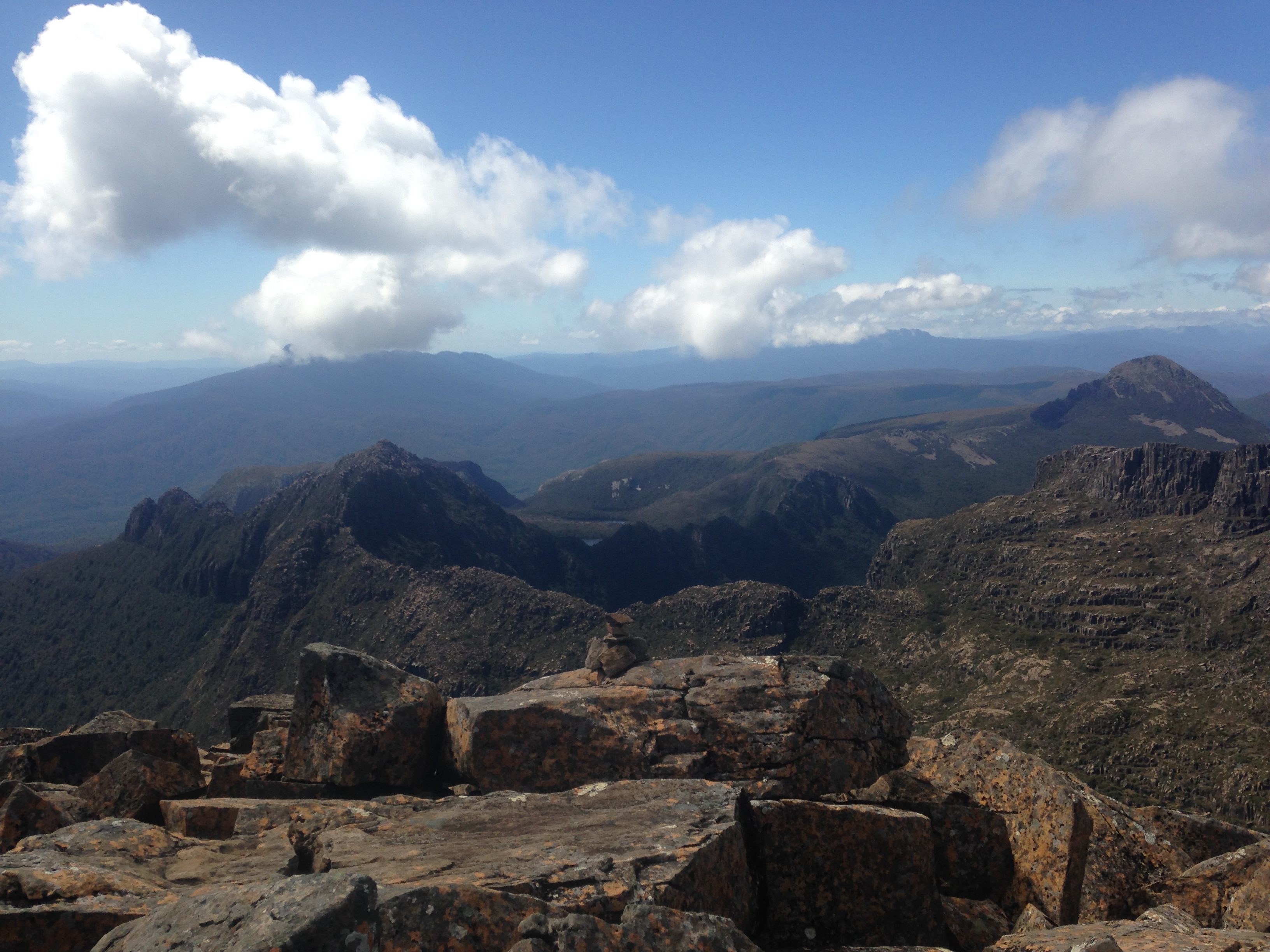 Oh no, we didn't head off straight away. We went up Mount Anne first. Well, most of it. I sort of got a bit stuck in the final assent, leaving Dad to go on alone to bag the peak. I just sort of waited on a ledge and got bored. Not a worry in the end.
We made our way back to Shelf Camp, packed up and were finally on our way.
It wasn't long before we got lost (well, a little bit). We knew the direction we needed to go, we just lost the track.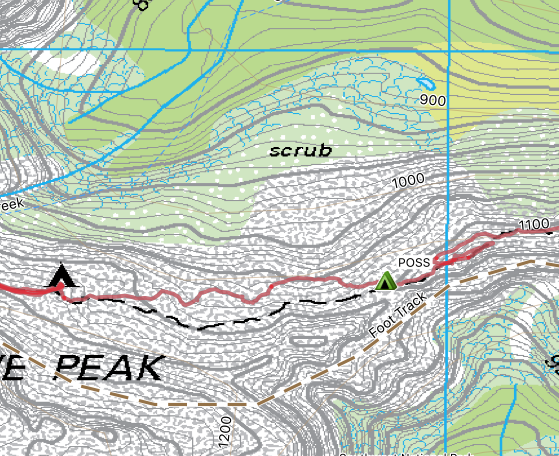 On the left hand side, you can see the TasMap tent. That marks Shelf Camp. We pretty much got lost straight away. Though we did find a "possible" campsite (as marked), so it wasn't too bad a detour.
But a little bit further on, we got lost again. We travelled up a ridge line that seemed to get narrower and narrower. At the end, The Way seemed to disappear entirely. Confused, we turned back. We eventually veered north and bushbashed/sort-of-followed-what-looked-kinda-like-a-track-but-not-really around the big pile of what we thought were un-passable rocks. Eventually, as expected, we found the track. We also discovered where we went wrong.
We were on the correct path. The Way was simply a bit of a climb down, and around, a boulder. From there it would have been obvious. Silly us. Oh well. It wasn't too too far off track, and it only cost us a bit of time. But if you're doing it in the future, the track is there. Just look a bit harder than we did.
Bit that part of the track behind us, it brings me to The Notch.
The Notch is - depending on who you talk to - something that's either not really worthy of much discussion, or the scariest, most daunting thing you'll come across in bushwalking anywhere in the entire world.
Ok, that's a bit of hyperbole, but some do talk about The Notch like its a proper noun deserving of awe.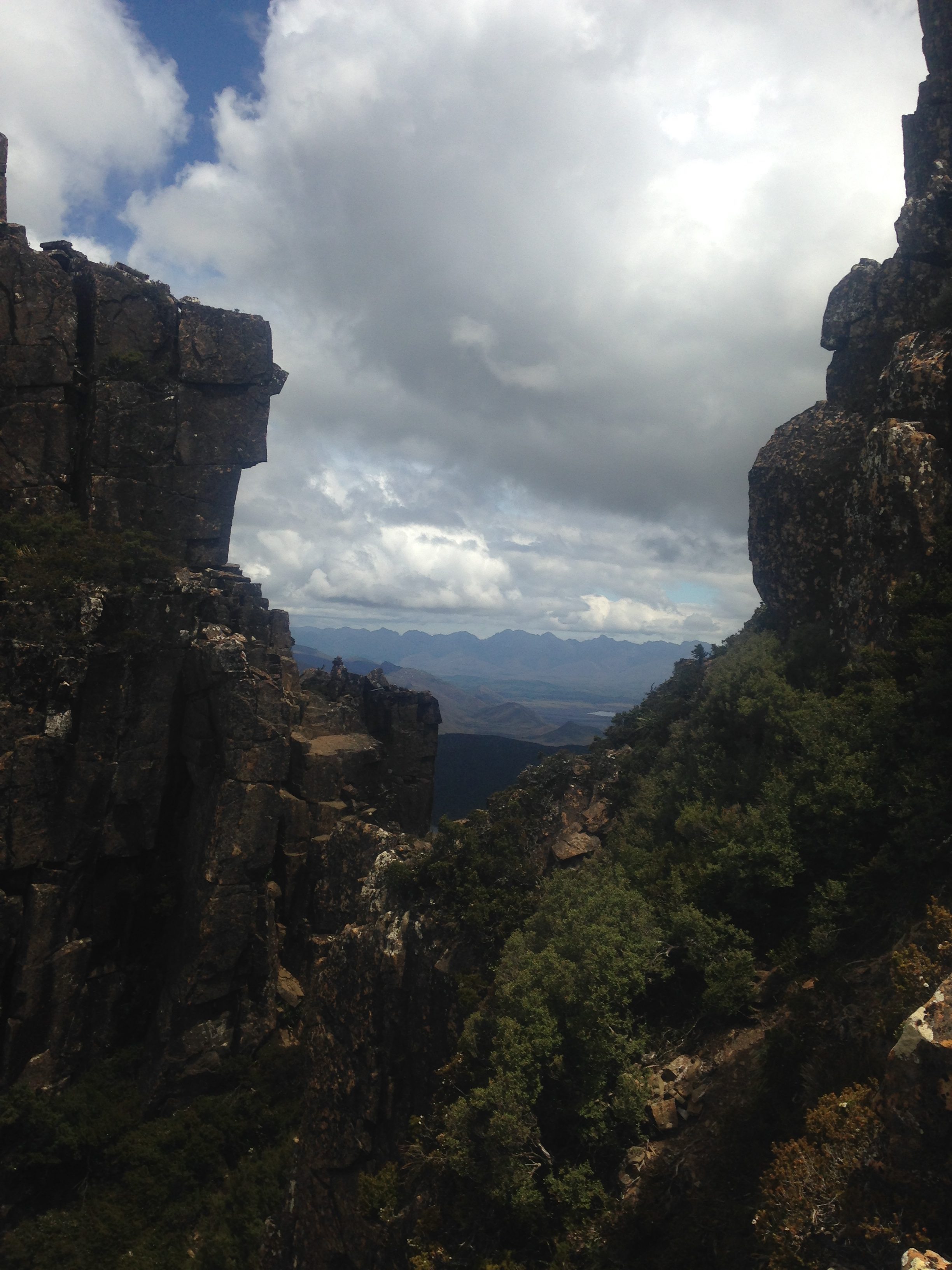 Meh. Wasn't too bad. Here's me climbing down into The Notch.
It was a pretty easy scramble down. The climb back up the other side wasn't too hard either, but I did have to take my pack off and get Dad to haul it up with a rope.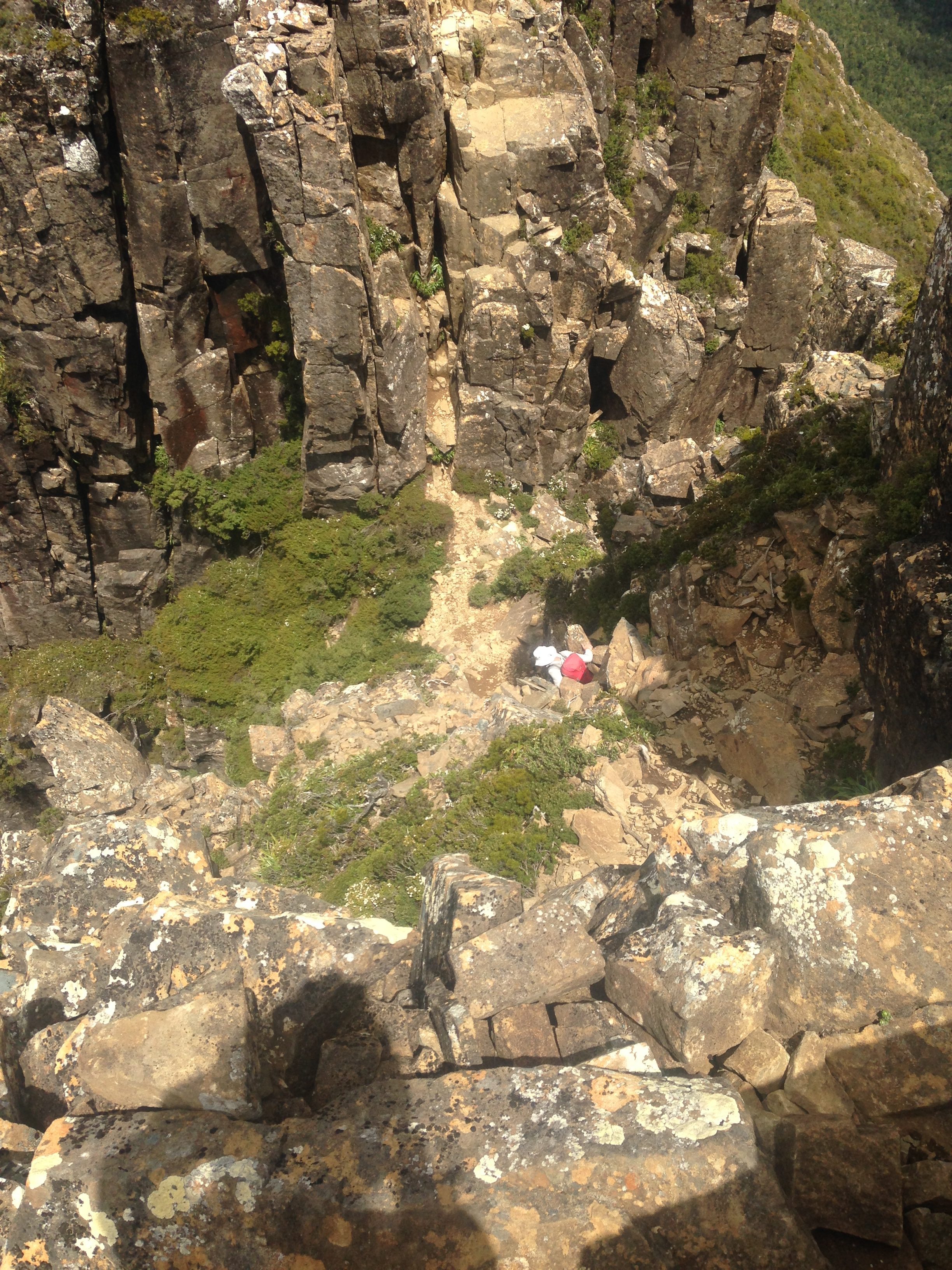 About 50 meters down the track from here, we stopped for lunch. It was a nice break.
After lunch we continued on, up Mount Lot. The view from the top was wonderful. Lots Wife stood proud in the distance.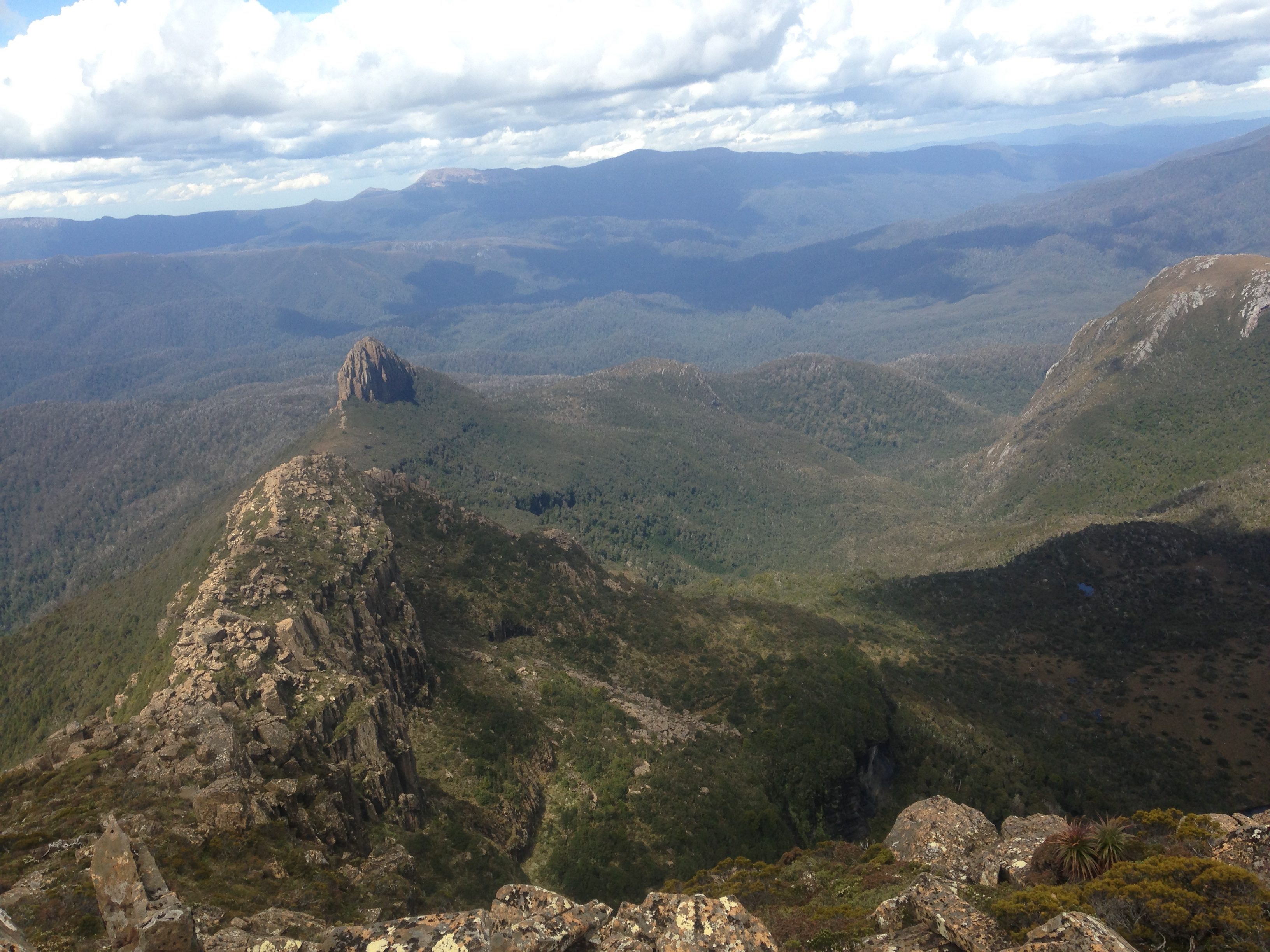 We then began our decent down Mount Lot, along a very narrow ridge line.
This is one of the things that makes the Mount Anne walk so wonderful. The view, on a nice day like we had, was spectacular. You're given a 180 degree vista of scenery.
One side gives you an almost bird's eye view of Lonely Tarns.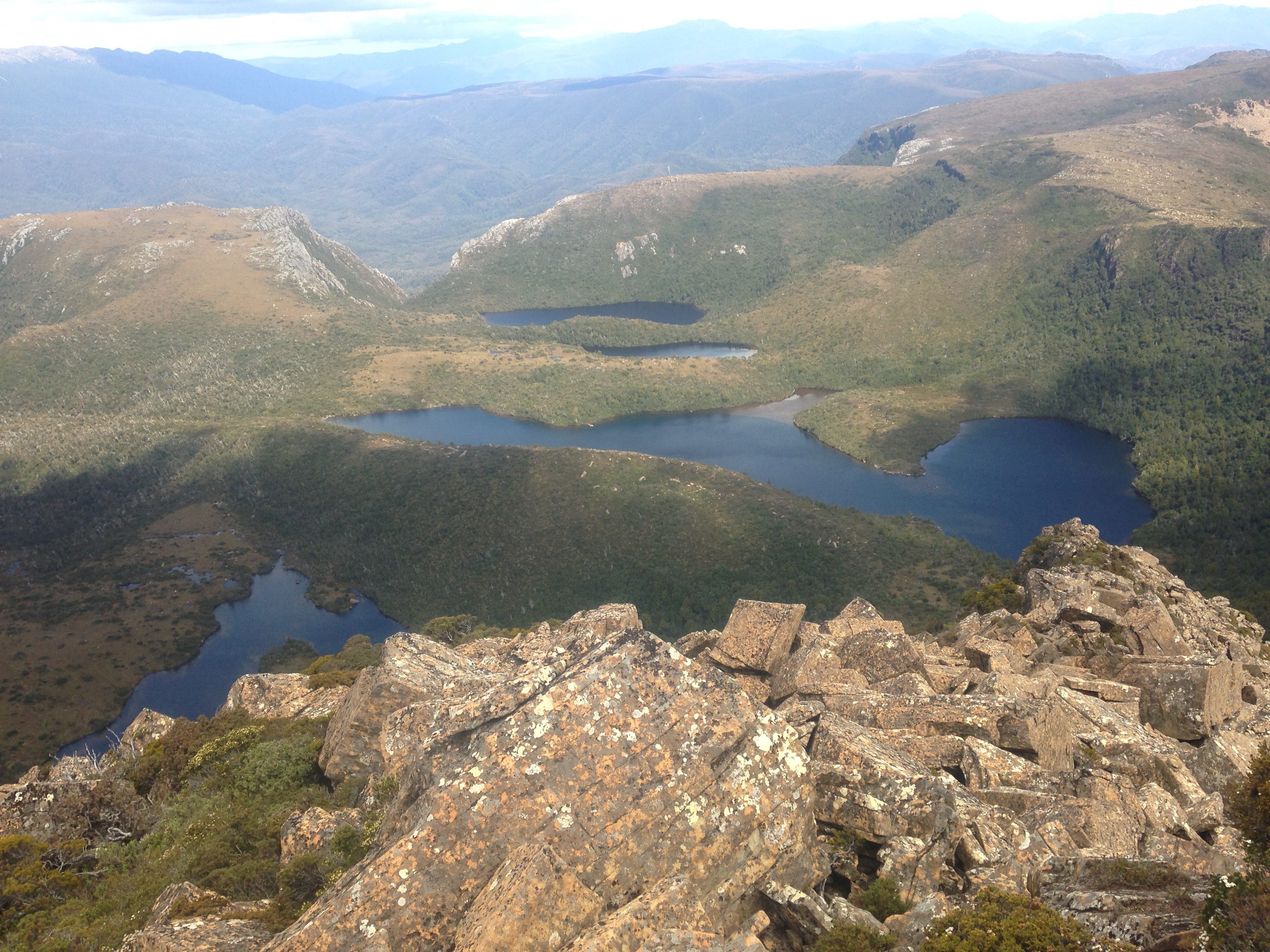 The other side, down to Lake Judd: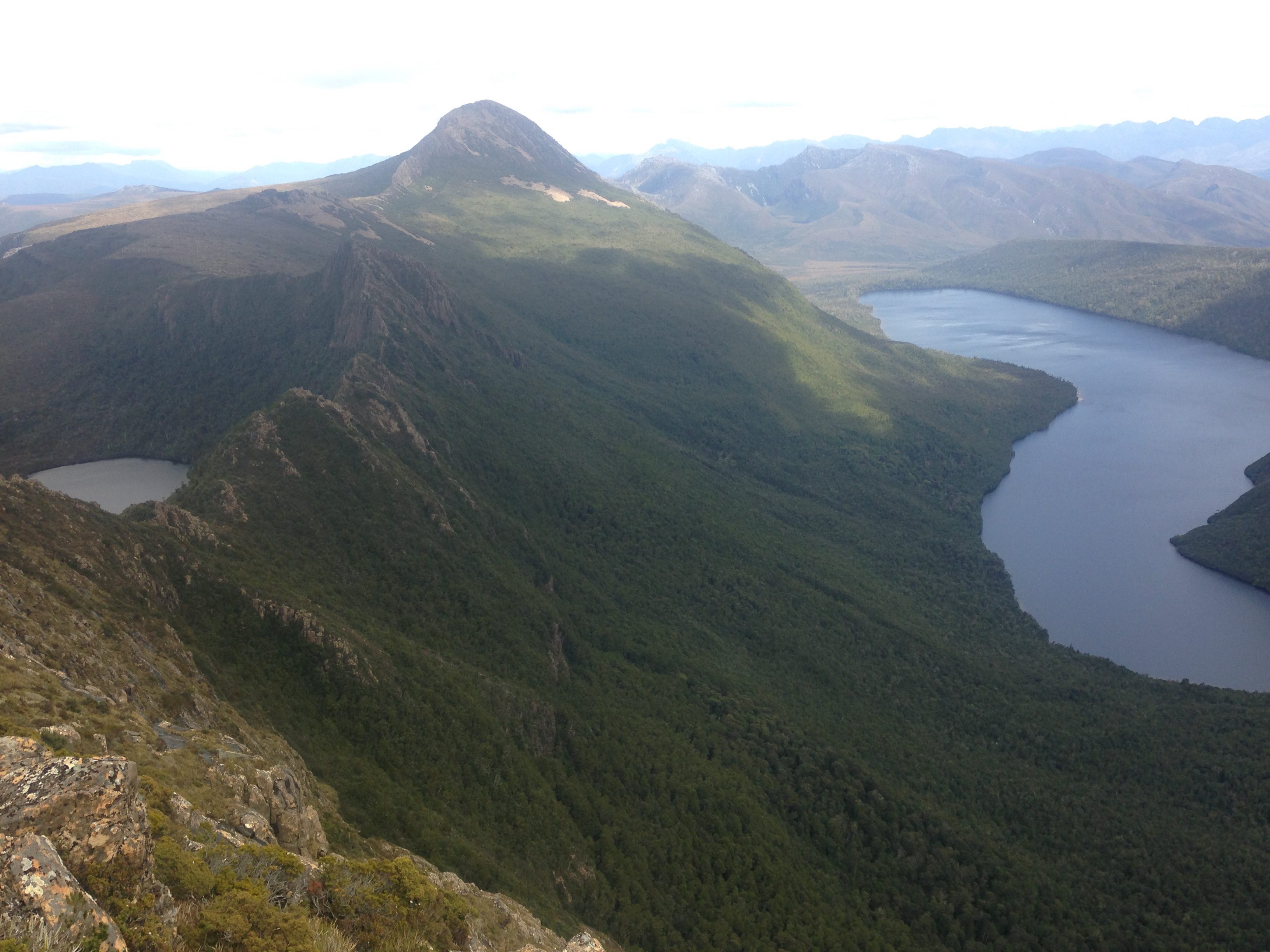 After getting down Lightning Ridge, it was a quick walk to one of the Lonely Tarns, and a small creek. It was a lovely warm day, so a perfect spot for a quick dip.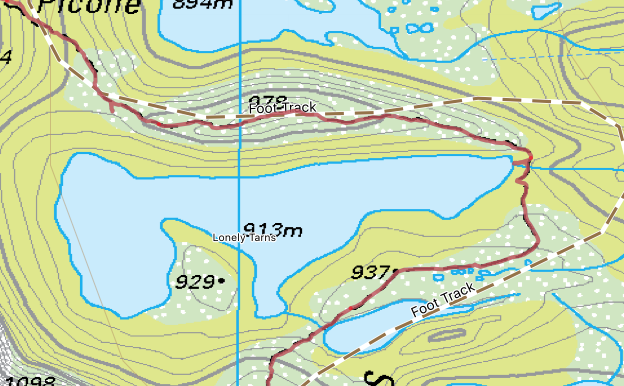 East end of what I called "Dog Lake": great spot for a swim
After that, it was a quick 3km walk down the track to our camping spot for the night. Oh we appear to have briefly walked off track again, but didn't seem to matter.
The camp spot was a flat section of ground just off the track. It was nice in February, but I'm sure in the wetter months it would have been sodden.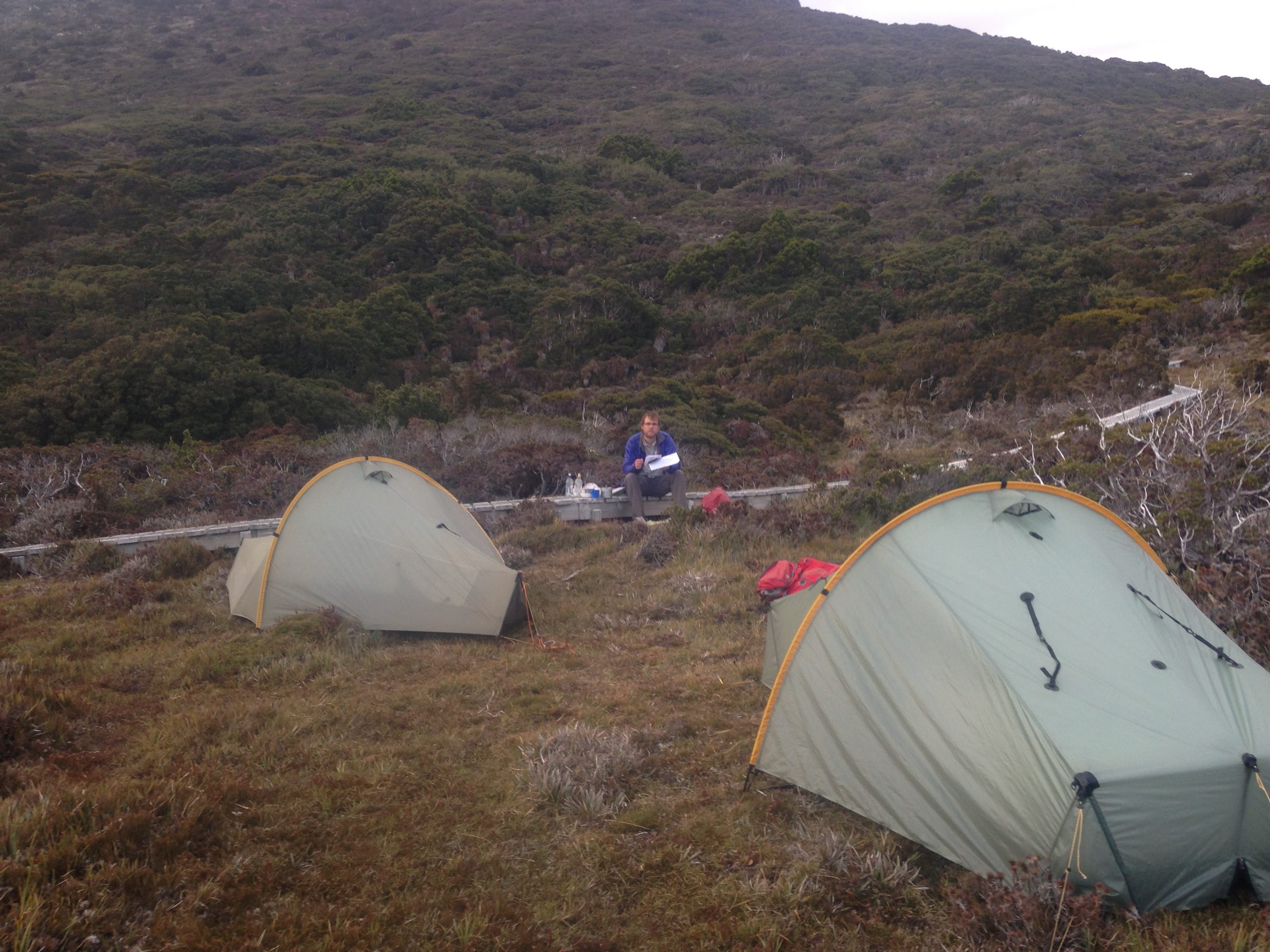 Not really much to report. We would have packed up the tents - Dad was probably slow, but I can't remember anymore.
It was about a 9-10km walk back to the car, but we had to probably go down 800 meters.
It was about a 500 meter walk before the decent began. It took about two hours to do most of it.
The view from the top looking out to Lake Pedder was lovely.

We started Day 3 at about 9am. It was all done by 2pm, including lunch at the wire bridge that crosses some river (probably the Anne River).
So that was that. Three days doing the Mount Anne circuit in fantastic weather with spectacular scenery. It was a hard walk - a lot of ups and downs - but it was very rewarding.
And the car was waiting for us! Just where I left it a few days ago, before I began the walk with a bike ride.
With the walk done, there was one job left: a traditional swim. We drove down to a boat launching ramp and jumped into Lake Pedder. It was warm (well, the top 10cm was), smooth and relaxing. The perfect way to finish.
Odds and ends:
Here's the elevation profile of the walk, with the various landmarks added in.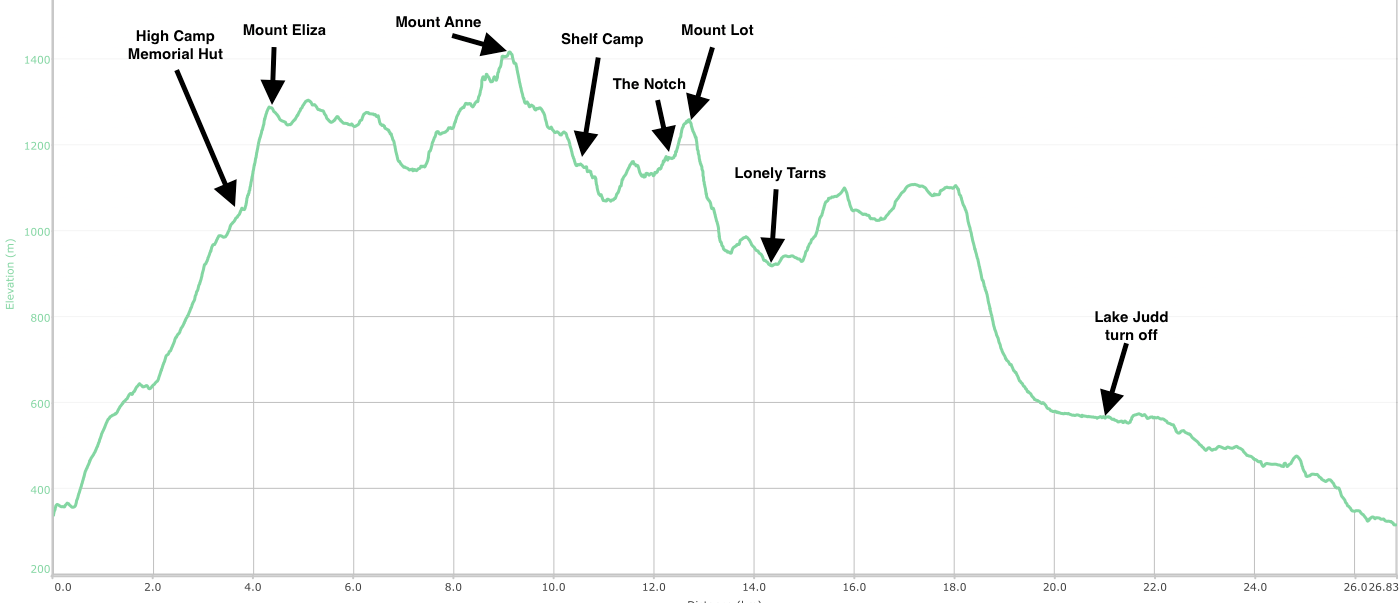 ---
Comments
---
Sue Hood:
April 21, 2018
Thank you for a beautiful description, I have a son that should have made it to Mt Eliza hut today.
will:

July 1, 2018

Hi Sue,

How did you son go in the end? Did he enjoy?
---
Rick:
October 6, 2018
Great write up, Will!
A pair of us tried the Anne circuit recently and turned back with deep snow near Shelf Camp. We went for a look around Mt Field instead. Would love a copy of your GPS file for next time, seems the link to your file might be broken? Look forward to reading more of your adventures 😀
---
Joanna James:
February 5, 2021
Thanks for another great write up, Will.
So inspiring to read of your adventures in the Tassie wilds. I've aspired to do the full Anne circuit for many, many years now. I started an attempt once in 2016; Summited Mt Anne, camped at Shelf Camp, but then turned back the next day after one walker described The Notch and advised me not to bother trying. I so wish I had just kept on and given it a go, now, the weather had been perfect and I had the time. Now the area remains closed after bushfires decimated the track last year. Looking forward to one day doing the full circuit, and looking forward to reading of more of your wonderful adventures!! Thanks so much
---