WALK INFORMATION

Date: 9 - 16 March, 2019
Distance: 98km
Weather: Too many different weathers to mention. Some good.
Some not so good. 

It's been a few years since we did this walk, and only now (20 Feb 2021) am I coming back to add a few notes, photos and recollections.
This was a fantastic walk, but unlike our other ones, Dash and I just decided to explore with only a broad idea of where we wanted to go.
We know we had to end up at Lake St Clair, but we didn't have solid plans (or a track) to take us there.
Day 1 - Walls car park to somewhere near Mount Jerusalem
We set off near lunchtime, after getting a lift up from Hobart.
The climb up to the plateau was pretty uneventful, and soon we passed Trappers Hut and were on out way into the Walls.
It's a magical place.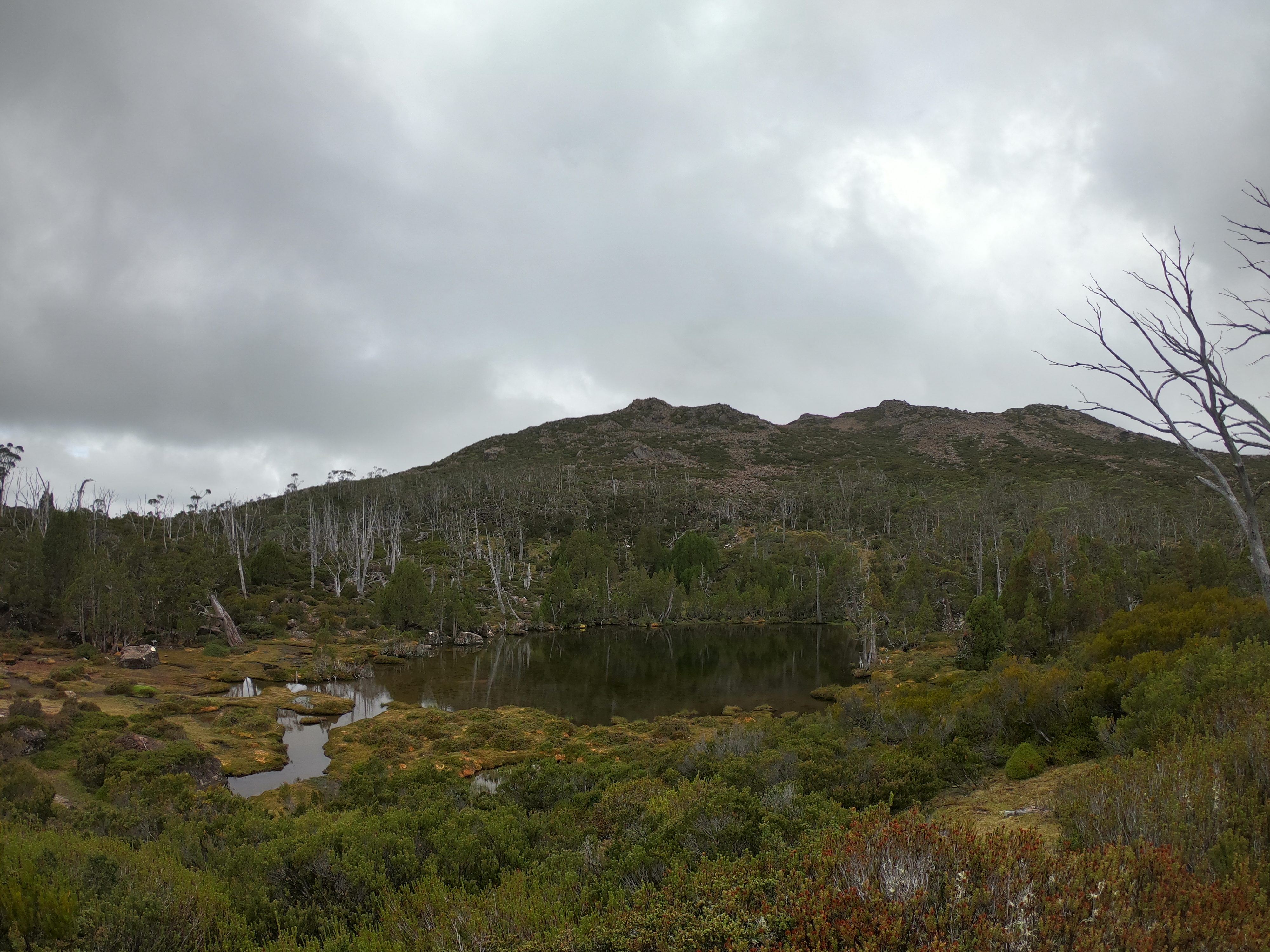 We left our bags and went up Solomons Throne for an amazing look around.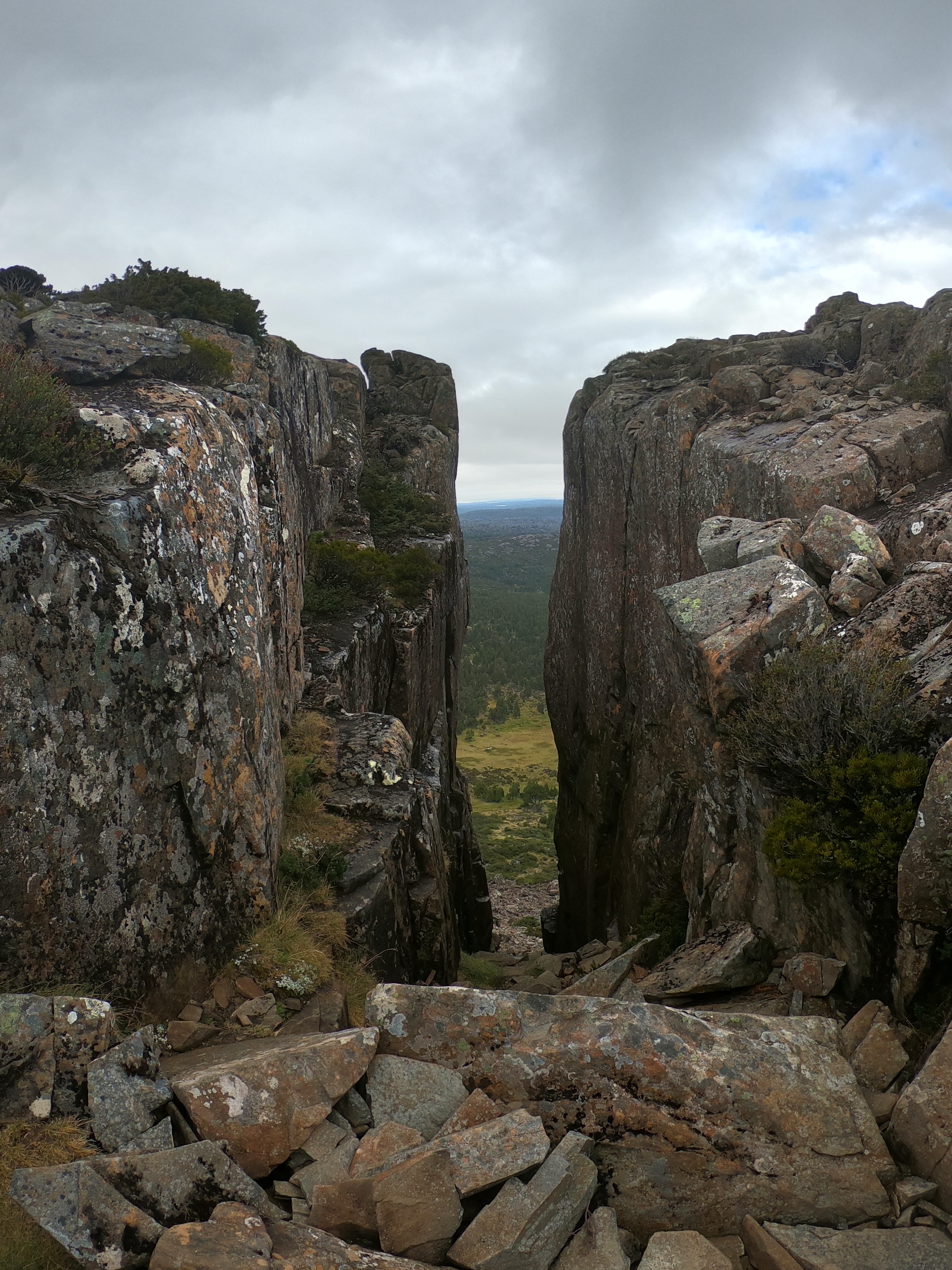 Up to Solomons Throne
Making it into Dixons Kingdom, we decided not to stay.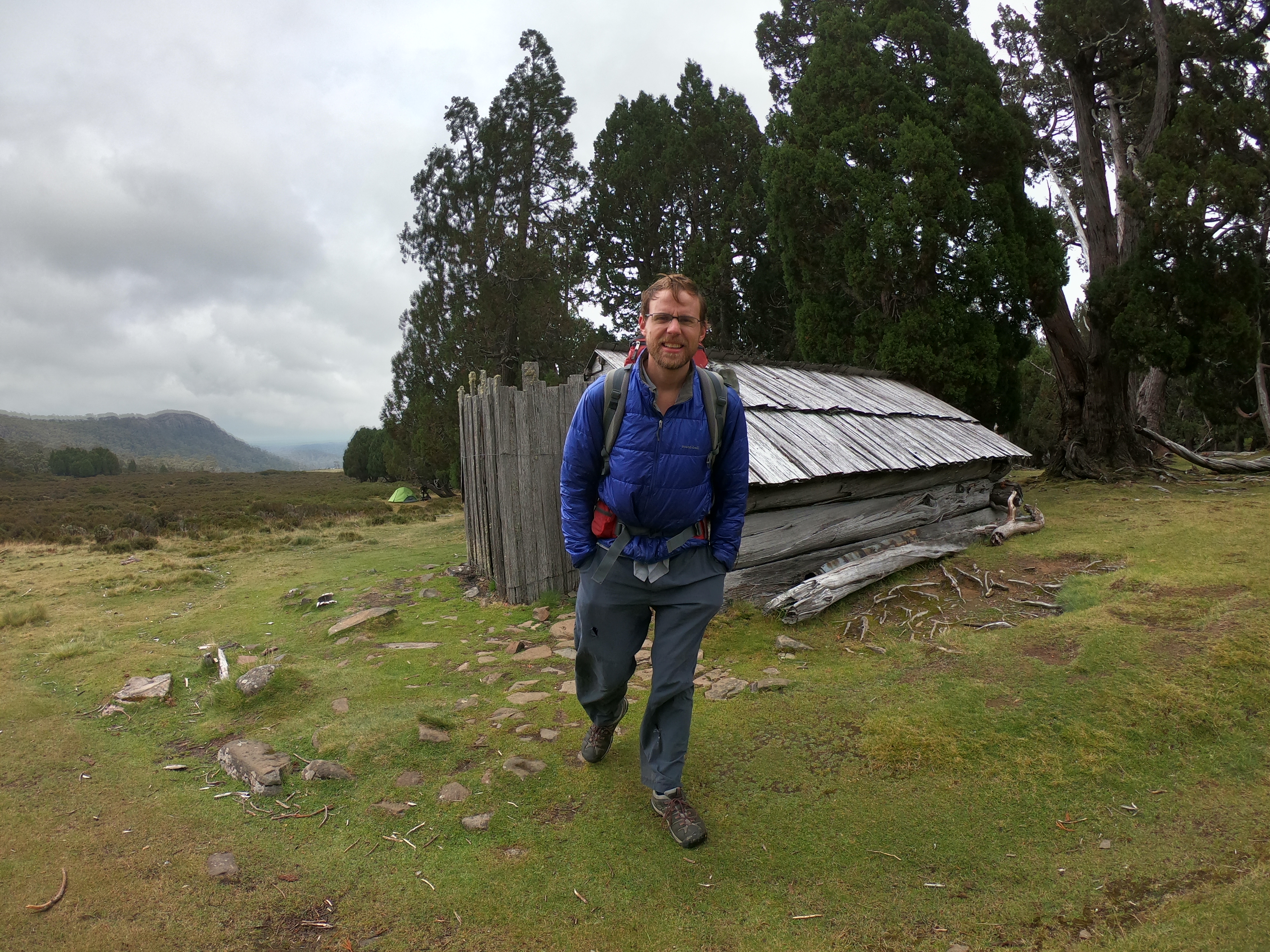 "Possums so big they'll fight you in the middle of the night and eat your face"
I've heard about some pretty aggressive possums, so we camped a bit further away to avoid them.
Day 2 - Dixons Kingdom (area) to Lake Sonja
The sleep was nice. The next morning we went up Mount Jerusalem, and doubled back to go up The Temple too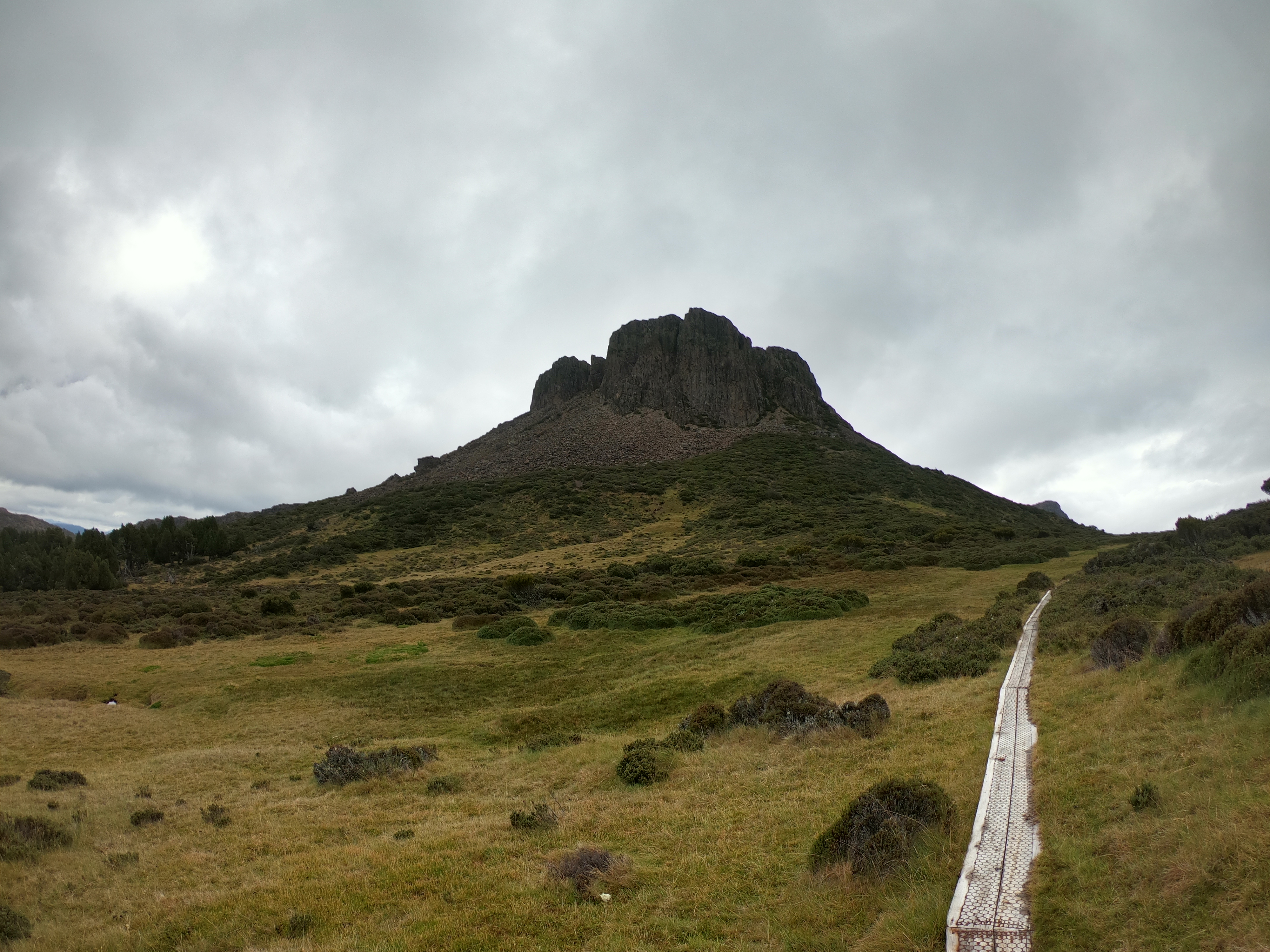 The next day we'd come back and go up The Temple too
With that done, it was time to se off down Jaffa Vale - an amazing walk if ever there was, on our way to somewhere down beneath the Great Pine Tier.
I don't have any photos that I can find of this area (I don't take many), and I can't find any that Dash took either, so here's a boring GPS map
Maps - Days 1 and 2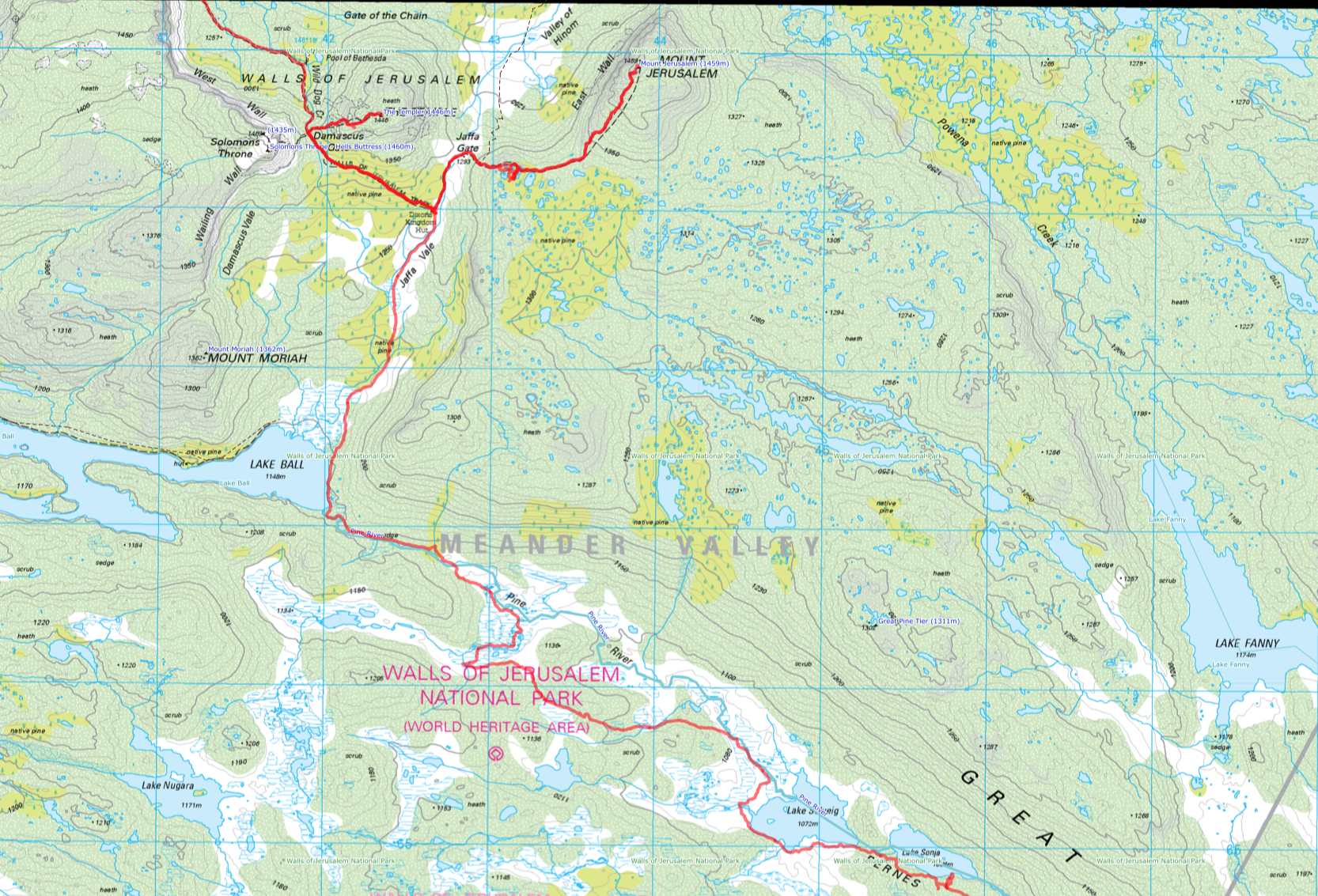 Click map to see full sized picture (I dropped bags and GPS so no track of Solomons Thone)
The night was spent just above the shore of Lake Sonja - a wonderful little camp spot nestled in between a few trees. Nice and sheltered, not that it mattered all that much because it was a stunningly wonderful night.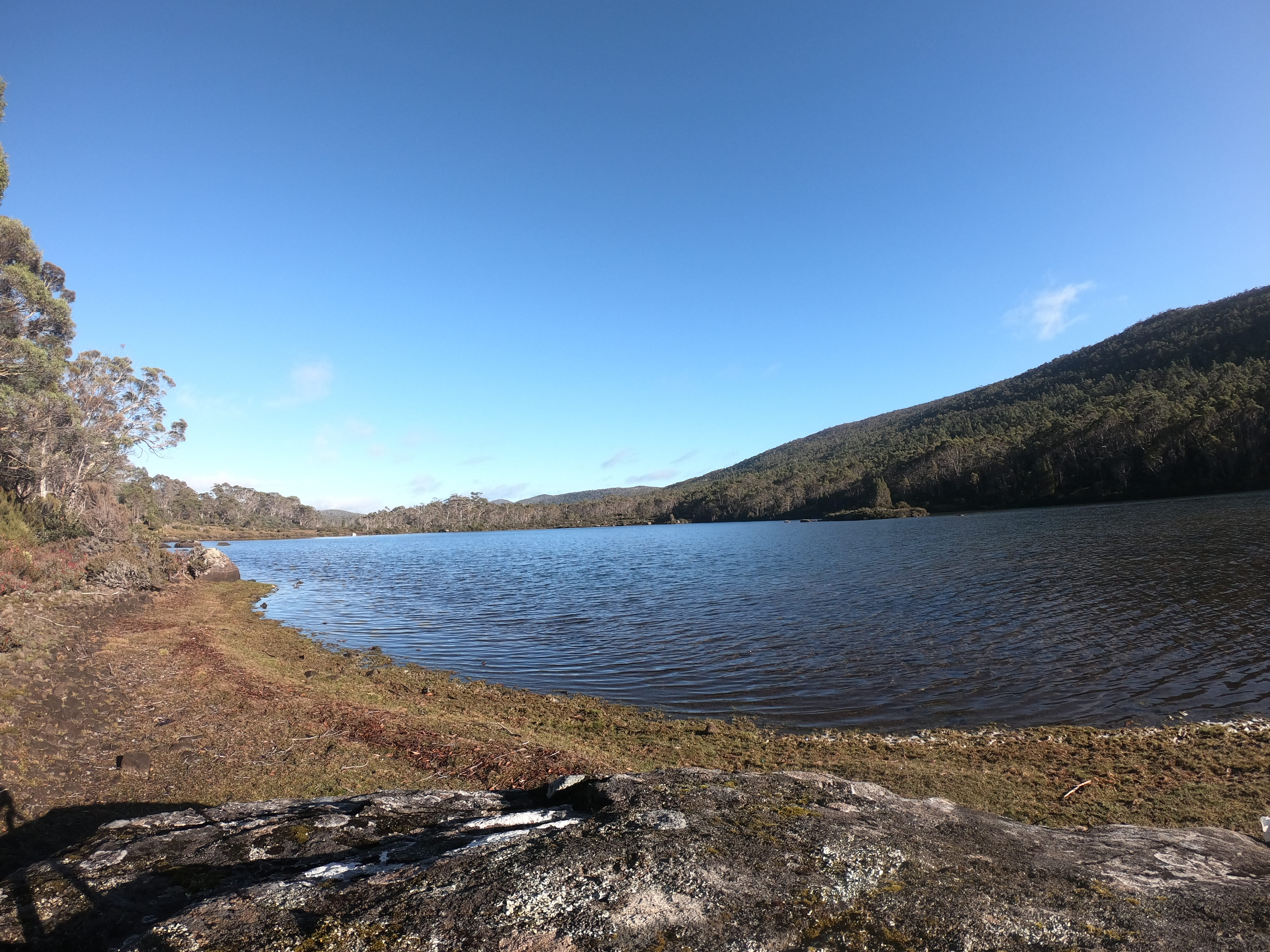 I think this was Sonja? I can't remember. It's been a few too many years. But it seems right. Tell me in the comments if I'm wrong.
Day 3 - Sonja to the end of Three Arm Lake
Day 3 saw us leave Sonja, and set off heading down Bernes Valley, before turning more southerly.
Looking at the map now, I think I made a few navigational errors. I totally missed Ah Chees Lake (a lake apparently named after someone called Archie - but spelt incorrectly), and after walking through heath and other low lying vegetation, we went west to get us back into the vacinity of Curena Creek.
From there, it was a pretty easy walk down the grass plains to Lake Rotuli. I've been here before, but it was Dash's first time.
It's a lovely lake. With large open areas, and light scrub. Well, that's the eastern side. I think the western side is far wilder.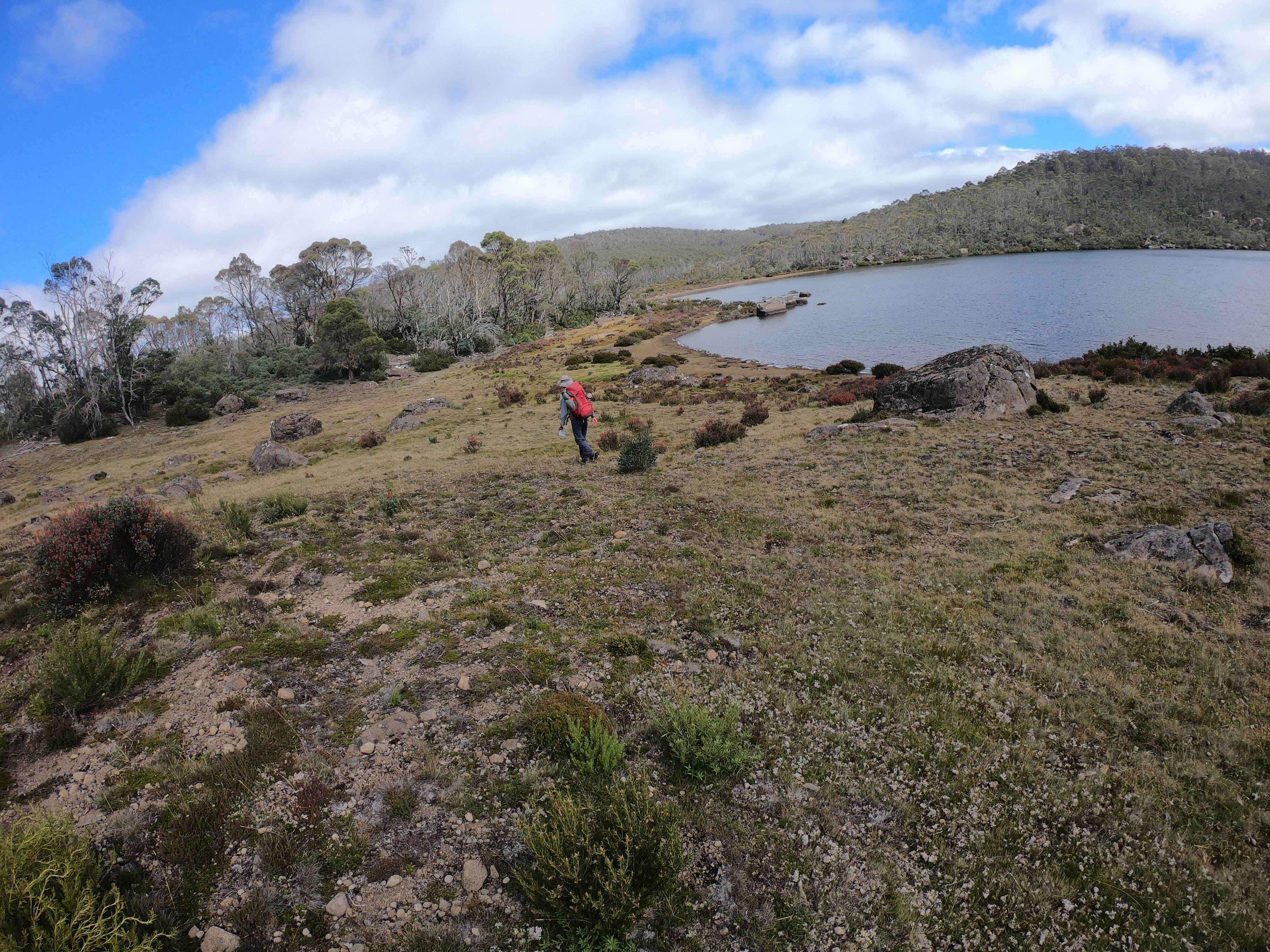 I'm just about to make another navigational error
After getting a bit too high up trying to avoid a small bit of scrub, we made our way back down to a small neck that separates one half of Rotuli with the other half.
This is easily wade-able, and in no time we'd made our way across and had lunch on the western beach.
From there it was up a creek I don't have the name of before needing to head up a hill to get to Three Arm Lake.
Again, I made some navigational errors and ended a little too far along. All it meant was a bit of extra bush bashing and we popped out close enough to where we were hoping to.
We camped a little past the end of one of the arms of Three Arm, you can see where in the bottom left of this map
Maps - Day 2 and 3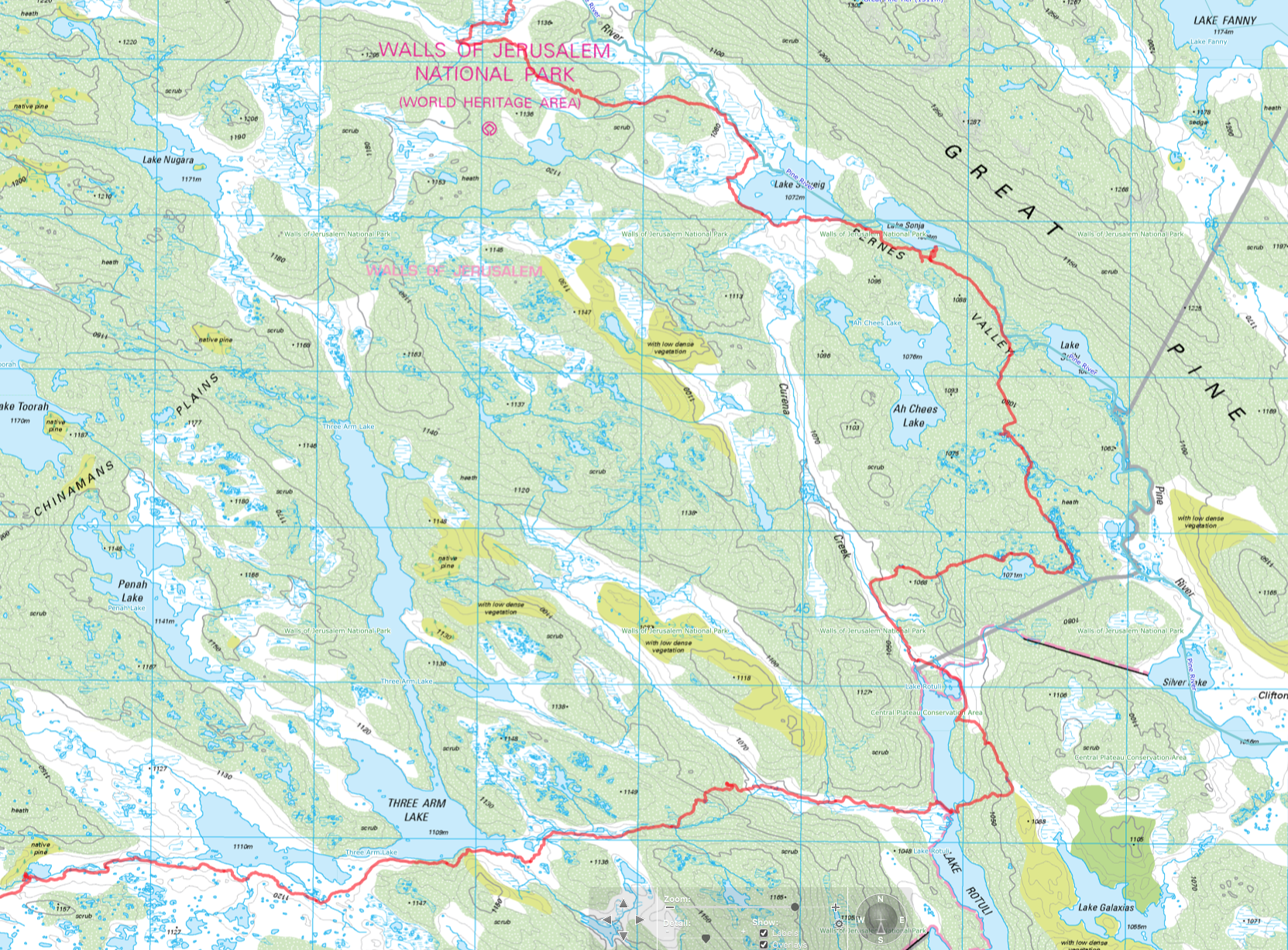 From this high up it looks like we knew where we were going but we didn't really ;)
Day 4 - Bad weather arrives
It wouldn't be a Dash and Will walk without some bad weather.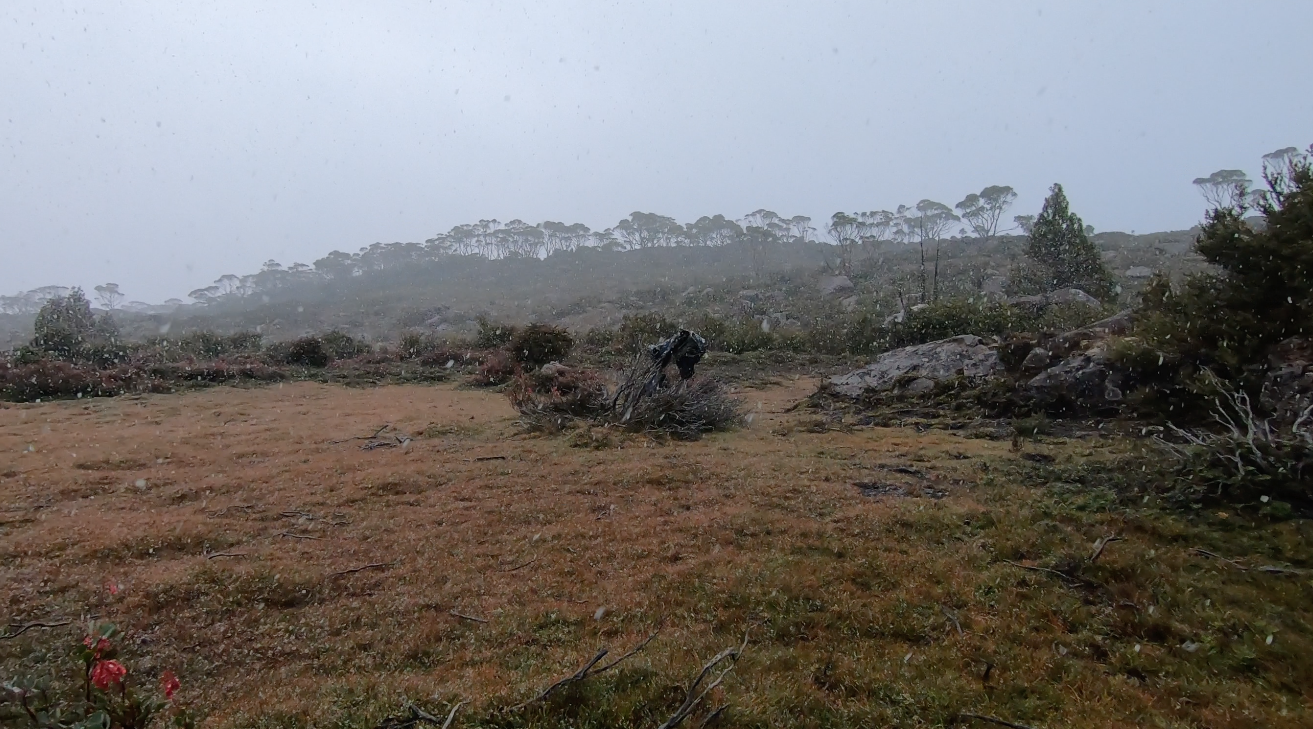 Day 4 was that day.
It started with snow.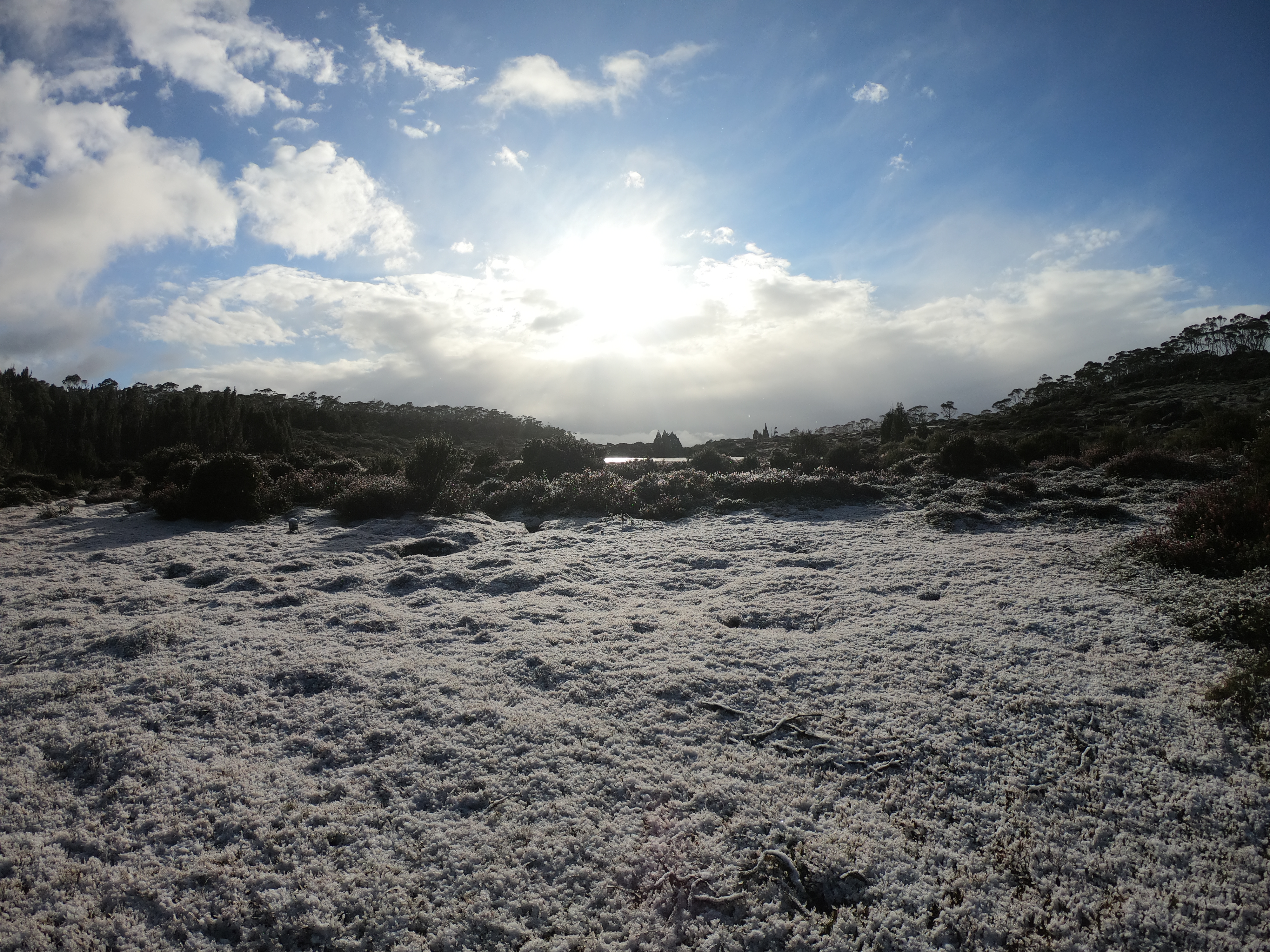 But at least is seemed like it was going to be a nice enough day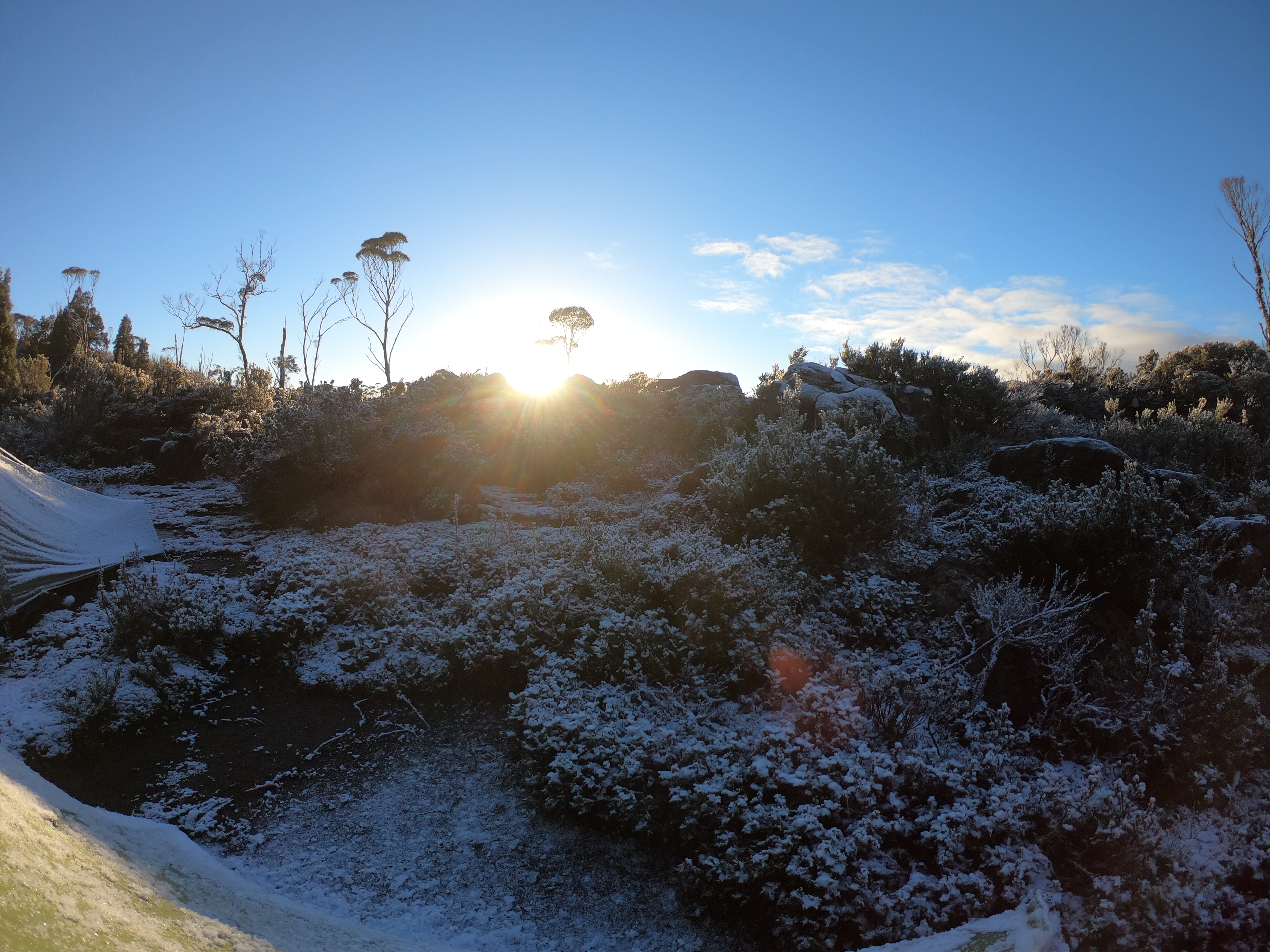 It was not to be.
We set off from our little lake camp and set our direction to point towards the Ling Roth Lakes.
But it wasn't long before it started raining, which happened roughly as we go to some sections of bush that can only be described as sharp, waist height and wet.
It was rough, slow going and we were soon very wet.
It started sleeting hard.
Then I lost a map. Oops.
We decided to stop for the day, put up the tent and dry off.
Amazingly, we found a flat little area with some nice shelter. Water wasn't too far away either. Perfect to wait out the conditions and hope for a better day the next day.
I wish I had a photo of the campsite, because it really was a good spot. We were also so lucky to find it. There were very very few options around.
Luckily I had my Kindle and got some good reading done as it rained.
Here's the next boring map and track in this long running boring map series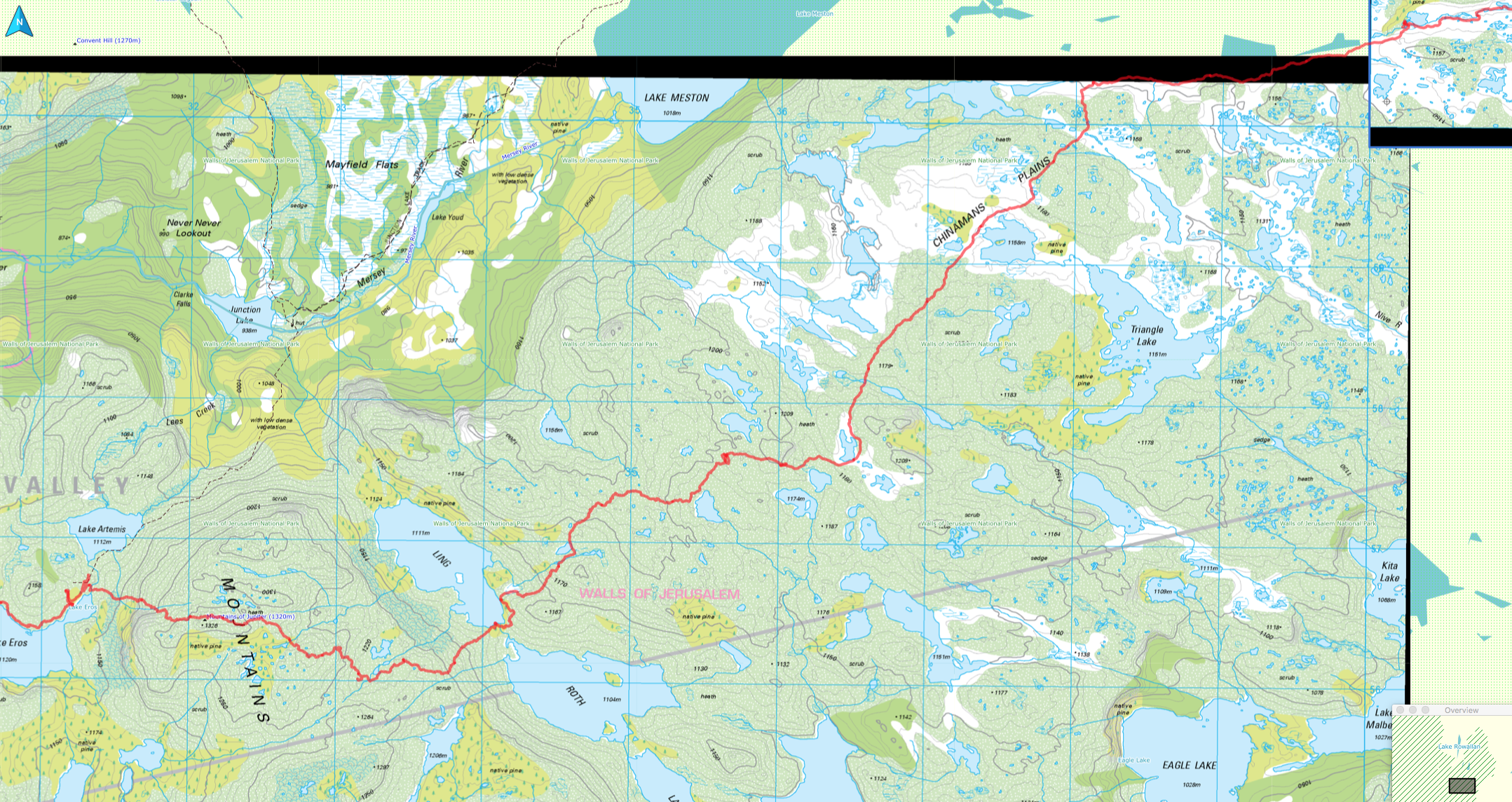 You can roughly see the great emergency campsite right in the middle with a largish red dot where I was wandering around for a bit looking for water
Day 5 - Don't go to Ling Roth Lakes
If anyone suggests going to the Ling Roth Lakes, think twice.
They're very overgrown between the lakes, and it takes a LONG time to cross.
Anyway, I'm getting ahead of myself.
We woke up, the weather was better so we set off on day 5 of our trip to Lake St Clair.
We weren't really sure where we'd end up by the end of the day. We didn't really even know what was ahead of us.
The map had a lot of green, and we were getting sick of the bush that that colour green represented.
Nonetheless, we were right in the middle of it so we had to get out of it one way or another.
Now you might be wondering about the lost map. How would we navigate without it?
Well, luckily we had a spare. I had lost a 1:25,000 TasMap but Dash had a 1:50,000 of the area too. Phew.
So to spare you too many details it was scrubby - but not too bad.
*fast forward to Ling Roth*
Crossing between the lakes is incredibly slow going. Pack on/pack off. Scramble and crawl. Climb a tree. Down again.
It's very tangly. It's very overgrown.
I knew it was coming thanks to a post on the bushwalk.com forums.
There was some considerable scrub bashing between each of the Ling Roth lakes which meant we had to deflate and inflate the rafts each time, even though the distances were short.

Son of a Beach - Mon 14 Jan, 2019 11:51 am
It took us about an hour to get from one side to the other. We might have had lunch too, but we needed a break.
Anyway, from there it was a pretty simple walk up onto the Mountains of Jupiter.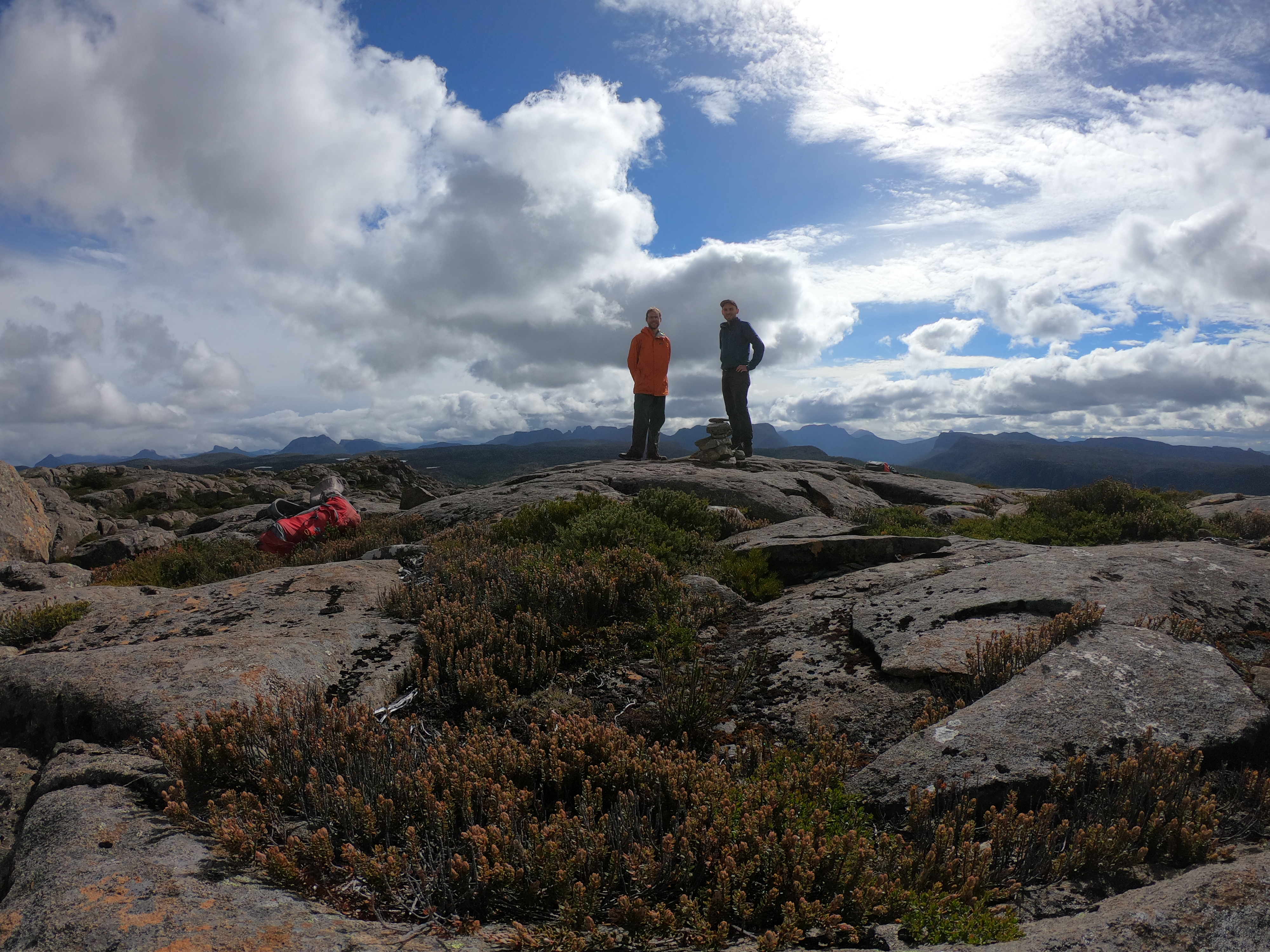 Was this even the top? Who knows.
We stayed that night on the shores of Lake Eros.
Finding a campsite wasn't as easy as hoped. We found a spot, but wasn't great.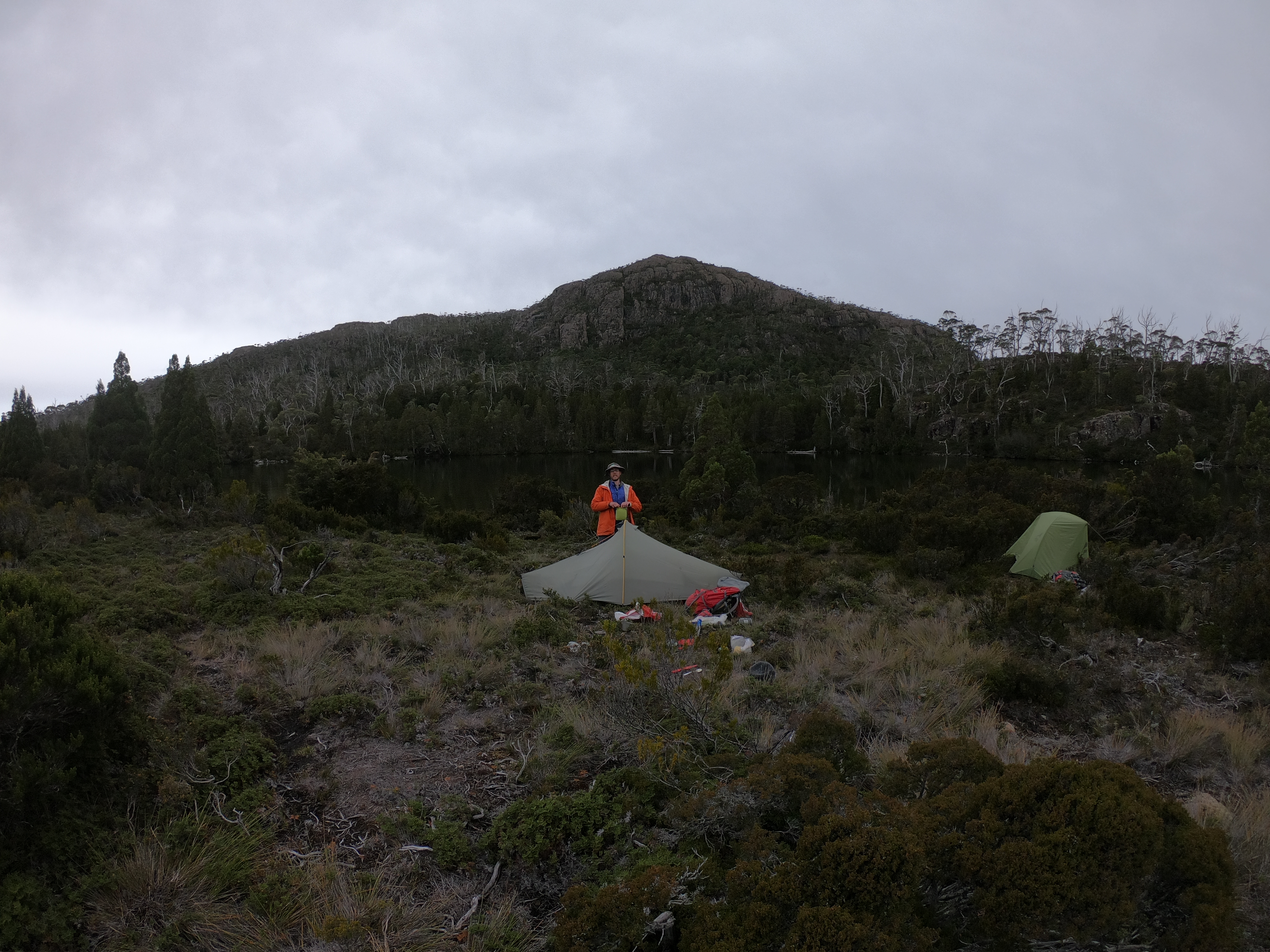 Maybe we should have looked a bit harder…
But the views we got that night were amazing.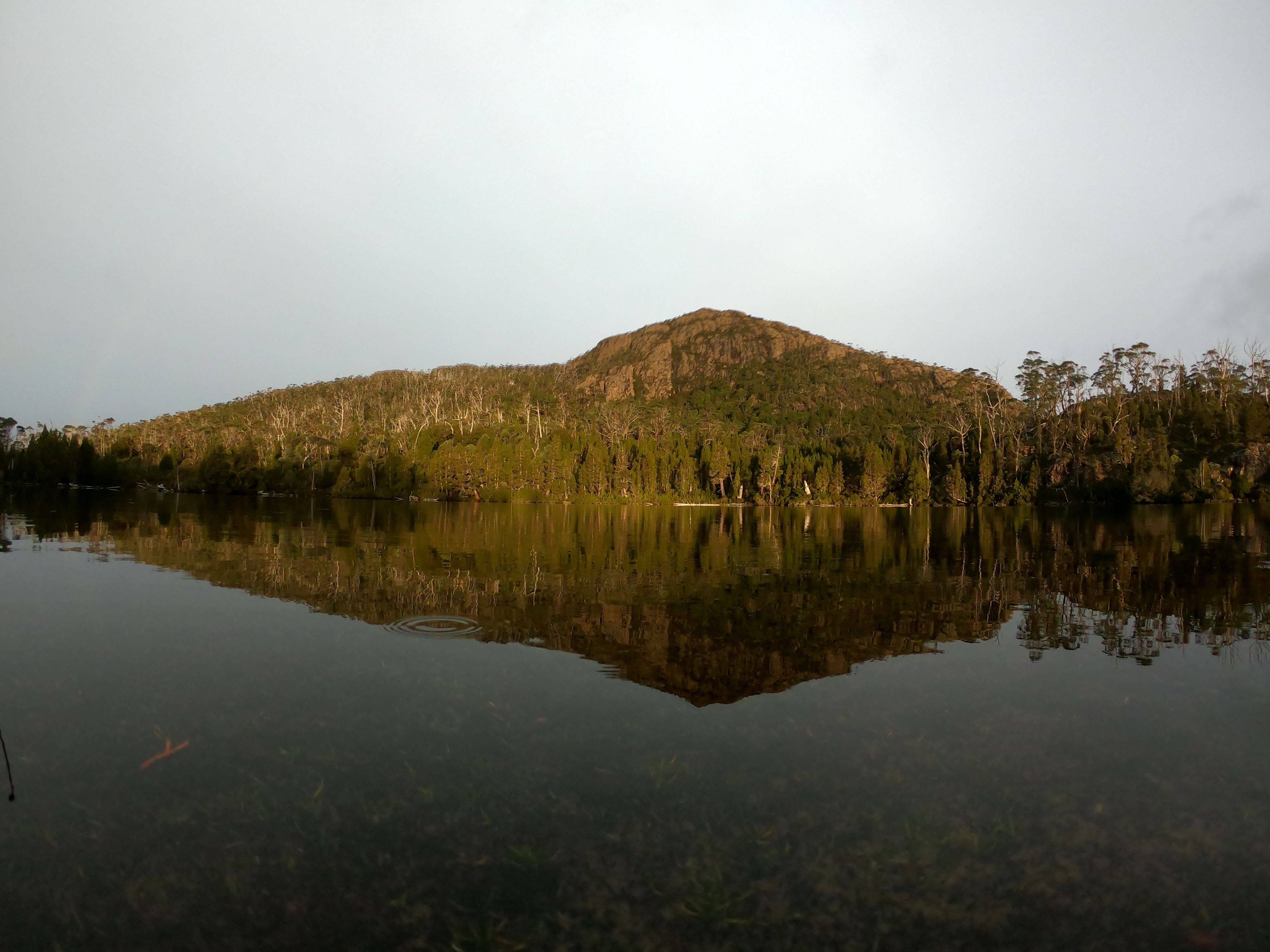 Day 6 - Our last in the wild
Day 6 was to be our last day in the 'wild'. We'd make ourway along the shoe of Eros (where I nearly lost another map….), skirting past Merope and up and over the northern part of the Traveller Range to the Du Cane Gap.
The Range walking was mostly easy enough - pretty fast too, as we saw Falling Mountain get closer and closer.
We misjudged the walk down from the Range to the Overland Track at Du Cane Gap though, and ended up a little too close to the cliffs. A few hundreds more meters south before heading down might have the decent far less steep.
Once we just the Overland it was like joining the freeway. We flew along the track, ending up at Bert Nicohols Hut for the night.
Where's that boring map and GPS track? Oh here it is: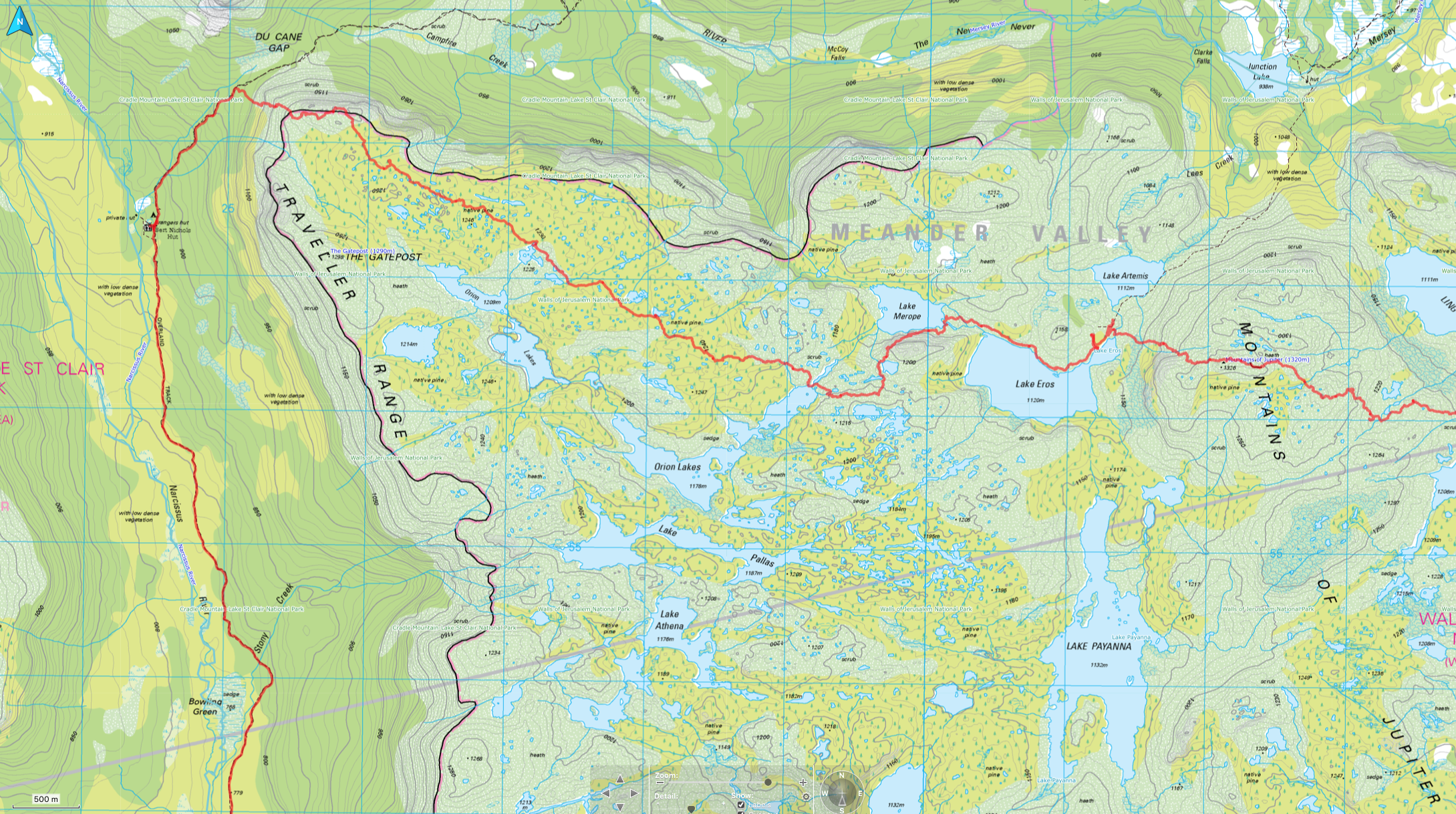 Day 7 and 8
We figured because we had an extra day or so, we'd go to Pine Valley and maybe go up The Acropolis.
A brilliant part of the world.
The weather was amazing and the views fantastic. Don't have any pictures… oops.
I do have a boring GPS track though.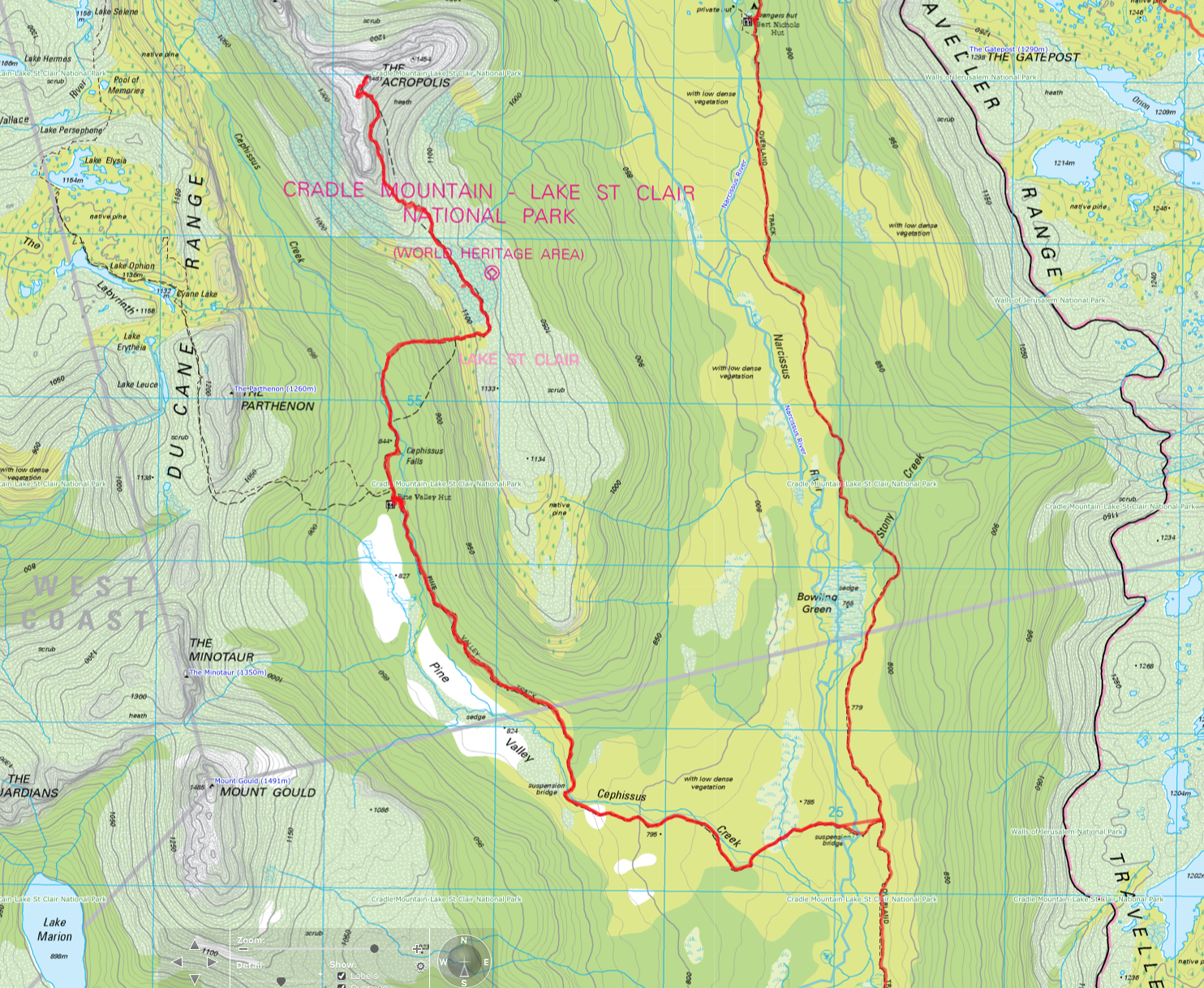 Click map to see full sized picture.
This was my second trip to Pine Valley, and would prompt a third trip with dad to complete the Du Cane Range. But that's another story.
So all and all, a wonderful trip. Bit of bad weather. Lots of good.
New mountains and new area covered. And best of all, we'd made it from The Walls to Lake St Clair.
Why not have a look at the WHOLE GPS track all on one big map. Not boring at all is it?
Walk map: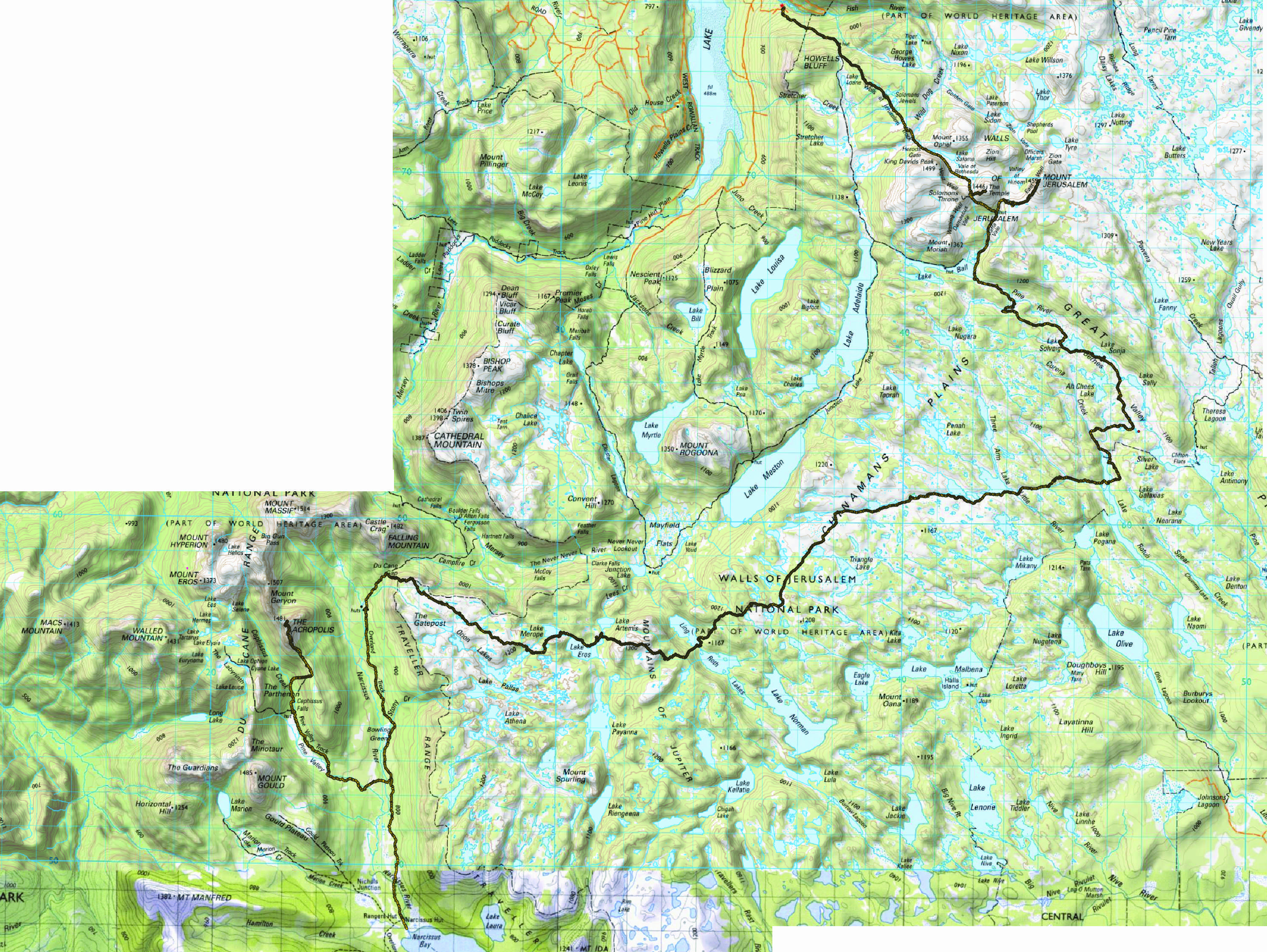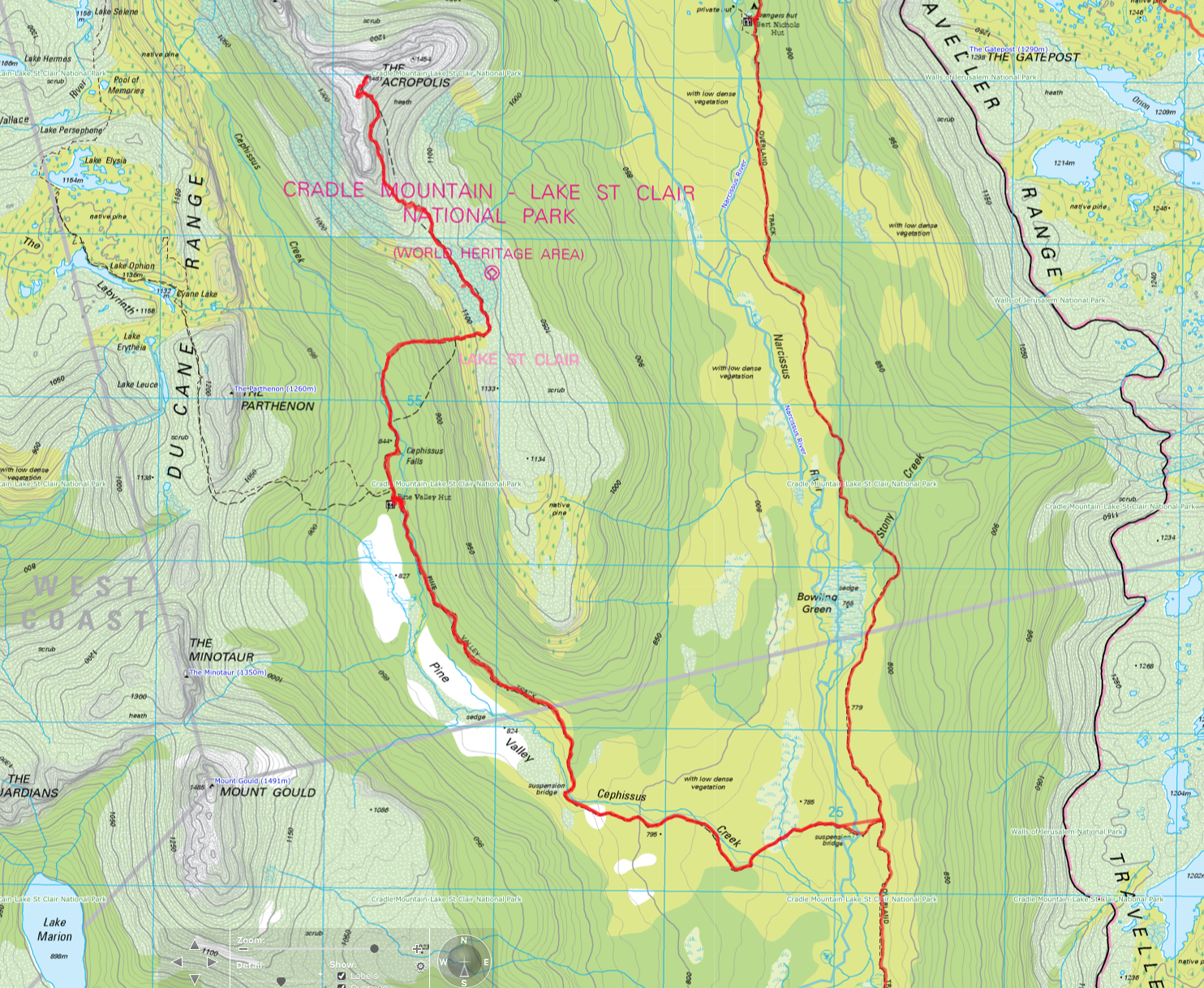 ---
Comments
---