"You're listening to ABC Hobart with Joel Rheinberger" the radio explained to me as the car stuttered to life on a cold winter's morning.
It had just turned 7:05am, and I was heading towards the Brooker Highway that would eventually take me to Maydena and a bit beyond.
I don't usually listen to the radio these days, preferring podcasts or sometimes silence, but I figured today was a day of differences.
The big one being a I was off on a mid-winter's walk to Mount Mueller in the Southwest National Park, which turned out to be not only a different type of walk but one that was also out of my usual comfort zone.
Mount Mueller is a 1245 meter mountain in two parts: There's the eastern part of the mountain, which you reach first after a solid climb from Fossil Lake; and, there's the western part which is the true peak, about 1.6km or so further along (and crucially 5 meters taller).
Getting to the start of the walk isn't too hard, but don't expect any signage along Styx Road, Mueller Road or the small overgrown looking spur one must navigate to get to the start of the Fossil Lake track1.
But as I jumped out of the car for the eight or ninth time to pull a fallen tree off the road, it was becoming pretty clear that no one had been through here in a while.
Eventually, I found a place to park and set off - it was about 9am - and like many walks in the Southwest, it was pretty much straight into the mud.
But the mud disappears eventually as you slowly gain altitude, walking pretty much in a straight line up to Fossil Lake which sits about 400 meters higher than the car park.
It was windy and cold when I got to the lake, so I didn't spend much time looking around. I set off up the steep looking face of the eastern part of the mountain, climbing into cloud and uncertainty.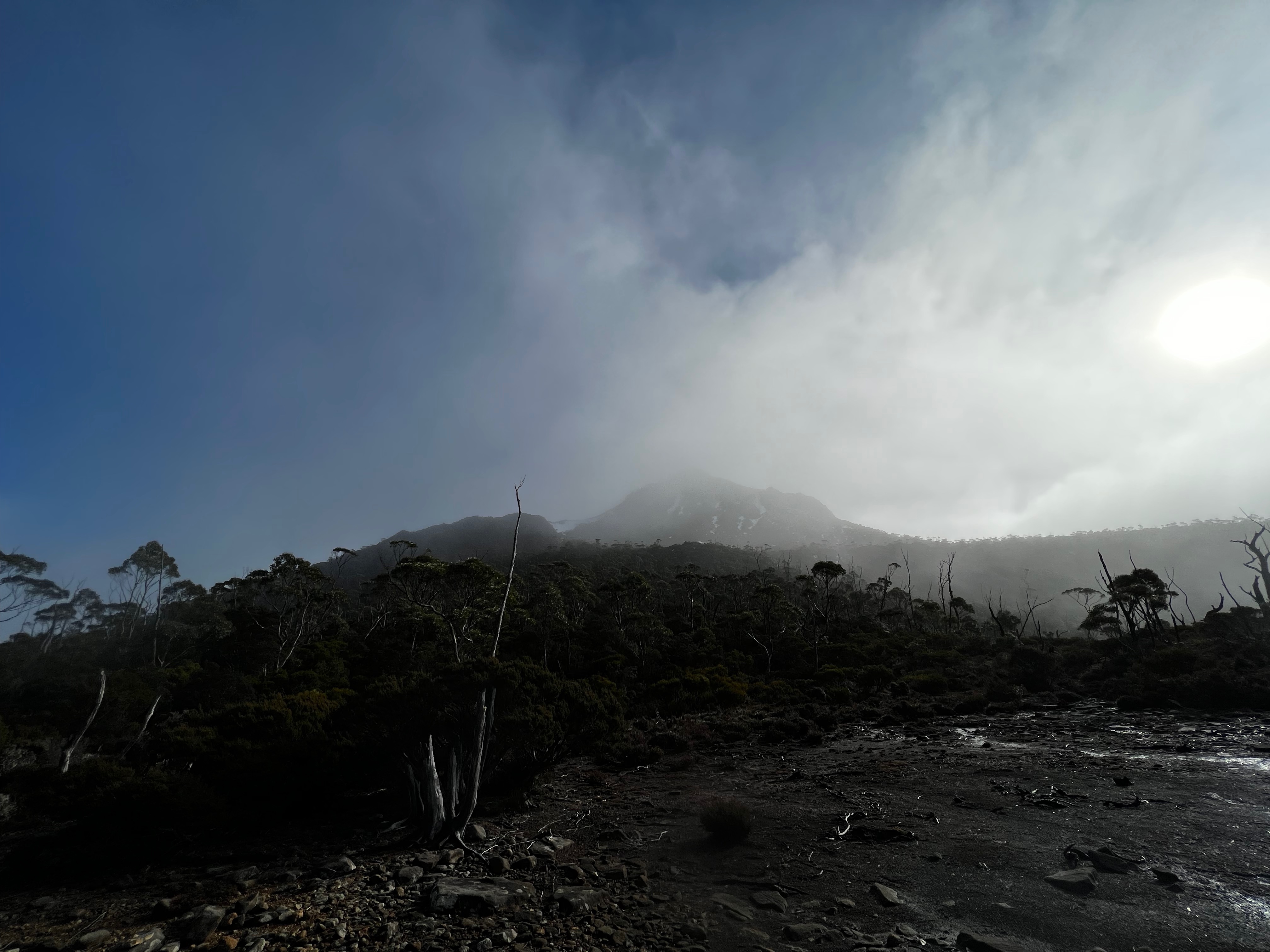 It wasn't long before I hit the first in what was to be many large snow drifts, which obscure the track and make life slow going as you slowly navigate across them hoping you wont fall through into a big hole underneath.
As I got higher, there was more and more snow. Eventually I was scrambling up a large snow face, and luckily it was hard and packed down so I didn't fall though.
I finally made the ridge line, and it was windy. It was cold, dark and icy. Ice was everywhere. On the rocks and on the plants.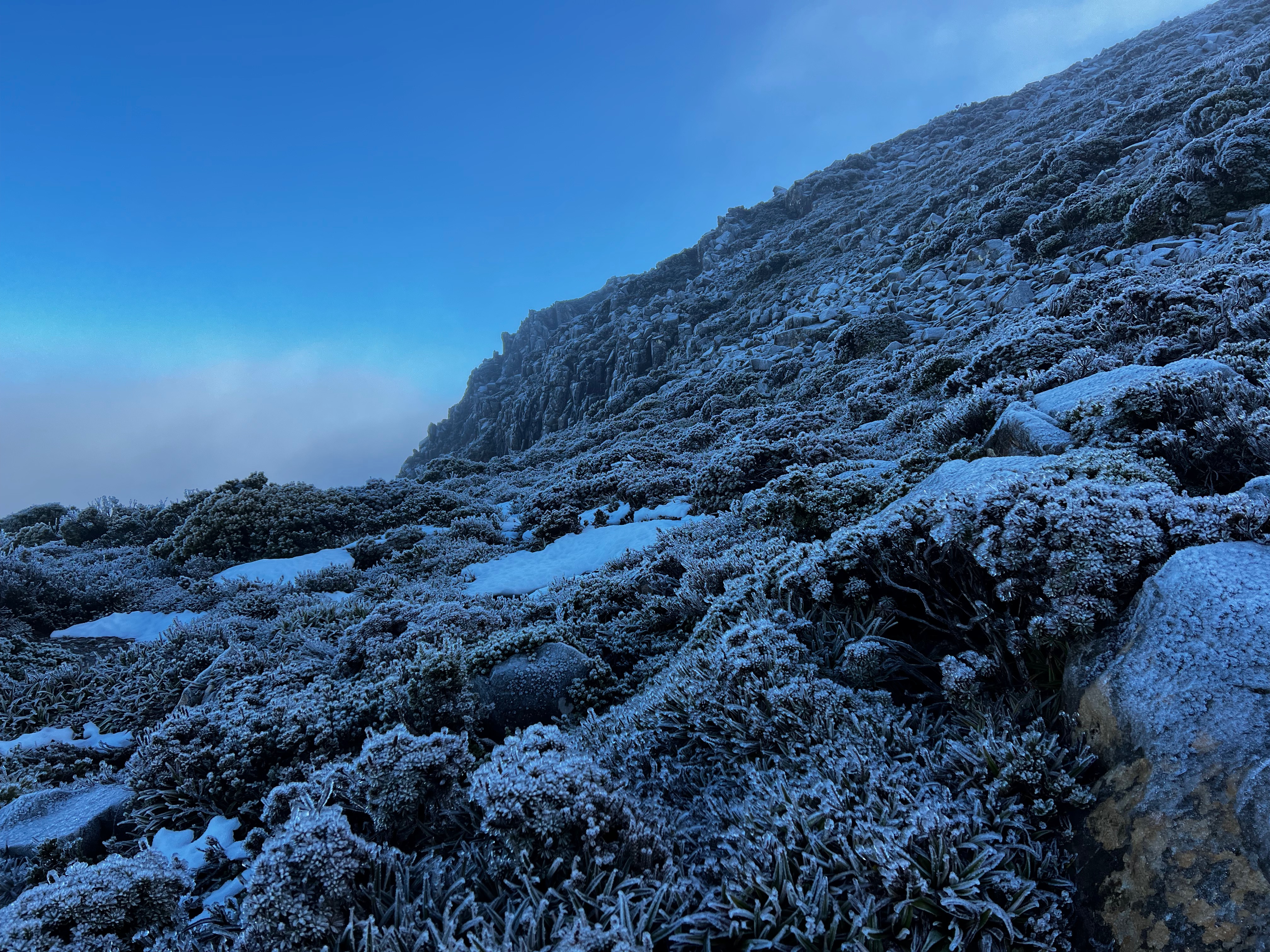 When I talk about comfort zones and differences, this is what I mean.
I try to stick to good weather for walking (why walk in the rain if you don't have to?), but good weather can be relative depending on the season… right?
The forecast wasn't bad. The winds weren't massive. Just cold and slightly wet.
But nonetheless it was still winter. It was different. Somewhat uncomfortable in places: I was alone in an inhospitable, remote and punishing environment.
Occasionally the wind would die down just a bit and the sun would just get through, but the moments were short lived.
It was however, utterly spectacular and the walking was mostly easy across the low alpine scrub that has a hard, hard life on top of the ridge.
It was harder in the rocky icy sections, which was a bit like navigating over ice cubes.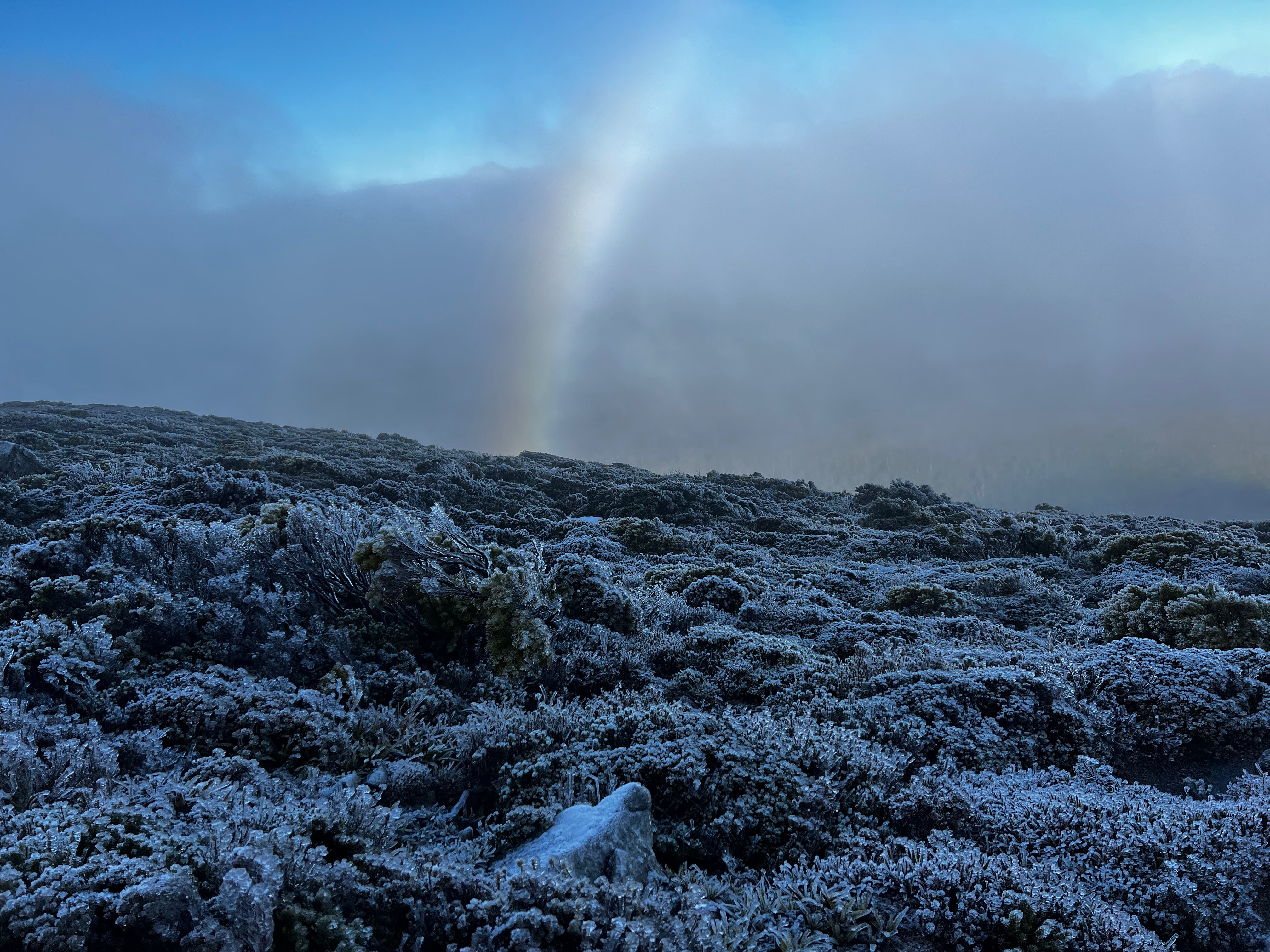 On I trudged, and due to cloud I could only see several hundred meters ahead at best.
The scenery remained icy and unforgiving.
The track was mostly difficult to follow, but I came across it from time to time and I could tell from the map I was heading (vaguely) the right way.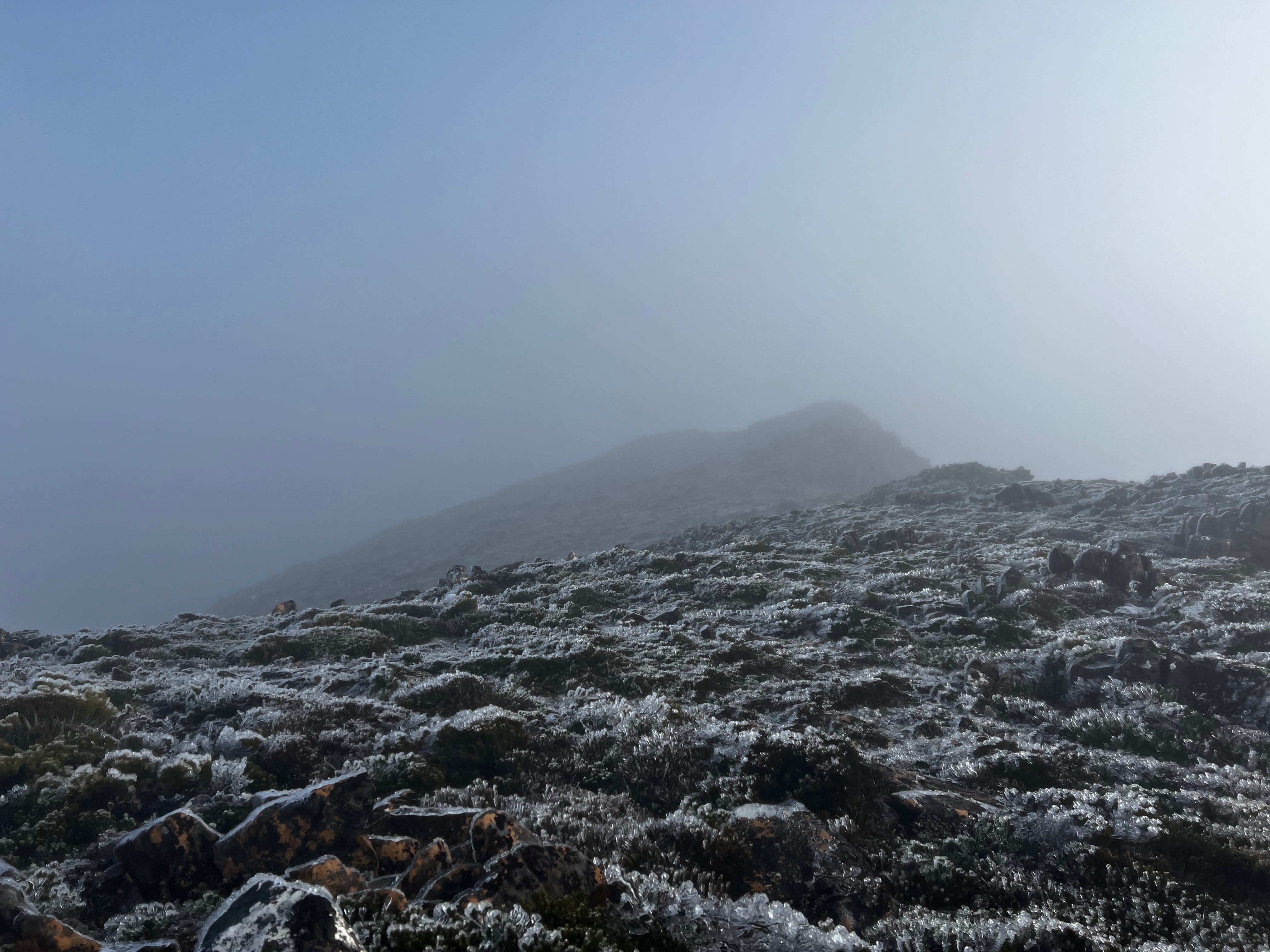 So long as I wasn't walking down to the left or right too much, I was going ok.
I made it to the saddle, and starting to feel the cold, decided to jog/run this section.
It was strangely bereft of ice, so was easy to navigate.
I bounded up the other side, following various tracks and clambered over more icy rocks.
Soon I was near to the One True Summit, and very carefully started the final climb.
Naturally, all the rocks here were at their most icy. It was slow going, but eventually I made it.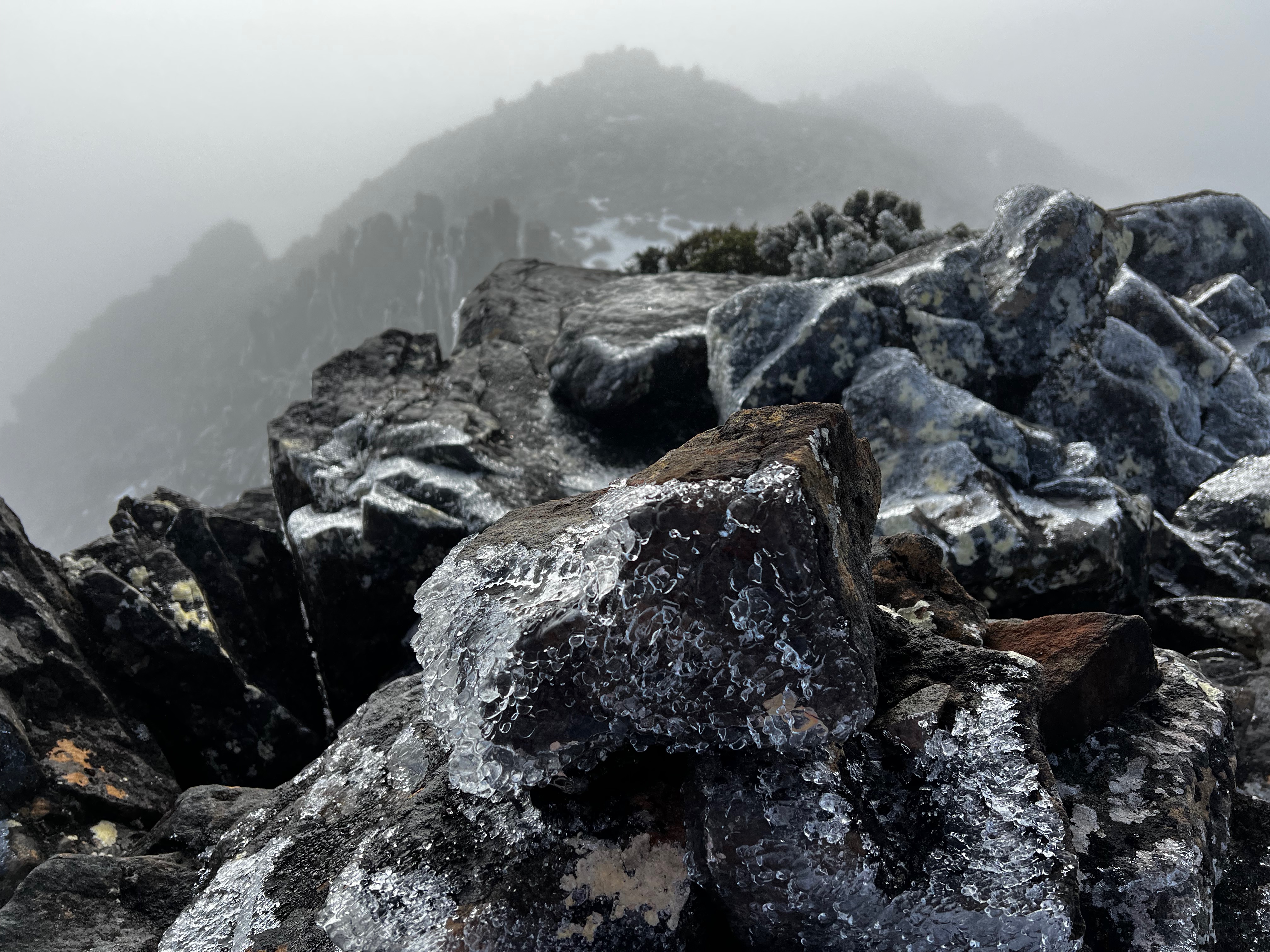 While panorama views of the area there were not, I was still treated to the occasional moment of blue sky with a lovely rainbow as a bonus.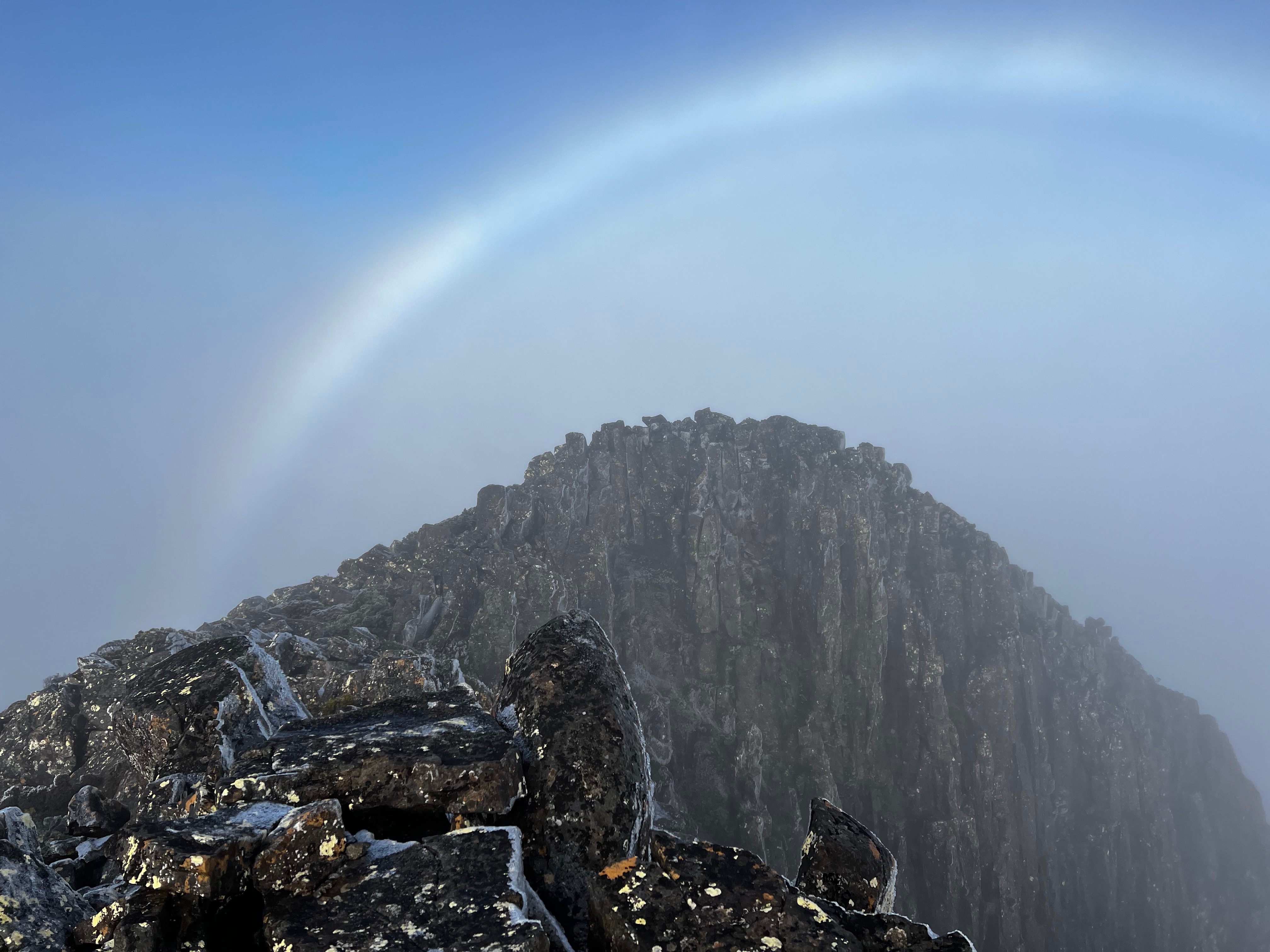 On the way back, the weather had improved a touch - which led to a bit more time to get a icy plant shot or two.
And not wanting to cover the same frozen scree I'd encountered on the outbound leg, I skirted round it on the return and patted myself on the back for being so clever.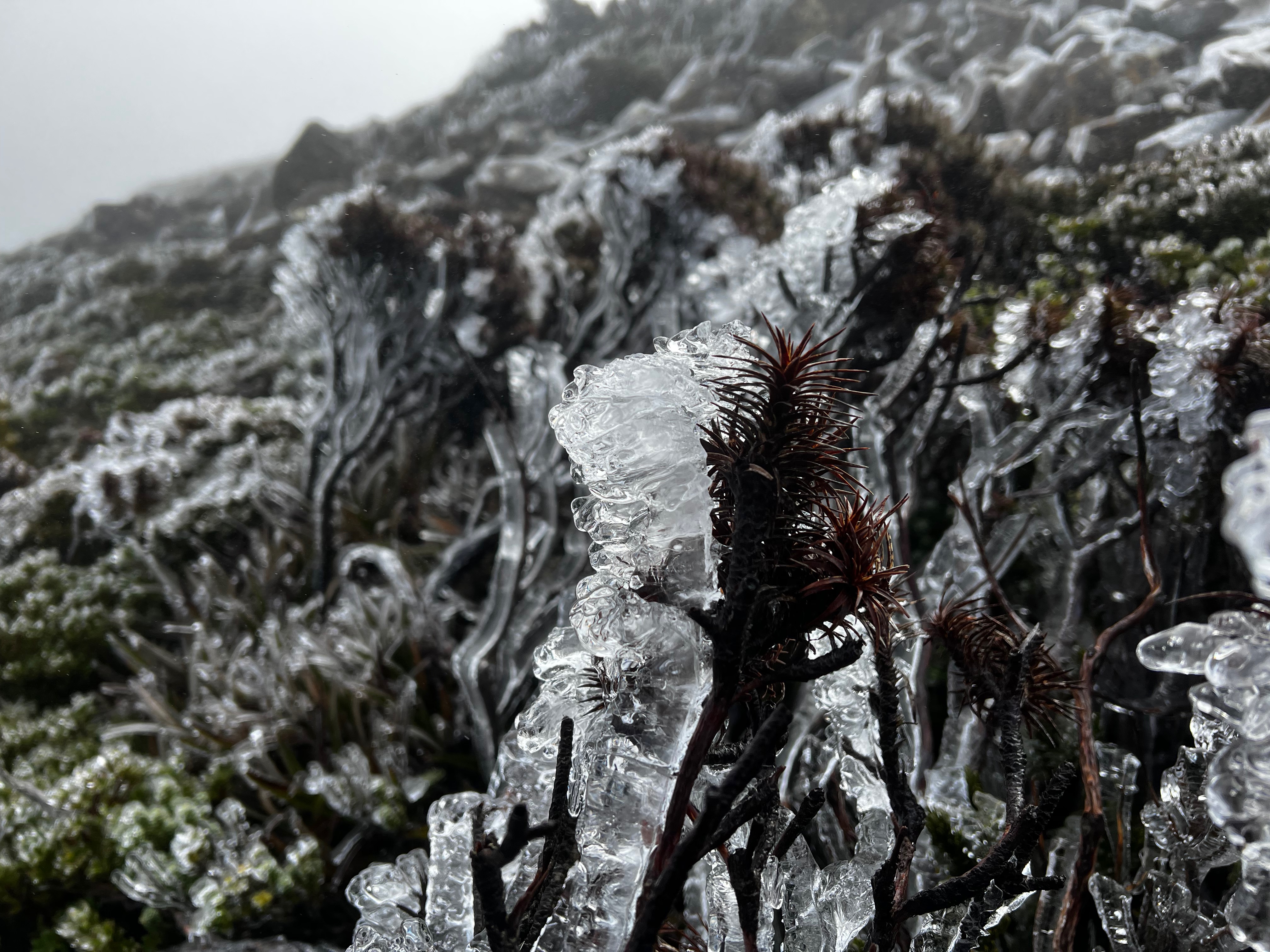 Fossil Lake was also far more pleasant on my second visit, and I pottered around the shore taking a few pics.
It seems to have gained an (unfair, IMO) reputation and I'd read is sometimes referred to as Ugly Lake.
While he makes no judgement of the lake's beauty, Lucas Chamberlain hypothesises it might be because of fallen, dead trees that surround it.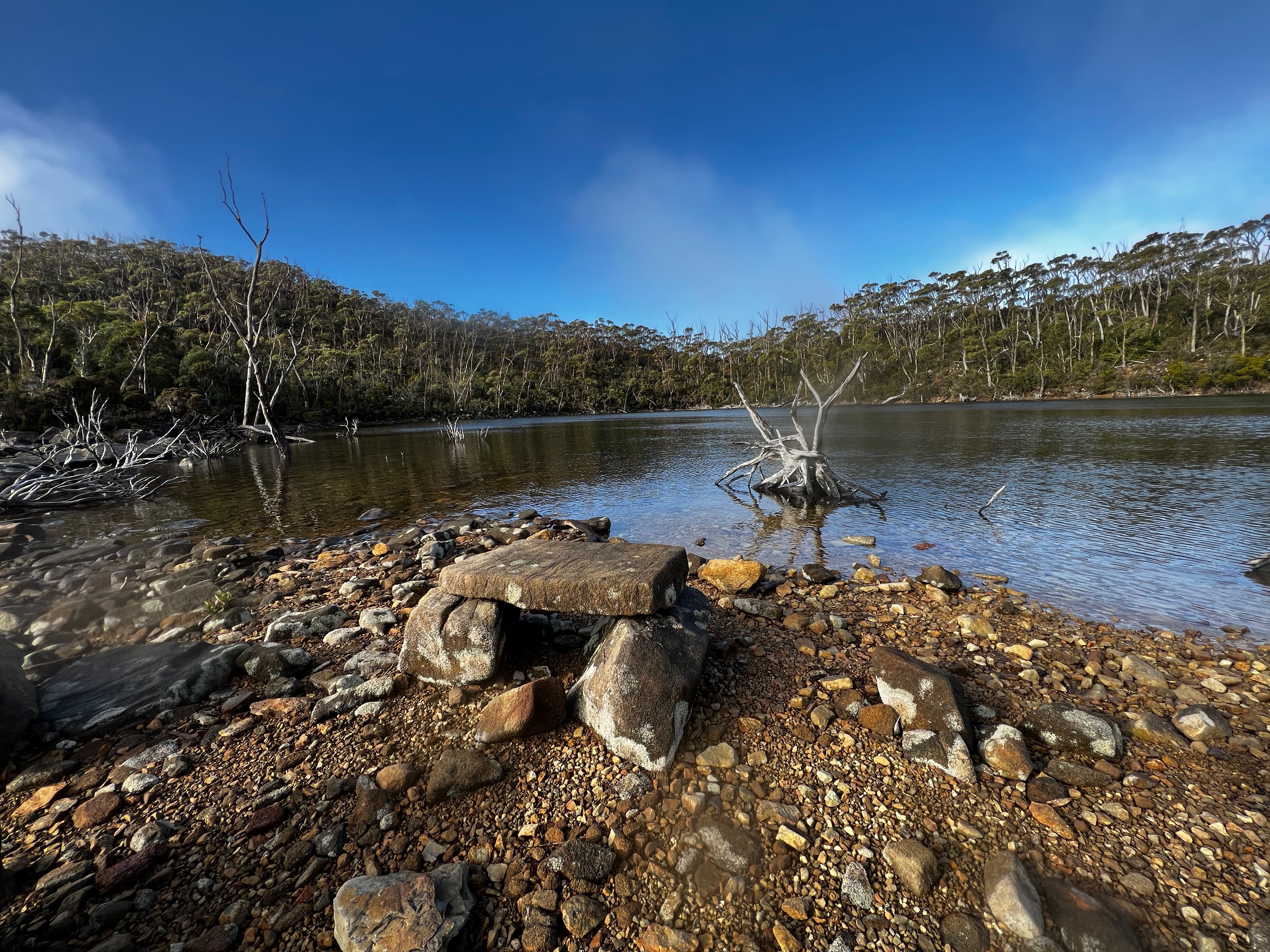 If that the reason, I just can't see it myself.
It's a nice - dare I say - pretty little lake that has no creek so any outflow must either be up via evaporation or down via leaks in the ground.
I'd love to read more on this, but can't find much else about this fascinating place.
And of course, you can't throw a rock far without it either hitting a fossil or actually being one.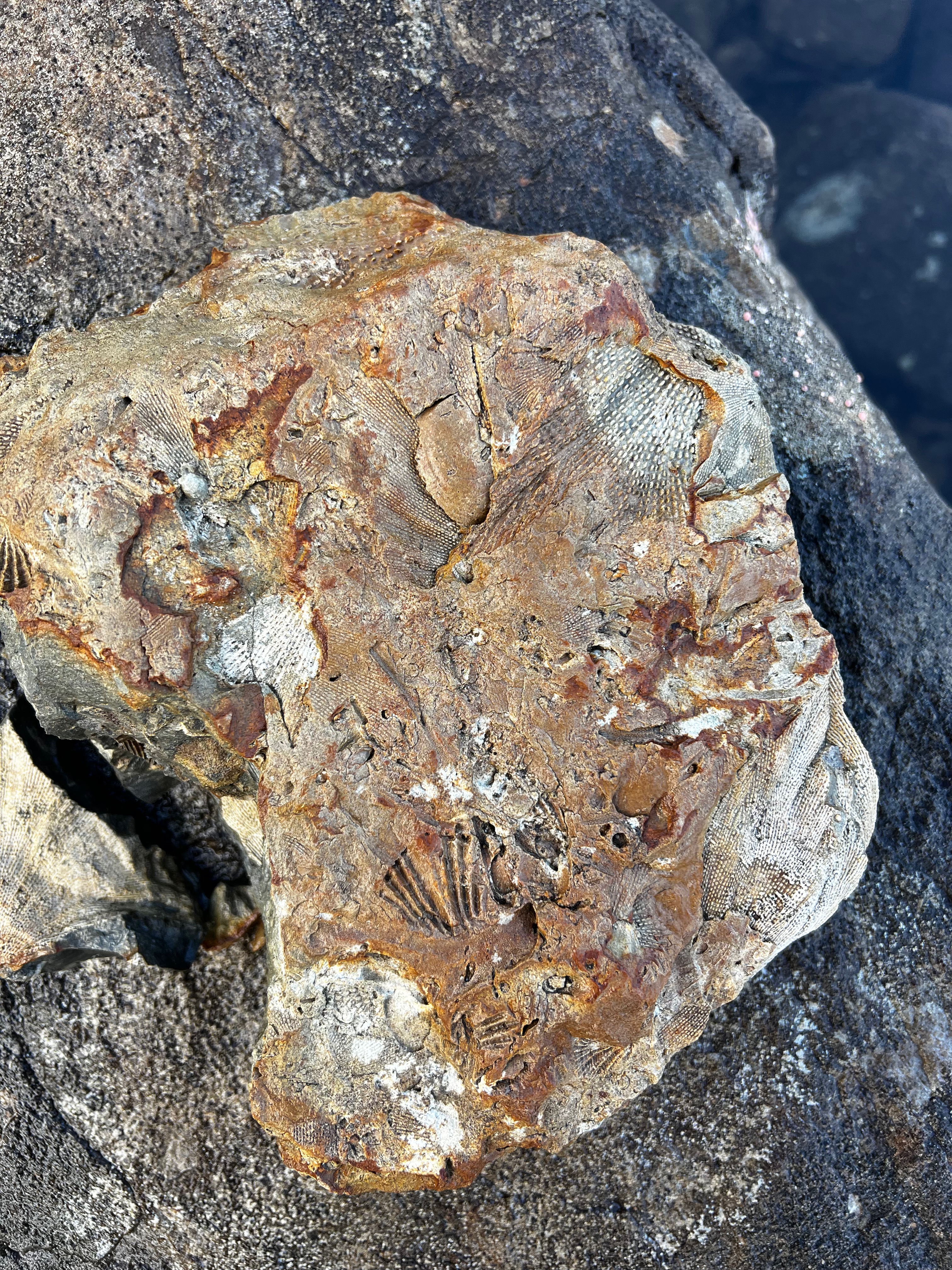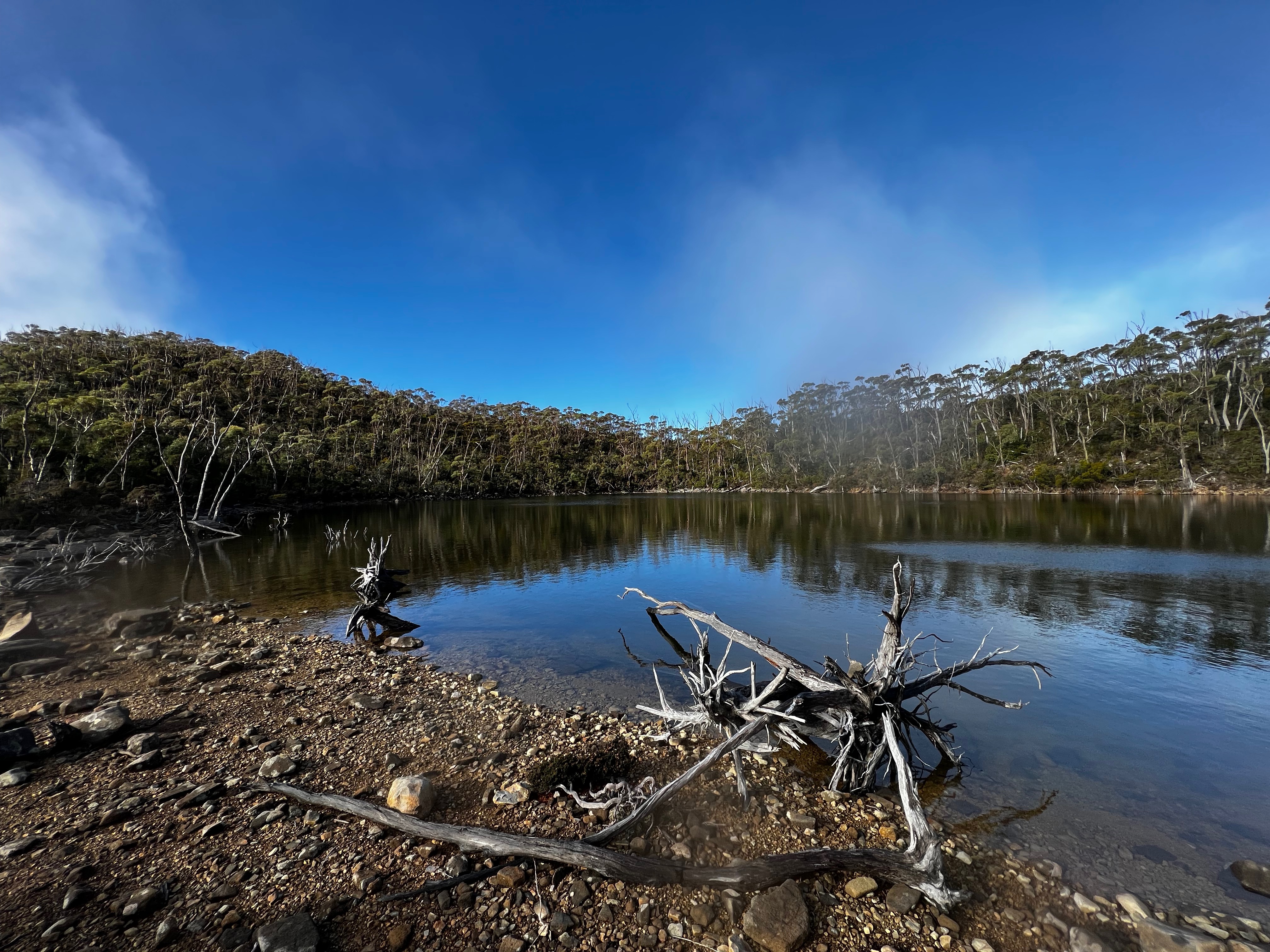 With that done, it was a non eventful walk back down the hill to the car. Another great day out!
Trip map2
Walk dates: 2 July 2022
Total ascent: 840 meters
Walking times3 (approx - your times may vary): 5 hours return
Car park -> Fossil Lake: 1 hour
Fossil Lake -> Mueller peak: 1:30
Mueller peak -> car park: 2:15 (with 10 minute break at Fossil Lake)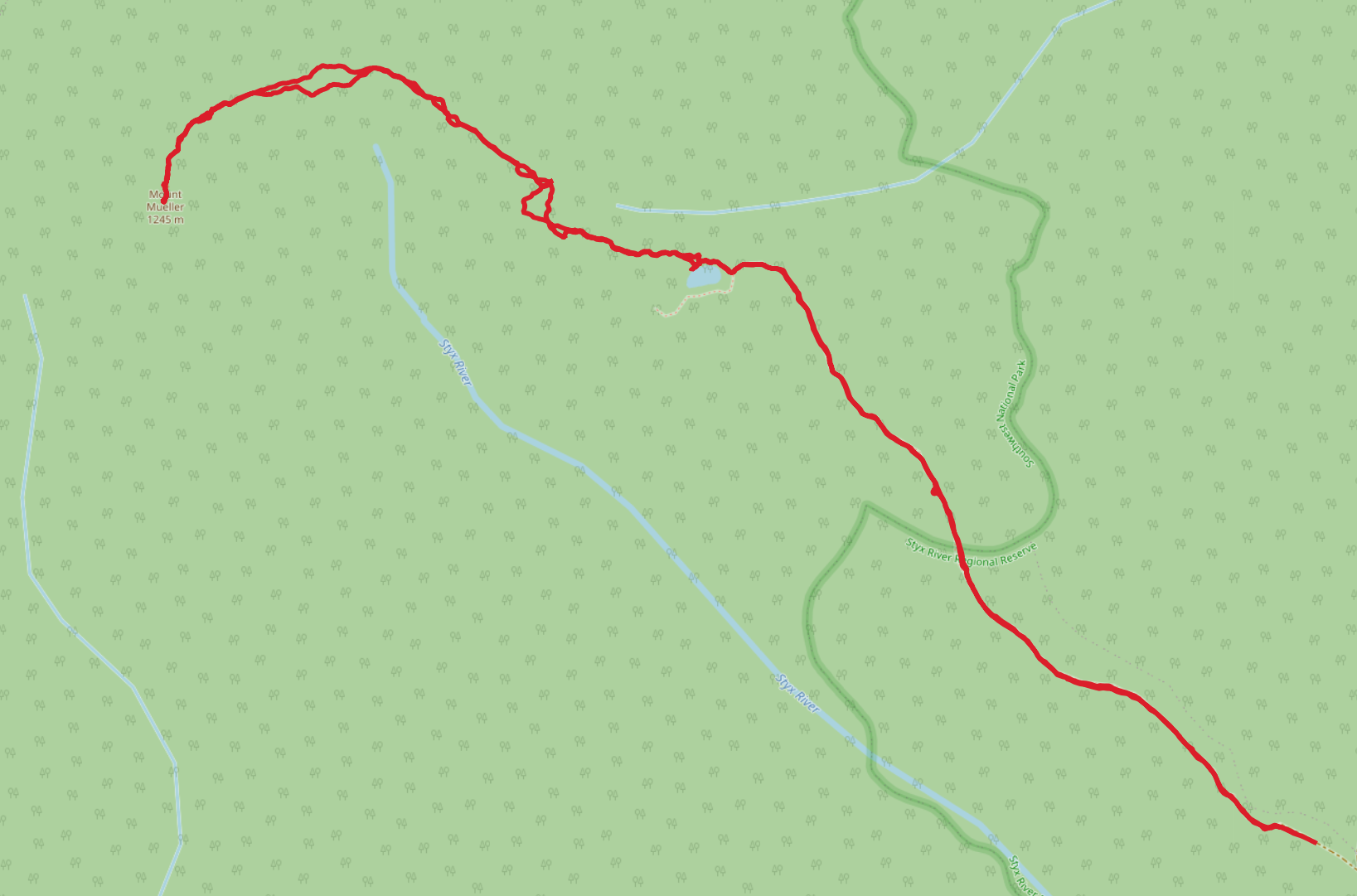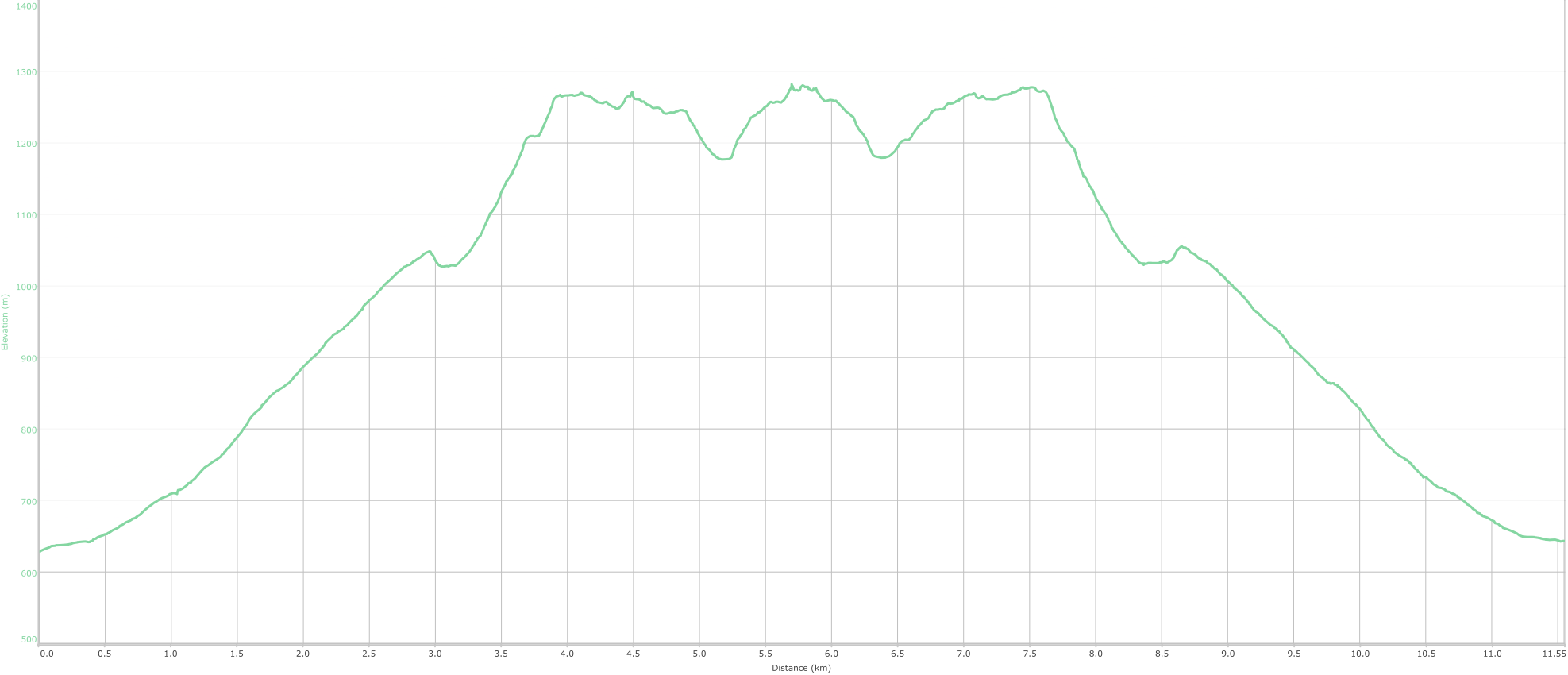 Further reading
---
Comments
Footnotes